Woman indicted for attempting to provide material support to Al Qaeda
A federal grand jury has indicted a woman, who is a former resident of Alabama, with attempting to provide material support and resources to al Qaeda.
The indictment charges that Alaa Mohn Abusaad was actively aiding and abetting al Qaeda and other designated foreign terrorist organizations in violation of Title 18, United States Code, Sections 2339B and 2. The indictment was announced by Assistant Attorney General John Demers of the National Security Division, United States Attorney Jay E. Town and FBI Special Agent in Charge Johnnie Sharp Jr.
According to court filings, Alaa Mohd Abusaad instructed an FBI undercover employee (UCE) about how to send money to the mujahedeen.
Ms. Abusaad told the UCE that money "is always needed. You can't have a war without weapons. You can't prepare a soldier without equipment." Ms. Abusaad also allegedly advised the UCE on how to send money without getting caught, such as by using fake names and addresses. Ms. Abusaad also introduced the UCE to a financial facilitator who could route the UCE's money to "brothers that work with aq (al Qaeda)."
"Federal agents and prosecutors are working tirelessly and using every available lawful tool to disrupt the evil schemes of those who would support foreign terrorist organizations to do harm to our troops, our allies, or our homeland", Town said. "The FBI did an excellent job investigating this matter, effectively engaging with other districts, and worked tirelessly to investigate this terrorist behavior. I would like to extend my personal gratitude to our local FBI field office, FBI-Cleveland, FBI's Counterterrorism Division, Northern District of Ohio U.S. Attorney Justin Herdman, and the entirety of the Department of Justice's National Security Division for their diligent and enormous efforts in developing this case. Our collective vigilance as law enforcement and in our community must resolve to continue to say something if you see something."
If convicted, Ms. Abusaad could face 20 years in prison, up to a life term of supervised release and a $250,000 fine.
This case was investigated by the FBI offices in Birmingham, Cleveland and Toledo, Ohio.
Assistant United States Attorneys Henry Cornelius and Manu Balachandran, and Trial Attorney Jennifer Levy of the National Security Division's Counterterrorism Section are prosecuting this case.
An indictment contains only charges. A defendant is presumed innocent until proven guilty beyond a reasonable doubt before a jury of their peers. Ms. Abusaad in entitled to present a vigorous defense in a court of law.
Al Qaeda was the terrorist organization that attacked the United States on September 11, 2001 in targeted attacks against New York City and Washington D.C. Al Qaeda was founded in 1988, near the end of the Soviet Union's War in Afghanistan. It is responsible for thousands of deaths in terror attacks and is responsible for the deaths of thousands more by creating strife not just between Muslims and non-Muslims; but also between different Muslim sects. Al Qaeda is supported by a broad worldwide donor network and is believed to possess a clandestine aircraft inventory including Boeing 727s, a variety of turbo-props, and business jets that they use to transport South American drugs and illegal weapons to help finance their operations.
Trump Truck and boat parades this weekend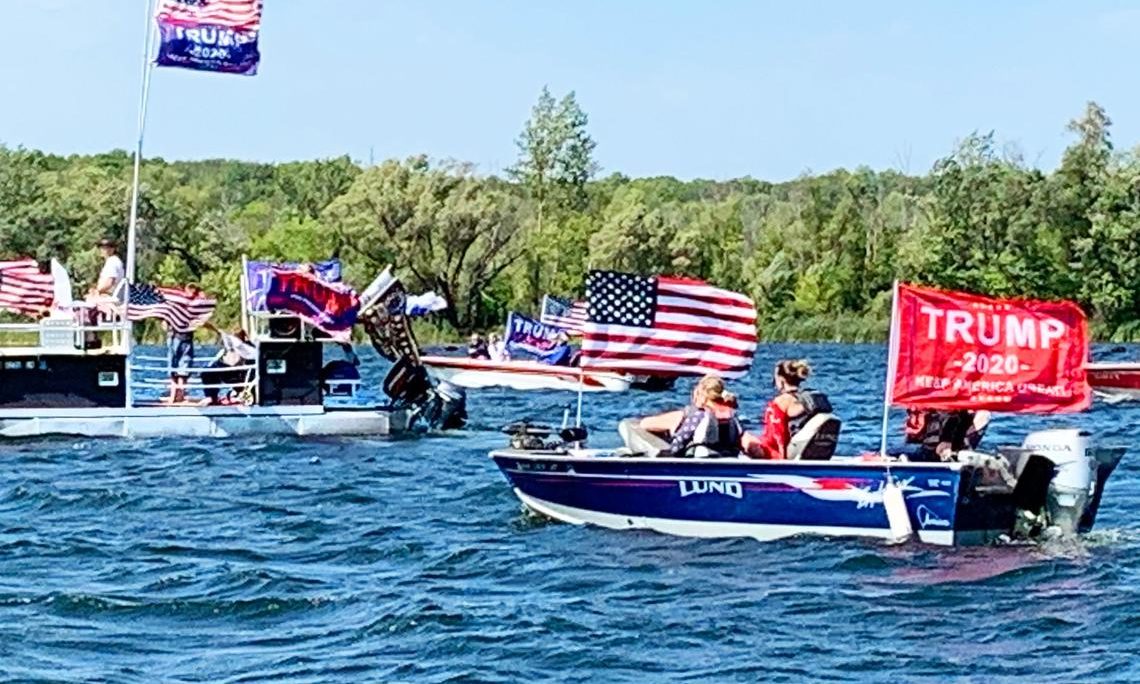 As Election Day draws near, Alabama Republicans are excited about promoting the re-election of Donald J. Trump as President and the election of Tommy Tuberville for U.S. Senate. This weekend two pro-President Trump events are happening in the state. There will be a truck parade from Ashland to Phenix City on Saturday sponsored by the Clay County Republican Party, while there will also be a boat parade on Wilson Lake in the Shoals sponsored by the Colbert County Republican Party on Sunday.
The pickup trucks will assemble at the Ashland Industrial Park in Clay County, 8240 Hwy 9, Ashland. There is a pre-departure rally at 10:00 a.m. central standard time. The trucks will depart at 11:00 a.m. and then proceed on a parade route that will take them into the bitterly contested swing state of Georgia. The Trump Pickup Parade will wind through east Alabama and West Georgia traveling through LaGrange and Columbus before concluding near the Alabama/Georgia line in Phenix City, 332 Woodland Drive, Phenix City at approximately 2:00 p.m. central time. Speakers will begin at 3:00. Trump flags will be on sale at the event.
The Phenix Motorsports Park will be hosting what sponsor hope could possibly the world's largest Pickup Tuck parade in U.S. history that is routing over 50 mile through Georgia in effort to "pickup" President Trump's numbers in GA.
A number dignitaries have been invited to address the Phenix City rally, including Coach Tuberville. Former State Sen. Shadrack McGill, Trump Victory Finance Committee member former State Rep. Perry O. Hooper Jr., and Paul Wellborn, the President and CEO of the largest Family owned Kitchen Cabinet manufacture in the USA are among the featured speakers who have committed to speak at the event.
Entertainment will be provided by: Charity Bowden, an up and coming country music singer who was the runner up on "The Voice". Charity will sing 'I am Proud to be an American' as well as songs from her Voice performances. The McGill Girls will also perform. The three beautiful and talented sisters will be singing patriotic songs in three part harmony. Geoff Carlisle, a professional DJ will be keeping the crowd pumped with music and entertainment.
Following the speakers and the entertainment there will Trump truck-vs- Joe Bidden truck races down the drag strip for the finale.
The Northwest Alabama boat parade will be on Sunday. The boats will gather at 2:00 p.m. near Turtle Point and then the flotilla will parade around the open waters of Wilson Lake til 3_00 p.m.. There will be a contest for best decorated Trump boats.
Trump supporters have held a number of large boat parades across the state to show their support for the re-election of Pres. Trump.
Boat parade sponsors say that this parade will be: pro-American, pro-law enforcement, pro-military.