Handicapping the Governor's Race (Continued)

INSIDE THE STATEHOUSE
by Steve Flowers
This week we will continue counting down and handicapping the prospective horses in the 2018 Alabama Gubernatorial Derby. We handicapped the following horses in descending order last week, Speaker of the House Mike Hubbard (18), Supreme Court Justice Jim Main (17), Sen. Greg Reed (16), Sen. Arthur Orr (15) and Mayor Vaughn Stewart (14).
This week we begin with horse Number 13, a spot which is held by a mayor of a major city. Interestingly, four of the eighteen horses in the 2018 Alabama Derby are mayors.
The Number 13 horse, Mayor Walt Maddox, is the young popular Mayor of Tuscaloosa. The Druid City has become the political hot bed and launching pad for statewide office. It is home to Sen. Richard Shelby and Gov. Robert Bentley. Some believe that Maddox wants to follow Bentley as governor.
The 46 year old mayor has done an exemplary job in his tenure. He handled the devastating 2011 tornadoes with aplomb and has seen his city grow and flourish. As mayor he has had the luxury of not declaring his party allegiance but most people suspect that he is a Democrat and you cannot be elected statewide as a Democrat in Alabama.
The Number 12 horse is Mobile Mayor Sandy Stimpson. Unlike Maddox, Mayor Stimpson is a lifetime Republican. He is an old Mobile society silk stocking Republican. He is the scion of a Mobile business and is a successful businessman. Several years ago he used his wealth and civic experience to become Mayor of Mobile. I would have ranked Stimpson higher than Number 12, but I do not think he has any interest in running statewide. He likes being Mayor of Mobile. He loves his city, enjoys his grandchildren and social life. He is in his mid-60's and probably does not want to spend his golden years traveling from Mobile to Huntsville.
While we are talking about the Gulf Coast, let's handicap the 2010 runner up in the governor's race, Bradley Byrne. Most folks thought that Byrne would win that race. Robert Bentley came from out of nowhere to beat Byrne. Since that time, Jo Bonner left Congress and Byrne parlayed his name recognition into capturing the Mobile/Baldwin congressional seat.
Byrne has taken to Congress like a duck to water. I have never seen a person hit the ground running in Washington any quicker than the former State Senator and Junior College Chancellor. He is doing a good job and appears to love Congress. Although I have Byrne ranked as the Number 11 horse, I do not see him leaving his U.S. House seat to enter a crowded statewide fray.
Our Number 10 horse is the only female candidate in the Derby. Lt. Gov. Kay Ivey has been elected four times statewide, twice for State Treasurer and twice for Lt. Governor. Some prognosticators are writing her off as over the hill. However, they are overlooking the fact that her having been elected four times statewide gives her some pretty good name identification that she could parlay into another statewide victory.
However, running for governor is an arduous challenge. I am not sure she has the fire in her belly for that venture. She would be a shoe in for reelection as Lt. Governor, but is prohibited constitutionally from seeking a third term. It would be interesting if she returned to her old job as State Treasurer.
The Number 9 horse is President Pro Tem of the State Senate, Del Marsh of Anniston. Marsh has emerged as a statesman as leader of the Senate. He has led as a consensus building conciliator. He exhibits political astuteness even though he is a businessman. He is handsome and articulate. As President Pro Tem, he can raise money but does not have to. He has his own money. Marsh started and sold a successful manufacturing business in Calhoun County, which makes him financially independent. He could be a player in the 2018 Derby.
The Number 8 horse is State Agriculture Commissioner John McMillan. He has done an outstanding job as Agriculture Commissioner. With agriculture still being our number one industry, it is one of the most important constitutional offices. John was a legislator and Conservation Director prior to being elected statewide in 2010. In his 2014 reelection campaign he received the highest percentage vote of any candidate on the ballot. He is getting a lot of genuine encouragement statewide to run for governor. He is a heck of a nice guy and hails from Baldwin County, which is an important Republican primary county. However, he appears reluctant to make the race. This may stem from the fact that he will be 77 in 2018.
We will count down the top seven horses next week.
See you next week.
Steve Flowers is Alabama's leading political columnist. His weekly column appears in over 60 Alabama newspapers. He served 16 years in the state legislature. Steve may be reached at www.steveflowers.us.
Opinion | Not sure what it was, but it was no debate
Trump and Biden both interrupted each other throughout the debate, but Trump did it more, and did it as the bully he is.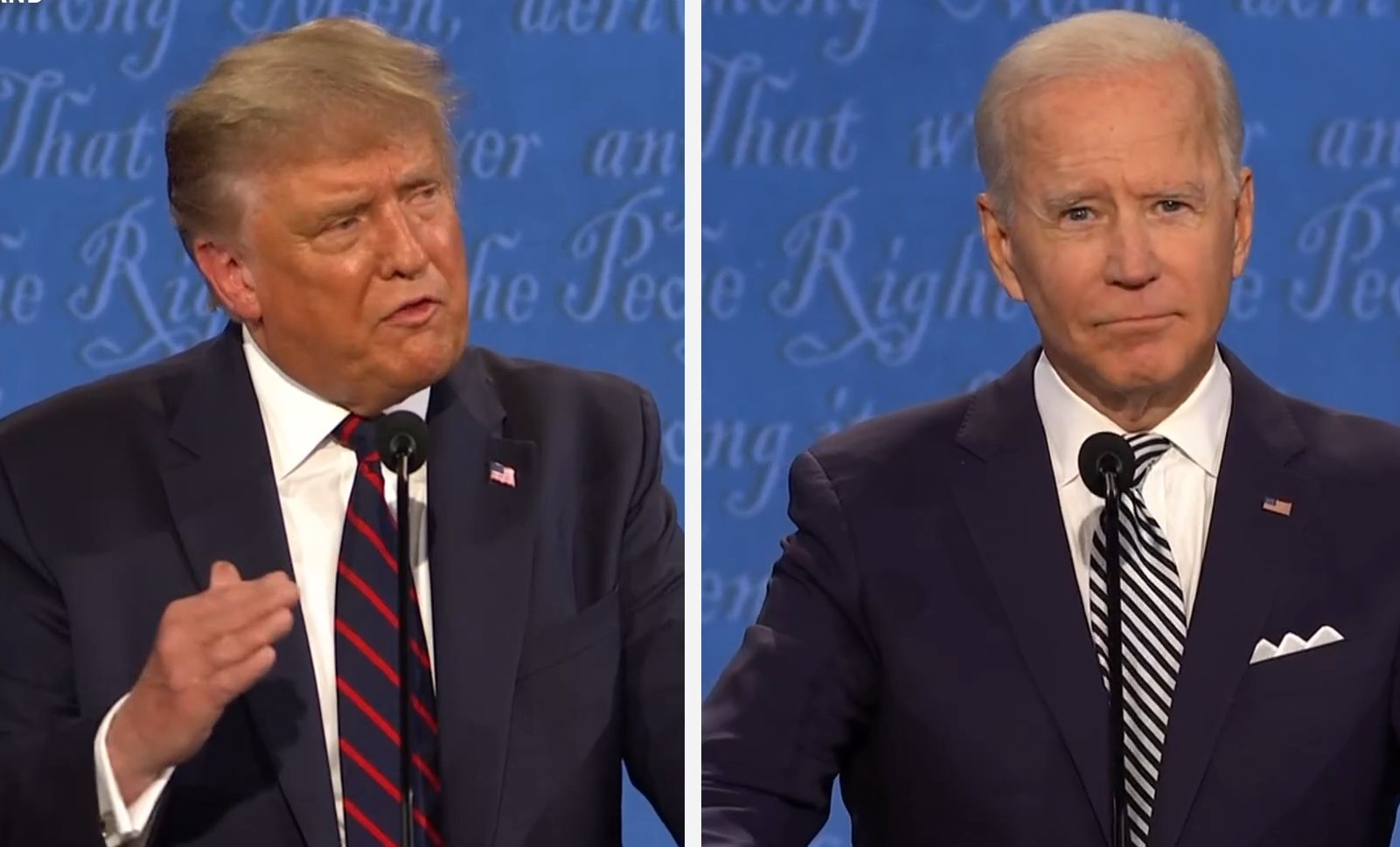 They called it a debate, but what we saw from Donald Trump and former Vice President Joe Biden Tuesday night was, as one television commentor said, a "s–tshow" instead. It was an awful performance, mainly instigated by an awful man, Trump.
Of course, in Alabama, Republicans saw something else altogether. The responses were predictable, of course, but how in the world do Republican leaders justify their response? They can't; they simply lie, and lie again, just like the desperate leader of their party.
Trump and Biden both interrupted each other throughout the debate, but Trump did it more, and did it as the bully he is. As with all bullies, though, when somebody stands up to him, he backs down because he is all bark and little bite.
Too bad Joe didn't just walk over there, with fists clenched and ready. Trump would have stumbled off the stage in fear; that's how bullies are.
A lot of observers are blaming moderator Chris Wallace for losing control of the debate. That's unfair. Nobody could have controlled Trump's continuing violation of the debate rules, allowing each candidate to have two minutes uninterrupted to make his case.
Trump regularly Tweets "LAW & ORDER," but he couldn't even follow the law and keep order in a 90-minute head-to-head with his opponent. That's because Trump knows he's on thin ice: The pandemic has killed 205,000 Americans and made many thousands more permanently sick; the strong economy left to him by the Obama-Biden administration is shattered from Trump's failure to act fast enough to check the plague, yet to Trump "it is what it is"; unrest in major cities continues because police continue to injure and kill African-American men and not be held accountable.
This is Trump's America, and he certainly didn't want to give Biden a chance to highlight these failures before the huge debate audience.
Yet Republicans, here and elsewhere, defended Trump's bad behavior, as usual.
"President Trump swiftly demonstrated that his 'Promises Made, Promises Kept' record will continue for four more years," said Terry Lathan, the chair of the Alabama Republican Party. "The comparison between the two agendas couldn't be starker. The President's record in 47 months compared to Joe Biden's 47 years in office is monumental. President Trump highlighted many of his policies. Joe Biden shared none of his."
Lathan is right that the difference in Trump's 47 months and Biden's 47 years is monumental. In Biden's 47 years, he has never mismanaged anything he's been involved in as badly as Trump has mismanaged the COVID-19 pandemic, the economy, or the unrest that continues since four Minneapolis police officers murdered George Floyd on Memorial Day.
Americans want someone who will fight for them to keep our country safe and great," Lathan said, presumably with a straight face. "President Trump showed tonight he's a heavyweight fighter who has been putting America first."
Seriously? The mess we have in this state and nation today are directly the fault of Trump and the Republicans. But you wouldn't know that from listening to Trump and his enablers, because they refuse to take responsibility, yet, they run the Senate and the White House.
Whose fault is it? Certainly not Biden's. When Biden and Obama left office, the nation's economy was booming. It seems Lathan and other Republicans consider Trump the challenger. He isn't. He's the incumbent, and his chaos has destroyed millions of jobs and America's reputation.
Barry Moore, a Republican candidate for Congress from the 2nd District, said this: "The president's personal style is confrontative, and I understand that some people don't like that. But, I also know many, many people who welcome Donald Trump's standing up to the bullies of the Left, and he did a great job confronting Joe Biden with Biden's own statements and record."
Wait a second. Are people on the left "bullies" or "snowflakes"? Like his idol Trump, Moore has also had his run-in with the law. He was arrested in April 2014 on felony perjury charges, but was later found not guilty. That was no open-and-shut case, though; the jury needed a judge to clarify the charges before finally voting to acquit Moore.
Meanwhile, Perry Hooper, a member of the Trump Victory Finance Committee, said Trump was just being Trump. That's "why we like him," Hooper said. "I think the president killed Biden when Biden could not denounce violence and antifa. He hasn't even called the Democrat governors and asked them to stop the violence. It's plain and simple that Biden is beholden to the Left Wing."
Antifa is "anti-fascist." It's not an organization, but a philosophy. Hitler was fascist. We all should be antifa.
As for Trump, he once again refused to denounce white nationalists and white supremacists – you know, racists – who the FBI claim are the largest organized groups of domestic terrorists in the United States.
But most Republicans apparently admire their racist leader. It's comfortable for them, because it's what they know. They should just own it. It's who they are.
They can't run away from that fact, even as they awkwardly defend Trump. They have no choice, because they left themselves without one.
Fortunately for the nation, many Republicans and independents are supporting Biden. That, in 32 days, should ensure a huge victory for the Democrats.
Republicans have nobody to blame but themselves, but, then, they're really lousy at taking responsibility for anything. We won't hold our breath waiting for their concession.