Senator Williams wants to plant pro-life banner in Alabama
By Bill Britt
Alabama Political Reporter
Senator Phil Williams, (R) 10th District (Cherokee, Etowah) has prefiled SB 5 a bill that will define personhood under Alabama law.
According to the bill the term "person" as used in the Code of Alabama 1975, "Shall include all humans from the moment of fertilization and implantation into the womb."
Williams said, "I am seriously pro-life and believe that life begins at conception."
Abortion rights advocates say nearly all abortions take place in the first trimester, when a fetus cannot exist independent of the mother and as it is attached by the placenta and umbilical cord. Its health is dependent on her health, and cannot be regarded as a separate entity as it cannot exist outside her womb. They further state that the concept of personhood is different from the concept of human life. This argument stems from the differing ideas of when life is begins. "I reject the notion that you can't say when life begins," say Williams.
Williams said, that he is working with Personhood Alabama to craft a bill that would let the people of Alabama vote on a much more effective bill.
Ben Dupre' the director of Personhood Alabama said, "First of all what we support at Personhood Alabama is an amendment to the Alabama Constitution that would protect all human life from its earliest stage. We are currently working with Senator Williams to introduce a bill that would protect human life from the moment of fertilization, conception."
Last session, Williams introduced the bill and it passed on a vote in the Senate, it looked as if it would pass in the House but the session ended before a vote could be held. Williams said, "We had the support in the house they just ran out of time."
Dupre' said that this organization and others are working with the senator on the details of the bill. Mississippi, recently had tried to pass a similar bill.
Dupre' said, "We are still working on the particulars of that bill and we are doing so in light of the outcome in Mississippi." The Mississippi bill did not pass but some have noted that the bill had a few flaws. It didn't pass, "however, the margin was the smallest that it has been in any state that has voted on it," said Dupre.' "So we are encouraged that the bill continues to gain support.
Dupre' said that personhood continues to garner attention from Planned Parenthood and others who in his words, "See the bill as a threat to those killing babies."
Mississippi's bill was opposed by Physicians for Reproductive Choice and Health Board, in a statement prior to the vote Board Chair Douglas Laube said in a written statement, "I am an obstetrician/gynecologist, and under Amendment 26 in Mississippi, I would be hard-pressed to help many of my patients. Abortion would be a criminal act. Some of the most reliable and effective forms of birth control could be illegal. And my colleagues who specialize in infertility could have fewer legal options to help women having trouble conceiving."
Proponents of the bill would dismiss Laube's comments as a mischaracterization of the bill.
Dupre' said, "I just want to make it clear that we would endorse an amendment that is principled and protects all human life, and anything less than that we can't support. But we are confident that our Alabama Senate will support that and that we will see that bill introduced probably next month."
Williams said, "First, I want to preserve life. Secondly, I want to plant a banner in Alabama saying that we believe in the sanctity of life."
Three mental health crisis centers coming to Mobile, Montgomery and Huntsville
"Today marks a culture change in Alabama for treatment of individuals with mental illness and substance use disorders," Mental Health Commissioner Lynn Beshear said.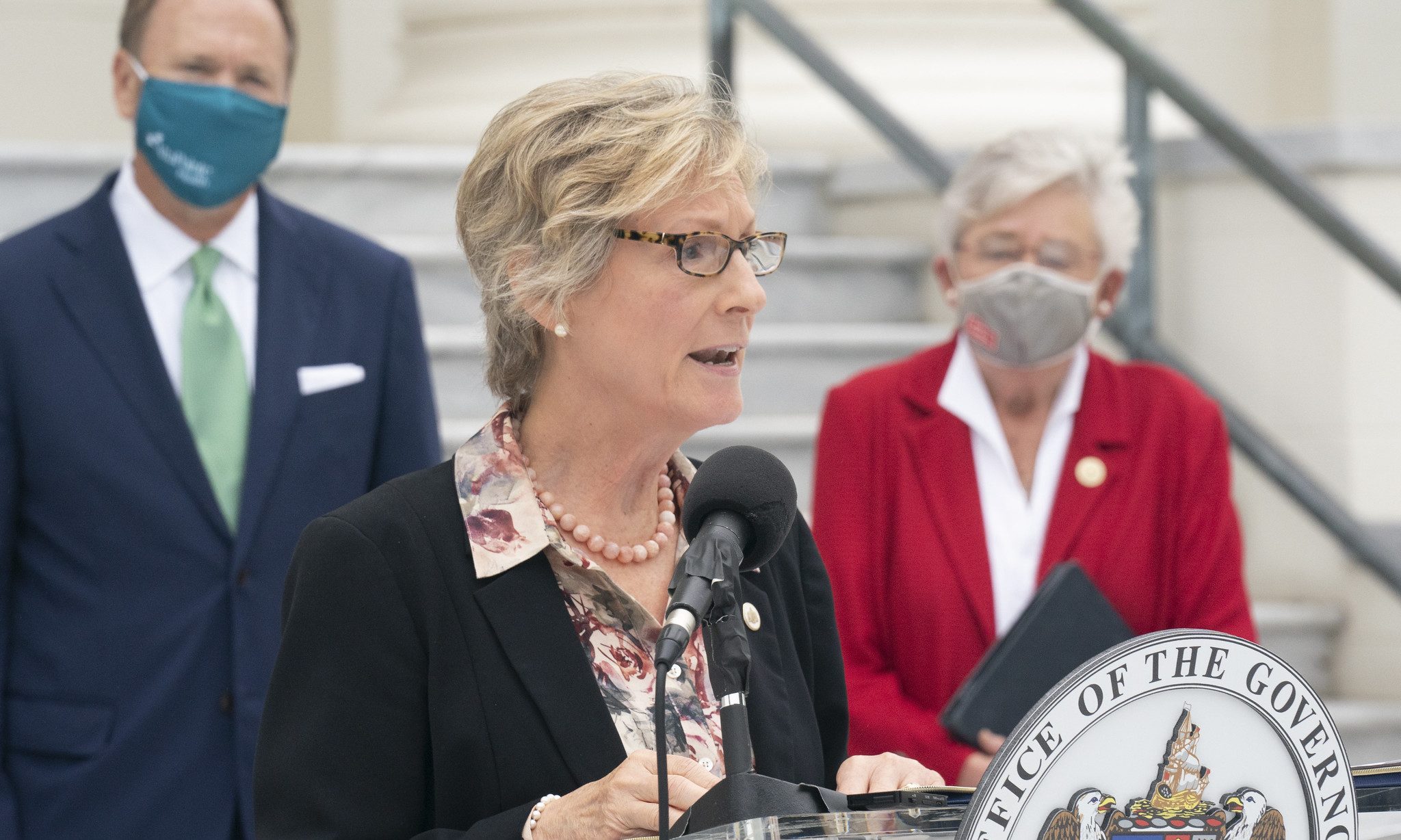 Gov. Kay Ivey on Wednesday announced an $18 million project to create three new mental health crisis centers to be located in Mobile, Montgomery and Huntsville. 
These centers, once in operation, will reduce the number of people suffering from mental health crises who are hospitalized or jailed, Ivey said during a press briefing in front of the Capitol Building in Montgomery. 
"When these facilities are open and fully staffed, these centers will become a safe haven for people facing mental health challenges," Ivey said. 
Lynn Beshear, commissioner of the Alabama Department of Mental Health, said during the briefing that the centers will provide "recovery based" care with "short term stays of a few hours, or up to a few days, to provide treatment, support, and connection to care in the community." 
"Today marks a culture change in Alabama for treatment of individuals with mental illness and substance use disorders," Beshear said. 
Beshear said AltaPointe Health in Mobile will operate one of the three facilities, and once built it is to serve Mobile, Baldwin, Clarke, Conecuh, Escambia, Monroe and Washington counties with 21 new beds, including 15 temporary observation beds. Altapointe will begin with a temporary space while constructing the new facilities, she said. 
Beshear said the Montgomery Area Mental Health Authority is partnering with the East Alabama Mental Health Authority and the Central Alabama Mental Health Authority to serve the 11 counties in Region 3 with 21 new beds, including 10 temporary observation and respite beds. 
"The regional crisis center will be located in Montgomery, and will be open to walk-ins and for drop off by law enforcement, first responders and referrals from emergency rooms," Beshear said. 
Wellstone Behavioral Health in Huntsville was selected to open the third center, and will do so at a temporary site while a new facility is being built, with the help of an additional $2.1 million from local governments, Beshear said. That facility will eventually have 39 beds, including 15 for temporary observation and 24 for extended observation.
"There's not a day that goes by that after-hours care is not an issue in our state," said Jeremy Blair, CEO of Wellstone Behavioral Health, speaking at the press conference. "And so I applaud the Department of Mental Health and the leaders for their efforts in recognizing that and taking it a step further and funding our efforts here." 
Asked by a reporter why a center wasn't located in Jefferson County, one of the most populous counties with a great need for such a center, Ivey said those residents will be served in one of the other regions. 
"Plans are underway to continue this effort. Today's beginning, with these three crisis centers, is just the beginning," Ivey said. 
Ivey added that request for proposals were sent out for these three centers and "it was a strong competition for the location of these three crisis centers." 
Alabama House Majority Leader Nathaniel Ledbetter, R-Rainsville, said during the briefing that more than a year ago, Ivey asked him what the state should be looking at, and that he replied "we're failing miserably in mental health."
Ledbetter said Ivey asked him to take on the challenge of correcting the state's response to mental health, and a team was created to do just that. 
"Working together, today's announcement will not only change Alabamians lives, but will help to save lives," Ledbetter said.