Tablet PCs Have the Capability of Replacing Textbooks
By Brandon Moseley
Alabama Political Reporter
For decades, Alabama students have lugged around a backpack filled with their Biology textbook, their American History textbook, their English text book, a foreign language text book, textbooks for elective, spiral notebooks, and often workbooks associated with those big heavy hardback texts. That may be changing. Alabama Senator Gerald Dial (R-Lineville) and Alabama House Representative Jim McClendon (R-Springville) have introduced a bill called the "Alabama Ahead Act" that would give Alabama school boards the option of replacing their high school textbooks with "tablets" also called tablet personal computers.
The classroom teacher has a tablet that is linked collectively to all of her/his students, as well is individually linked.  In addition to having the potential to storing hundreds of books on each tablet, subject lessons will be done on the tablets, as well as homework and quizzes.  Test results can be instantly reported back to the student to enhance teaching.
A $100 million dollar bond issue is proposed to pay for the tablets, and the bond will be retired using dollars normally spent on text books.  Thousands of classics are available for free, and updated editions of texts can be instantly delivered to the tablet.  The contracted providers of the tablets will include insurance in their bid, and they will also be required to have a physical presence in Alabama, creating jobs. Technical assistance must be readily available to each school.
Teacher training will come first before distribution to students.  Initially 9th graders are supplied a tablet, and the next year the new 9th grade class receives tablets, and so on till all 9th through 12th graders have tablets.
In July, the South Korean government committed $2 billion to putting a tablet in the hands of every South Korean student. South Korea hopes that embracing the technology will give their students an advantage in adopting new technological advances and will allow them to import information from all over the globe faster than by using traditional teaching from a text that could be three to ten years out of date. South Korean students also take tests on their tablets saving their teachers hours in grading papers and calculating grades. France, Japan, and Indonesia have all begun pilot programs putting tablets in the classroom to replace textbooks.
The publishers have grasped the advantages that the technology has over traditional textbooks and have been scrambling to sign partnerships with technology companies. In June 2010, a new startup technology company, Kno, rolled out a clamshell-style tablet, the Kno e-reader, aimed at the textbook market. Now the Kno application can be installed on Apple's I-pads as well as on laptops and desktops. Kno reports they currently have over 100,000 available textbooks. According to the company, those textbooks are 30 to 50 percent off of the hardcover price.
Not to be outdone, Amazon's Kindle has an e-textbook program where they claim that customers can save as much as 82 percent over the cost of purchasing a physical textbook. Last January, Kobo entered the e-textbook market and now the company claims that their service provides 175,000 electronic textbooks that can be downloaded to their Kobo e-reader. Kobo currently has over 2000 publishers working with their e-textbook platform. Those publishers include the university presses at Cambridge and Yale and the Harvard Business School as well as textbook publishers like Prentice-Hall and McGraw Hill. The e-textbooks have the same content as the printed books and can be downloaded off of the internet. Barnes and Noble is marketing e-textbooks on both their Nook e-reader and downloadable to PCs and Macs.
There is a tremendous potential for savings for school systems by using tablets and e-textbooks rather than purchasing hardback textbooks from publishers. Since the publishers don't have to physically print the textbooks the school systems can negotiate more favorable contracts with the publishers and use the savings for other needs while providing students with the most current texts available. School systems won't have to purchase workbooks every year and schools won't have the costs of storing and maintaining thousands of old textbooks.
It is apparent that e-readers are the text books of the future.  The advantages are obvious.  I hope the legislature embraces this concept quickly and we can proceed with preparing our students to compete for jobs in the world marketplace.
Rep. McClendon and Sen. Dial will introduce their bill in the coming 2012 regular session of the Alabama legislature.
Three mental health crisis centers coming to Mobile, Montgomery and Huntsville
"Today marks a culture change in Alabama for treatment of individuals with mental illness and substance use disorders," Mental Health Commissioner Lynn Beshear said.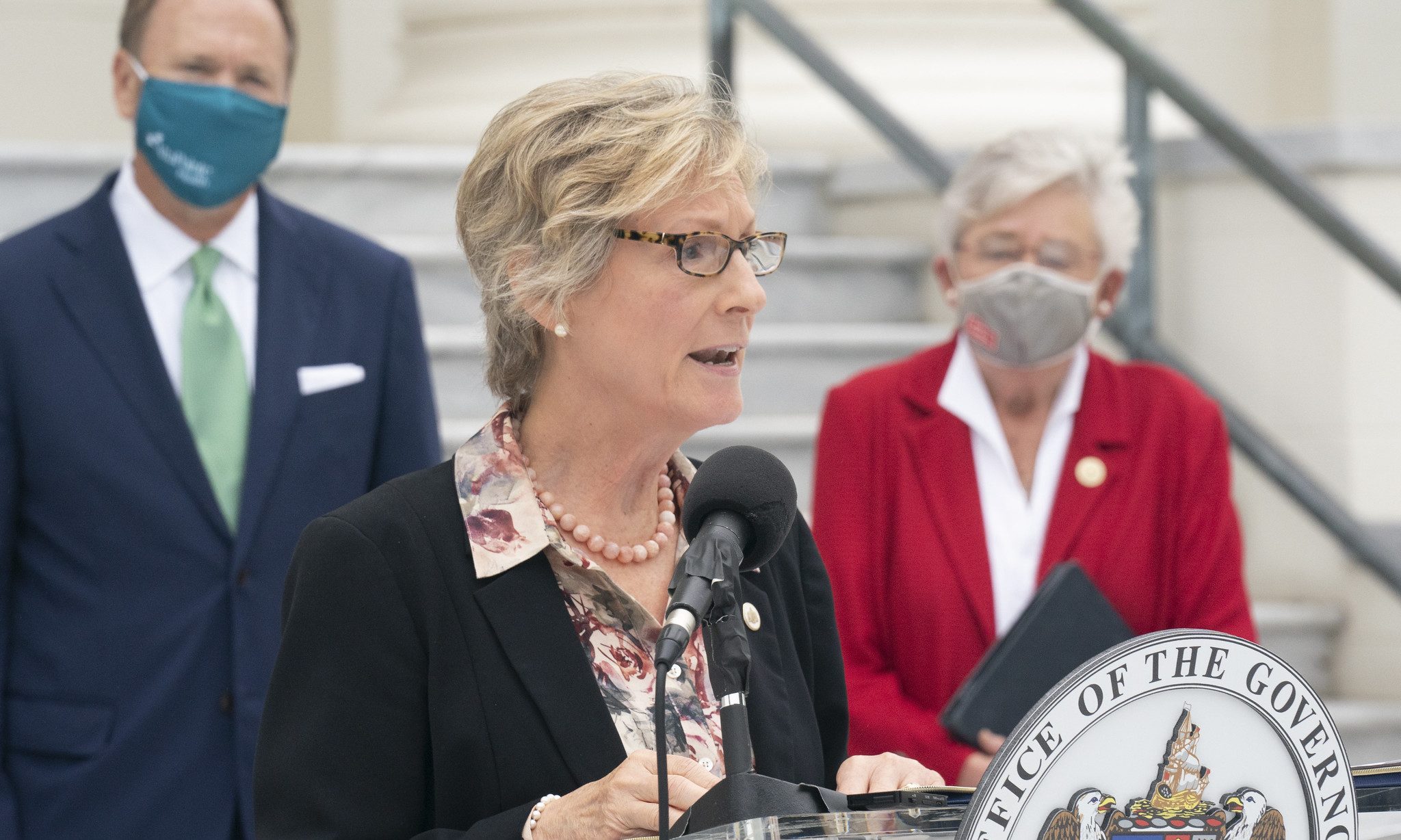 Gov. Kay Ivey on Wednesday announced an $18 million project to create three new mental health crisis centers to be located in Mobile, Montgomery and Huntsville. 
These centers, once in operation, will reduce the number of people suffering from mental health crises who are hospitalized or jailed, Ivey said during a press briefing in front of the Capitol Building in Montgomery. 
"When these facilities are open and fully staffed, these centers will become a safe haven for people facing mental health challenges," Ivey said. 
Lynn Beshear, commissioner of the Alabama Department of Mental Health, said during the briefing that the centers will provide "recovery based" care with "short term stays of a few hours, or up to a few days, to provide treatment, support, and connection to care in the community." 
"Today marks a culture change in Alabama for treatment of individuals with mental illness and substance use disorders," Beshear said. 
Beshear said AltaPointe Health in Mobile will operate one of the three facilities, and once built it is to serve Mobile, Baldwin, Clarke, Conecuh, Escambia, Monroe and Washington counties with 21 new beds, including 15 temporary observation beds. Altapointe will begin with a temporary space while constructing the new facilities, she said. 
Beshear said the Montgomery Area Mental Health Authority is partnering with the East Alabama Mental Health Authority and the Central Alabama Mental Health Authority to serve the 11 counties in Region 3 with 21 new beds, including 10 temporary observation and respite beds. 
"The regional crisis center will be located in Montgomery, and will be open to walk-ins and for drop off by law enforcement, first responders and referrals from emergency rooms," Beshear said. 
Wellstone Behavioral Health in Huntsville was selected to open the third center, and will do so at a temporary site while a new facility is being built, with the help of an additional $2.1 million from local governments, Beshear said. That facility will eventually have 39 beds, including 15 for temporary observation and 24 for extended observation.
"There's not a day that goes by that after-hours care is not an issue in our state," said Jeremy Blair, CEO of Wellstone Behavioral Health, speaking at the press conference. "And so I applaud the Department of Mental Health and the leaders for their efforts in recognizing that and taking it a step further and funding our efforts here." 
Asked by a reporter why a center wasn't located in Jefferson County, one of the most populous counties with a great need for such a center, Ivey said those residents will be served in one of the other regions. 
"Plans are underway to continue this effort. Today's beginning, with these three crisis centers, is just the beginning," Ivey said. 
Ivey added that request for proposals were sent out for these three centers and "it was a strong competition for the location of these three crisis centers." 
Alabama House Majority Leader Nathaniel Ledbetter, R-Rainsville, said during the briefing that more than a year ago, Ivey asked him what the state should be looking at, and that he replied "we're failing miserably in mental health."
Ledbetter said Ivey asked him to take on the challenge of correcting the state's response to mental health, and a team was created to do just that. 
"Working together, today's announcement will not only change Alabamians lives, but will help to save lives," Ledbetter said.