Charter Schools to offer choice for parents and students
By Bill Britt
Alabama Political Reporter
Nearing the top of the legislative agenda for the upcoming session will be school choice.
Governor Bentley, Speaker Hubbard and President pro tem Marsh have all made passing legislation forming Charter Schools a priority for 2012.
Education Chairperson Senator Dick Brewbaker (R-Elmore, Montgomery), will carry the bill in the Alabama Senate.
"School choice is an idea whose time has come," said Brewbaker, "It is time that Alabama had options on where kids can go to school."
Brewbaker is resolute in his belief that Alabama's children and their parents deserve more educational options, Brewbaker said, "Charter schools are the way to accomplish this."
In brief, Charter Schools are primary or secondary schools that receive public money (and like other schools, may also receive private donations) but are not subject to some of the rules, regulations, and statutes that apply to other public schools.
In exchange Charter Schools are held accountable for producing certain measured results, which are set forth in each school's charter.
Charter Schools are opened and attended by choice. They are designed to provide an alternative to other public schools, but are still a part of the public education system.
They are also not allowed to charge tuition just like any other public school. Some charter schools provide a curriculum that specializes in a certain field such as arts, mathematics, or vocational training.
Charter schools attempt to provide a better and more efficient general education than nearby public schools, however, Charter school students still take state-mandated exams.
Brewbaker believes that giving people a choice is a part of our American tradition and the same should apply to education. He said, "Let's face it this is America, we don't tell people where to live, what kind of work to do or who to pray to but we do tell them where their kids have to go to school.
Alabama is one of the few states that does not offer some type of school choice.
The Alabama Education Association (AEA) has long been the biggest obstacle to developing Charter School in the state. While Brewbaker acknowledges the AEA's past resistance, he sees the path to school choice as inevitable. "When it comes to the AEA, likes it or not, or whether I like it or not, some kind of choice in education is coming to Alabama.," said Brewbaker.
In fact, just recently in an interview with the 'Gadsden Times,' Henry Mabry, the new AEA chief, proclaimed that the union would fight the Governor and the Legislature to stop Charter Schools from being established in Alabama.
Brewbaker was quick to point out that Governor Bentley has been leading in education reform and that his staff is working closely with the legislators to make sure education reform is handled with care and efficiency.
Brewbaker says that the state and federal government keeps records of failing schools and they know which ones have failed and yet Alabama has done nothing to correct the problem.
"It does not make sense for us to tell a parent that the school your child is attending is failing but you still have to send them there," said Brewbaker. "What we want to do is to offer—in the context of public schooling—some choices. I think that Charter Schools are the way to do that."
Studies have shown that there are schools that have been failing for generation and still Alabama children are mandated to those institutions.
Brewbaker said, "It [Charter Schools] is not a silver bullet but it is one more thing we can do to give parents more control of their children's education.
Detractors of Charter School like to point out that over the years since these type of school have been established, a number of them have been closed, saying that the system is a failure. Brewbaker takes and opposite view. "That is one of the biggest advantages to Charter Schools because they are performance-based. If they do not meet the standard they are closed," said Brewbaker.
Yearly, it is pointed out that while there are failing school districts more money is being poured into the state's Education Trust Fund and that the funds are burdened by blotted union rolls. Some have suggested privatization of service personnel such as cafeteria worker or bus drivers as ways to rein in expenditures.
Brewbaker said, "Privatization or outsourcing will save money but it has to be done the right way. There have been some spectacular success stories with privatization but there have also been some spectacular failures."
He suggest other avenues that need to be looked at to make the system work more expeditiously.
"We need to look at that [ privatization] but another thing is to get rid of some of the bureaucrats in state education, return more of the money to local school districts and let those local boards have more flexibility," said Brewbaker.
He believes that there are far too many institutional mandates in the system as a whole. "Right now we are handing down the law form Montgomery like Moses on Mount Sinai," said Brewbaker. "Perhaps the time has come to decentralize this thing a little bit and turn more control back over to local school boards and hold them accountable for the results."
Brewbaker expressed confidence in the Charter School Bill passing the Legislature and opening up more choice and a better tomorrow for Alabama's children.
Governor declares state of emergency ahead of Tropical Storm Zeta
Zeta is currently a tropical storm over the Gulf of Mexico, but it is predicted to make landfall as a category one hurricane.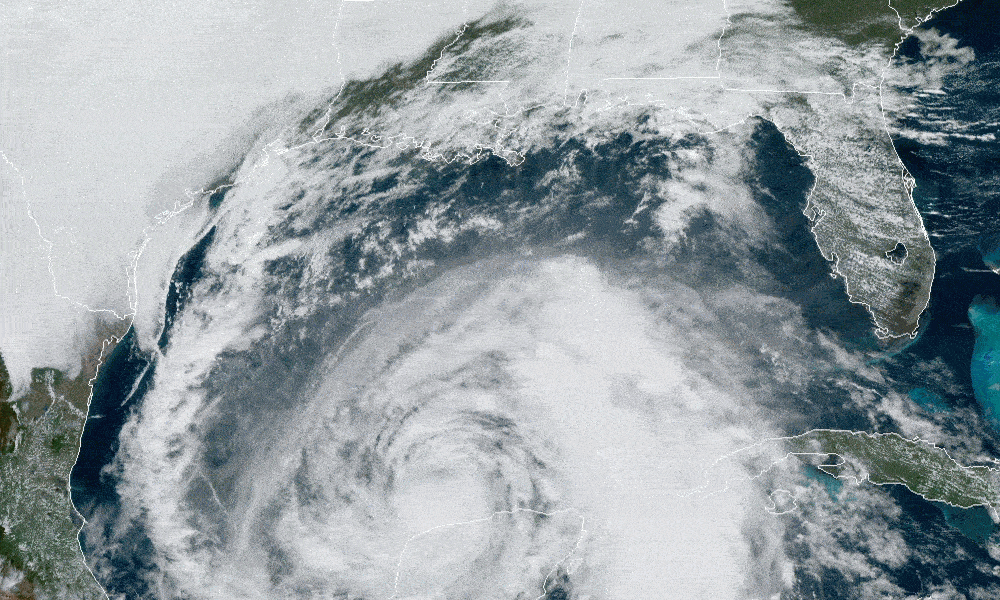 Alabama Gov. Kay Ivey on Tuesday issued a state of emergency as Tropical Storm Zeta approaches the Gulf Coast.
"Ahead of Tropical Storm Zeta's anticipated landfall Wednesday evening as a Category 1 hurricane, I am issuing a state of emergency effective today at 4:00 p.m.," Ivey said. "While this storm is not expected to have an impact as large as storms we've seen move through the Gulf earlier this year, we want to be in the best place possible to respond to anticipated rain, storm surge and mass power outage. I encourage everyone to remain weather aware and tuned in to their trusted news source as this storm could shift direction or change intensity. We continue to track the path of this storm and will stay in touch with the people of Alabama with any updates."
Zeta is currently a tropical storm over the Gulf of Mexico, but it is predicted to make landfall as a category one hurricane. The National Hurricane Center is predicting Zeta to make landfall in Mississippi on Wednesday and then proceed toward Alabama, but these storms can and do move.
A more easterly track could prove devastating to the Alabama Gulf Coast as was the case with Hurricane Sally, which shifted course in September, hitting Alabama, though Zeta is expected to be weaker than Sally at landfall.
The storm surge from the Mississippi-Alabama border to Dauphin Island is forecast to be 5 to 8 feet. Mobile Bay to the Alabama-Florida border is expected to have 3 to 5 feet of storm surge and from the border to Navarre, Florida, could experience 2 to 4 feet of storm surge.
Hurricane force winds are a possibility with this storm. Tropical force winds are expected to be an issue for Southern Mississippi and Alabama well inland. There is expected to be heavy rainfall across the state Wednesday night into Thursday morning.
The Baldwin County Emergency Management Agency announced that sandbags are available inside the county commission office at Robertsdale Central Annex (22251 Palmer Street) until 4:30 p.m. Tuesday and from 8 a.m. until 4:30 p.m. Wednesday or while they last.
Bring any help and shovels you will need. There is a limit of just 25 bags per person. Alabama's coastal counties are currently under a Tropical Storm Warning, a Storm Surge Warning for Mobile County and a High Rip Current and High Surf Warning.
Congressman Bradley Byrne said, "I just finished up briefings from Alabama EMA, FEMA, and the National Hurricane Center regarding #Zeta. We should not take this storm lightly and should start making preparations right away. After sundown Wednesday, I'd encourage everyone in Southwest Alabama to stay home and off the roads until sunrise Thursday. This storm will have impacts as far north as Montgomery, so those in Washington, Clarke, and Monroe counties will see tropical storm force winds and heavy rain. I'd encourage everyone to charge their phones and other necessary electronics. If you have an emergency during the storm, call 911 and do not try to drive."
Coastal Alabama is still in the process of recovering from Hurricane Sally which hit the state on Sept. 15.