Confusion Causes Ruckus at the State House
By Susan Britt
Alabama Political Reporter
About 400 to 500 protesters came to the State House in Montgomery on Tuesday to protest immigration bill HB 56. After the rally, they were given limited access to the building to deliver Valentine's Day cards to senators and representatives. There was confusion within the crowd as to why some accesses were limited.
When the House opened it session, Representative Merika Coleman (D-Birmingham) protested to the Speaker and the House that she had been receiving calls all morning regarding people being denied access to the State Capital Building such as religious groups that had traditionally given out Valentine's Day cards. She said that people were usually allowed to walk the halls since it is a public building. She said that in the 10 years she has been in the House, she has never heard of this happening before. She demanded to see a copy of the new policy.
Speaker Mike Hubbert said that it was not a policy of the House and Senate but a decision that had been made by security.
Catherine Montoya with the Alabama Coalition for Immigrant Justice said, "We were only permitted to go to the fifth and seventh floor today. All of the other floors we were not permitted to go on."
When asked if they were allowed to go into the galleries, she replied, "No."
She went on to say that "it seems rules were applied differently to different types of people. We are still confirming some things but we believe that we have a constituent now that is going to talk to the press. We do think that some project managers and community members that came to meet with their legislators were treated differently based on the way that they looked."
Chief Sgt. at Arms for the House of Representatives Derek Hamilton took opposition to this assertion and said, "No one was denied access to our galleries.
He said that House and Senate security were contacted last week by the Alabama Coalition for Immigrant Justice who asked for their assistance with the rally. He commended the organization for sending a representative in advance of the event. "Everything that happened was preplanned from a meeting that took place last week," he said. "We met with a spokesperson from the organization last week and we were open for any suggestions or recommendations of anything that they would need."
The organization had anticipated and informed State House law enforcement that they were anticipating 1,000 protesters to be at the rally.
Hamilton said that the plan was a request from the organization. "What was structured and in place today was something that they requested assistance with for the delivering of the Valentine's Day cards that were coming to the House representative and senators. No one within that group was denied access. This is a public building."
The measures that were in place were a joint effort between all of the law enforcement in the Alabama State House and also some outside agencies and departments, as well.
But again, no one was denied access to any floors here in the Alabama State House
Hamilton said they met with an individual by the name of Salvador who was the organizations point of contact. He said Salvador shared their agenda and offered their services, at which State House law enforcement extended their services to them "to be able to be in a position to assist them."
"Again, no one to my knowledge, was denied access to any areas of the building. Once the Valentine's Day cards were delivered to the legislators, our understanding, per Salvador, was that the group would exit and then board the buses," said Hamilton.
"At the conclusion of their rally if there were any other individuals who did not arrive by bus, if they were to arrive by personal vehicle, they were welcome at that time to re-enter the building and the building was open. They have free access to the galleries for both the House and the Senate and any other public space within this building," he concluded.
He said that other groups that are planning rallies or already have them scheduled are welcome to contact House and Senate security so that they can accommodate and assist.
Print this piece
Opinion | With liberty and justice for all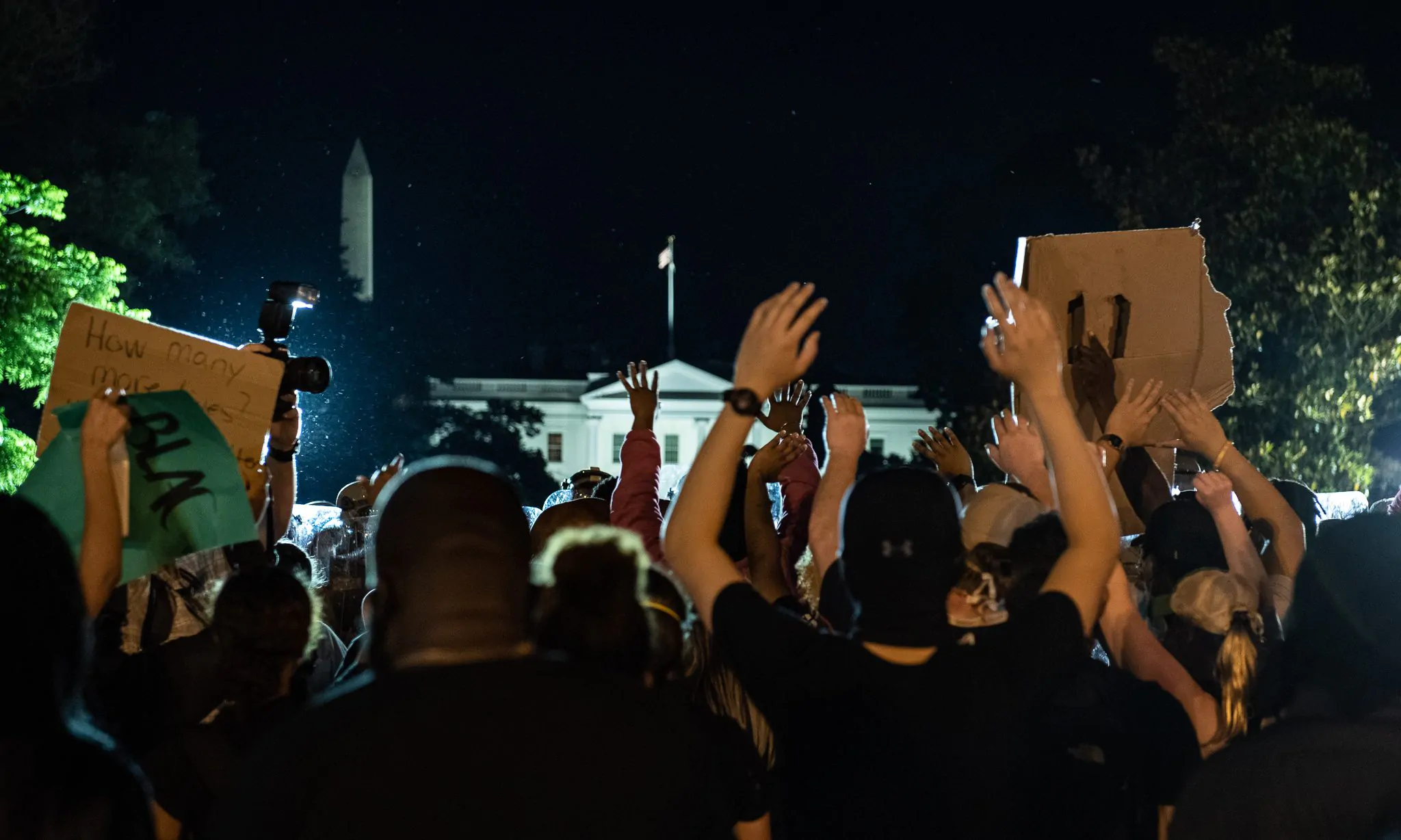 As peaceful protests over the last week have been marred by violence and looting, the nation should be asking what kind of country we are and what we are to become?
Are we to be the shining city on a hill or a lord of the flies kingdom of warring factions?
Most of the protesters who have taken to the streets across the nation are only asking for those things promised in The Declaration of Independence and quoted in the nation's Pledge of Allegiance.
They want the promise of "all men are created equal," with "liberty and justice for all," to be fulfilled.
Amidst the chaos, we hear calls for "law and order" and chants of "No justice, no peace."
A nation can have law and order without justice, but when justice is denied or meted out unequally, people will only remain silent or peaceful for so long.
Law, justice, and peace should flow from the same fountain but rarely ever do in equal measure.
Dr. Martin Luther King, Jr., and Gandhi before him, showed the world the power of nonviolent resistance. From the Salt March, which took place from March to April 1930, in India, to the Selma-to-Montgomery March in 1965, a small band of individuals has shown that peaceful protests can overcome even institutional wrongs.
But laws passed in the 1960s, while changing what was legal, didn't answer inequities or alter everyone's hearts and minds.
Even today, the dog whistles of racism and bullhorns of hate compete against calls for change.
Only when bigotry is shown in bright relief against the suffering of a nation's citizens, do the powerful lose their stranglehold.
The murder of George Floyd is further evidence of a long-festering problem, and the ensuing rage is simply the manifestation of years of systematic mistreatment of black citizens. The laws may have changed in the 1960s, but the mindset of those who fought against that progress has been reborn.
As a nation, we cannot stand with a Bible in one hand and a club in the other and claim equal protection under the law.
Perhaps opening the Scriptures and letting the voice of Jesus speak, rather than holding his words as a prop, would be a good first step. Jesus said to love your neighbor as yourself, do unto others as you would have them do unto you. Are these not the values we should hold dear?
I do not condone violence or property destruction, but I do understand the grievances that lead to both. We, as a state, and nation, can't address the one without offering to answer the other.
President Trump's failed attorney general Jeff Sessions has appointed himself as the spokesman for law and order. In a recent press release, Sessions said, "All over the country we have seen the results of 'politically correct' and completely ineffective leadership."
Sessions blames, "Antifa, far-left radicals, and criminal thugs," and many agree with him.
During George Wallace's political rally at Madison Square Garden in 1968, he blamed anarchists, activists, militants, revolutionaries and communists for the nation's ills.
Wallace also said, "The Supreme Court of our country has hand-cuffed the police, and tonight if you walk out of this building and are knocked in the head, the person who knocks you in the head is out of jail before you get in the hospital, and on Monday morning, they'll try a policeman about it."
Today, Wallace, like Sessions, would say that political correctness was the problem, not a culture that targets certain citizens.
Wallace expressed his disdain for demonstrators who tried to block President Lyndon B. Johnson's limousine saying, "I tell you when November comes, the first time they lie down in front of my limousine, it'll be the last one they ever lay down in front of; their day is over."
On Facebook, some Alabamians have suggested protesters be shot in the head if they resist arrest. And so it goes that the ugliness of human nature stands ready to repeat the sins of the past over and over again.
In an Op-Ed, Alabama State University President Quinton T. Ross, Jr., invoked the past in a very different way.
"Our nonviolent stand proved successful in the past, and I believe it could be the catalyst for real and impactful change. Let peace be at the core of all of our actions," wrote Ross.
"While it seems as though remaining calm in the midst of a racist storm is a signal to be disrespected, disregarded and endangered, remember the lives that were lost to get us to this day. Remember the examples of those who were brutally beaten and rose up from that brutality to walk the halls of Congress, to become mayors, governors, state legislators and community leaders."
Our nation was born out of public defiance in the face of political oppression. Our nation was to be a port for those seeking hope and justice in a world of tyrants.
President Ronald Reagan called the United States "the shining city upon a hill."
"In my mind, it was a tall, proud city built on rocks stronger than oceans, windswept, God-blessed, and teeming with people of all kinds living in harmony and peace," said Reagan in his 1989 Farewell Address to the Nation. He further said he saw the nation as, "A city with free ports that hummed with commerce and creativity. And if there had to be city walls, the walls had doors, and the doors were open to anyone with the will and the heart to get here."
Reagan saw a nation where everyone was allowed to live with peace and prosperity. A place where all were equal, deserved freedom and justice. Is that not what we all want, including the protesters?
America has always been a land of promise, and many times, promises are not kept.
But today, our nation may very well be at a turning point.
Will the moral imperative of fairness break over the dam's edge, or will some just add more sandbags to the top?
Will we decide liberty and justice for all are more than words we repeat by rote, and that everyone deserves the promise of America?
That is the question before us, and now what we choose will show who we are and what we will become.
Print this piece