Most of Alabama's Congressional Delegation Writes to Obama Administration to Protest the State Being Punished By Homeland Security for HB 56
By Brandon Moseley
Alabama Political Reporter 
Alabama's U.S. Senators, Richard Shelby (R) and Jeff Sessions (R) as well as Alabama Congressmen Spencer Bachus (R), Mo Brooks (R), Robert Aderholt (R), Mike Rogers (R), Jo Bonner (R), and Congresswoman Martha Roby (R) signed a letter prepared by Senator Jeff Sessions that was sent to Secretary Janet Napolitano. Sec. Napolitano heads the U.S. Department of Homeland Security for President Barack H. Obama.  The letters was protesting the decision by the Obama administration to delay implementation of the Security Communities Program in the state of Alabama.
All the Republican members of Alabama's Senate and Congressional delegation wrote: "We write to express our serious concerns about the Department of Homeland Security's decision to suspend implementation of the Secure Communities Program in the 30 remaining counties in Alabama.  As you have noted, "Secure Communities is an "effective tool to identify and remove dangerous criminals who pose a threat to public safety." We are certain that you would agree that the program is also an efficient use of Federal and State Resources to combat illegal immigration and has proven invaluable to law enforcement agencies across the country.  For these reasons, it is critical that every county in Alabama participate in the program."
The delegation of Alabama's elected U.S. Senators and Representatives said in the letter that Alabama Attorney General Luther Strange's personal request to Department of Homeland Security Deputy Secretary Betsey Markey that the program be implemented throughout Alabama had been denied.  The letter also said that Immigration and Customs Enforcement Director John Morton had received direct requests from Alabama police chiefs and sheriffs.  The agency then blamed federal budgetary limitations and logistical problems for their inaction and delays throughout the fall.  When confronted directly by Congressman Robert Aderholt and then by Senator Jeff Sessions's office  the Department of Homeland Security admitted they had no budget or logistical issues ; but rather were not implementing the program because of the administration's opposition to the Alabama's state legislature passing H.B. 56.
The administration's explanation for the refusal to implement Secure Communities in all counties in Alabama was "Although the federal courts have enjoined several parts of H.B. 56, certain provisions were not enjoined are currently in effect…. While these provisions of Alabama's state immigration enforcement law, which conflict with ICE's immigration policies and programs, remain the subject of litigation, ICE does not believe it is appropriate to expand deployment of Secure Communities, one of its central enforcement programs, in Alabama."
Alabama's Republican Senators and Representatives called the "notion than an immigration enforcement law is somehow inconsistent with the policies and programs of the nation's top immigration law enforcement agency"……."dubious."  They then went on to say that Alabama is being singled out by Homeland Security.  Other states with similar laws have not had the Secure Communities Program halted in their states.
The Republican delegation continued: "Your Department's decisioon to cease assisting Alabama in the removal of dangerous illegal aliens is wholly inconsistent with this administration's stated position of focusing on the removal of those very individuals."
Sen. Sessions, Sen. Shelby, Rep. Brooks, Rep. Aderholt, Rep. Roby, Rep. Rogers, and Rep. Bachus finished: "There is no legitimate reason why Alabama law enforcement should be denied critical 287(g) training, or the citizens of Alabama should be denied the protection of the Secure Communities program." "we demand that 287(g) training be made available to those State and local agencies that have requested such training, and that Secure Communities be implemented in every county in Alabama by March 15, 2012."
Alabama H.B. 56 (the Hammon-Beason Alabama Taxpayer and Citizen Protection Act) was passed in June 2011 by the Alabama legislature because the legislature believed that the federal government has a very poor record of enforcing federal immigration law in this state and elsewhere and is an effort to use Alabama law to assist federal authorities.  President Obama's administration has vigorously opposed H.B. 56 ostensibly because they claim that immigration is solely a federal power and the federal government will enforce existing federal law however the President in power at the time sees fit.
To read the letter in its entirety:
http://bachus.house.gov/images/stories/secure1.pdf
Alabama lawmaker suggests more should become infected with COVID-19
The leader of Alabama's State Senate suggested to a reporter that he'd actually like to see more people become infected to build the state's overall immunity to the virus, a claim that would require thousands more deaths to become a reality.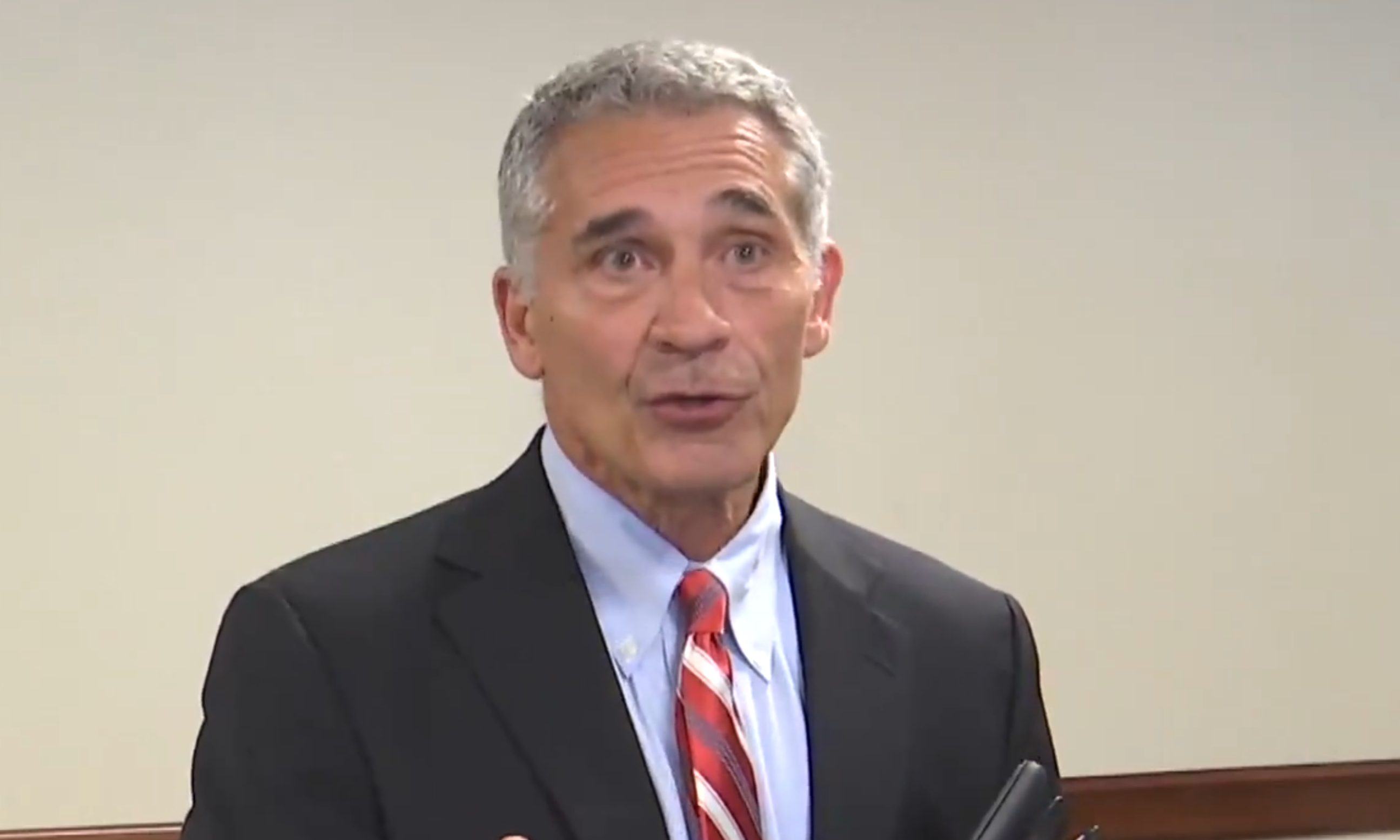 East Alabama Medical Center's critical care beds on Thursday were at 90 percent capacity, and COVID-19 hospitalizations statewide on Thursday were at another record high for the fifth straight day. Administrators at EAMC sounded the alarm Thursday that if things don't change soon, the exponential growth of COVID-19 cases could stress the hospital to the breaking point.
UAB Hospital's COVID-19 intensive care and acute care units were approaching their existing capacity Tuesday, when the hospital was caring for 92 coronavirus patients. The hospital had 91 inpatients who had been diagnosed with COVID-19 on Wednesday. Jefferson County has added more than 1,000 COVID-19 cases over the last week.

Alabama has experienced numerous record increases in cases and hospitalizations in the last several weeks, as the state continues to grapple with a growing pandemic and stressed hospitals.
Despite that, the leader of Alabama's State Senate — and member of Gov. Kay Ivey's COVID-19 task force — suggested to a reporter that he'd actually like to see more people become infected to build the state's overall immunity to the virus.
The state's top health officials suggested Thursday that doing so would lead to unnecessary deaths.
Sen. Del Marsh, R-Anniston, told CBS 42's Reshad Hudson that he's not concerned with the growing number of COVID-19 cases.
Sen. Del Marsh (R) Anniston, says he wants to see more people get #coronavirus to build up an immunity. I asked was he concerned about Alabama's latest surge in cases. pic.twitter.com/omb2GVg9Ev

— Reshad Hudson (@ReshadHudson) July 9, 2020
"I'm not concerned so much at the number of cases. In fact, quite honestly, I want to see more people because we start reaching an immunity, if more people have it and get through it," Marsh said.
"I don't want any deaths. As few as possible. I get it," Marsh said, adding that we need to do all we can to protect those with preexisting conditions and the elderly. "But I'm not concerned. I want to make sure that everybody can receive care, but right now, to my knowledge as of today we still have ample beds."
Marsh has said in interviews this week that he doesn't predict a statewide mask order or a return to the restrictions that data shows slowed the virus's growth.
State Health Officer Dr. Scott Harris was asked by a CBS42 reporter about Marsh's statement encouraging more infections.
"There is absolutely no reason to think at this point that getting infected will give you any degree of immunity. We simply don't know that," Harris said.
"We've looked at countries like Sweden, who have tried to actually generate herd immunity among their population, and it's been disastrous. They've had increased numbers of deaths much higher than their neighbors, in trying to keep their economy open. It does not work well at all," Harris said.
In Sweden, one study found that after months of infections and deaths, less than 10 percent of the population had developed antibodies to the virus. Public health experts believe at least 60 percent of the population would need to be infected for a population to reach herd immunity.
In reality, reaching a level of herd immunity that would be high enough to slow transmission would require tens of thousands more infections and thousands more deaths.
"The way to prevent illness and death, and to keep the economy open, quite frankly, is to keep people from getting this disease," Harris said. 'We need people to wear face coverings, to wash their hands, to stay home when they're sick and to practice social distancing."
Harris told CBS 42 that the state's availability of ICU beds was at its lowest point since the start of the COVID-19 pandemic. Of around 1,400 ICU beds, less than 200 were available Thursday, he said.
Because of Sweden's decision to attempt herd immunity, deaths in country have been eight times higher than in Denmark and 19 times higher than in Norway, according to The Washington Post.
Sweden has seen 543 deaths per million of its population, compared to just 105 per million in Denmark, according to the Worldometer.
 "I believe we're at another pivotal point," said EAMC President and CEO Laura Grill in a statement Thursday. "We had flattened the curve in our community, but due to relaxed state orders and an unwillingness by some people to follow the three simple guidelines needed to help control COVID-19, we are almost back to square one. It's frustrating and quite demoralizing to our staff and physicians, and those in our community who are following the rules."
On Thursday 259 of EAMC's  314 beds were occupied, six nursing units were at 100 percent capacity and 27 of the 30 critical care beds were in use. 
"In other words, EAMC was having a 'red census' day for the second time this week. Patients with positive COVID-19 cases occupied 36 of the beds, with two other patients awaiting results," the hospital said in a release. 
The 36 COVID-19 patients was less than the hospital's peak of 54 on April 11, but at that time the hospital had 164 total patients, and Thursday hospital staff were treating 100 more than that. 
Grill noted the record-breaking number of new COVID-19 cases statewide on Thursday and called for the public to do what's needed to slow the spread. 
"This morning, Alabama announced 2,164 new cases in the past 24 hours—by far the most in a single day—and people are still debating the merits of wearing a mask, calling the virus a hoax and questioning qualified health officials on whether an asymptomatic person can spread the virus. It's all very frustrating," she said.

COVID-19 hospitalizations statewide on Thursday were 1,125, the highest it's been since the start of the pandemic. Nine of the last 11 days the state has seen record high coronavirus hospitalizations. 
Regional Medical Center in Anniston, Marsh's hometown in Calhoun County, on Thursday was caring for 15 coronavirus patients, a record high for the hospital, according to The Anniston Star.
Calhoun County on Thursday added 33 new COVID-19 cases, which was the second-highest single day of new cases the county has seen since the pandemic began. In the last week the county added 156 cases, or 35 percent of the county's total coronavirus cases.