Vernon Burns: The Long War: Why did we abandon our Constitution and when?
That our institution and the concepts of our founders are held in contempt by our ruling elites  is made more obvious every day. In the past weeks a United States Supreme Court Justice, Ruth Bader Ginsburg, speaking to an Egyptian group, advised against using our Constitution  as a guide in forming a new government for Egypt. This from a person sitting on our highest court who has sworn an oath to protect and defend that same Constitution. What goes on here? That Justice Ginsburg, a former attorney with the A.C.L.U. (American Civil Liberties Union) would hold such views, is not a shock to those who study the long decline of our republic. It is simply one more shot in the long war that began over one hundred years ago. Justice Ginsburg is not breaking new ground by trashing the ideals and fundamental blessings in trusted to future generations by our Constitution. 
It is some what shocking that we have not, as yet, heard of any calls for the justice's impeachment from those constitutionally charges with the responsibility. When the House of Representatives has not stepped forward to defend our Constitution, what are we to assume? What does an oath to protect and defend the Constitution mean? Members of congress take the same oath, do they not? This destructive virus infected our nation in the years after the civil war, and with few reversals, has grown stronger year by year. Ruth Bader Ginsburg, Barack Obama, or any of our modern social darwinists, those who know we have matured beyond our old out dated Constitution, they are not new. 
Take as an example, the revered President Theodore Roosevelt, one of the fathers of the social progressive movement. In 1910 Roosevelt declared that the president must be the "stewart of public welfare" and in a statement even more frightening he expressed his views on private property. He said that "private property was subject to the general right of the community to regulate it's use to whatever degree the public welfare may require it." When we think of our private property we generally think of our home, our land, and maybe our car. To the socialist progressive your property is anything you think you may own, from your land, to the money you have in the bank, to the can of beans in your kitchen cabinet. There is no limit. 
Our next great socialist thinking president was Woodrow Wilson. Wilson was a total product of the academic path he chose to a political future in the progressive wing of the democratic party. He promoted and believed in the welfare state as the future utopia we must impose on the uneducated masses. Wilson saw no place for individualism in modern America and worked toward that end. He even described the goal of progressivism being the individual to "marry his interest to the state." 
Where did these two presidents, a republican and a democrat, get these ideas that are so foreign to our founding principals? Foreign is the word for it, and Europe is the place of birth. German Karl Marx gave the world the Communist Manifesto in 1848 and his major work Das Kapital in 1867. The works of Dr. Marx, yes Karl Marx obtained his PH.D in philosophy in 1841, were too radical for most, but they are the seed modern socialism grew from. 
The real hero of the socialist progressives was Otto Von Bismarck. Bismarck United Germany in 1871 and worked to institute a cradle to grave program of government provided or government  required employment, health care and support in old age. This top down socialism accomplished two main objectives. First it made the middle class dependent on the state insuring those in power stayed in power.  Second it took away hard line communist reasons for calling for a complete revolution by giving people the sense that an enlightened government was the wise parental guardian and they were children. This child like faith of the German people in the state was the foundation of national socialism, The Nazi Party, and Adolf Hitler. When the state provides for all, the individual is nothing and the state is the master to be severed. 
Socialism has infected our nation for all of our life times and to one degree or another we have all accepted it, until now. But no more. People are waking up, our voices are being heard, and they are saying no to socialism. We realize that we have an elite leadership class that thinks the time has come to close the deal. Barack Obama and his supporters think he is going to fundamentally change America. Obamas greatest accomplishment, so far is to reawaken our love of Freedom. He is the reason our nation is reuniting with the Constitution and its founding principals.
Thank you.
Print this piece
Opinion | Secretary of State responds to Alabama Political Reporter op-ed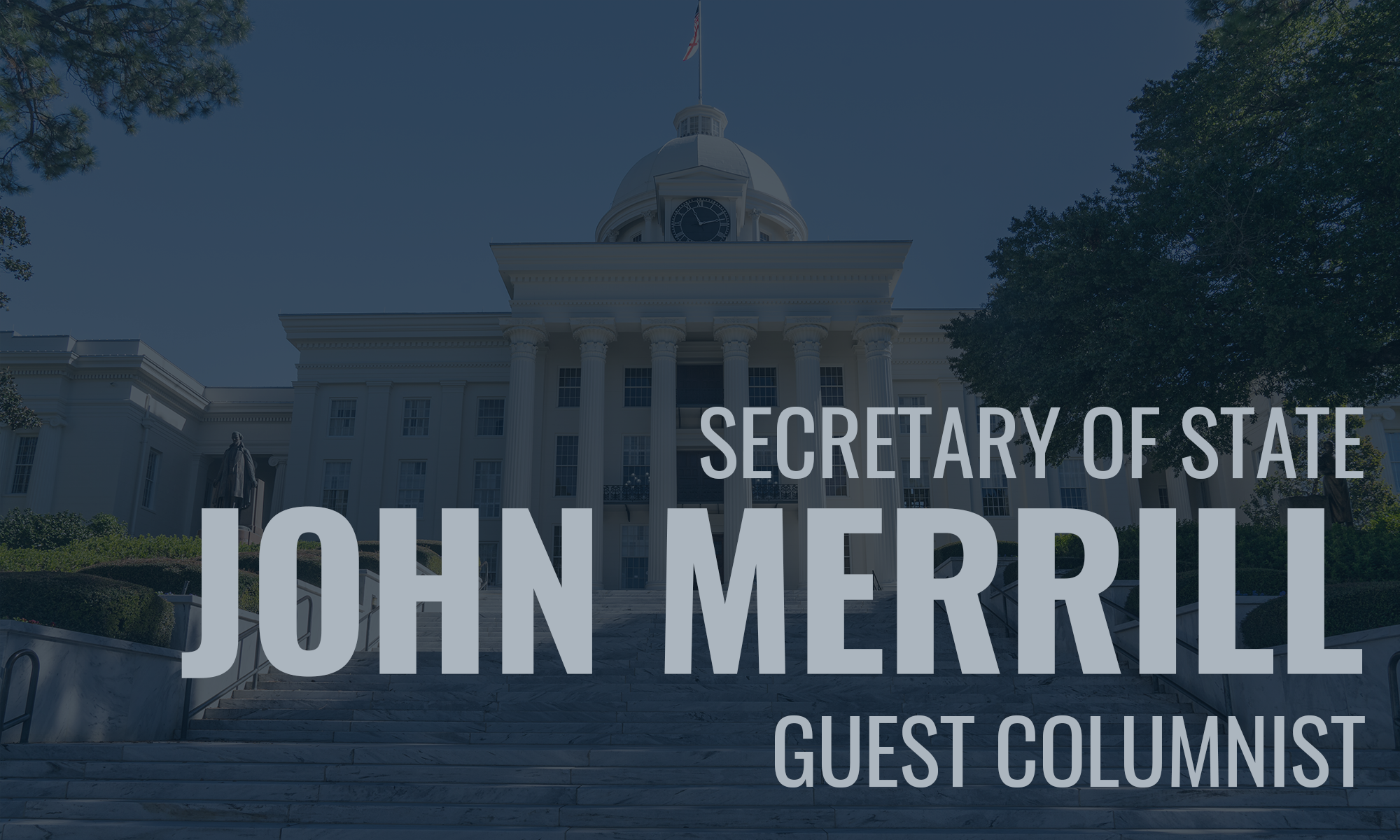 The following statement from Secretary of State John H. Merrill is in response to the inaccurate op-ed published yesterday morning by Josh Moon of Alabama Political Reporter:
This morning, Josh Moon of Alabama Political Reporter alleged that "voting by mail does not lead to fraud."
Moon went on to undermine the six voter fraud convictions and the five associated with tampering with absentee ballots in the last five years, claiming that these numbers are not substantial enough to have basis.
Let's start with the facts, Josh.
When you have one person that violates the trust and confidence in the elections process by committing illegal activity, that is one too many. Whether you have one voter fraud conviction or a thousand, you are proving to the electorate that elections require integrity and credibility! We will continue to work to build trust and confidence in the elections process.
Claiming "you can't commit enough fraud to alter the outcome of such a race" is naive and careless.
In 2018, we saw a member of the legislature who won her race by a mere six votes and another member who won his race by 28 votes. That same year, we witnessed a sheriff's race that was tied even after the recount. It should be apparent to anyone that just a few votes can determine the outcome of an election.
The fraudulent practice of ballot harvesting, which is often associated with voting by mail, led to the defeat of seven Republican candidates in the California 2018 midterm election. Young Kim, who ran to represent California's 39th Congressional District, was leading the vote count on election night and even in the week that followed the election. Two weeks later and after Kim attended New Member Orientation, the Democrat challenger was declared the winner after 11,000 mail ballots were counted. These ballots favored the Democrat challenger at a much higher rate than the previously counted ballots.
Similarly, during the 2018 Election Cycle, the North Carolina Board of Elections appropriately refused to certify the results of the 9th Congressional District's election due to the illegal misuse of absentee ballots.
It has also been reported, through data collected by the Election Assistance Commission, that between 2012 and 2018, 28.3 million mail-in ballots went unaccounted for, which equates to one in five of all absentee or mail-in ballots.
So, obviously, Josh, you can commit enough fraud to alter the outcome of an election.
The issues with mail-in voting far exceed the few that Josh attempts to raise. Consider Nevada where thousands of absentee ballots were just sent to inactive voters in Clark County. Consider the thousands of envelopes piling up in post offices or outside homes, apartments, and other facilities. Consider California in 2016 where 83 ballots were sent to one address housing just two people.
Then, Josh, after you have considered Alabama where in 2016, 109 absentee ballots were sent to the mother of a mayoral candidate in Brighton or when 119 absentee ballots were mailed to an abandoned home in Wilcox County, tell me that mail-in voting does not increase the likelihood for fraud to be committed.
To then pretend "small-town races" in Dothan, which is Alabama's seventh largest municipality out of 463, are not worthy of being noted is ludicrous.
The state's absentee law requiring a photo ID to be submitted with the application, which I remind you was passed last year with bipartisan support and sponsored, at our request, by Rodger Smitherman (D-Birmingham), has worked to prevent these sorts of opportunities in our state. This comprehensive, reform legislation has provided safeguards in our absentee process.
One major consideration that many supporters of mail-in voting fail to mention is cost. Currently, the administration for one Election Cycle (Primary, Runoff, and General) in our state is $16.5 million, whereas the administration of a full mail-in Election Cycle is almost $60 million.
I am positive that even Josh Moon can find a better way to spend $43.5 million generated by taxpayers.
Print this piece