Alabama Ethics Commission Says Legislators Are Breaking the Law
By Brandon Moseley
Alabama Political Reporter 
Director of the Alabama Ethics Commission, James L. Sumner sent a memo to Alabama Senate Pro Tem Dell Marsh, Alabama Speaker of the House Mike Hubbard, and all registered lobbyists saying that Alabama lobbyists are still taking legislators to dinners in violation of Alabama's strict new 2011 ethics law.
Director Sumner wrote, "We have heard from several sources recently that since the session started last week, there are some people and groups who either do not understand the new hospitality provision of the new Ethics Law or are intentionally disregarding those rules."
"Specifically we are hearing that at the end of each day several lobbyists are attempting to gather groups of approximately eight (8) to go out for dinner." "It appears what may be occurring is that groups are going out after every day and calling this a "work session."  We believe this is a subterfuge and is not something that we would precertify.  If events that are precertified are carried out in this way then that precertification is null and void."
Director Sumner acknowledges in the letter that "work session" is not defined in Alabama's ethics law however the Alabama Ethics Commission has defined "work session" in their interpretation of the Alabama Ethics Law and under that definition a gathering of 8 legislators at a steakhouse with a lobbyist who pays for the dinners is not a work session. Director Sumner says that a lobbyist can take a group of 8 legislators out to dinner if he wants to but he has to report that and apply those dinners to the new annual limit set under the Alabama Ethics Law.  Director Sumner finishes, "We do not want anyone to run afoul of the law, and have gone to great lengths to interpret and educate as to the new law." "Please bear in mind that the intent of the special session was meaningful ethics reform, and doing away with "ethics as usual".
Prior to the 2010 election it was entirely legal, and many claim it was expected, for a lobbyist to spend up to $200 a day per legislator wining and dining Alabama state legislators to influence them to introduce or pass legislation desired by the special interest that was hiring the lobbying firm.  Similarly these tactics were used to influence legislators to kill legislation that the special interest did not favor.  The Alabama Republican Party promised voters that they would end the potentially corrupting and unethical practices that were then allowed by Alabama's weak ethics laws.  For several years the Alabama Democratic Party majority promised many of these same reforms.  The ethics bills would be introduced in the House to much fanfare and then the ethics bills would die in some committee in the then Democrat Controlled Senate.  Following the election of Governor Robert Bentley (R) and the new Republican majorities of both houses in 2010, the new Governor called a special session of the Alabama Legislature where a series of new stronger ethics laws were passed into law, including the strict limits on how much lobbyists can spend on food for legislators.
The existence of the ethics memo was first reported by weldbham.com
To read the memo:
hash tags: 
Three mental health crisis centers coming to Mobile, Montgomery and Huntsville
"Today marks a culture change in Alabama for treatment of individuals with mental illness and substance use disorders," Mental Health Commissioner Lynn Beshear said.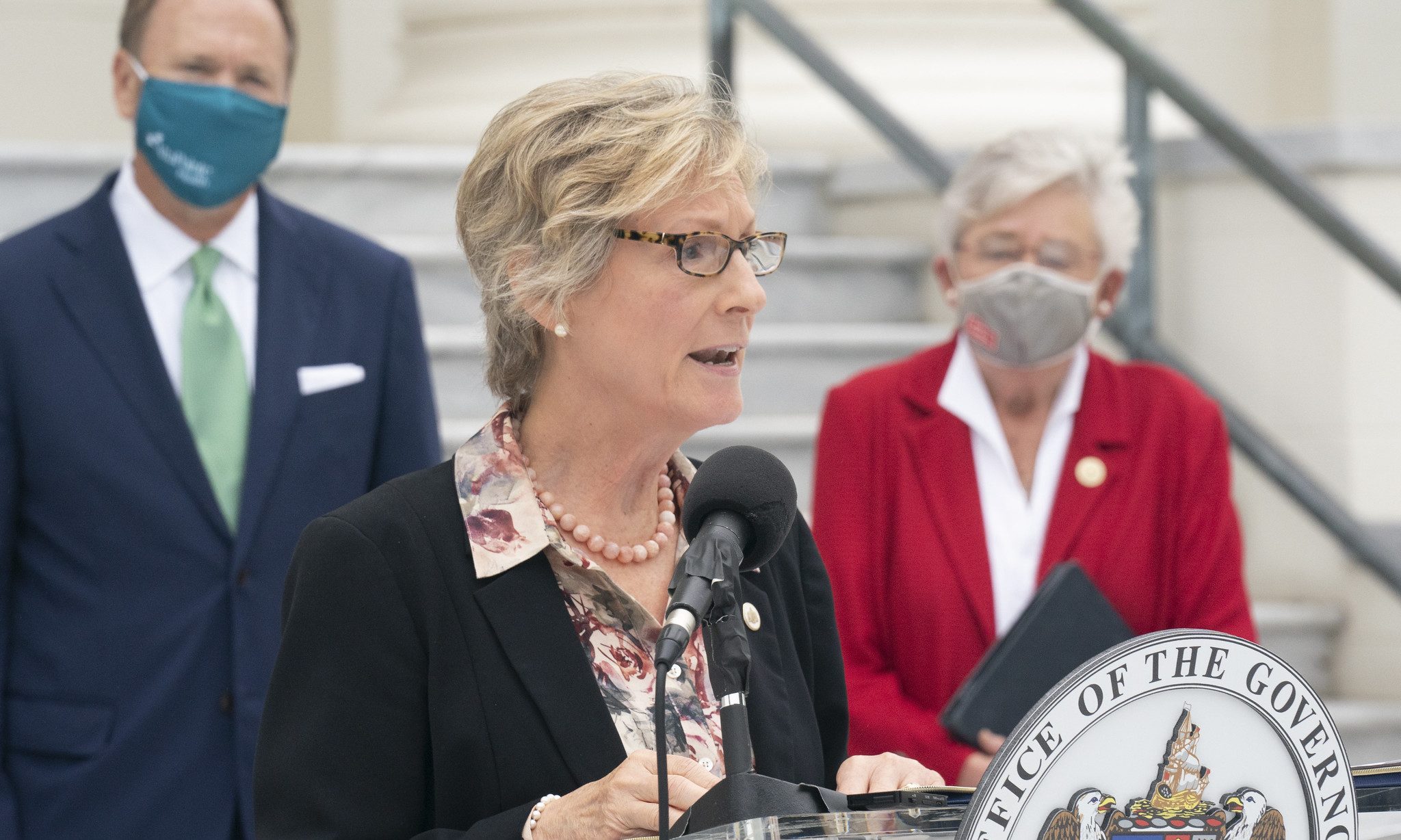 Gov. Kay Ivey on Wednesday announced an $18 million project to create three new mental health crisis centers to be located in Mobile, Montgomery and Huntsville. 
These centers, once in operation, will reduce the number of people suffering from mental health crises who are hospitalized or jailed, Ivey said during a press briefing in front of the Capitol Building in Montgomery. 
"When these facilities are open and fully staffed, these centers will become a safe haven for people facing mental health challenges," Ivey said. 
Lynn Beshear, commissioner of the Alabama Department of Mental Health, said during the briefing that the centers will provide "recovery based" care with "short term stays of a few hours, or up to a few days, to provide treatment, support, and connection to care in the community." 
"Today marks a culture change in Alabama for treatment of individuals with mental illness and substance use disorders," Beshear said. 
Beshear said AltaPointe Health in Mobile will operate one of the three facilities, and once built it is to serve Mobile, Baldwin, Clarke, Conecuh, Escambia, Monroe and Washington counties with 21 new beds, including 15 temporary observation beds. Altapointe will begin with a temporary space while constructing the new facilities, she said. 
Beshear said the Montgomery Area Mental Health Authority is partnering with the East Alabama Mental Health Authority and the Central Alabama Mental Health Authority to serve the 11 counties in Region 3 with 21 new beds, including 10 temporary observation and respite beds. 
"The regional crisis center will be located in Montgomery, and will be open to walk-ins and for drop off by law enforcement, first responders and referrals from emergency rooms," Beshear said. 
Wellstone Behavioral Health in Huntsville was selected to open the third center, and will do so at a temporary site while a new facility is being built, with the help of an additional $2.1 million from local governments, Beshear said. That facility will eventually have 39 beds, including 15 for temporary observation and 24 for extended observation.
"There's not a day that goes by that after-hours care is not an issue in our state," said Jeremy Blair, CEO of Wellstone Behavioral Health, speaking at the press conference. "And so I applaud the Department of Mental Health and the leaders for their efforts in recognizing that and taking it a step further and funding our efforts here." 
Asked by a reporter why a center wasn't located in Jefferson County, one of the most populous counties with a great need for such a center, Ivey said those residents will be served in one of the other regions. 
"Plans are underway to continue this effort. Today's beginning, with these three crisis centers, is just the beginning," Ivey said. 
Ivey added that request for proposals were sent out for these three centers and "it was a strong competition for the location of these three crisis centers." 
Alabama House Majority Leader Nathaniel Ledbetter, R-Rainsville, said during the briefing that more than a year ago, Ivey asked him what the state should be looking at, and that he replied "we're failing miserably in mental health."
Ledbetter said Ivey asked him to take on the challenge of correcting the state's response to mental health, and a team was created to do just that. 
"Working together, today's announcement will not only change Alabamians lives, but will help to save lives," Ledbetter said.