Chuck Malone Receiving Legislative Endorsements
By Brandon Moseley
Alabama Political Reporter
Alabama State Senator Cam Ward (R) from Alabaster, was one of several legislators who have officially endorsed Chief Justice Chuck Malone in his reelection effort in the March 13 Republican primary.
Senator Cam Ward said in a written statement, "As co-chair of the Alabama Senate Judiciary Committee, I have worked closely with Chief Justice Malone on a number of court-related issues and I have been extremely impressed with his knowledge, dedication, and passion for Alabama's judicial system."  "We have never had this level of transparency in budgeting in the third branch of government and the taxpayers of Alabama deserve to continue to reap the benefits of that kind of leadership on the bench."
Alabama State Representative Mike Hill (R) from Columbiana also endorsed Chief Justice Malone.  Rep. Hill said, "Chief Justice Chuck Malone is a devoted public servant who is committed to ensuring that every Alabamian has access to a fair and efficient court system. These are very tough budgetary times and he is working very hard to cut wasteful spending without sacrificing justice."  "They are all great candidates but Chief Justice Malone is the only candidate with a solid plan for these dire economic times. He is doing a great job and he will continue to do a great job for the next six years."
Rep. Hill said, "Chuck Malone was a practicing attorney for more than 20 years with experience in criminal and civil court. He served as a Circuit Judge for ten years and his peers elected him twice as Presiding Judge." "His legal experience combined with his administrative experience as Chief of Staff for Governor Bentley and as the sitting Chief Justice make him the best choice on election day."
Chief Justice Malone was also endorsed by Senator Gerald Allen (R) from Tuscaloosa, Representative Richard Baughn (R) from Lynn, Representative Alan Harper (R) from Aliceville, Representative John Merrill (R) from Tuscaloosa),  Representative Bill Poole (R) from Northport, and Senator Greg Reed (R) from Jasper on Friday.
Senator Allen said, "Chuck Malone is an outstanding Chief Justice. He has brought transparency and fiscally conservative budgeting principles back to the court system."  "That is exactly the type of quality, conservative leadership that the people of Alabama deserve. He is a hardworking, honest man who spends every day trying to do what is right for our state."
Representative Richard Baughn said, "Everyone you speak to that has a role in the court system is very impressed with the job Chuck Malone is doing. When I talk to people who are working in the court system every day, the people in the trenches, they can't say enough about the tremendous improvements Chief Justice Malone has made since he took over as the head of the courts."  "There are still a lot of challenges facing our judicial system and I am confident Chuck Malone is the man to face any challenge that arises."
Representative Alan Harper said, "This is a man who leads by example. Chuck Malone knew cuts had to be made in the court system and wasteful spending had to be eliminated." "He could have made everyone else suffer through cuts, but he didn't. He looked at his office first and cut wasteful spending in the office of the Chief Justice before he looked to make cuts elsewhere. That's true leadership."
Representative John Merrill said,  "I have known Chuck Malone for a very long time and he is one of the most ethical men I have ever known," Merrill said. "He is always committed to doing the right thing and to upholding the law, not making it from the bench. He is a great man, great father, and an outstanding Chief Justice and that is why I will be casting my vote for Chuck Malone on March 13."
Rep. Bill Poole said, "Chuck Malone served the people of Tuscaloosa County as a Circuit Judge for a decade and he was always known as a fair, but tough, judge," Poole said. "He has brought that wealth of experience to his role as Chief Justice of the Supreme Court and he is doing an outstanding job in that position. There is no better person to serve as the head of the Alabama Unified Judicial System than Chuck Malone. He is one of the most dedicated, ethical, hardworking men I have ever known and the people of my district and of Alabama will be served well by having him continue as Chief Justice for the next six years."
Senator Greg Reed said, "Chief Justice Malone is doing a great job in managing our court budgets," Reed said. "Our state leaders are dealing with lower budgets and he has proven he will continue to do a great job dealing with these issues as the head of Alabama's judicial system."
Incumbent Chief Justice Chuck Malone is opposed in the March 13th Republican primary by former Chief Justice Roy Moore and by presiding Mobile County Judge Charlie Graddick.  The winner of the Republican Primary will face perennial candidate Pelham Attorney Harry Lyons in the November 6th General Election.
To learn more about the Malone campaign visit his website:
Governor declares state of emergency ahead of Tropical Storm Zeta
Zeta is currently a tropical storm over the Gulf of Mexico, but it is predicted to make landfall as a category one hurricane.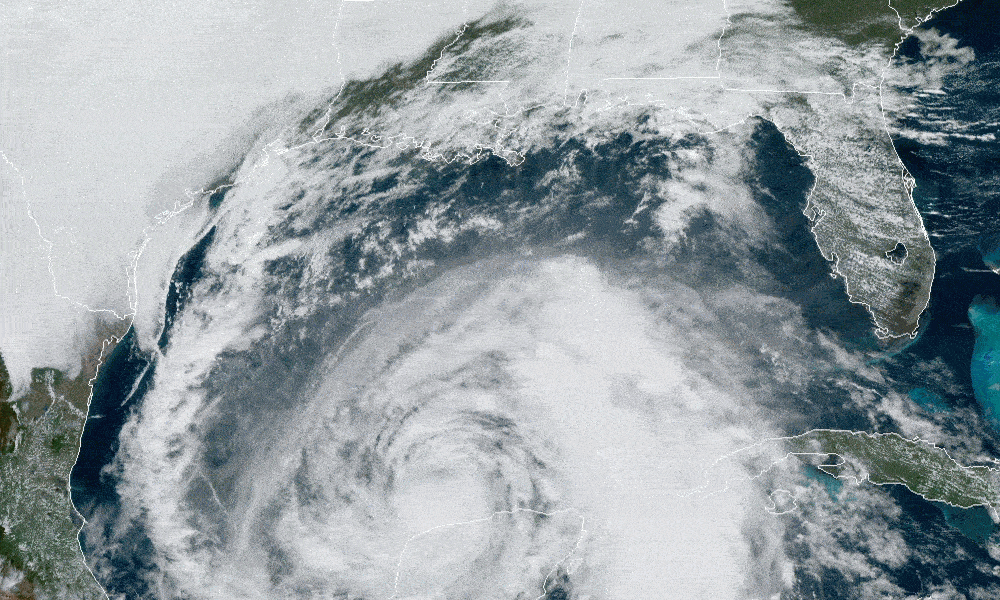 Alabama Gov. Kay Ivey on Tuesday issued a state of emergency as Tropical Storm Zeta approaches the Gulf Coast.
"Ahead of Tropical Storm Zeta's anticipated landfall Wednesday evening as a Category 1 hurricane, I am issuing a state of emergency effective today at 4:00 p.m.," Ivey said. "While this storm is not expected to have an impact as large as storms we've seen move through the Gulf earlier this year, we want to be in the best place possible to respond to anticipated rain, storm surge and mass power outage. I encourage everyone to remain weather aware and tuned in to their trusted news source as this storm could shift direction or change intensity. We continue to track the path of this storm and will stay in touch with the people of Alabama with any updates."
Zeta is currently a tropical storm over the Gulf of Mexico, but it is predicted to make landfall as a category one hurricane. The National Hurricane Center is predicting Zeta to make landfall in Mississippi on Wednesday and then proceed toward Alabama, but these storms can and do move.
A more easterly track could prove devastating to the Alabama Gulf Coast as was the case with Hurricane Sally, which shifted course in September, hitting Alabama, though Zeta is expected to be weaker than Sally at landfall.
The storm surge from the Mississippi-Alabama border to Dauphin Island is forecast to be 5 to 8 feet. Mobile Bay to the Alabama-Florida border is expected to have 3 to 5 feet of storm surge and from the border to Navarre, Florida, could experience 2 to 4 feet of storm surge.
Hurricane force winds are a possibility with this storm. Tropical force winds are expected to be an issue for Southern Mississippi and Alabama well inland. There is expected to be heavy rainfall across the state Wednesday night into Thursday morning.
The Baldwin County Emergency Management Agency announced that sandbags are available inside the county commission office at Robertsdale Central Annex (22251 Palmer Street) until 4:30 p.m. Tuesday and from 8 a.m. until 4:30 p.m. Wednesday or while they last.
Bring any help and shovels you will need. There is a limit of just 25 bags per person. Alabama's coastal counties are currently under a Tropical Storm Warning, a Storm Surge Warning for Mobile County and a High Rip Current and High Surf Warning.
Congressman Bradley Byrne said, "I just finished up briefings from Alabama EMA, FEMA, and the National Hurricane Center regarding #Zeta. We should not take this storm lightly and should start making preparations right away. After sundown Wednesday, I'd encourage everyone in Southwest Alabama to stay home and off the roads until sunrise Thursday. This storm will have impacts as far north as Montgomery, so those in Washington, Clarke, and Monroe counties will see tropical storm force winds and heavy rain. I'd encourage everyone to charge their phones and other necessary electronics. If you have an emergency during the storm, call 911 and do not try to drive."
Coastal Alabama is still in the process of recovering from Hurricane Sally which hit the state on Sept. 15.