Rep. Martha Roby on Air Force Changes, Farmers Federation, Honest Budget Act
Staff Report
Alabama Political Reporter
Questioning Key Air Force Leaders on Changes to Force Structure:
During ongoing military budget debates last week, the House Armed Services Committee (HASC) held a hearing discussing the Fiscal Year 2013 National Defense Authorization Budget Request from the Department of the Air Force. As a member of the House Armed Services Committee, I questioned Secretary of the Air Force Michael B. Donley and USAF Chief of Staff General Norton A. Schwartz about proposed reductions to the Air Force in the Department of Defense's Fiscal Year 2013 budget proposal.
To get a better understanding of the decisions behind the proposed force reductions, I led an Alabama Congressional delegation letter requesting a meeting with Air Force Secretary Donley and Gen. Schwartz. The military faces challenging budget cuts, and the goal of the meeting is to get a definitive explanation on the methodology the Air Force used in its decisions. I am pleased that our delegation has a strong tradition of working together in a bipartisan fashion on issues important to Alabama. We want to ask the questions that have not yet been asked so that we can better evaluate the situation. It is important to make sure that as a delegation we are facilitating open communication so that we can do all that we can to promote the Air Force, Air Force Reserve, and Air National Guard missions in our state.
In a time of significant budget cuts, this level of oversight and diligence is needed across each of the branches of the military. For example, we are taking a similar look at how the President's budget proposal would impact the Army at Ft. Rucker.
Alabama Farmers Federation:
Members of the Alabama Farmers Federation (ALFA) traveled last week to Washington, D.C., to meet with Congressional lawmakers. As a member of the House Committee on Agriculture, I was glad to get an opportunity to speak with them about agriculture policies important to Alabama. I was especially pleased to meet with the ALFA Farm Bill Committee and ALFA President Jerry Newby to discuss the upcoming Farm Bill. I am appreciative to all of the ALFA members who spent time meeting with me last week to share their views on agriculture issues important to our state.
Fox Business News Interview on Honest Budget Act:
Since introducing the Honest Budget Act earlier this year, I look for opportunities to highlight the provisions of the bill and advocate for honest budgeting in Fiscal Year 2013. Last week, Fox Business News invited me on to discuss the nine most commonly used budget gimmicks and accounting tricks that Washington relies on to conceal and enable deficit spending. The interview provided a good opportunity to speak to a national audience about the importance of bringing honesty back into the budget process by looking at ways that both Republicans and Democrats have shuffled money back and forth to create the illusion of savings that are not there. This week, I have another opportunity to discuss the Honest Budget Act when I testify before the House Budget Committee about the Fiscal Year 2013 Federal budget process.
Meetings this week:
Thanks to the many individuals, organizations, and groups who took time to meet with me to talk about the issues under consideration in Congress. I met with many last week, including the following: members of the Southern Cotton Growers; Allan Pizzato, Executive Director of Alabama Public Television; representatives from the American Legion Auxiliary; members of the Council for Agricultural Research, Extension, and Teaching (CARET); members of the Disabled American Veterans Department of Alabama; Lt Col. Bradford Lynn and Col. William Bass with the Maxwell Civil Air Patrol; Jeff Pino, President of Sikorsky; Major General James Rogers with Army Aviation and Missile Command (AMCOM); and members of the Alabama Farmers Federation.
Contact Me:
Keeping close contact with you is my top priority as I am traveling between Alabama and Washington, D.C. As the 112th Congress continues, I hope you will stay updated on my activities by joining me at:
–          Web site http://roby.house.gov/
–          Facebook page at http://www.facebook.com/Representative.Martha.Roby
–          Twitter page @ RepMarthaRoby 
–          Flicker page at Martha Roby
–          Sign up for Martha's Weekly Email http://roby.house.gov/contact-me/newsletter
Trump Truck and boat parades this weekend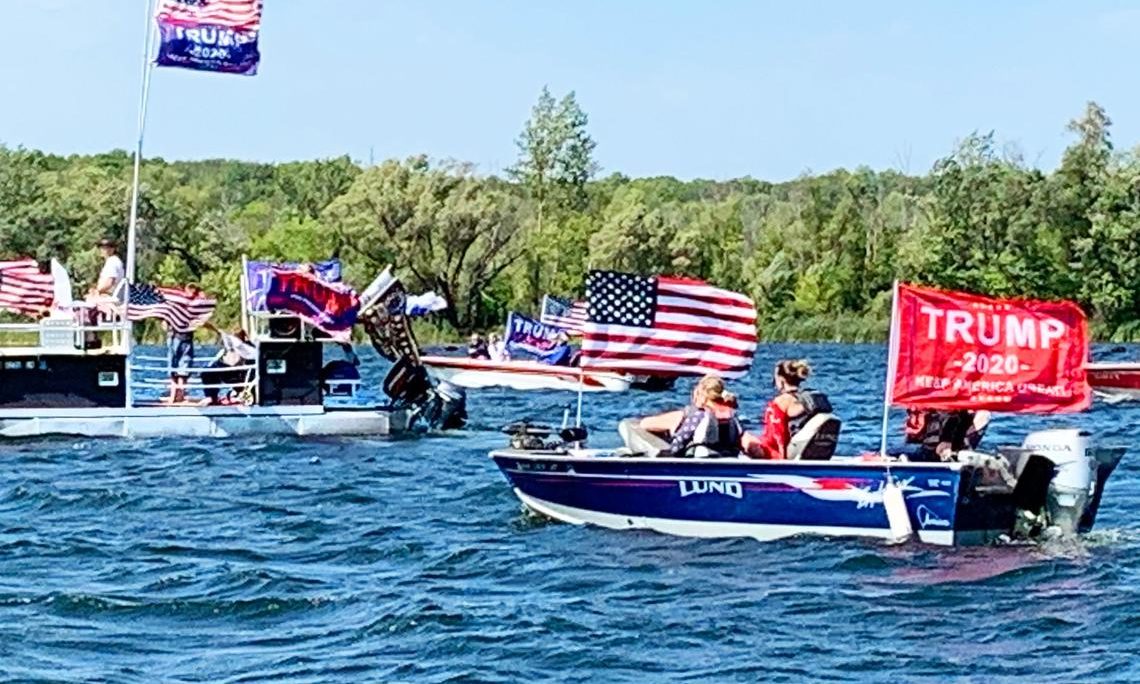 As Election Day draws near, Alabama Republicans are excited about promoting the re-election of Donald J. Trump as President and the election of Tommy Tuberville for U.S. Senate. This weekend two pro-President Trump events are happening in the state. There will be a truck parade from Ashland to Phenix City on Saturday sponsored by the Clay County Republican Party, while there will also be a boat parade on Wilson Lake in the Shoals sponsored by the Colbert County Republican Party on Sunday.
The pickup trucks will assemble at the Ashland Industrial Park in Clay County, 8240 Hwy 9, Ashland. There is a pre-departure rally at 10:00 a.m. central standard time. The trucks will depart at 11:00 a.m. and then proceed on a parade route that will take them into the bitterly contested swing state of Georgia. The Trump Pickup Parade will wind through east Alabama and West Georgia traveling through LaGrange and Columbus before concluding near the Alabama/Georgia line in Phenix City, 332 Woodland Drive, Phenix City at approximately 2:00 p.m. central time. Speakers will begin at 3:00. Trump flags will be on sale at the event.
The Phenix Motorsports Park will be hosting what sponsor hope could possibly the world's largest Pickup Tuck parade in U.S. history that is routing over 50 mile through Georgia in effort to "pickup" President Trump's numbers in GA.
A number dignitaries have been invited to address the Phenix City rally, including Coach Tuberville. Former State Sen. Shadrack McGill, Trump Victory Finance Committee member former State Rep. Perry O. Hooper Jr., and Paul Wellborn, the President and CEO of the largest Family owned Kitchen Cabinet manufacture in the USA are among the featured speakers who have committed to speak at the event.
Entertainment will be provided by: Charity Bowden, an up and coming country music singer who was the runner up on "The Voice". Charity will sing 'I am Proud to be an American' as well as songs from her Voice performances. The McGill Girls will also perform. The three beautiful and talented sisters will be singing patriotic songs in three part harmony. Geoff Carlisle, a professional DJ will be keeping the crowd pumped with music and entertainment.
Following the speakers and the entertainment there will Trump truck-vs- Joe Bidden truck races down the drag strip for the finale.
The Northwest Alabama boat parade will be on Sunday. The boats will gather at 2:00 p.m. near Turtle Point and then the flotilla will parade around the open waters of Wilson Lake til 3_00 p.m.. There will be a contest for best decorated Trump boats.
Trump supporters have held a number of large boat parades across the state to show their support for the re-election of Pres. Trump.
Boat parade sponsors say that this parade will be: pro-American, pro-law enforcement, pro-military.