Super-PAC Launches Ads Attacking Bachus
By Brandon Moseley
Alabama Political Reporter
The Campaign for Primary Accountability a Super Pac that is targeting long term incumbents is unleashing television ads attacking Alabama ten term Republican Congressman Spencer Bachus from Vestavia.
One of the ad spots claims that "Alabama Congressman Spencer Bachus is a debt-raising, status-quo politician. He voted to pass a $700 billion bank bailout after receiving $3.7 million from financial industries. Now Bachus is under investigation for profiting from his elected position in Congress. Go to the polls in Alabama on March 13th, vote Republican and send Bachus packing."
A longer 2 minute and 35 second ad attempts to explain the insider trading scandal that Peter Schweizer alleges in his book Throw the Bums Out that was highlighted by the CBS news program '60 Minutes'
The group's website says that their mission is "To put the voters back in control of the process, we must challenge long-term incumbents and hold them accountable for their deeds. Enough is enough. As our economic crisis deepens, as the federal bureaucracy continues to expand and as lobbyists gain still more power, we must apply leverage where we can: in primary election challenges to incumbent members of Congress."
The Group's Founder Eric O'Keefe told Birmingham Talk Radio host, Matt Murphy on 100.5 FM, "the only chance to retire him (Rep. Bachus) is in this primary." Mr. O'Keefe said that Bachus thinks of himself as royalty. O'Keefe said that "his advertising against President Obama" is erroneous because blamed Bachus for big spending which led to independents switching to the Democrats in 2006 and 2008 giving us Pelosi and Obama. "This is the fundamental problem with Congress the one party seats."  "This is the most important Congressional Primary in the Country" less than 1% of incembents lose primarys." "Spencer Bachus has been in too long."  "His campaign funding comes from banking, the very group that he bailed out."  "We are just putting out facts that otherwise would not get out," Eric O'Keefe said to Matt Murphy.
Congressman Bachus denies any wrong doing.  He told the Birmingham News "The public rightly demands that elected officials conduct themselves honorably. Financial disclosure has long been considered the best safeguard. But it may be that the only way to completely address even the perception of a conflict of interest and false allegations is for members of Congress not to trade or to place their holdings in a blind trust."  It is hurtful when loved ones, neighbors and church members read and hear falsehoods attacking your character made and repeated in the media. But negative and personal attacks intended to create controversy and fear do not succeed."  "As your representative, please be assured that I will continue to strive to serve you with joy and optimism."
Representative Bachus is being challenged in the March 13th Republican Primary by State Senator Scott Beason, Probate Judge David Standridge, and teaparty activist Al Mickle.  Eric O' Keefe said that his group is not endorsing any one of the challengers.  They are just opposing Congressman Bachus's effort to be reelected to an eleventh term in the United States Congress.
To read the group's research on Rep. Bachus they site as source material for their ad:
http://www.campaign4primaryaccountability.org/2012/03/05/send-bachus-packing-research/
To learn more about the Bachus campaign
Trump Truck and boat parades this weekend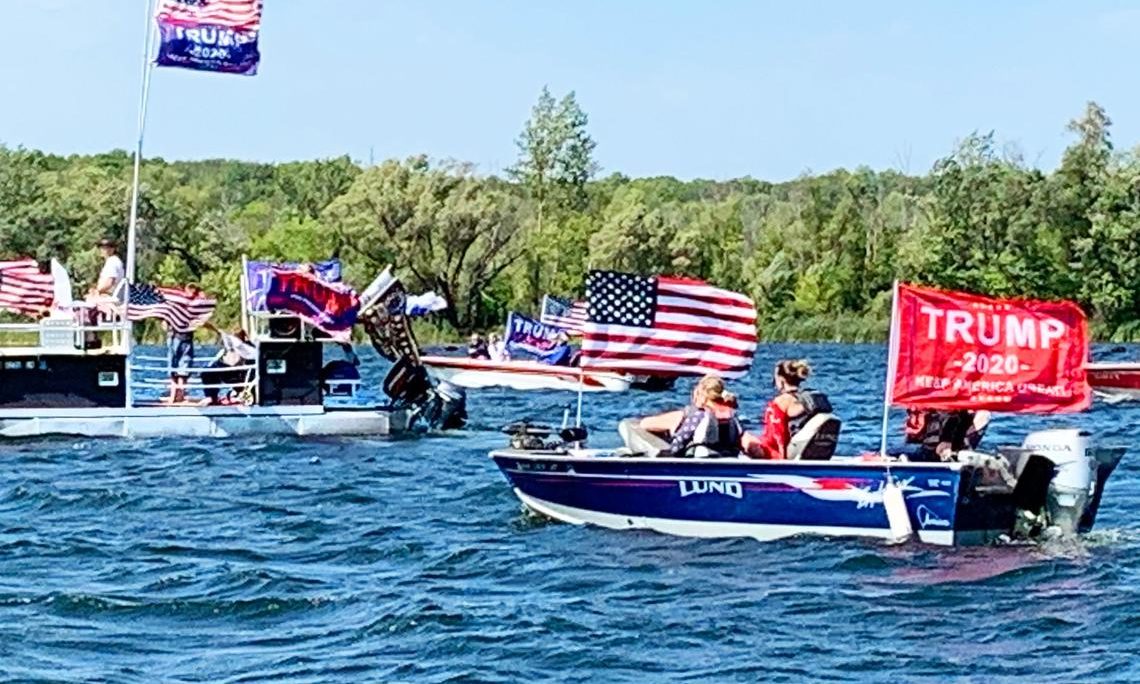 As Election Day draws near, Alabama Republicans are excited about promoting the re-election of Donald J. Trump as President and the election of Tommy Tuberville for U.S. Senate. This weekend two pro-President Trump events are happening in the state. There will be a truck parade from Ashland to Phenix City on Saturday sponsored by the Clay County Republican Party, while there will also be a boat parade on Wilson Lake in the Shoals sponsored by the Colbert County Republican Party on Sunday.
The pickup trucks will assemble at the Ashland Industrial Park in Clay County, 8240 Hwy 9, Ashland. There is a pre-departure rally at 10:00 a.m. central standard time. The trucks will depart at 11:00 a.m. and then proceed on a parade route that will take them into the bitterly contested swing state of Georgia. The Trump Pickup Parade will wind through east Alabama and West Georgia traveling through LaGrange and Columbus before concluding near the Alabama/Georgia line in Phenix City, 332 Woodland Drive, Phenix City at approximately 2:00 p.m. central time. Speakers will begin at 3:00. Trump flags will be on sale at the event.
The Phenix Motorsports Park will be hosting what sponsor hope could possibly the world's largest Pickup Tuck parade in U.S. history that is routing over 50 mile through Georgia in effort to "pickup" President Trump's numbers in GA.
A number dignitaries have been invited to address the Phenix City rally, including Coach Tuberville. Former State Sen. Shadrack McGill, Trump Victory Finance Committee member former State Rep. Perry O. Hooper Jr., and Paul Wellborn, the President and CEO of the largest Family owned Kitchen Cabinet manufacture in the USA are among the featured speakers who have committed to speak at the event.
Entertainment will be provided by: Charity Bowden, an up and coming country music singer who was the runner up on "The Voice". Charity will sing 'I am Proud to be an American' as well as songs from her Voice performances. The McGill Girls will also perform. The three beautiful and talented sisters will be singing patriotic songs in three part harmony. Geoff Carlisle, a professional DJ will be keeping the crowd pumped with music and entertainment.
Following the speakers and the entertainment there will Trump truck-vs- Joe Bidden truck races down the drag strip for the finale.
The Northwest Alabama boat parade will be on Sunday. The boats will gather at 2:00 p.m. near Turtle Point and then the flotilla will parade around the open waters of Wilson Lake til 3_00 p.m.. There will be a contest for best decorated Trump boats.
Trump supporters have held a number of large boat parades across the state to show their support for the re-election of Pres. Trump.
Boat parade sponsors say that this parade will be: pro-American, pro-law enforcement, pro-military.