Teacher's Classroom Allowance Passes Out of Senate
By Susan Britt
Alabama Political Reporter
MONTGOMERY–Teachers have been providing supplies to their classroom for years. A bill passed out of the Senate Thursday providing them with $300 in every K-12 classroom across the state annually. This is an increase from the current allowance of $130. The allowance will come from the Alabama Education Trust Fund.
Senator Greg Reed (R-Jefferson, Tuscaloosa, Walker, Winston), sponsored SB257. After much discussion, it passed the Senate and was Tabled sending it directly to the Governor's Office for signature.
Reed said, "I asked school teachers in my district, 'What is the most difficult thing that you have to do in order to get your job done?'"
The biggest concern was that teachers are taking money out of their own pocket to provide supplies for their classrooms.
Reed asked the teachers why they do this. Speaking on behalf of the teachers, Reed said, "'We do that because we love our children and we are committed to our classroom. We want the supplies that are required for us to do our job to be a part of what is the reality of each single day as we work to take care of these children in the classroom.'"
"Previously, much of the supplies in Alabama classrooms were purchased out of pocket by the teachers. Placing that burden on teachers is unreasonable," said Senator Reed.
He said he visited a new school in Jefferson County and spoke with the librarian who informed him that she didn't have the funds to subscribe to newspapers or magazines. So, none were provided for the students.
Reed said that he thought it unimaginable that students did not have access to newspapers and magazines in their libraries.
Co-sponsor Gerald Allen (R-Tuscaloosa) said, "If we want Alabama to succeed in education we have to work to put the correct tools in the right hands," Allen said. "That starts with bill's like these that give educators the ability to do their Job. We are committed to our teachers and our students."
"The cost is about $12 million, however if you look at the budget last year as we tried to move some of those dollars back we found that there was about $140 that was already there. So the actual cost to the budget is going to be somewhere in the $7 to $8 million range by guaranteeing these dollars be used in the classroom," said Reed.
"Education is part of our main focus this session," Majority Leader J.T. "Jabo" Waggoner (R-Birmingham) said. "We want to show educators we are dedicated to put Alabama on top in education, and that starts by supporting our teachers."
The bill is sent to the House for assignment to committee.
Trump Truck and boat parades this weekend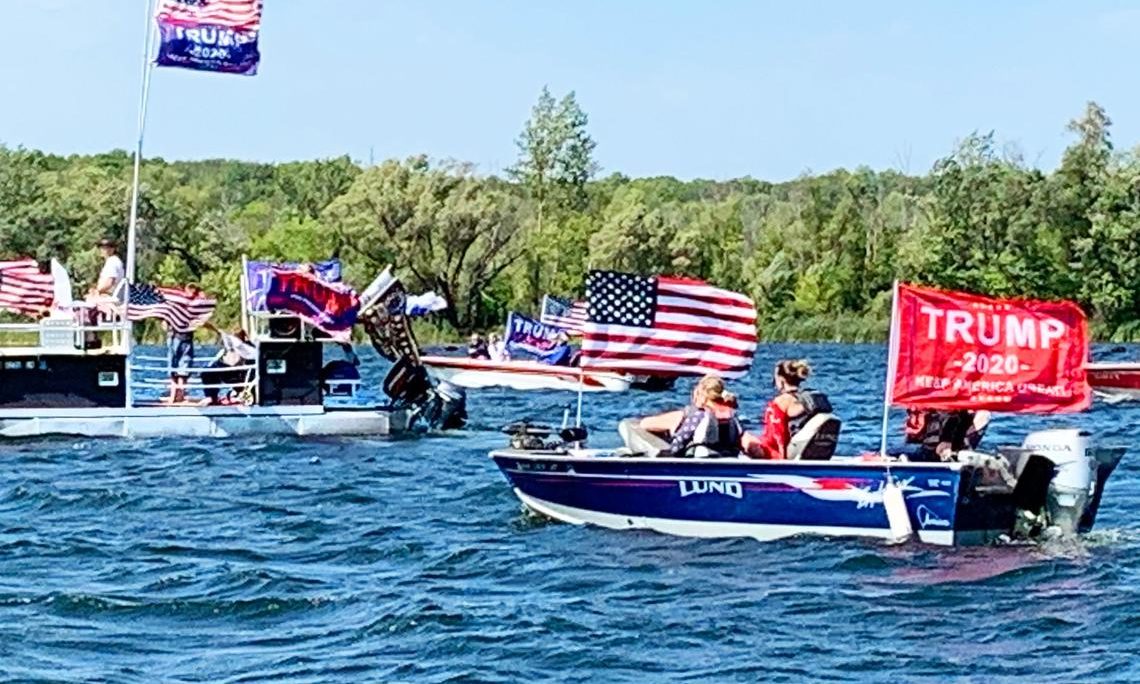 As Election Day draws near, Alabama Republicans are excited about promoting the re-election of Donald J. Trump as President and the election of Tommy Tuberville for U.S. Senate. This weekend two pro-President Trump events are happening in the state. There will be a truck parade from Ashland to Phenix City on Saturday sponsored by the Clay County Republican Party, while there will also be a boat parade on Wilson Lake in the Shoals sponsored by the Colbert County Republican Party on Sunday.
The pickup trucks will assemble at the Ashland Industrial Park in Clay County, 8240 Hwy 9, Ashland. There is a pre-departure rally at 10:00 a.m. central standard time. The trucks will depart at 11:00 a.m. and then proceed on a parade route that will take them into the bitterly contested swing state of Georgia. The Trump Pickup Parade will wind through east Alabama and West Georgia traveling through LaGrange and Columbus before concluding near the Alabama/Georgia line in Phenix City, 332 Woodland Drive, Phenix City at approximately 2:00 p.m. central time. Speakers will begin at 3:00. Trump flags will be on sale at the event.
The Phenix Motorsports Park will be hosting what sponsor hope could possibly the world's largest Pickup Tuck parade in U.S. history that is routing over 50 mile through Georgia in effort to "pickup" President Trump's numbers in GA.
A number dignitaries have been invited to address the Phenix City rally, including Coach Tuberville. Former State Sen. Shadrack McGill, Trump Victory Finance Committee member former State Rep. Perry O. Hooper Jr., and Paul Wellborn, the President and CEO of the largest Family owned Kitchen Cabinet manufacture in the USA are among the featured speakers who have committed to speak at the event.
Entertainment will be provided by: Charity Bowden, an up and coming country music singer who was the runner up on "The Voice". Charity will sing 'I am Proud to be an American' as well as songs from her Voice performances. The McGill Girls will also perform. The three beautiful and talented sisters will be singing patriotic songs in three part harmony. Geoff Carlisle, a professional DJ will be keeping the crowd pumped with music and entertainment.
Following the speakers and the entertainment there will Trump truck-vs- Joe Bidden truck races down the drag strip for the finale.
The Northwest Alabama boat parade will be on Sunday. The boats will gather at 2:00 p.m. near Turtle Point and then the flotilla will parade around the open waters of Wilson Lake til 3_00 p.m.. There will be a contest for best decorated Trump boats.
Trump supporters have held a number of large boat parades across the state to show their support for the re-election of Pres. Trump.
Boat parade sponsors say that this parade will be: pro-American, pro-law enforcement, pro-military.