Legislators to Combine Missing Child Bills
By Susan Britt
Alabama Political Reporter
Two bills, one in the House and one in the Senate, seek to make it a crime not to report a missing child also known as "Caylee's Law."
Representative Juandalynn "Lee Lee" Givan (D-Birmingham) has sponsored HB 4 House. It is currently in the House Judiciary Committee. Senator Brian Taylor (R-Prattville) has sponsored SB65 in the Senate. It too is still in Judiciary Committee but in the Senate.
The bills are similar with only a few details differing. The main difference is the time allotment given to parents to report a missing or deceased child to law enforcement.
"We are going to work together to get the best possible bill that we can. There isn't anybody in the legislature that doesn't believe that we ought to make this the law in Alabama," said Taylor.
Taylor said that the difference is legal, technical. Givan's bill contains a 24-hour provision where Taylor's bill contains a 12-hour provision before a person can be charged with failure to report a missing child.
He told the committee on Wednesday that after much thought and deliberation he sees two main problem with the time constraints. He said that in the bills it is not clear when the "clock begins ticking."
"The concern about the whereabouts of a child develops with the parents over time. They become more and more concerned as time goes by," said Taylor.
He said that the second concern is that the constraints are arbitrary, that constraints shouldn't be put on a parent that knows or strongly suspects that their child has been abducted.
Attempts to strengthen missing child legislation has been attempted in 17 states but they have found it tough based on the concerns that the bills are too broad.
New Jersey is the only state that has been successful in putting a new law on the books.
The most recent state to attempt strengthening its laws is Iowa but it was rejected after questions were raised as to whether it was too vague.
The only other state that has made progress is South Dakota whose Senate has approved a bill giving parents 48 hours to report a missing child.
Florida's Legislature is considering a bill but the changes have been fixated on the wording "knowingly and willingly" misleading police resulting in the death of a child.
"It shouldn't matter to us who gets credit as sponsor of this bill. What is most important is that we get a strong law enacted in the state of Alabama that insures that parents are held accountable for failure to report missing children," concluded Taylor.
The combined bill should be presented before the Senate Judiciary Committee this upcoming week.
Governor declares state of emergency ahead of Tropical Storm Zeta
Zeta is currently a tropical storm over the Gulf of Mexico, but it is predicted to make landfall as a category one hurricane.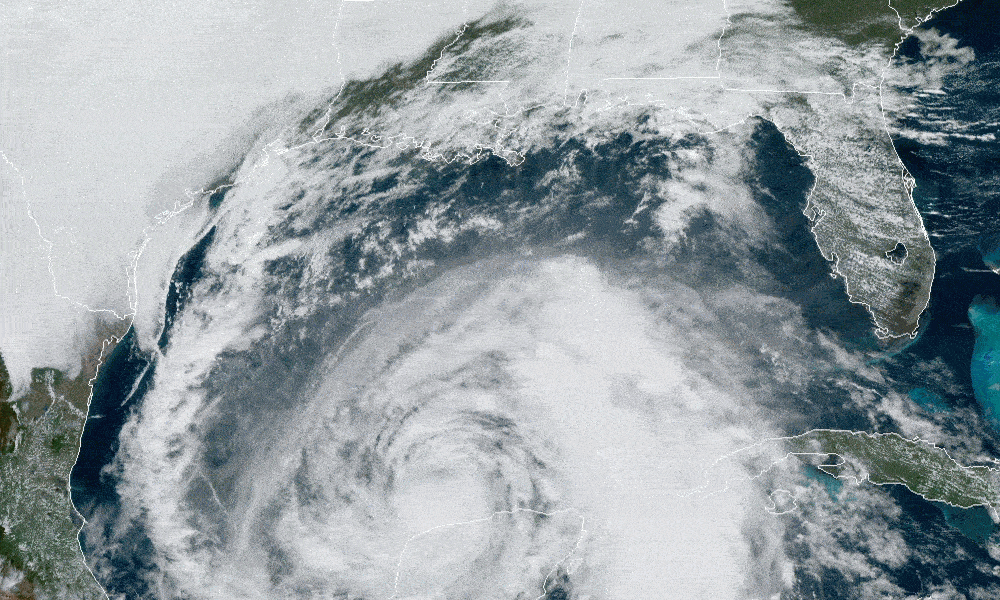 Alabama Gov. Kay Ivey on Tuesday issued a state of emergency as Tropical Storm Zeta approaches the Gulf Coast.
"Ahead of Tropical Storm Zeta's anticipated landfall Wednesday evening as a Category 1 hurricane, I am issuing a state of emergency effective today at 4:00 p.m.," Ivey said. "While this storm is not expected to have an impact as large as storms we've seen move through the Gulf earlier this year, we want to be in the best place possible to respond to anticipated rain, storm surge and mass power outage. I encourage everyone to remain weather aware and tuned in to their trusted news source as this storm could shift direction or change intensity. We continue to track the path of this storm and will stay in touch with the people of Alabama with any updates."
Zeta is currently a tropical storm over the Gulf of Mexico, but it is predicted to make landfall as a category one hurricane. The National Hurricane Center is predicting Zeta to make landfall in Mississippi on Wednesday and then proceed toward Alabama, but these storms can and do move.
A more easterly track could prove devastating to the Alabama Gulf Coast as was the case with Hurricane Sally, which shifted course in September, hitting Alabama, though Zeta is expected to be weaker than Sally at landfall.
The storm surge from the Mississippi-Alabama border to Dauphin Island is forecast to be 5 to 8 feet. Mobile Bay to the Alabama-Florida border is expected to have 3 to 5 feet of storm surge and from the border to Navarre, Florida, could experience 2 to 4 feet of storm surge.
Hurricane force winds are a possibility with this storm. Tropical force winds are expected to be an issue for Southern Mississippi and Alabama well inland. There is expected to be heavy rainfall across the state Wednesday night into Thursday morning.
The Baldwin County Emergency Management Agency announced that sandbags are available inside the county commission office at Robertsdale Central Annex (22251 Palmer Street) until 4:30 p.m. Tuesday and from 8 a.m. until 4:30 p.m. Wednesday or while they last.
Bring any help and shovels you will need. There is a limit of just 25 bags per person. Alabama's coastal counties are currently under a Tropical Storm Warning, a Storm Surge Warning for Mobile County and a High Rip Current and High Surf Warning.
Congressman Bradley Byrne said, "I just finished up briefings from Alabama EMA, FEMA, and the National Hurricane Center regarding #Zeta. We should not take this storm lightly and should start making preparations right away. After sundown Wednesday, I'd encourage everyone in Southwest Alabama to stay home and off the roads until sunrise Thursday. This storm will have impacts as far north as Montgomery, so those in Washington, Clarke, and Monroe counties will see tropical storm force winds and heavy rain. I'd encourage everyone to charge their phones and other necessary electronics. If you have an emergency during the storm, call 911 and do not try to drive."
Coastal Alabama is still in the process of recovering from Hurricane Sally which hit the state on Sept. 15.