House Digital Crimes Bill Passes, Heads to Senate
By Susan Britt
Alabama Political Reporter
MONTGOMERY–The Alabama Digital Crimes Act passed on the House Floor on Thursday and now goes on to the Senate to be assigned to a committee.
House Bill 400 sponsored by Representative Paul DeMarco, (R-Homewood) is the companion to Senate Bill 356 carried in by Senator Cam Ward, (R-Alabaster). The Legislation is set to overhaul the criminal code in Alabama as it pertains to criminal activity committed online and through the internet.
"I am glad to see this legislation move out of the House and on to the Senate so hopefully we can get this to the Governor and finally update a law that has needed it for a long time. We have got to make sure the law stays up to date with the technology and that is what this bill does," said DeMarco.
Alabama's most recent computer crime bill was enacted in 1985 almost ten years before the internet was even commercially available.
In today's cyber world computer crime encompasses a broad range of activities. Broadly, computer crimes are divided into two categories: crimes that target computers directly and crimes facilitated by computer networks or devices.
Crimes that primarily target computer networks or devices include:
Computer viruses–computer programs that can replicate themselves and spread from one computer to another. They can increase their chances of infecting other computers by infecting files on a network or network file system that is accessed my multiple individuals.
Denial-of-service attacks–(DoS attack) or distributed denial-of-service attack (DDoS attack) attempts to make a network resources unavailable to a computer. They are meant to prevent an internet site or service from functioning properly.
Malware (malicious code)–short for malicious ware, disrupts computer operation while gathering sensitive information or gaining unauthorized access to a computer. It is designed code or software whose purpose is to exploit computer or the date it contains without the consent of the owner.
Crimes that use computer networks or devices to advance other ends include:
Cyberstalking–using the internet or other electronic devices to stalk or harass individuals, groups or organizations. It includes: False accusations, monitoring, making threats, identity theft, damage to data or equipment, the solicitation of minors for sex, or gathering information in order to harass.
Fraud and identity theft–hackers design applications to invade a computer user's private information such as credit card information, important documents and other important information for the purpose of using that information to impersonate them when transacting business. It often leaves the victim with devastating consequences.
Information warfare–closely linked to psychological warfare, it is the practice of using information technology to gain a competitive advantage over an opponent involving spreading of propaganda or disinformation to demoralize or manipulate.
Phishing scams–attempts to acquire information such as usernames and passwords and/or credit card information while impersonating a legitimate website. Typically, email and instant messaging are used to lure users to what looks like a site that would visit normally while taking them to a fake site that asks the user to enter in the information.
The Alabama Digital Crimes Act seeks to address all these areas in a comprehensive way.
Some of the areas covered by the bill are as follows:
Increase the penalty for computer tampering depending on the monetary value of the crime committed.
Create a new criminal penalty for using devices known as "skimming devices" which are used to steal information from credit cards and can re-encode that information to credit cards used by criminals.
Make it against the law to "phish," which is using the internet to deceive, induce or fraudulently cause a person to provide confidential, identifying information which is later used for fraudulent purposes.
Expand the traditional "harassment" law to include threats made via the internet and crackdown on cyber-stalking which can include violation of a restraining order via an electronic communication.
Allow for the enforcement by subpoena and search warrant to obtain stored electronic communications from our of state service providers such as popular social media sites where cyber-harassment can occur.
Allows for a procedure to seize computer equipment that has been used to carry out a criminal offense under this act. Currently under Alabama law there is no provision to allow for the seizure of a computer used to commit a crime, so valuable evidence that can be used in a criminal case is lost.
Trump Truck and boat parades this weekend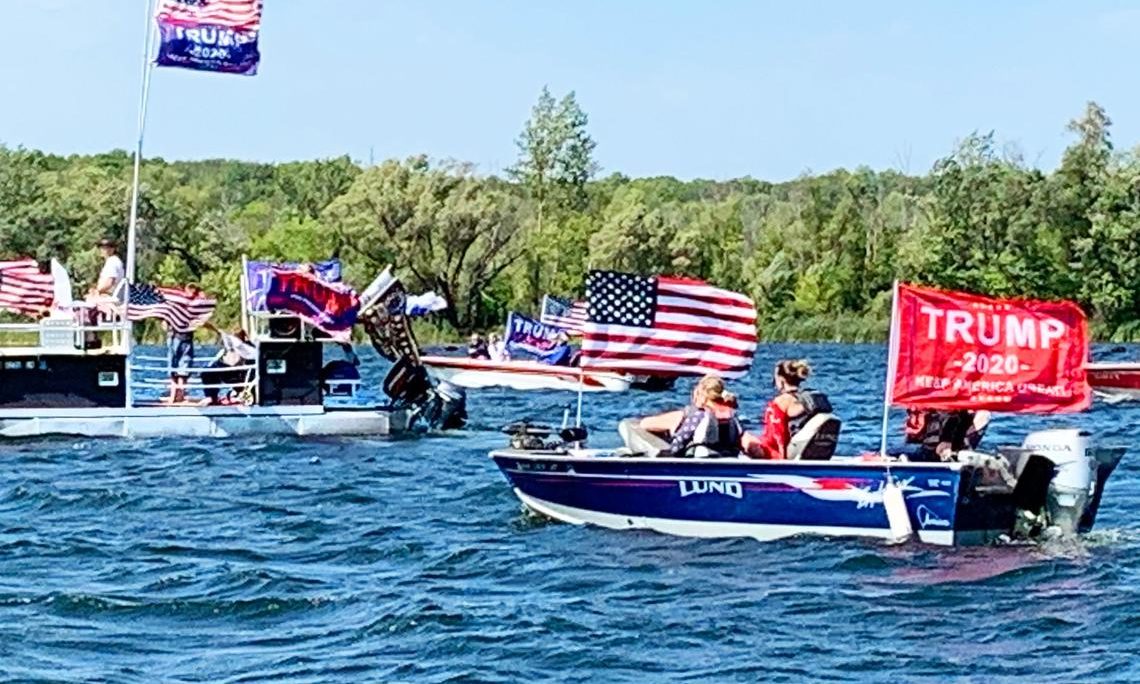 As Election Day draws near, Alabama Republicans are excited about promoting the re-election of Donald J. Trump as President and the election of Tommy Tuberville for U.S. Senate. This weekend two pro-President Trump events are happening in the state. There will be a truck parade from Ashland to Phenix City on Saturday sponsored by the Clay County Republican Party, while there will also be a boat parade on Wilson Lake in the Shoals sponsored by the Colbert County Republican Party on Sunday.
The pickup trucks will assemble at the Ashland Industrial Park in Clay County, 8240 Hwy 9, Ashland. There is a pre-departure rally at 10:00 a.m. central standard time. The trucks will depart at 11:00 a.m. and then proceed on a parade route that will take them into the bitterly contested swing state of Georgia. The Trump Pickup Parade will wind through east Alabama and West Georgia traveling through LaGrange and Columbus before concluding near the Alabama/Georgia line in Phenix City, 332 Woodland Drive, Phenix City at approximately 2:00 p.m. central time. Speakers will begin at 3:00. Trump flags will be on sale at the event.
The Phenix Motorsports Park will be hosting what sponsor hope could possibly the world's largest Pickup Tuck parade in U.S. history that is routing over 50 mile through Georgia in effort to "pickup" President Trump's numbers in GA.
A number dignitaries have been invited to address the Phenix City rally, including Coach Tuberville. Former State Sen. Shadrack McGill, Trump Victory Finance Committee member former State Rep. Perry O. Hooper Jr., and Paul Wellborn, the President and CEO of the largest Family owned Kitchen Cabinet manufacture in the USA are among the featured speakers who have committed to speak at the event.
Entertainment will be provided by: Charity Bowden, an up and coming country music singer who was the runner up on "The Voice". Charity will sing 'I am Proud to be an American' as well as songs from her Voice performances. The McGill Girls will also perform. The three beautiful and talented sisters will be singing patriotic songs in three part harmony. Geoff Carlisle, a professional DJ will be keeping the crowd pumped with music and entertainment.
Following the speakers and the entertainment there will Trump truck-vs- Joe Bidden truck races down the drag strip for the finale.
The Northwest Alabama boat parade will be on Sunday. The boats will gather at 2:00 p.m. near Turtle Point and then the flotilla will parade around the open waters of Wilson Lake til 3_00 p.m.. There will be a contest for best decorated Trump boats.
Trump supporters have held a number of large boat parades across the state to show their support for the re-election of Pres. Trump.
Boat parade sponsors say that this parade will be: pro-American, pro-law enforcement, pro-military.