Roby: Focus on Jobs, Latest Meetings
By U.S. Representative Martha Roby
Focusing on Jobs
Last week, I spent more time traveling through our district to participate in meetings and take questions about a number of important issues that affect our area. Regularly traveling around the district continues to provide me with a wonderful opportunity to listen to those that I represent so I can take their concerns directly to Washington. We have now participated in more than 300 meetings, events, and town halls since the start of the 112th Congress.
Without question, the number one issue that affects our nation and our state is the slow pace of job creation. I am especially aware of this fact after the discussions that I frequently have with small business owners and employers in our area. They often tell me of the many barriers that prevent job creation and about the costly and burdensome federal regulations that stand in the way of private sector growth.
Harsh government restrictions imposed by the health care law and strict requirements implemented by the Environment Protection Agency are a few examples of federal regulations that drive up operating costs and hinder job growth. A few good rules enacted to ensure public safety and to protect our environment are necessary. However, we must stop unreasonable and heavy-handed restrictions that hurt job growth in some of our nation's most critical industries.
We should never forget: government does not create jobs; the private sector creates jobs. To spur economic growth, we need to eliminate the red tape that limits the private sector's ability to get Americans back to work.
Targeting specific ways to deregulate businesses and energize job growth remains a top priority for me. Since entering Congress, my House colleagues and I have supported initiatives that encourage growth by deregulating businesses. Early last year, we introduced a jobs agenda (jobs.gop.gov), and, to-date, we have passed nearly 30 bipartisan pro-growth jobs-bills that ease federal constraints on employers. If enacted into law, these bills would significantly curtail the flow of new regulations, promote confidence in the market, and help create an atmosphere ripe for job creation.
To get the economy moving, we need to look for ways to help businesses succeed and grow. This means giving business owners the means to cut through unnecessary red tape. Visit my Web site at Roby.House.Gov to learn about numerous job-growth bills passed in the House, listed under "Voting Scorecard".
Taking Questions at a "Meet with Martha"
My visits with individuals, groups, and business leaders throughout our area last week included a "Meet with Martha" in Elmore. I frequently hold these meetings to foster and encourage an open discussion with those in my district. I was pleased to listen to concerns and answer questions on numerous issues, including economic growth, the economy, health care, and the federal budget. These important issues are central to the future of our country, and I certainly benefited from hearing the views of those that attended.
Several participants shared concerns regarding the federal budget and our nation's mountain of debt. Taking questions on this critical issue provided an excellent opportunity to discuss my recently introduced legislation, the Honest Budget Act. A companion to a bill introduced last year by Senator Jeff Sessions, my legislation would establish a more transparent and honest budgeting process by addressing the nine most common budget gimmicks used in Washington. The bill, which has received broad support in both the House and Senate, would stop Congress from exploiting gimmicks that politicians routinely use to hide the truth, confuse the public, and run up the national debt.
The American people have the right to expect an honest and accountable legislative process that is free from tricks and gimmicks. By addressing commonly used budget loopholes, the Honest Budget Act will create a more open and transparent process.
Trump Truck and boat parades this weekend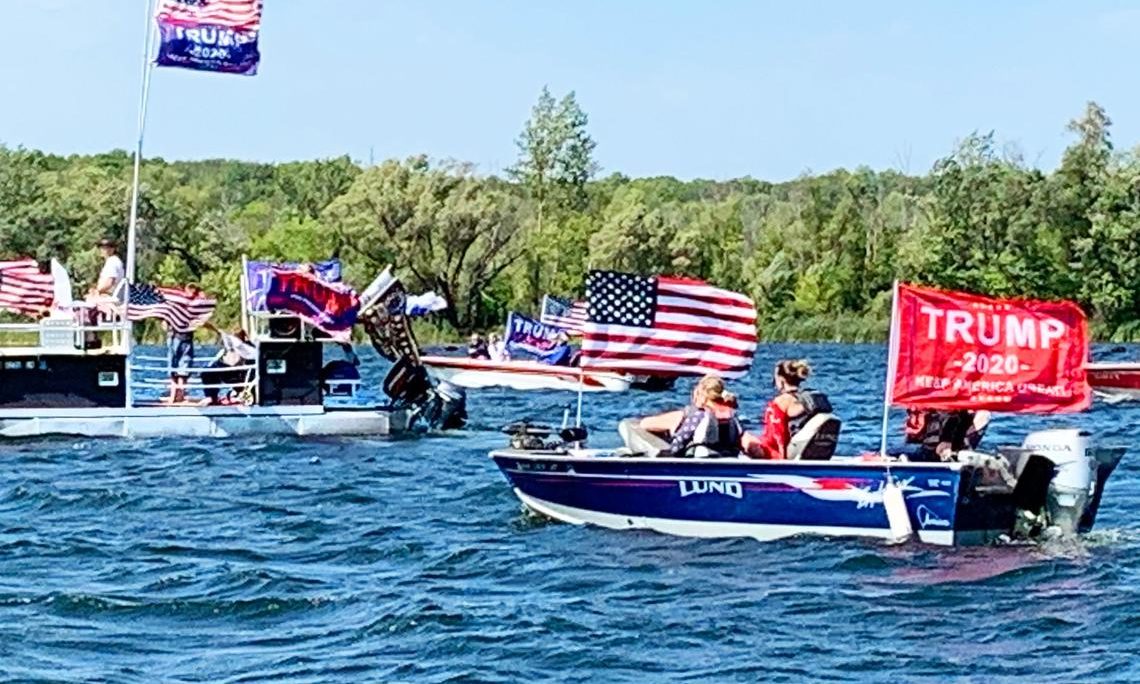 As Election Day draws near, Alabama Republicans are excited about promoting the re-election of Donald J. Trump as President and the election of Tommy Tuberville for U.S. Senate. This weekend two pro-President Trump events are happening in the state. There will be a truck parade from Ashland to Phenix City on Saturday sponsored by the Clay County Republican Party, while there will also be a boat parade on Wilson Lake in the Shoals sponsored by the Colbert County Republican Party on Sunday.
The pickup trucks will assemble at the Ashland Industrial Park in Clay County, 8240 Hwy 9, Ashland. There is a pre-departure rally at 10:00 a.m. central standard time. The trucks will depart at 11:00 a.m. and then proceed on a parade route that will take them into the bitterly contested swing state of Georgia. The Trump Pickup Parade will wind through east Alabama and West Georgia traveling through LaGrange and Columbus before concluding near the Alabama/Georgia line in Phenix City, 332 Woodland Drive, Phenix City at approximately 2:00 p.m. central time. Speakers will begin at 3:00. Trump flags will be on sale at the event.
The Phenix Motorsports Park will be hosting what sponsor hope could possibly the world's largest Pickup Tuck parade in U.S. history that is routing over 50 mile through Georgia in effort to "pickup" President Trump's numbers in GA.
A number dignitaries have been invited to address the Phenix City rally, including Coach Tuberville. Former State Sen. Shadrack McGill, Trump Victory Finance Committee member former State Rep. Perry O. Hooper Jr., and Paul Wellborn, the President and CEO of the largest Family owned Kitchen Cabinet manufacture in the USA are among the featured speakers who have committed to speak at the event.
Entertainment will be provided by: Charity Bowden, an up and coming country music singer who was the runner up on "The Voice". Charity will sing 'I am Proud to be an American' as well as songs from her Voice performances. The McGill Girls will also perform. The three beautiful and talented sisters will be singing patriotic songs in three part harmony. Geoff Carlisle, a professional DJ will be keeping the crowd pumped with music and entertainment.
Following the speakers and the entertainment there will Trump truck-vs- Joe Bidden truck races down the drag strip for the finale.
The Northwest Alabama boat parade will be on Sunday. The boats will gather at 2:00 p.m. near Turtle Point and then the flotilla will parade around the open waters of Wilson Lake til 3_00 p.m.. There will be a contest for best decorated Trump boats.
Trump supporters have held a number of large boat parades across the state to show their support for the re-election of Pres. Trump.
Boat parade sponsors say that this parade will be: pro-American, pro-law enforcement, pro-military.