Senate Passes Heroes For Hire Act
By Brandon Moseley
Alabama Political Reporter
The Senate passed the "Heroes for Hire" Act unanimously on Tuesday.  The "Heroes for Hire" act, HB152, provide tax credits to employers who hire returning veterans and tax credits for returning veterans who start their own business.
According to Senator Whatley's written statement: "The bill will provide a $1,000 additional tax credit to employers for hiring recently deployed, and now discharged, unemployed veterans. The bill will also provide a $2,000 income tax credit to recently deployed, and now discharged, unemployed veterans who start their own businesses."
Senator Tom Whatley (R) from Auburn is the bill's sponsor in the Senate.  Sen. Whatley said, "We need to do right by our heroes. These men and women have put their life on the line for our country." "This bill gives back a fraction of what they have given us." "During this tough economic time we need to do what we can to encourage Alabama businesses to continue hiring." "This bill allows for that while simultaneously honoring my commitment to work for our soldiers returning from down range."  Sen. Whatley is hopeful that the recently improving employment situation in the state will continue.
Rep. DuWayne Bridges (R) from Valley was the bill's sponsor in the Alabama House of Representatives where the bill also passed unanimously. Rep. Bridges said, "Our men and women in uniform have dedicated years of service to this country and made great sacrifices that too often get taken for granted." "In this tough economy we need to give returning veterans every advantage we can toward landing a job. Our 'Heroes for Hire' bill does that by offering significant tax credits for hiring a veteran recently returned from war."  "I want to thank Senator Tom Whatley and Senator Gerald Dial for their help getting this bill passed in the Senate," Rep. Bridges said. "I also want to thank the members of the Veterans and Military Affairs Committee who work hard to make sure the state takes care of its active duty military personnel and our veterans."
House Speaker Mike Hubbard thanked Rep. Bridges for his work on the legislation.  "Rep. DuWayne Bridges has worked tirelessly to pass this bill, and I applaud his effort," Speaker Hubbard said. "Those who served on the front lines deserve to go to the front of the line for new jobs."
The bill now goes to the Governor's desk for his signature. Alabama Governor Robert Bentley said, "I look forward to signing this bill and helping our veterans who have faithfully served their country," Governor Bentley said.  "We must not forget the sacrifices veterans have made, and we encourage employers to remember our veterans as they fill open positions.  These men and women have worked hard for this country, and this is one way we can show our appreciation for their service."
Businesses that hire veterans are being rewarded with a $1000 tax credit under the bill.  Veterans returning from the Wars in Iraq and Afghanistan have much higher unemployment rates than for the population at large.  The unemployment rate for Afghanistan and Iraq vets is 12.1% versus 8.7% for non-veterans.
Tax credits decrease the amount of income taxes that a taxpayer pays by that amount while tax deductions simply decrease the amount of taxable income on which the tax rate is calculated.
Trump Truck and boat parades this weekend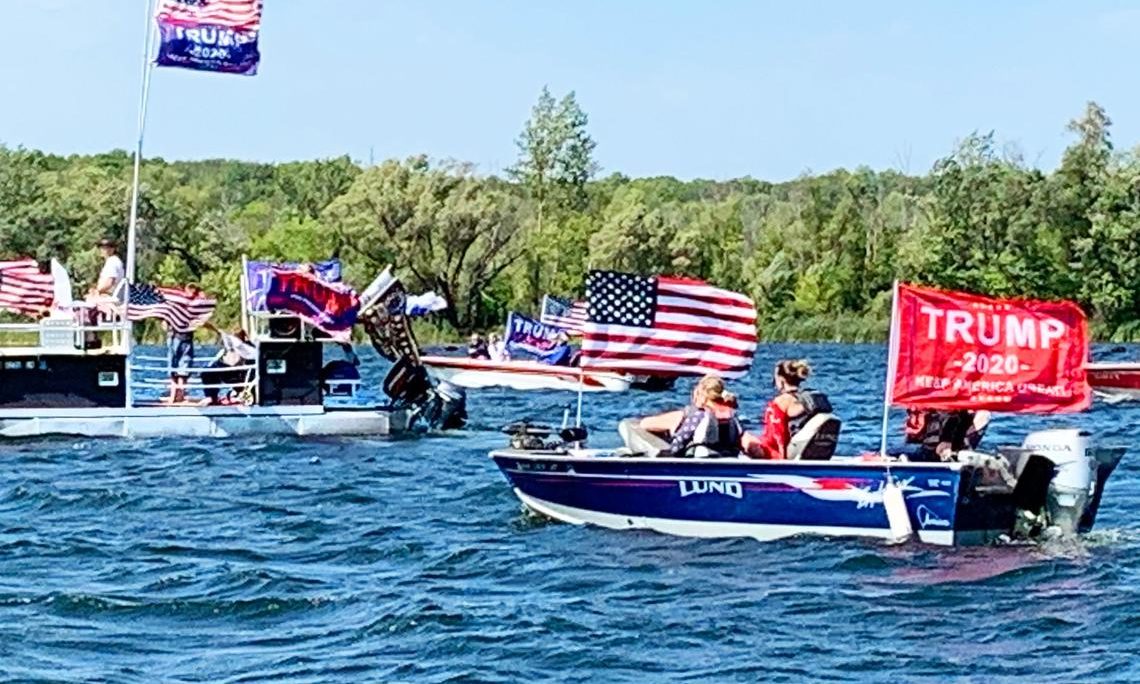 As Election Day draws near, Alabama Republicans are excited about promoting the re-election of Donald J. Trump as President and the election of Tommy Tuberville for U.S. Senate. This weekend two pro-President Trump events are happening in the state. There will be a truck parade from Ashland to Phenix City on Saturday sponsored by the Clay County Republican Party, while there will also be a boat parade on Wilson Lake in the Shoals sponsored by the Colbert County Republican Party on Sunday.
The pickup trucks will assemble at the Ashland Industrial Park in Clay County, 8240 Hwy 9, Ashland. There is a pre-departure rally at 10:00 a.m. central standard time. The trucks will depart at 11:00 a.m. and then proceed on a parade route that will take them into the bitterly contested swing state of Georgia. The Trump Pickup Parade will wind through east Alabama and West Georgia traveling through LaGrange and Columbus before concluding near the Alabama/Georgia line in Phenix City, 332 Woodland Drive, Phenix City at approximately 2:00 p.m. central time. Speakers will begin at 3:00. Trump flags will be on sale at the event.
The Phenix Motorsports Park will be hosting what sponsor hope could possibly the world's largest Pickup Tuck parade in U.S. history that is routing over 50 mile through Georgia in effort to "pickup" President Trump's numbers in GA.
A number dignitaries have been invited to address the Phenix City rally, including Coach Tuberville. Former State Sen. Shadrack McGill, Trump Victory Finance Committee member former State Rep. Perry O. Hooper Jr., and Paul Wellborn, the President and CEO of the largest Family owned Kitchen Cabinet manufacture in the USA are among the featured speakers who have committed to speak at the event.
Entertainment will be provided by: Charity Bowden, an up and coming country music singer who was the runner up on "The Voice". Charity will sing 'I am Proud to be an American' as well as songs from her Voice performances. The McGill Girls will also perform. The three beautiful and talented sisters will be singing patriotic songs in three part harmony. Geoff Carlisle, a professional DJ will be keeping the crowd pumped with music and entertainment.
Following the speakers and the entertainment there will Trump truck-vs- Joe Bidden truck races down the drag strip for the finale.
The Northwest Alabama boat parade will be on Sunday. The boats will gather at 2:00 p.m. near Turtle Point and then the flotilla will parade around the open waters of Wilson Lake til 3_00 p.m.. There will be a contest for best decorated Trump boats.
Trump supporters have held a number of large boat parades across the state to show their support for the re-election of Pres. Trump.
Boat parade sponsors say that this parade will be: pro-American, pro-law enforcement, pro-military.