Bill Passes Senate Committee Limiting Prisoner Lawsuits
By Susan Britt
Alabama Political Reporter
MONTGOMERY–On Wednesday, the Senate Judicial Committee passed a bill limiting lawsuit that can be filed by Alabama prisoners. Senate Bill 209 is sponsored by Senator Arthur Orr (R-Decatur).
The Alabama Prisoner Litigation Reform Act establishes guidelines and procedures for all civil actions brought by prisoners incarcerated in any state or local correctional facility in Alabama. It also provides for review by the courts any civil action brought by a state prisoner to determine if meets certain criteria constituting a valid lawsuit. It is limited to pro se action suits only.
According to Wikipedia, "Pro se legal representation means advocating on one's own behalf before a court, rather than being represented by a lawyer. This may occur in any court proceeding, whether one is the defendant or plaintiff in civil cases, and when one is a defendant in criminal cases."
It also "establish guidelines for the court to follow with respect to prisoner's suit,
attorney fees, monetary judgment awards, and oral argument request."
Sen. Orr said that the bill is "patterned after the federal law that was passed in 1996 to cut down on frivolous lawsuits coming out of the prison system."
"In Alabama there are over 500 pending. One person has over 200 himself that he has filed against the DOC," said Orr. "In order to save considerable funds in the DOC we brought this bill forward."
Nine plus states have adopted this type of law including Pennsylvania, Oregon, West Virginia and Texas.
Before any action can be considered the prisoner must exhausts all administrative remedies available.
The bill states:
"The court, on its own motion or on the motion of a party, may dismiss any prisoner civil action if the court is satisfied that the action is:
a. Frivolous.
b. Malicious.
c. Fails to state a cause of action.
d. Seeks monetary relief from a defendant who is immune from such relief.
e. Fails to state a claim upon which relief can be granted."
Some senators raised concerns about the constitutionality of the law. Sen. Dick Brewbaker (R-Montgomery) asked, "I am concerned about limiting people's access to the courts. Can we do this?"
Sen. Phil Williams (R-Rainbow City) said, "That was my question for the sponsor, too. The only question that I had was that the 7th Amendment, I believe, guarantees the right to trial, that's federal, but under certain circumstances it also applies at the state level. Are we in anyway violating constitution?"
Orr replied, "That is certainly not my understanding. And this is a third strike bill."
"It applies to the 14th Amendment which applies to the state for due process. This is a violation terribly. I teach constitutional law. This violates due process." He went on to say that the state is certain to get sued over this bill," added Sen. Rodger Smitherman (R-Birmingham).
Sen. Cam Ward (R-Alabaster) said, "What he is proposing is being done in many other states and none of them have been overturned in federal court as being unconstitutional."
The bill passed with 6 yeas. It will now go to Rules Committee to determine when it will appear on the Senate Floor.
Trump Truck and boat parades this weekend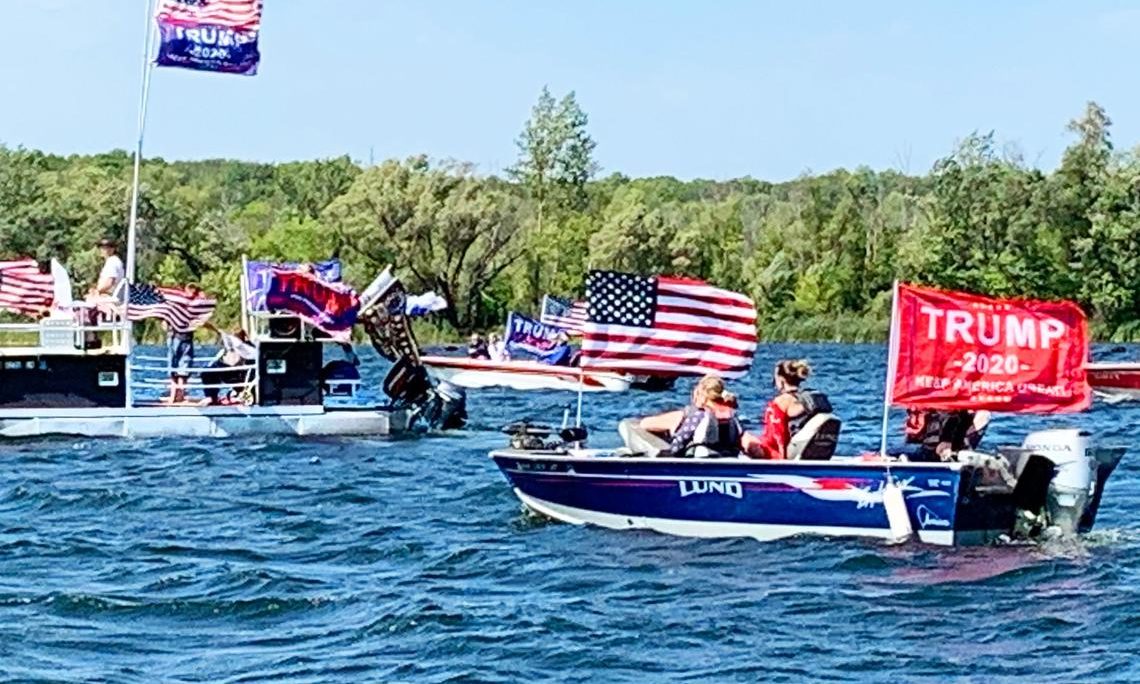 As Election Day draws near, Alabama Republicans are excited about promoting the re-election of Donald J. Trump as President and the election of Tommy Tuberville for U.S. Senate. This weekend two pro-President Trump events are happening in the state. There will be a truck parade from Ashland to Phenix City on Saturday sponsored by the Clay County Republican Party, while there will also be a boat parade on Wilson Lake in the Shoals sponsored by the Colbert County Republican Party on Sunday.
The pickup trucks will assemble at the Ashland Industrial Park in Clay County, 8240 Hwy 9, Ashland. There is a pre-departure rally at 10:00 a.m. central standard time. The trucks will depart at 11:00 a.m. and then proceed on a parade route that will take them into the bitterly contested swing state of Georgia. The Trump Pickup Parade will wind through east Alabama and West Georgia traveling through LaGrange and Columbus before concluding near the Alabama/Georgia line in Phenix City, 332 Woodland Drive, Phenix City at approximately 2:00 p.m. central time. Speakers will begin at 3:00. Trump flags will be on sale at the event.
The Phenix Motorsports Park will be hosting what sponsor hope could possibly the world's largest Pickup Tuck parade in U.S. history that is routing over 50 mile through Georgia in effort to "pickup" President Trump's numbers in GA.
A number dignitaries have been invited to address the Phenix City rally, including Coach Tuberville. Former State Sen. Shadrack McGill, Trump Victory Finance Committee member former State Rep. Perry O. Hooper Jr., and Paul Wellborn, the President and CEO of the largest Family owned Kitchen Cabinet manufacture in the USA are among the featured speakers who have committed to speak at the event.
Entertainment will be provided by: Charity Bowden, an up and coming country music singer who was the runner up on "The Voice". Charity will sing 'I am Proud to be an American' as well as songs from her Voice performances. The McGill Girls will also perform. The three beautiful and talented sisters will be singing patriotic songs in three part harmony. Geoff Carlisle, a professional DJ will be keeping the crowd pumped with music and entertainment.
Following the speakers and the entertainment there will Trump truck-vs- Joe Bidden truck races down the drag strip for the finale.
The Northwest Alabama boat parade will be on Sunday. The boats will gather at 2:00 p.m. near Turtle Point and then the flotilla will parade around the open waters of Wilson Lake til 3_00 p.m.. There will be a contest for best decorated Trump boats.
Trump supporters have held a number of large boat parades across the state to show their support for the re-election of Pres. Trump.
Boat parade sponsors say that this parade will be: pro-American, pro-law enforcement, pro-military.