AG Strange lauds final passage of looting bill
From the Office of Attorney General Luther Strange 
(MONTGOMERY)—Attorney General Luther Strange called today's final passage of HB 340 "a fitting tribute to the victims who suffered and struggled through the devastating tornadoes that struck Alabama one year ago." In the wake of the tragic tornadoes of last year, Attorney General Strange advocated this tough law to specifically criminalize looting and provide strong penalties.
Attorney General Strange commended the outstanding leadership of Representative John Merrill and Senators Gerald Allen and Cam Ward for moving this through the Legislature. The bill passed both houses of the Legislature with no dissenting votes. It now goes to the Governor for his signature.
"I am pleased that the Legislature has acted to protect Alabamians in these times of severe disaster and crisis," said Attorney General Strange. "When people are experiencing destruction of property, serious injuries and perhaps even the loss of loved ones, it has been appalling to see criminal activity that takes advantage of a tragedy by looting what may be left of a business's inventory or the belongings from someone's home. It became all too evident that Alabama needs a stronger law to protect our citizens at just such times when they are suffering and vulnerable. This law will also apply in other times of emergency such as the hurricanes that frequently strike our Gulf Coast. Our senators and representatives have sent a strong and clear message to those who would prey on our people at such times."
Attorney General Strange developed this legislation based on discussions within the Attorney General's Law Enforcement Advisory Committee and the law officers' recommendations for better tools to combat looting. Under previous law, Alabama has not had a crime specific to looting, and the existing laws against burglary, theft and trespassing have not been adequate to fight the looting that becomes epidemic during times of disaster.
The Attorney General's legislation specifically criminalizes looting and makes it a class C felony, which is punishable by one to 10 years imprisonment and a fine of up to $15,000. "A person commits the crime of looting if the person intentionally enters without authorization any building or real property during a state of emergency and obtains, exerts control over, damages, or removes the property of another person without lawful authority." It also is specified that a person subject to prosecution for looting still may be prosecuted for other applicable offenses. This law would apply when the Governor has proclaimed an official state of emergency.
Trump Truck and boat parades this weekend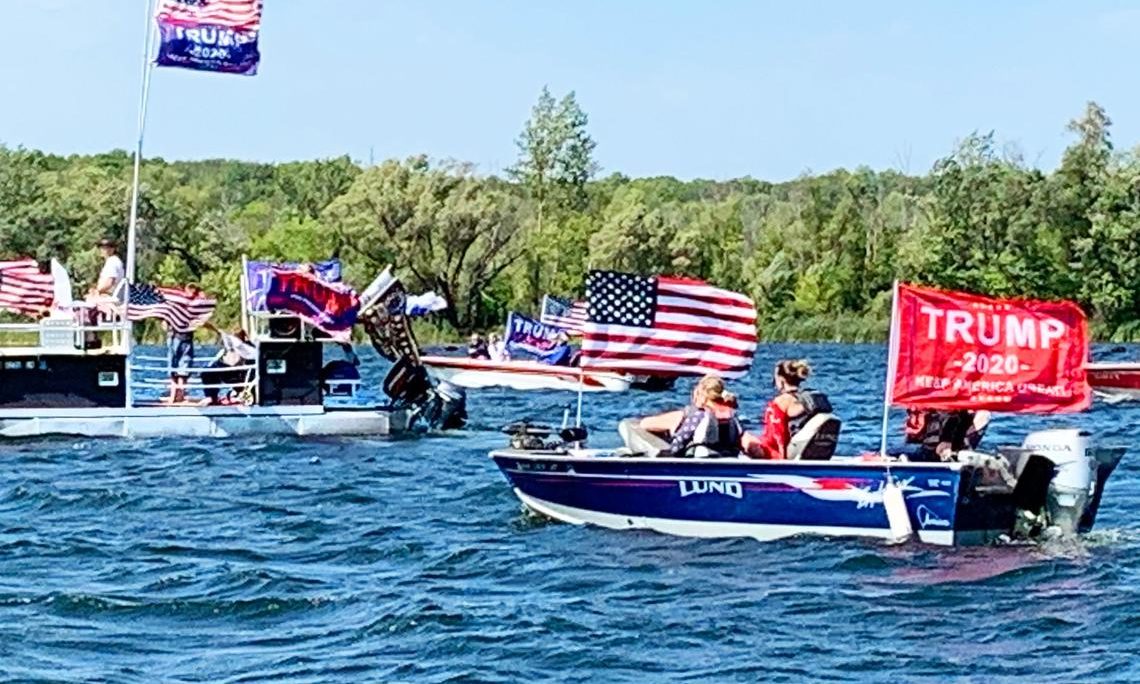 As Election Day draws near, Alabama Republicans are excited about promoting the re-election of Donald J. Trump as President and the election of Tommy Tuberville for U.S. Senate. This weekend two pro-President Trump events are happening in the state. There will be a truck parade from Ashland to Phenix City on Saturday sponsored by the Clay County Republican Party, while there will also be a boat parade on Wilson Lake in the Shoals sponsored by the Colbert County Republican Party on Sunday.
The pickup trucks will assemble at the Ashland Industrial Park in Clay County, 8240 Hwy 9, Ashland. There is a pre-departure rally at 10:00 a.m. central standard time. The trucks will depart at 11:00 a.m. and then proceed on a parade route that will take them into the bitterly contested swing state of Georgia. The Trump Pickup Parade will wind through east Alabama and West Georgia traveling through LaGrange and Columbus before concluding near the Alabama/Georgia line in Phenix City, 332 Woodland Drive, Phenix City at approximately 2:00 p.m. central time. Speakers will begin at 3:00. Trump flags will be on sale at the event.
The Phenix Motorsports Park will be hosting what sponsor hope could possibly the world's largest Pickup Tuck parade in U.S. history that is routing over 50 mile through Georgia in effort to "pickup" President Trump's numbers in GA.
A number dignitaries have been invited to address the Phenix City rally, including Coach Tuberville. Former State Sen. Shadrack McGill, Trump Victory Finance Committee member former State Rep. Perry O. Hooper Jr., and Paul Wellborn, the President and CEO of the largest Family owned Kitchen Cabinet manufacture in the USA are among the featured speakers who have committed to speak at the event. U.S. Sen. Kelly Loeffler (R-Georgia) and Heisman Trophy winner Hershel Walker will address the crowd via video.
Entertainment will be provided by: Charity Bowden, an up and coming country music singer who was the runner up on "The Voice". Charity will sing 'I am Proud to be an American' as well as songs from her Voice performances. The McGill Girls will also perform. The three beautiful and talented sisters will be singing patriotic songs in three part harmony. Geoff Carlisle, a professional DJ will be keeping the crowd pumped with music and entertainment.
Following the speakers and the entertainment there will Trump truck-vs- Joe Bidden truck races down the drag strip for the finale.
The Northwest Alabama boat parade will be on Sunday. The boats will gather at 2:00 p.m. near Turtle Point and then the flotilla will parade around the open waters of Wilson Lake til 3_00 p.m.. There will be a contest for best decorated Trump boats.
Trump supporters have held a number of large boat parades across the state to show their support for the re-election of Pres. Trump.
Boat parade sponsors say that this parade will be: pro-American, pro-law enforcement, pro-military.