Sewell and Pelosi Visit Troops in Afghanistan on Mother's Day
By Brandon Moseley
Alabama Political Reporter
Congresswoman Terri A. Sewell (D) from Selma released a statement to announce that she was part of a bi-partisan delegation including Democratic Minority Leader Nancy Pelosi to Afghanistan.  The two-day trip included visits to the provinces of Helmand and Kandahar.  The delegation visited with troops on Mother's Day weekend and discussed "national security and woman issues in the Middle East, Asia and Africa with diplomatic and military officials."
Representative Sewell said, "On this Mother's Day weekend, I've been honored to join Democratic Leader Nancy Pelosi and four of my female colleagues on a bi-partisan Congressional Delegation to Afghanistan.  Our troops play such an integral role in Afghanistan and it was a pleasure to travel to Helmand and Kandahar provinces to discuss important issues facing Afghans from our commanders and their Afghan coalition partners on the ground."
Rep. Sewell continued, "We were also honored to have the opportunity to celebrate Mother's Day at Camp Leatherneck in the Helmand province with so many of our brave troops, many of whom are mothers, daughters and sisters who courageously serve on the frontlines every day in our Armed Forces."
Rep. Sewell said, "My appreciation for all of our servicemen and women has deepened with this experience. On this special day, words can't express my gratitude to all of the mothers in the military.  Thousands of miles away from home, our women in uniform continue to manage the challenges of parenting, while fighting for our liberties. To all our mothers far and near, Happy Mother's Day!"
This was the first trip to Afghanistan by a Congressional Delegation since President Barack H. Obama signed the Strategic Partnership Agreement with President Hamid Karzai.  The peace process in Afghanistan suffered a major setback that same day when Mullah Arsala Rahmani, the former Taliban minister of higher education, who was working as an important go-between in the potential peace talks, was shot and killed in Kabul, Afghan officials said.
Muallawi Shafiullah Nuristani, a fellow member of the High Peace Council, said that Rahmani, who lived in Kabul under close protection from the Afghan intelligence service, the National Directorate of Security, was killed in his car by a gunman.  The assassin then escaped.
Shafiullah said, "His assassination is a big loss, it will affect the peace process because he played an important role in mediating the peace talks and was a trusted person among the Taliban."
Although the Taliban had threatened to kill members of the High Peace Council as part of their Spring offensive, Taliban spokesman Zabiullah Mujahid denied that the Taliban were responsible for the killing.  Rahmani was killed en route to Rahmani had just left his heavily guarded home in western Kabul to attend the inaugural meeting of a new council called the High Council of the Independent Commission for Dispute Resolution and People-to-Government Relations. The meeting was cancelled following the attack.  It is not known at this time whether Rep. Sewell's trip was cut short by the violence in Kabul or not.  Two American soldiers were killed in Afghanistan Sunday by an Improvised Explosive Device (IED).
To read Representative Terri Sewell's comments in their entirety:
http://sewell.house.gov/press-release/congresswoman-terri-sewell-visits-troops-afghanistan-mother%E2%80%99s-day
Trump Truck and boat parades this weekend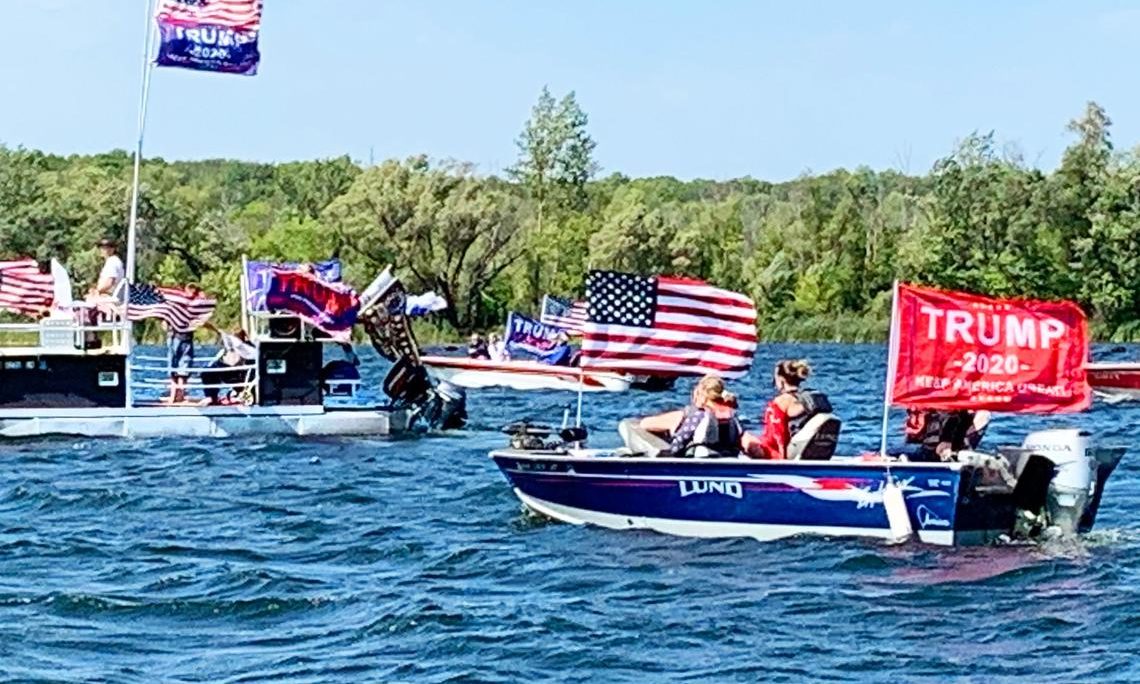 As Election Day draws near, Alabama Republicans are excited about promoting the re-election of Donald J. Trump as President and the election of Tommy Tuberville for U.S. Senate. This weekend two pro-President Trump events are happening in the state. There will be a truck parade from Ashland to Phenix City on Saturday sponsored by the Clay County Republican Party, while there will also be a boat parade on Wilson Lake in the Shoals sponsored by the Colbert County Republican Party on Sunday.
The pickup trucks will assemble at the Ashland Industrial Park in Clay County, 8240 Hwy 9, Ashland. There is a pre-departure rally at 10:00 a.m. central standard time. The trucks will depart at 11:00 a.m. and then proceed on a parade route that will take them into the bitterly contested swing state of Georgia. The Trump Pickup Parade will wind through east Alabama and West Georgia traveling through LaGrange and Columbus before concluding near the Alabama/Georgia line in Phenix City, 332 Woodland Drive, Phenix City at approximately 2:00 p.m. central time. Speakers will begin at 3:00. Trump flags will be on sale at the event.
The Phenix Motorsports Park will be hosting what sponsor hope could possibly the world's largest Pickup Tuck parade in U.S. history that is routing over 50 mile through Georgia in effort to "pickup" President Trump's numbers in GA.
A number dignitaries have been invited to address the Phenix City rally, including Coach Tuberville. Former State Sen. Shadrack McGill, Trump Victory Finance Committee member former State Rep. Perry O. Hooper Jr., and Paul Wellborn, the President and CEO of the largest Family owned Kitchen Cabinet manufacture in the USA are among the featured speakers who have committed to speak at the event.
Entertainment will be provided by: Charity Bowden, an up and coming country music singer who was the runner up on "The Voice". Charity will sing 'I am Proud to be an American' as well as songs from her Voice performances. The McGill Girls will also perform. The three beautiful and talented sisters will be singing patriotic songs in three part harmony. Geoff Carlisle, a professional DJ will be keeping the crowd pumped with music and entertainment.
Following the speakers and the entertainment there will Trump truck-vs- Joe Bidden truck races down the drag strip for the finale.
The Northwest Alabama boat parade will be on Sunday. The boats will gather at 2:00 p.m. near Turtle Point and then the flotilla will parade around the open waters of Wilson Lake til 3_00 p.m.. There will be a contest for best decorated Trump boats.
Trump supporters have held a number of large boat parades across the state to show their support for the re-election of Pres. Trump.
Boat parade sponsors say that this parade will be: pro-American, pro-law enforcement, pro-military.