Bentley Announces More than 100 Road and Bridge Projects
By Brandon Moseley
Alabama Political Reporter
Thursday, Alabama Governor Robert Bentley announced 105 road and bridge improvement projects that will be funded in the first round of funding for ATRIP – the Alabama Transportation Rehabilitation and Improvement Program.  ATRIP is the largest road and bridge improvement program in the history of the state.
Gov. Bentley said, "From large cities to rural areas, the people of this state deserve reliable, safe roads and bridges.  School buses should not have to be detoured around substandard bridges.  Communities need help improving roads that are currently over capacity or in need of various safety improvements."
Gov. Bentley also said that the road improvements will help the state recruit new industries and jobs.  "Companies depend on updated roads and bridges to help them safely conduct business and make deliveries. As we improve our infrastructure, we will improve the business climate in the state and make Alabama more attractive to businesses seeking to locate here and bring additional jobs," the Governor said. ""In addition, this program will create construction jobs across the state as projects move forward, and by making areas more attractive to prospective employers, the ATRIP program will help with the long-term recruitment of even more jobs in the future."
The state is issuing GARVEE bonds to pay for much of the cost of the project.  Interest rates on municipal bonds are at historic lows due to the recent recession and Federal Reserve efforts to force interest rates low in an attempt to grow this stagnant economy, by lowering the cost of borrowing. The Governor's statement said, "the use of GARVEE bonds makes strong financial sense as the low cost of borrowing is generally lower than the rising cost of inflation in construction projects. "By using GARVEE bonds, we are able to make much-needed improvements without raising taxes," Governor Bentley said.
The ATRIP program was part of the Governor's 2012 legislative agenda and passed the legislature with bipartisan support.  Cities and counties have submitted their proposals to the Alabama Department of Transportation.  The final project funding decisions were made by an advisory committee and Gov. Bentley.  64 of Alabama's 67 counties submitted applications and 61 counties had projects approved in the first round of ATRIP funding.  Two more rounds are planned.  The next round is in the fall and the final round will be next spring.
The first round of ATRIP funding will replace 36 Alabama bridges, upgrade intersections, add additional lanes, and resurface roads.  The first round includes $138.5 million in funding.  Local governments provide matching funds for the projects.  In Jefferson County, 5 projects were approved in Trussville, Hoover, Gardendale, Birmingham, and Bessemer.  St. Clair County was awarded one road resurfacing project.  In Mobile County, three projects were approved in Pritchard, in Mobile, and one to the county itself.  There were two projects approved in Montgomery County: one of them in the City of Montgomery.  Madison County had two projects approved: one in Huntsville and the other in Madison.  One bridge will be replaced in Shelby County.  There are two projects approved in Tuscaloosa County: one of them in the city of Tuscaloosa.  Five projects were approved in Baldwin County, including projects in Daphne, Robertsdale, Fairhope, and Gulf Shores.
Trump Truck and boat parades this weekend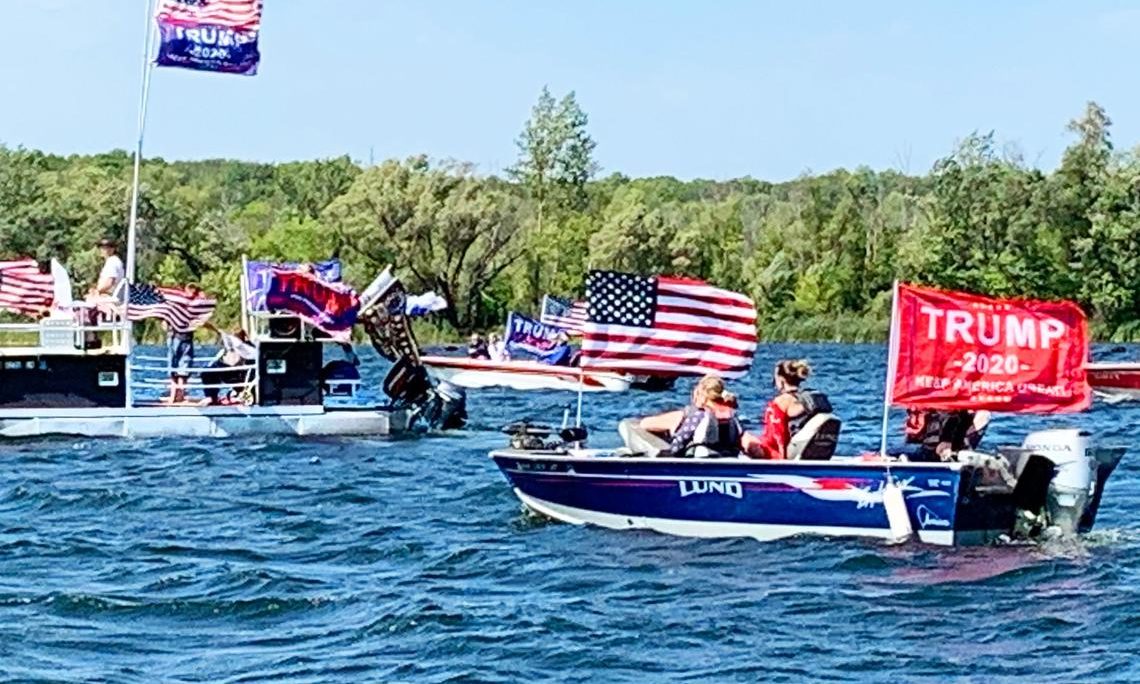 As Election Day draws near, Alabama Republicans are excited about promoting the re-election of Donald J. Trump as President and the election of Tommy Tuberville for U.S. Senate. This weekend two pro-President Trump events are happening in the state. There will be a truck parade from Ashland to Phenix City on Saturday sponsored by the Clay County Republican Party, while there will also be a boat parade on Wilson Lake in the Shoals sponsored by the Colbert County Republican Party on Sunday.
The pickup trucks will assemble at the Ashland Industrial Park in Clay County, 8240 Hwy 9, Ashland. There is a pre-departure rally at 10:00 a.m. central standard time. The trucks will depart at 11:00 a.m. and then proceed on a parade route that will take them into the bitterly contested swing state of Georgia. The Trump Pickup Parade will wind through east Alabama and West Georgia traveling through LaGrange and Columbus before concluding near the Alabama/Georgia line in Phenix City, 332 Woodland Drive, Phenix City at approximately 2:00 p.m. central time. Speakers will begin at 3:00. Trump flags will be on sale at the event.
The Phenix Motorsports Park will be hosting what sponsor hope could possibly the world's largest Pickup Tuck parade in U.S. history that is routing over 50 mile through Georgia in effort to "pickup" President Trump's numbers in GA.
A number dignitaries have been invited to address the Phenix City rally, including Coach Tuberville. Former State Sen. Shadrack McGill, Trump Victory Finance Committee member former State Rep. Perry O. Hooper Jr., and Paul Wellborn, the President and CEO of the largest Family owned Kitchen Cabinet manufacture in the USA are among the featured speakers who have committed to speak at the event.
Entertainment will be provided by: Charity Bowden, an up and coming country music singer who was the runner up on "The Voice". Charity will sing 'I am Proud to be an American' as well as songs from her Voice performances. The McGill Girls will also perform. The three beautiful and talented sisters will be singing patriotic songs in three part harmony. Geoff Carlisle, a professional DJ will be keeping the crowd pumped with music and entertainment.
Following the speakers and the entertainment there will Trump truck-vs- Joe Bidden truck races down the drag strip for the finale.
The Northwest Alabama boat parade will be on Sunday. The boats will gather at 2:00 p.m. near Turtle Point and then the flotilla will parade around the open waters of Wilson Lake til 3_00 p.m.. There will be a contest for best decorated Trump boats.
Trump supporters have held a number of large boat parades across the state to show their support for the re-election of Pres. Trump.
Boat parade sponsors say that this parade will be: pro-American, pro-law enforcement, pro-military.