Armistead Congratulates Scott Walker
By Brandon Moseley
Alabama Political Reporter
Tuesday night, Alabama Republican Party Chairman Bill Armistead released a written statement concerning Governor Scott Walker's (R) from Wisconsin victory in the recall election.
Chairman Armistead said, "Once again, Democrats in Wisconsin have been confounded in their efforts to stop Governor Walker and his fellow Republicans from reforming their state government for the better. Governor Walker's reforms balanced their budget, put people back to work, and got government back on the side of the people. Wisconsin voters have given their stamp of approval to these common-sense reforms."
Chairman Armistead continued, "I offer my congratulations to Governor Walker. Not just for tonight's resounding victory, but also for having the courage over the last several months to stand strong and do what he knew was right for his constituents, despite the relentless assaults from the left. Obama's surrogates have admitted that this recall election in Wisconsin was a dry-run for the November presidential election. Tonight's results indicate disaster for President Obama in this important swing-state."
The apparent Republican nominee for President, former Massachusetts Governor Mitt Romney also congratulated Gov. Walker on the surprisingly easy victory.  Gov. Romney said, "I congratulate Scott Walker on his victory in Wisconsin. Governor Walker has demonstrated over the past year what sound fiscal policies can do to turn an economy around, and I believe that in November voters across the country will demonstrate that they want the same in Washington, D.C. Tonight's results will echo beyond the borders of Wisconsin. Governor Walker has shown that citizens and taxpayers can fight back – and prevail – against the runaway government costs imposed by labor bosses. Tonight voters said 'no' to the tired, liberal ideas of yesterday, and 'yes' to fiscal responsibility and a new direction. I look forward to working with Governor Walker to help build a better, brighter future for all Americans."
Exit polling data had showed an extremely close race.  Those polls were woefully inaccurate as Gov. Walker crushed Milwaukee Mayor Tom Barrett by a margin of 54 to 46%.  The same exit polling showed Barack Obama beating Mitt Romney in November by 9 percentage points.
Democratic National Committee Chairwoman Debbie Wasserman Schultz released a statement following the crushing loss for the Democrats and their big labor allies.  Chairwoman Schultz wrote, "Despite the disappointing outcome of tonight's election, there is no question that over the past year this recall effort sent a message to Scott Walker that his brand of divisive politics is offensive and wrong"…."I want to thank Mayor Barrett, our other candidates on the ballot tonight and all the passionate, dedicated individuals on the ground who held conversations with their friends, family, neighbors and co-workers about the stakes of this election"……"And as we turn our attention to the fall, we will not cede an inch in Wisconsin to Mitt Romney who has been behind in virtually every single recent poll and who wants to go back to the same failed policies of the past from which Wisconsin is recovering. And while we're not taking anything for granted, if Mitt Romney thinks he's going to be the first Republican to win Wisconsin since Ronald Reagan he's got another thing coming."
The new Republican Governor incurred the wrath of organized labor leaders when he passed legislation that curtailed the power of government employee unions.  Since Wisconsin has recall, the Unions were able to force recall elections of Gov. Walker and the Lieutenant Governor Rebecca Kleefisch.  Labor unions from all over the country flooded the state and Wisconsin Democrats with money.  Republican groups however began their own national fundraising efforts.  In the end Scott Walker was able to raise $30.5 million to defend his office.  Several Democrats ran for their nomination.  Mayor Barrett beat the labor union supported candidate in the Democratic Primary; but was only able to raise $3.9 million himself.
Former President Bill Clinton came to Wisconsin to campaign for Mayor Barrett.  President Barack H. Obama endorsed Mayor Barrett on Twitter, but expecting a Democratic defeat he did not campaign in the state.
Lt. Gov. Kleefisch also defeated her Democratic Party opponent by a margin of 53 to 47%.  The Democrats also forced recall elections in four Republican State Senate seats.  The Republicans won all four of those elections as well. Wisconsin voter turnout was 63%.  The Tea Party movement is credited with getting out Republican voters.
Governor declares state of emergency ahead of Tropical Storm Zeta
Zeta is currently a tropical storm over the Gulf of Mexico, but it is predicted to make landfall as a category one hurricane.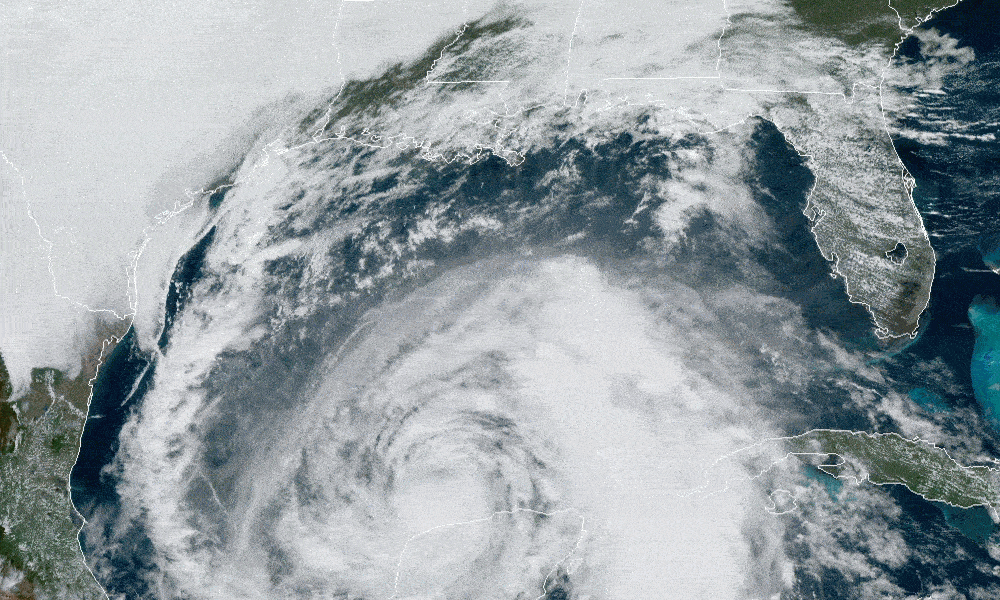 Alabama Gov. Kay Ivey on Tuesday issued a state of emergency as Tropical Storm Zeta approaches the Gulf Coast.
"Ahead of Tropical Storm Zeta's anticipated landfall Wednesday evening as a Category 1 hurricane, I am issuing a state of emergency effective today at 4:00 p.m.," Ivey said. "While this storm is not expected to have an impact as large as storms we've seen move through the Gulf earlier this year, we want to be in the best place possible to respond to anticipated rain, storm surge and mass power outage. I encourage everyone to remain weather aware and tuned in to their trusted news source as this storm could shift direction or change intensity. We continue to track the path of this storm and will stay in touch with the people of Alabama with any updates."
Zeta is currently a tropical storm over the Gulf of Mexico, but it is predicted to make landfall as a category one hurricane. The National Hurricane Center is predicting Zeta to make landfall in Mississippi on Wednesday and then proceed toward Alabama, but these storms can and do move.
A more easterly track could prove devastating to the Alabama Gulf Coast as was the case with Hurricane Sally, which shifted course in September, hitting Alabama, though Zeta is expected to be weaker than Sally at landfall.
The storm surge from the Mississippi-Alabama border to Dauphin Island is forecast to be 5 to 8 feet. Mobile Bay to the Alabama-Florida border is expected to have 3 to 5 feet of storm surge and from the border to Navarre, Florida, could experience 2 to 4 feet of storm surge.
Hurricane force winds are a possibility with this storm. Tropical force winds are expected to be an issue for Southern Mississippi and Alabama well inland. There is expected to be heavy rainfall across the state Wednesday night into Thursday morning.
The Baldwin County Emergency Management Agency announced that sandbags are available inside the county commission office at Robertsdale Central Annex (22251 Palmer Street) until 4:30 p.m. Tuesday and from 8 a.m. until 4:30 p.m. Wednesday or while they last.
Bring any help and shovels you will need. There is a limit of just 25 bags per person. Alabama's coastal counties are currently under a Tropical Storm Warning, a Storm Surge Warning for Mobile County and a High Rip Current and High Surf Warning.
Congressman Bradley Byrne said, "I just finished up briefings from Alabama EMA, FEMA, and the National Hurricane Center regarding #Zeta. We should not take this storm lightly and should start making preparations right away. After sundown Wednesday, I'd encourage everyone in Southwest Alabama to stay home and off the roads until sunrise Thursday. This storm will have impacts as far north as Montgomery, so those in Washington, Clarke, and Monroe counties will see tropical storm force winds and heavy rain. I'd encourage everyone to charge their phones and other necessary electronics. If you have an emergency during the storm, call 911 and do not try to drive."
Coastal Alabama is still in the process of recovering from Hurricane Sally which hit the state on Sept. 15.