Smart on Crime: Juvenile Justice Pipeline to Prison
By Bill Britt
Alabama Political Reporter
Editors Note: Maria Morris, who serves as managing attorney for the Southern Poverty Law Center's Alabama office where her primary focus is dedicated to education and juvenile justice reform in Alabama. Morris has graciously agreed to be a part of helping us understand more aspects of the criminal justice system in our series, Smart On Crime.
MONTGOMERY–In the first part of our interview with Ms. Morris spoke concerning the effects of prison overcrowding and how the Sentencing Reform Legislation may be one of the tools that can be used to better relieve Alabama's over burdened prison system.
"The second part of the equation," according to Morris is, "how to stem the tide of people going into the system." She states that one of the things that has been a major focus at the SPLC is what is happening with juveniles. "There are so many kids that are being suspended [from school] repeatedly for really small offenses. This pushes these kids out of the school system and then they are more likely to become involved with the criminal justice system."
She points out that a large number of children are being arrested at schools "for things that most grown-ups these days, think of as simple misconduct."
She characterizes some of these as kids "fighting or yelling at a teacher." Such criminalization of these acts are a recent phenomenon but according to Morris, they are causing many children to enter the criminal justice system at a very young age. "Once these kids are in the system it is very difficult to get them out,"
She says that a culture of Zero Tolerance rules has become prevalent and that it has lead to more school children being incarcerated. Morris says, "Some of these rules have come from the terrible events that have happened at schools over the last 20 years including what happened at Columbine, [Colorado]. These types of school shootings make everyone frightened and while horrible they are extremely rare."
Morris believes that the, "Tough on crime," mentality has led to vast numbers of youth being jailed under the "Zero Tolerance approach to discipline."
According to a 2008, study in the American Psychologist, "Since the early 1990s, the national discourse on school discipline has been dominated by the philosophy of zero tolerance. Originally developed as an approach to drug enforcement the term became widely adopted in schools in the early 1990s as a philosophy or policy that mandates the application of predetermined consequences, most often severe and punitive in nature, that are intended to be applied regardless of the gravity of behavior, mitigating circumstances, or situational context."
The increased application of ever more severe consequences in response to student misbehavior has also resulted in increased referrals to the juvenile justice system for infractions that were once handled in school according to multiple studies.
Morris sights a few developments that have lead to this phenomenon. The hardline approach in schools such the introduction of School Resource Officers which according to Morris are police officers within the school is one such factor. "In the past if something really got out of hand they would call the police, whereas now, as soon as there is a fight they walkie-talkie everyone that is on the school security team, which includes the School Resource Officer, so a police officer is on the scene, so, if someone hits someone that is an arrestable offense," Morris says.
Multiple studies have reveled that the shift to a reactive and punitive model of discipline for student infractions has not decreased school disruptions. They have also shown that abdicating the role of disciplinarian to school resource officers or other local law enforcement has proven to have a negative impact on eduction and a increase of student dropout rates. These factors have lead to what has come to be known as school-to-prison pipeline.
A study by the SPLC states, "Some schools see few options available to them and have resorted to a standardized "zero tolerance" approach to school discipline applying mandatory exclusionary punishments for a wide range of misbehavior, rather than taking circumstances into account in deciding whether and how to punish the child. But zero tolerance policies not only fail to address the underlying causes of misbehavior—they also tend to cause more problems than they solve.
While no one is condoning violent or threatening behavior within schools most studies suggest that most offenses referred to the juvenile justice system are instances that should be addressed at school.
Morris says that her efforts at SPLC are primarily focused on, "Keeping kids out of the criminal justice system."
"The kids that are going into the criminal justice system are coming from such difficult backgrounds, generally," says Morris, "We need to work now to help them avoid the tipping point when they go from being school children to being criminal justice involved youths."
In part three Morris will help us look at more options for youths as well as alternative programs for non-violent offenders.
In part three, Morris will provide her insight into juvenile justice and also alternative sentencing.
Governor declares state of emergency ahead of Tropical Storm Zeta
Zeta is currently a tropical storm over the Gulf of Mexico, but it is predicted to make landfall as a category one hurricane.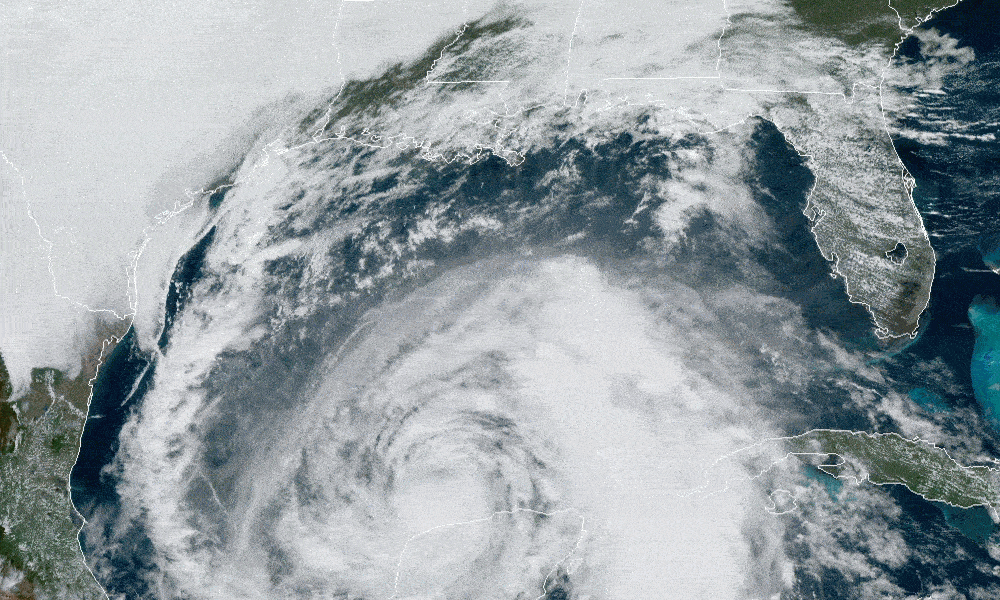 Alabama Gov. Kay Ivey on Tuesday issued a state of emergency as Tropical Storm Zeta approaches the Gulf Coast.
"Ahead of Tropical Storm Zeta's anticipated landfall Wednesday evening as a Category 1 hurricane, I am issuing a state of emergency effective today at 4:00 p.m.," Ivey said. "While this storm is not expected to have an impact as large as storms we've seen move through the Gulf earlier this year, we want to be in the best place possible to respond to anticipated rain, storm surge and mass power outage. I encourage everyone to remain weather aware and tuned in to their trusted news source as this storm could shift direction or change intensity. We continue to track the path of this storm and will stay in touch with the people of Alabama with any updates."
Zeta is currently a tropical storm over the Gulf of Mexico, but it is predicted to make landfall as a category one hurricane. The National Hurricane Center is predicting Zeta to make landfall in Mississippi on Wednesday and then proceed toward Alabama, but these storms can and do move.
A more easterly track could prove devastating to the Alabama Gulf Coast as was the case with Hurricane Sally, which shifted course in September, hitting Alabama, though Zeta is expected to be weaker than Sally at landfall.
The storm surge from the Mississippi-Alabama border to Dauphin Island is forecast to be 5 to 8 feet. Mobile Bay to the Alabama-Florida border is expected to have 3 to 5 feet of storm surge and from the border to Navarre, Florida, could experience 2 to 4 feet of storm surge.
Hurricane force winds are a possibility with this storm. Tropical force winds are expected to be an issue for Southern Mississippi and Alabama well inland. There is expected to be heavy rainfall across the state Wednesday night into Thursday morning.
The Baldwin County Emergency Management Agency announced that sandbags are available inside the county commission office at Robertsdale Central Annex (22251 Palmer Street) until 4:30 p.m. Tuesday and from 8 a.m. until 4:30 p.m. Wednesday or while they last.
Bring any help and shovels you will need. There is a limit of just 25 bags per person. Alabama's coastal counties are currently under a Tropical Storm Warning, a Storm Surge Warning for Mobile County and a High Rip Current and High Surf Warning.
Congressman Bradley Byrne said, "I just finished up briefings from Alabama EMA, FEMA, and the National Hurricane Center regarding #Zeta. We should not take this storm lightly and should start making preparations right away. After sundown Wednesday, I'd encourage everyone in Southwest Alabama to stay home and off the roads until sunrise Thursday. This storm will have impacts as far north as Montgomery, so those in Washington, Clarke, and Monroe counties will see tropical storm force winds and heavy rain. I'd encourage everyone to charge their phones and other necessary electronics. If you have an emergency during the storm, call 911 and do not try to drive."
Coastal Alabama is still in the process of recovering from Hurricane Sally which hit the state on Sept. 15.