State Will be Forced to Make Cutbacks if Sept Vote Fails: A Breakdown
By Brandon Moseley
Alabama Political Reporter
In the 2012 legislative session, the Republican controlled legislature was confronted squarely with an unprecedented General Fund crisis.  Early in the session it appeared that the legislature would either raise taxes or it would have to make severe cuts to either the Alabama Medicaid program or the state prison system.  There were proponents for both solutions.  Ultimately the legislature did neither.  They elected to punt the ball to the voters of Alabama.  The legislature is asking for the voter to allow them to raid the principal of the Alabama Trust Fund for three years to fund current spending until after the 2014 election.
If the voters vote yes on the Special September 18th Referendum then the state will be draining the Alabama Trust Fund and costing the General Fund interest income for decades to come. There are also costs if the voters vote no and the state is forced to prorate the state's FY2013 General Fund budget.
Alabama Governor Robert Bentley recently told the media, ""I'm not sure there is a Plan B other than massive cuts. Everything will be on the table." Gov. Bentley said if Sept. Amendment doesn't pass.
A review of departments suggest that, the cuts will be drastic.  The Examiner of Public Accounts will be able to do fewer audits and will have less financial oversight of state agencies. There will be layoffs in the legislative staff.  Cuts to the Judicial System means that the courts can't hear as many cases delaying some of them for months.  Accused felons will either spend more time in county jails awaiting trial or will be free on bond longer.  Fewer court clerks will mean delays in processing sentencing orders and more backlogs at county jails throughout Alabama.
The Department of Agriculture and Industries will have to reduce food inspections, cut salaries, and won't be able to update computers and technology.  The Alabama Attorney General will have to cut down on workers investigating child abuse and neglect.  The Department of Children's Affairs will see cuts that will be magnified by the loss of federal grant money.  The Department of Conservation and Natural Resources will have to cut the number of enforcement officers to investigate poachers and Alabama's game conservation laws.
Most severely the Department of Corrections will have to layoff up to 800 people leading to the early release of 6,500 inmates and the closing of two or more of our already understaffed state prisons.  Cuts to the Criminal Justice Information Center will lead to a reduction in the reporting and tracking of criminal justice information.  District Attorney's offices all over the state will have to lay off workers leading to an increased caseload per remaining prosecutors and case backlogs.  Reduced staff at ADECA will lead to fewer workers to apply for economic grants and potentially the loss of future federal grant money.  Cuts to the Alabama Emergency Management Agency will lead to offices closing and more layoffs.
We have been told that the Alabama Department of Environmental Management may also receive a cut leading a smaller staff and potentially poorer enforcement of environmental regulations.  Cuts at the Alabama Ethics Commission will result in in layoffs and a backlog in filings.  Alabama Forensic Sciences will have to close their office in Tuscaloosa and the morgue in Huntsville.  Our sources say that Forensic Sciences will be hit with a 12% staff reduction which will slow down law enforcement investigations.
The Alabama Forestry Commission will reduce staff leading to reductions in: fire prevention services, tornado cleanup, pine beetle control, and invasive species control.  The Alabama Department of Public Health could eliminate as many as 400 jobs.  This will result in fewer restaurant inspections, the closing of county health clinics, and reduced hours of operation at the remaining clinics.
The Department of Human Resources is anticipating cutting 133 positions.  The department will close adult day care programs and there will be fewer inspectors to investigate reports of elder abuse.  Reduction in staff at the Department of Industrial Relations will result in a loss of oversight of unemployment insurance programs.           The Department of Labor will have fewer staff: enforcing state labor laws, providing mediation services, overseeing unions and union elections, investigating job related injuries and deaths, and enforcing child labor statutes.                The Department of Mental Health could face even more cuts.
Alabama Medicaid will reduce payments to some service providers by as much as 10%.  Our sources are not anticipating any cuts to children's insurance programs or in long term care (LTC).  There could be further cuts to services for adults (which already lost benefits in the FY2013 budget).
Cuts at the Secretary of State's offices will result in staff losses possibly leading to less enforcement and potentially more voter fraud.  Cuts at the Department of Public Safety will result in fewer state troopers on the road and longer lines to get driver licenses.  Cuts at Pardons & Paroles will lead in fewer parole officers and less supervision of recently released felons.  Cuts to the Department of Senior Services will potentially lead to less oversight of elder abuse, a reduction in legal assistance for seniors, less nutrition & wellness services, and fewer Medicare fraud prevention specialists.  Cuts to the Alabama Tourism Department will make it harder to market the state to potential tourists.  The State Treasurer's office will have layoffs.  The Department of Veteran Affairs will close more offices. There will be fewer services for veterans.  The Department of Youth Services will have staff reductions and services.  The state will be force to reduce their capacity, releasing more dangerous teens sooner.   Cuts to the Alabama State Port Authority could lead to reductions in offloading tonnage and extended delays in loading and outgoing shipping capacity.  Personnel cuts could lead to compromised safety and security.
Of course, it is likely that if the voters reject the legislature's plan on September 18th there will be a Special Session the following week.  These numbers COULD change in that Special Session.
Print this piece
Feds seizing needed supplies slowed state's COVID-19 testing efforts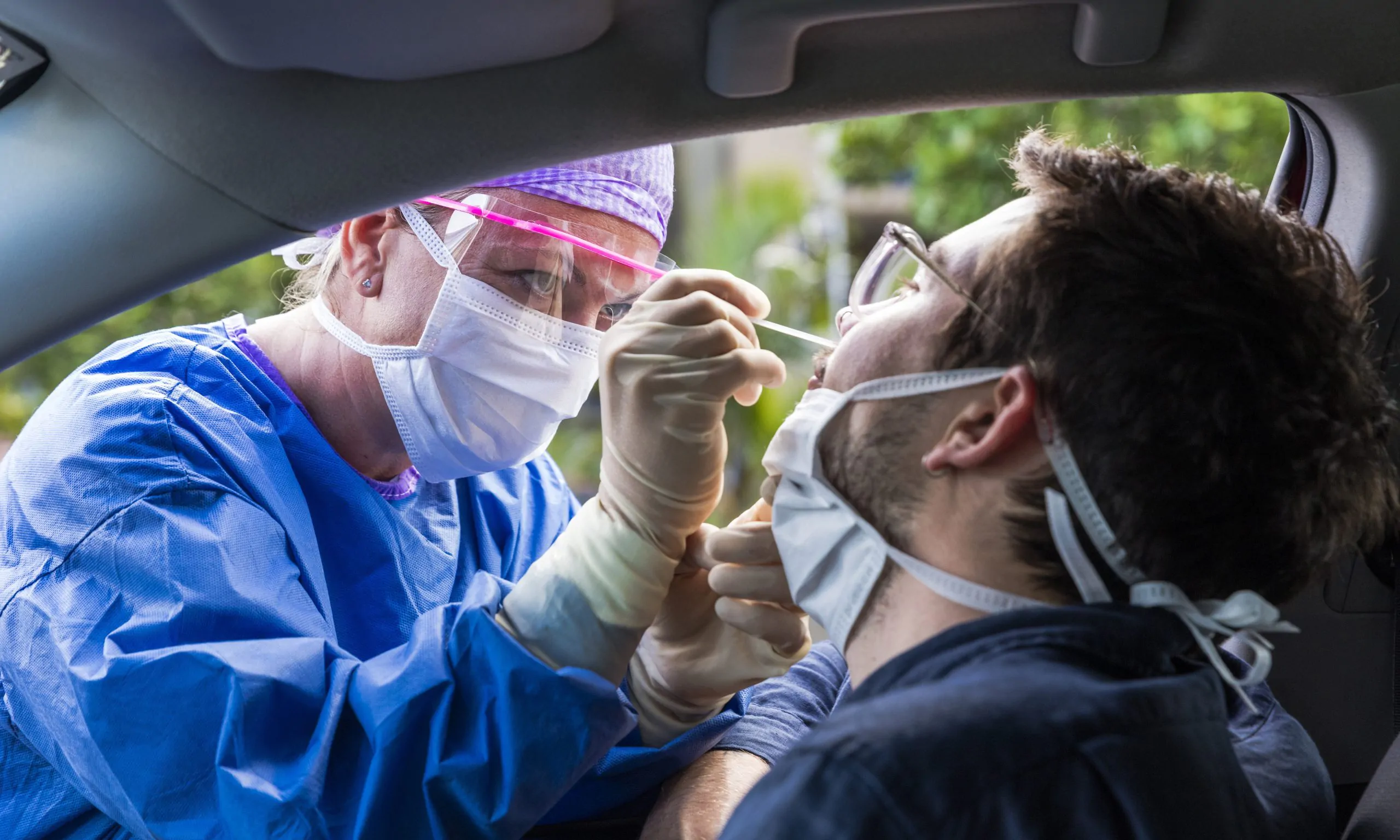 Add Alabama to the list of states that have had trouble acquiring needed medical supplies from commercial vendors because the federal government intervened and took the supplies.
The federal government has been quietly seizing orders of medical supplies, protective gear and testing materials across the country, and Alabama has not been immune.
The federal government's actions, blocking the shipment of those supplies, impeded the state's ability to roll out widespread testing and added to supply shortages in the state, officials say.
The Alabama Department of Public Health told APR Thursday that several shipments of supplies from commercial vendors have been superseded by the U.S. Department of Health and Human Services since the outset of the coronavirus pandemic in the state.
"It's been happening all along," said State Health Officer Scott Harris. "We had orders through about three different vendors, national vendors that we would normally use for medical supplies. They had accepted the orders and given us a ship date."
But then the vendors called and canceled the orders.
"They say, you know, the inventory was acquired by HHS," Harris said, referring to the Department of Health and Human Services.
The department and the Federal Emergency Management Agency have not publicly reported these acquisitions, according to the Los Angeles Times, nor has the administration detailed how these supplies are being used, when they decide to seize them and where the supplies are being rerouted to.
The first time was three weeks ago. The state placed an order for about four thousand nasopharyngeal swabs, the long Q-tip like swabs used to perform COVID-19 tests. The order was accepted, but before it could be shipped, HHS seized the supplies.
"That was one of the things that slowed our rollout of testing around the state because there were no supplies to be had," Harris said.
Since then, the state and hospitals have been able to acquire supplies from other vendors, but the delays have hampered testing, putting Alabama behind other states like Louisiana. As of Thursday, Louisiana had tested nearly 90,000 people for the virus. The number includes most commercial tests.
The main issue facing the state has not been the so-called "test kits" or even the state lab's capacity to run tests.
"We've had days where we thought we were going to be out of reagent, and we've wondered if we were going to have to hold off testing, but we haven't had to stop," Harris said. "We've had some just-in-time deliveries that we weren't sure were coming."
The real issue has been the swabs needed to collect samples. Hospitals and health officials across the state, from Huntsville to Mobile, have at one point or another reported severe shortages of nasopharyngeal swabs.
"We're bidding against every other state in the country, and in some cases, we're bidding against health care facilities here in our own state who are doing their own testing," Harris said of the process of acquiring swabs and other supplies.
ADPH and hospitals have been able to get more of those supplies, and Alabama has slowly ramped up testing as a result. But it has not been easy. "Getting those swabs and viral transport media has really been the rate-limiting step for most of our testing clinics," Harris said.
As of Thursday, the state has tested about 20,000 people, nearly twice the number reported five days ago on April 4. Testing has been increasing over the past week and a half, Harris said.
More have been tested, but it's hard to know exactly how many because not all commercial labs are reporting the number of negative tests they conduct. Harris said the state has asked the commercial labs to report those numbers, but some have been slow to do so.
Alabama has also had trouble receiving other types of needed medical supplies like ventilators and personal protective equipment. Some of the shipments seized by the federal government have been personal protective equipment intended to refill dwindling supplies at some of the state's harder hit hospitals, nursing homes and other providers, according to Dr. Donald Williamson, the president of the Alabama Hospital Association.
Though no hospital has run out of PPE, some have been running low, Williamson said. But hospitals have been forced to take unusual measures to conserve supplies, particularly the N95 masks that offer the most protection to health care workers treating COVID-19 patients.
The city of Montgomery in late March received 28 cases of protective masks from the strategic national stockpile, according to the Montgomery Advertiser. When the city opened the shipment, about 5,800 of the masks had dry rot and an expiration date of 2010.
The difficulties in the supply chain have also affected the state's ability to acquire new ventilators. Harris told APR on Friday that the state asked the federal government for 500 ventilators, and for 200 of them to be delivered urgently. HHS indicated that it would not fulfill the request anytime soon, and that the state could expect additional ventilators only if a dire need was expected within 72 hours.
So Alabama, like a number of states, is being forced to try to source ventilators on its own through the private market, where thousands of hospitals, all the other states and countries all over the world are trying to do the same, causing prices to skyrocket.
Alabama has placed an order for 250 more ventilators, and that order has been accepted, but it has not shipped yet, Harris said.
"We're just not sure when they're going to get here," Harris said. "But we will need them in the next 14 days."
In the meantime, Alabama has shipped about a dozen out-of-date ventilators to California for refurbishment. About half of those have been returned and distributed to hospitals based on their need. The state has also added to its ventilator capacity by retrofitting anesthesia machines and veterinary ventilators for use on those infected with the virus. Even though the state has added about two hundred new ventilators into service, the usage rate of ventilators has remained about the same. As of April 8, at least 101 people have required mechanical ventilation in Alabama for COVID-19. The number is expected to rise in the next weeks.
In the meantime, the state has had trouble getting ventilators from private vendors because the components needed to produce them have been redirected by the federal government to Ford and GM, who have been ordered to manufacture ventilators in mass quantities.
"They have had first-choice at these parts," Harris said. "So the people who normally make ventilators can't get those parts, which slows down delivery for all of us who've gone through the normal channels to get them where we would normally get them."
Williamson and Harris said the state and its hospitals, which are already facing a cash crunch, have been forced to pay inflated prices for needed supplies because demand is high and supply is short.
"Some of our folks are seeing prices substantially higher than they normally have for PPE, specifically N95 masks. Some of it is supply and demand, and some of it is people taking advantage of an unfortunate situation," Williamson said.
The state has been able to identify supply to help support hospitals who are sourcing their own, too, but the costs are exorbitant and a majority of the "vendors" offering to supply the state with supplies are counterfeit.
"You know, you would normally pay 60 or 70 cents for a mask," Harris said. "These offers are typically $5 or $6 per mask now. I've seen some are asking for $10 or whatever, which is truly outrageous."
The governor's office, the Department of Commerce and the attorney general's office have been helping the Department of Public Health source needed supplies.
"We're doing our best to source those any way we can," Harris said.
Harris and Williamson both said PPE supply and ventilator capacity, at least right now, appear to be in decent shape.
"I'm feeling better about ventilators," Williamson said. "But it would always be nice to have more. With the surge we're expecting, we seem to be okay. We've only had a couple of instances where we've had to try to assist and help move ventilators from one hospital to another hospital, but we've been able to do that and no one has gone without a ventilator who needed one."
But the Department of Public Health expects a rise in hospitalizations over the next two weeks that could add further strain the state's health care system.
"Let's see what happens over the next week, but for today, we are much better prepared than we would have been, frankly, a few months ago," Williamson said.
Print this piece