Bachus Discusses JPMorgan and Bank Regulators
By Brandon Moseley
Alabama Political Reporter
Congressman Spencer Bachus (R) from Vestavia released a statement following the House Financial Services Committee hearing on the recent JPMorgan Chase loss in speculative trading.  Representative Bachus is the Chairman of the House Financial Services Committee.
Rep. Bachus said, "When America's largest bank reveals it has suffered an unexpected loss of more than $2 billion, it understandably generates concern and raises questions not only about the bank's risk management controls and corporate governance but also the action – or inaction as the case may be – of the regulators.  While the size of the reported loss is a small fraction – just 1/1000th of JP Morgan's total assets – this episode serves as a reminder that no institution – no matter how well managed – is immune from mistakes that are, to use Mr. Dimon's words, 'stupid,' 'sloppy' and the result of 'bad judgment.'"
Rep. Bachus said, "This should remind all of us about the importance of making sure it is the bank and its shareholders — not the taxpayers — who pay for such mistakes.  Fortunately, these losses are not being borne by the taxpayers, but by JP Morgan.  Since the losses were disclosed, the company has lost $23 billion in market capitalization and suffered reputational harm in the marketplace, and employees involved in the problematic trades have lost their jobs."
Chairman Bachus said, "Just as JP Morgan should be (and is being) held accountable for its risk management failures, accountability must also be demanded of the Federal regulators who oversee the bank's activities.  Unfortunately, because the Dodd-Frank Act failed to consolidate and streamline the current convoluted and chaotic regulatory structure, as House Republicans proposed, achieving regulatory accountability is every bit as difficult now as it was during the height of the financial crisis."
Congressman Bachus continued, ""How inefficient and fragmented is the current regulatory framework? Well, sitting before us today are five different regulators, all of whom have some supervisory responsibility over these trades and several of whom have examiners embedded at JP Morgan – but none of whom, apparently, was either aware of the bank's hedging strategy or raised concerns about it."
Chairman Bachus has been very critical of the vast expansion of the financial sector under the Administration of President Obama.  The Dodd–Frank Wall Street Reform and Consumer Protection Act was passed in 2010 when the Democratic Party controlled the U.S. House of Representatives and Massachusetts Democrat Barney Frank was the Chairman of the House Financial Services Committee.  The Dodd-Frank Act was supposed to give federal regulators enough control over lending that another boom and bust cycle like the 2008 Great Recession won't ever happen again.
Critics, like Chairman Bachus, claim that the legislation just makes credit too hard to obtain, drowns banks in new paperwork and regulations, and expands the scope of the federal government into new areas of lending far beyond its banking and securities realm, while creating new bureaucracies that are not under the direct purview of the U.S. Congress.
Congressman Spencer Bachus is seeking his eleventh term in the U.S. Congress in the November 6th general election.  His Democratic opponent is Leeds resident retired U.S. Air Force Colonel Penny Huggins Bailey.
Governor declares state of emergency ahead of Tropical Storm Zeta
Zeta is currently a tropical storm over the Gulf of Mexico, but it is predicted to make landfall as a category one hurricane.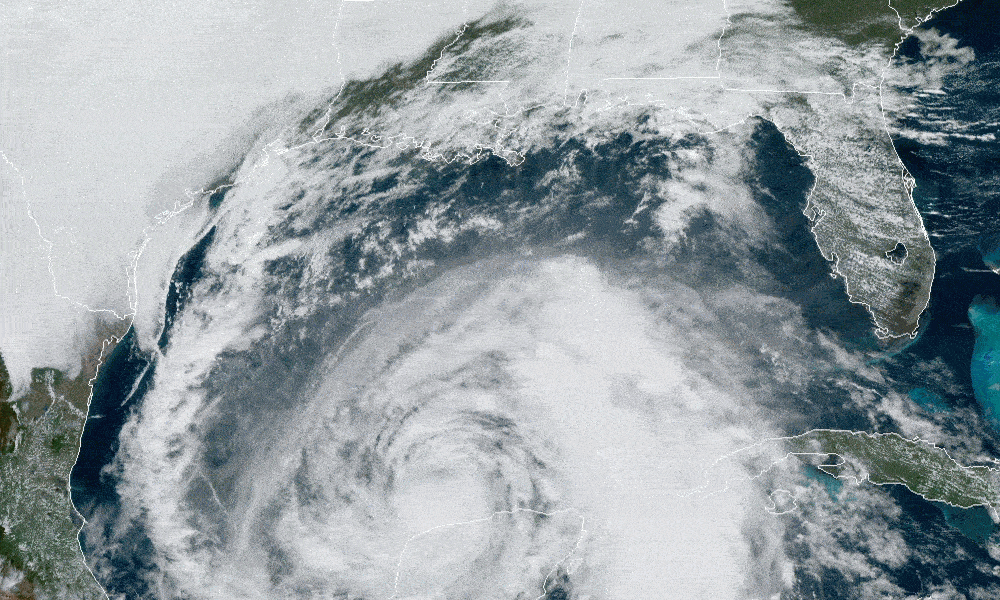 Alabama Gov. Kay Ivey on Tuesday issued a state of emergency as Tropical Storm Zeta approaches the Gulf Coast.
"Ahead of Tropical Storm Zeta's anticipated landfall Wednesday evening as a Category 1 hurricane, I am issuing a state of emergency effective today at 4:00 p.m.," Ivey said. "While this storm is not expected to have an impact as large as storms we've seen move through the Gulf earlier this year, we want to be in the best place possible to respond to anticipated rain, storm surge and mass power outage. I encourage everyone to remain weather aware and tuned in to their trusted news source as this storm could shift direction or change intensity. We continue to track the path of this storm and will stay in touch with the people of Alabama with any updates."
Zeta is currently a tropical storm over the Gulf of Mexico, but it is predicted to make landfall as a category one hurricane. The National Hurricane Center is predicting Zeta to make landfall in Mississippi on Wednesday and then proceed toward Alabama, but these storms can and do move.
A more easterly track could prove devastating to the Alabama Gulf Coast as was the case with Hurricane Sally, which shifted course in September, hitting Alabama, though Zeta is expected to be weaker than Sally at landfall.
The storm surge from the Mississippi-Alabama border to Dauphin Island is forecast to be 5 to 8 feet. Mobile Bay to the Alabama-Florida border is expected to have 3 to 5 feet of storm surge and from the border to Navarre, Florida, could experience 2 to 4 feet of storm surge.
Hurricane force winds are a possibility with this storm. Tropical force winds are expected to be an issue for Southern Mississippi and Alabama well inland. There is expected to be heavy rainfall across the state Wednesday night into Thursday morning.
The Baldwin County Emergency Management Agency announced that sandbags are available inside the county commission office at Robertsdale Central Annex (22251 Palmer Street) until 4:30 p.m. Tuesday and from 8 a.m. until 4:30 p.m. Wednesday or while they last.
Bring any help and shovels you will need. There is a limit of just 25 bags per person. Alabama's coastal counties are currently under a Tropical Storm Warning, a Storm Surge Warning for Mobile County and a High Rip Current and High Surf Warning.
Congressman Bradley Byrne said, "I just finished up briefings from Alabama EMA, FEMA, and the National Hurricane Center regarding #Zeta. We should not take this storm lightly and should start making preparations right away. After sundown Wednesday, I'd encourage everyone in Southwest Alabama to stay home and off the roads until sunrise Thursday. This storm will have impacts as far north as Montgomery, so those in Washington, Clarke, and Monroe counties will see tropical storm force winds and heavy rain. I'd encourage everyone to charge their phones and other necessary electronics. If you have an emergency during the storm, call 911 and do not try to drive."
Coastal Alabama is still in the process of recovering from Hurricane Sally which hit the state on Sept. 15.