USDA Declares Drought Emergency in 33 Alabama Counties
By Brandon Moseley
Alabama Political Reporter
As was reported here on Tuesday the first weeks of the Summer of 2012 have affected Alabama's farmers severely.  The United States Department of Agriculture announced on Friday that Secretary Vilsacks has formally declared that 33 Alabama Counties are in a drought and announced that farmers in those counties will be eligible for low-interest federal loans.
Alabama Governor Robert Bentley said, "While much of the state has received rain this week, it is not enough to eliminate the severe and extreme drought conditions that many places are experiencing.  Farmers across Alabama are suffering through what has been an extended drought from last year.  We appreciate Secretary Vilsack's response to this critical situation that affects so many Alabama families."
Alabama Department of Agriculture and Industries Commissioner John McMillan said, "There are many growers of commodity crops such as corn, soybeans, cotton and peanuts, who have suffered damage from the drought.  Farmers should contact their local office of the Farm Service Agency (FSA) to determine their eligibility and begin the process for loan application."
Commissioner McMillan said that farmers in eligible counties have eight months from the date of a secretarial disaster declaration to apply for emergency loan assistance.  The FSA will consider each emergency loan application based on objective standards with regard to production losses, security available and repayment ability.
Secretary Vilsack declared 33 counties "primary natural disaster areas."  They include: Autauga, Baldwin, Barbour, Bibb, Bullock, Butler, Chambers, Chilton, Clay, Cleburne, Coffee, Conecuh, Coosa, Covington, Crenshaw, Dale, Dallas, Elmore, Escambia, Geneva, Henry, Houston, Lee, Lowndes, Macon, Montgomery, Perry, Pike, Randolph, Russell, Talladega, Tallapoosa and Wilcox Counties.
The USDA names 12 other counties "contiguous disaster counties."  They are Calhoun, Cherokee, Clarke, Hale, Jefferson, Marengo, Mobile, Monroe, St. Clair, Shelby, Tuscaloosa and Washington Counties.  Farmers in those counties are also eligible to receive federal loans.
Secretary Vilsack said, "Agriculture remains a bright spot in our nation's economy and it is increasingly important that USDA has the tools to act quickly and deliver assistance to farmers and ranchers when they need it most.  By amending the Secretarial disaster designation, we're creating a more efficient and effective process. And by delivering lower interest rates on emergency loans and providing greater flexibility for haying and grazing on CRP lands, we're keeping more farmers in business and supporting our rural American communities through difficult times. With these improvements, we're also telling American producers that USDA stands with you and your communities when severe weather and natural disasters threaten to disrupt your livelihood."
On Wednesday, Agriculture Secretary Tom Vilsack today announced program improvements that will deliver faster and more flexible assistance to farmers and ranchers devastated by natural disasters. Vilsack announced a final rule that simplifies the process for Secretarial disaster designations resulting in a 40% reduction in processing time for counties affected by disasters, a reduced interest rate for emergency loans effectively lowering the current rate from 3.75% to just 2.25%, and a payment reduction on Conservation Reserve Program (CRP) lands qualified for emergency haying and grazing in 2012, from 25% to just 10%.
More counties could be added to the disaster declaration is drought conditions persist.   For a county to be declared a "primary disaster area" then drought conditions in that county have to have persisted for 8 consecutive weeks or more.
To monitor drought conditions in Alabama, the Southeast, and nationally go to:
Alabama women to Ivey: Support fair processes
Last week, Ivey co-authored a letter of support for Barrett and released it to media outlets.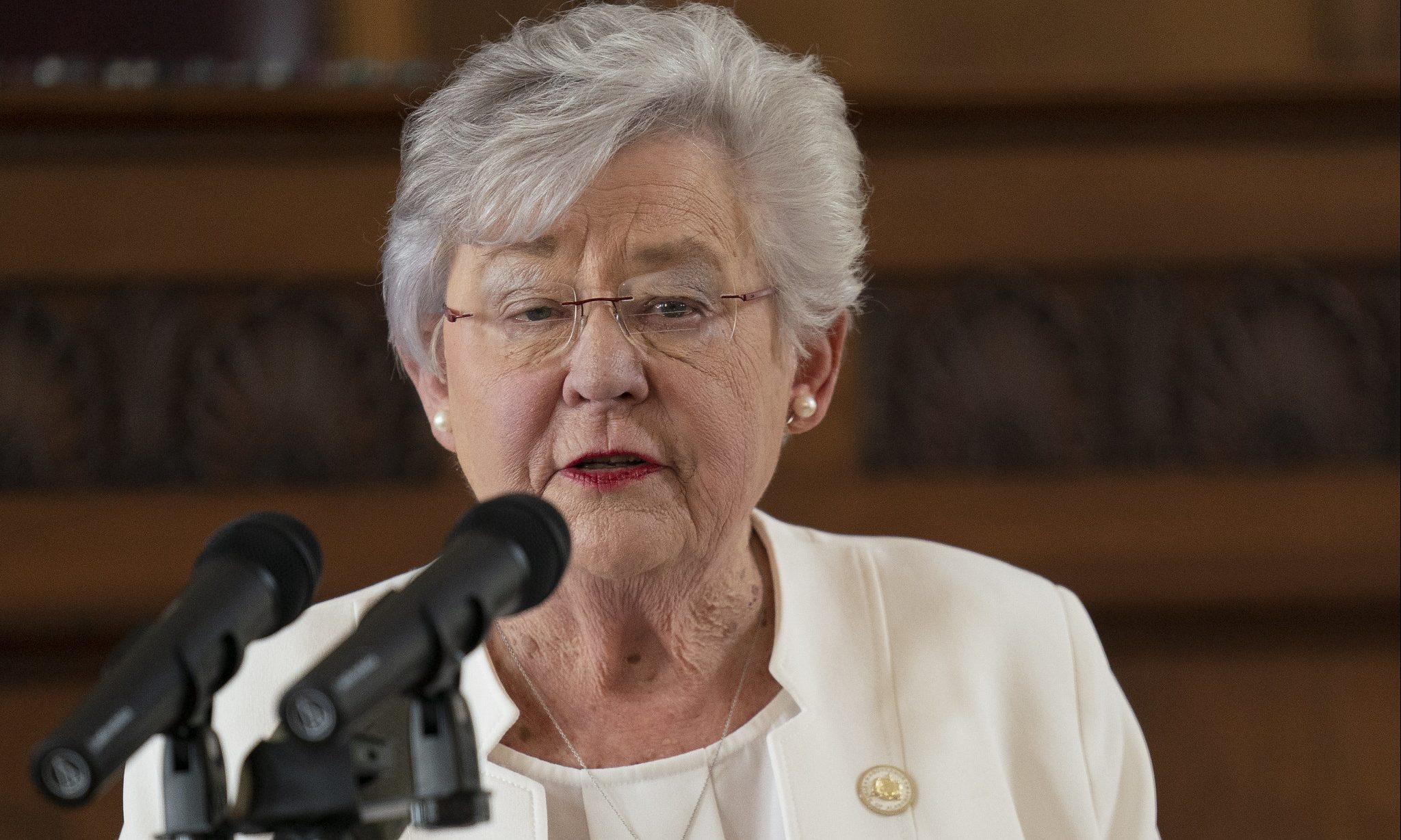 A letter signed by a bipartisan group of about a thousand Alabama women takes issue with Gov. Kay Ivey's recent support of Republican Supreme Court nominee Amy Coney Barrett, and it encourages Ivey and other state officials to instead support fair processes.
Last week, Ivey co-authored a letter of support for Barrett and released it to media outlets. In response, the letter from Alabama women calls the process to nominate Barrett, which is occurring after more than 50 million votes have been cast and in a Senate that is predicted to change from Republican to Democratic control, unfair and "anti-democratic."
The letter, which doesn't criticize Ivey or request that she rescind her endorsement of Barrett, asks instead that Ivey and other state leaders honor women by implementing and following fair processes that provide women with equal opportunities.
The full letter is below:
Dear Governor Ivey,
We are a group of women. We are current and future mothers, grandmothers, caregivers, leaders and champions of all citizens of our great state. We are moderates, progressives and conservatives. When we agree with our leaders, we say so, as we have in your support for education, workforce development, and sensible mask policies.  
We also speak up when we do not agree. Thus, we want to respond to your letter in support of Amy Coney Barrett because it does not represent our views. 
Like you and Judge Barrett's father, we want to tell all young girls that they can do anything their male counterparts can do and they can be anything and everything they want to be. We want it to be a truth, not just a signal "that the most qualified individual will get the job".  In addition to those things, we want them to know and believe that the process will be fair, because no matter the job, the process should be fair. And our children and young people (boys or girls) should be able to trust that democracy works and can be counted on. How can we assure them when this process has been so rushed and undemocratic?
We are women who oppose Judge Barrett's confirmation, because confirming her at this time, when 50 million Americans have already cast their votes, is anti-democratic. Regardless of what ways she does or does not think or talk like us, what matters is that a confirmation should not take place after the election is underway. 
We do not expect you to rescind your support of Judge Barrett. However, we urge you and the other women leaders who have advanced to top positions in our government to stand with us in asking for a fair process that takes place after the election. A process that helps us to believe that our voices and our votes matter because the American people should have the right to choose who nominates the next Supreme Court Justice.
Respectfully, 
Emily Hess Levine
Lindsey Chitwood
Megan Cheek
Kira Fonteneau
Ronne M. Hess
Cindi Cassis Branham
Anna Brantley Fry
Joellyn M. Beckham
Kristen Berthiaume
Alexandra Ruthann Bullock McElroy
The letter is signed by more than 800 women. The full list of signatures was sent to APR with the letter. We have chosen to list only the first 10 for the sake of brevity.