USDA Declares Drought Emergency in 33 Alabama Counties
By Brandon Moseley
Alabama Political Reporter
As was reported here on Tuesday the first weeks of the Summer of 2012 have affected Alabama's farmers severely.  The United States Department of Agriculture announced on Friday that Secretary Vilsacks has formally declared that 33 Alabama Counties are in a drought and announced that farmers in those counties will be eligible for low-interest federal loans.
Alabama Governor Robert Bentley said, "While much of the state has received rain this week, it is not enough to eliminate the severe and extreme drought conditions that many places are experiencing.  Farmers across Alabama are suffering through what has been an extended drought from last year.  We appreciate Secretary Vilsack's response to this critical situation that affects so many Alabama families."
Alabama Department of Agriculture and Industries Commissioner John McMillan said, "There are many growers of commodity crops such as corn, soybeans, cotton and peanuts, who have suffered damage from the drought.  Farmers should contact their local office of the Farm Service Agency (FSA) to determine their eligibility and begin the process for loan application."
Commissioner McMillan said that farmers in eligible counties have eight months from the date of a secretarial disaster declaration to apply for emergency loan assistance.  The FSA will consider each emergency loan application based on objective standards with regard to production losses, security available and repayment ability.
Secretary Vilsack declared 33 counties "primary natural disaster areas."  They include: Autauga, Baldwin, Barbour, Bibb, Bullock, Butler, Chambers, Chilton, Clay, Cleburne, Coffee, Conecuh, Coosa, Covington, Crenshaw, Dale, Dallas, Elmore, Escambia, Geneva, Henry, Houston, Lee, Lowndes, Macon, Montgomery, Perry, Pike, Randolph, Russell, Talladega, Tallapoosa and Wilcox Counties.
The USDA names 12 other counties "contiguous disaster counties."  They are Calhoun, Cherokee, Clarke, Hale, Jefferson, Marengo, Mobile, Monroe, St. Clair, Shelby, Tuscaloosa and Washington Counties.  Farmers in those counties are also eligible to receive federal loans.
Secretary Vilsack said, "Agriculture remains a bright spot in our nation's economy and it is increasingly important that USDA has the tools to act quickly and deliver assistance to farmers and ranchers when they need it most.  By amending the Secretarial disaster designation, we're creating a more efficient and effective process. And by delivering lower interest rates on emergency loans and providing greater flexibility for haying and grazing on CRP lands, we're keeping more farmers in business and supporting our rural American communities through difficult times. With these improvements, we're also telling American producers that USDA stands with you and your communities when severe weather and natural disasters threaten to disrupt your livelihood."
On Wednesday, Agriculture Secretary Tom Vilsack today announced program improvements that will deliver faster and more flexible assistance to farmers and ranchers devastated by natural disasters. Vilsack announced a final rule that simplifies the process for Secretarial disaster designations resulting in a 40% reduction in processing time for counties affected by disasters, a reduced interest rate for emergency loans effectively lowering the current rate from 3.75% to just 2.25%, and a payment reduction on Conservation Reserve Program (CRP) lands qualified for emergency haying and grazing in 2012, from 25% to just 10%.
More counties could be added to the disaster declaration is drought conditions persist.   For a county to be declared a "primary disaster area" then drought conditions in that county have to have persisted for 8 consecutive weeks or more.
To monitor drought conditions in Alabama, the Southeast, and nationally go to:
COVID-19 hospitalizations in Alabama continue surge
On Monday, 1,335 patients with COVID-19 were being cared for in hospitals statewide, the most to date.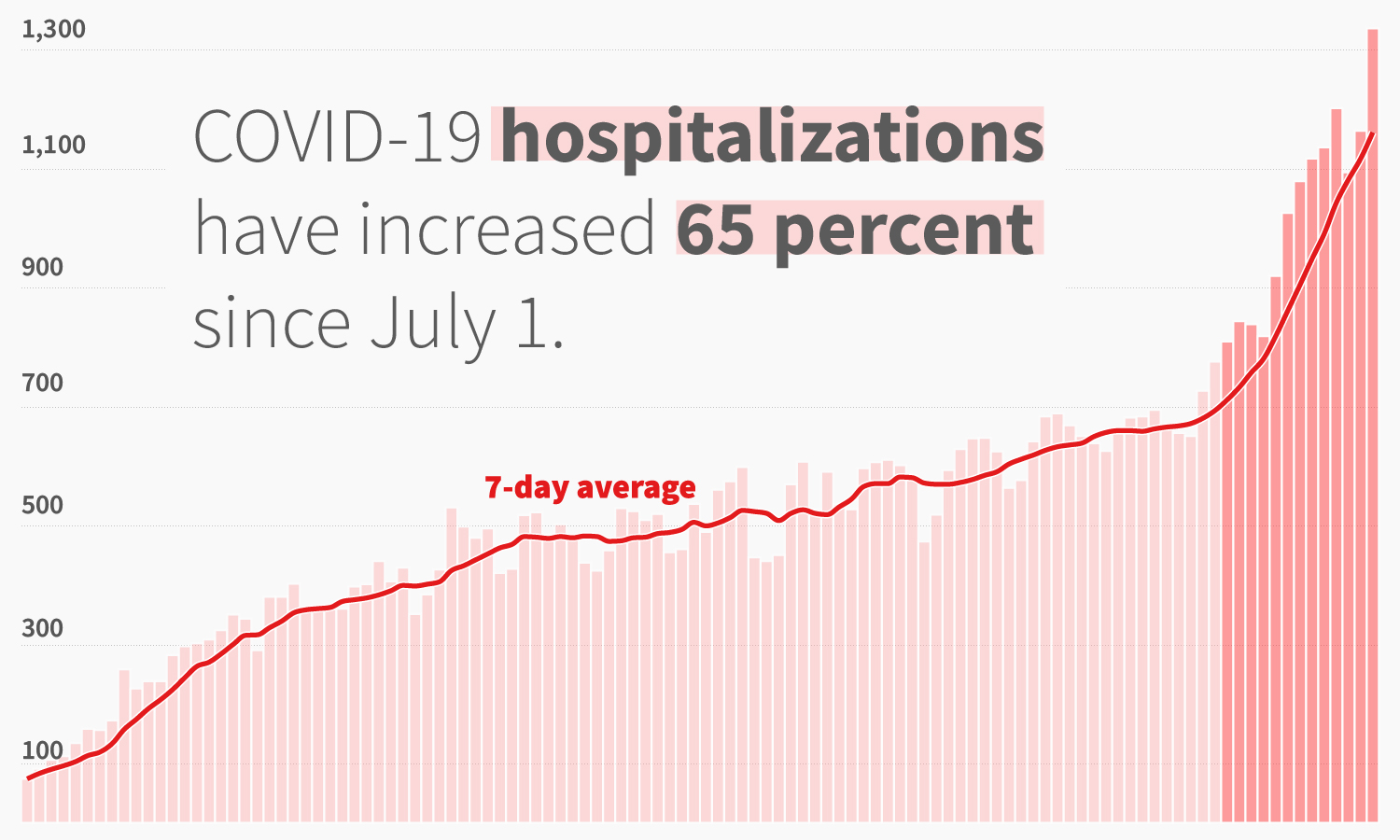 Alabama on Monday saw the highest number yet of COVID-19 patients in hospitals since the start of the pandemic, and the second-highest single-day increase in coronavirus cases on record. 
On Monday, 1,335 patients with COVID-19 were being cared for in hospitals statewide. That was 172 more COVID-19 patients than were hospitalized the previous day — and the largest single-day increase in hospitalization numbers reported by the Alabama Department of Public Health.

The last record number of hospitalized COVID-19 patients in Alabama was on Friday, when 1,201 people were being treated statewide. The increase Monday is also 134 more patients than were being care for on Friday.
Friday was the sixth straight day of record-breaking COVID-19 hospitalizations in Alabama. Friday also saw the second-highest number of deaths in a single day in the state, when ADPH confirmed 35 new deaths as a result of COVID-19, nearly breaking the previous record of 37 set on May 12.
On Monday, the state also added 1,860 to Alabama's total case count, bringing the cumulative total now to 54,768 confirmed cases. That's the second-highest single-day increase in cases since the start of the pandemic. With 25,783 people presumed to have recovered from the virus, and at least 1,096 dead, more than half of the state's cases, or 27,889, are presumed to be active.

Testing has ticked up slightly in the last few weeks — Alabama's seven-day average of tests conducted was 9,176 on Monday, 93 more than the previous high set on July 5 — but the percentage of tests that are positive continues to increase as well, a sign that new cases aren't just due to more testing. 
The seven-day average positivity rate Monday was 16.18 percent, which was almost 30 percent higher than it was a week ago. Taking into account the Alabama Department of Public Health's incomplete testing data on July 9 and in early April, which threw off the positivity rate, Monday's seven-day average was the highest on record for Alabama. 
Public health officials say that the percent of tests that are positive should be at or below 5 percent or there's not enough testing being done and cases are going undetected. 
Madison County continues to see a surge in new cases. The county added 267 new coronavirus cases on Monday, and over the last week added 1,044 new cases, which was 70 percent more than were added the week before. Madison County's positivity rate this week has been roughly 16 percent. 
Jefferson County followed closely behind Madison County, adding 266 new cases Monday and 1,602 cases within the last week, which was a 30 percent increase from the week before. 
In Mobile County, there were 157 new cases Monday.
Mobile County's weekly total of new cases for the last week was 23 percent higher than the previous week.