Roby and Shelby Warns of Democrats Who Would Force a Recession to Raise Taxes
By Brandon Moseley
Alabama Political Reporter
Congresswoman Martha Roby (R) from Montgomery warned on Facebook that some Democrats were willing to trigger a second recession in order to get their way on a massive new tax increase.
Representative Roby said, "We must avoid any tactics from those willing to "plunge the nation back into recession" in order to force a massive tax increase."
As evidence for her point, the freshman Congresswoman referenced a Washington Post article that says that Democrats are making threats about allowing $600 billion in tax hikes and spending cuts to take effect in January unless Republicans give in to their demands that higher income Americans be hit with a massive tax increase.
Sen. Patty Murray (D) from Washington and the Senate's No. 4 Democrat said, "If we can't get a good deal, a balanced deal that calls on the wealthy to pay their fair share, then I will absolutely continue this debate into 2013." "If middle-class families start seeing more money coming out of their paychecks next year, are Republicans really going to stand up and fight for new tax cuts for the rich? Are they going to continue opposing the Democrats' middle-class tax cut once the slate has been wiped clean? I think they know this would be an untenable political position."
Part of that package would be automatic sequestration cuts to America's military capabilities.  Rep. Roby referenced a report prepared by the Aerospace Industries Association.  They estimate a loss of 1.09 million jobs from the defense cuts alone next year, with almost 70 percent of that coming from manufacturing, professional and business service jobs.
Rep. Roby said that the, "New report says over 2 million jobs will be lost if Congress does not act on the sequester. The House has passed a plan to prevent the devastating cuts, but the Senate refuses to act."
Sen. Richard Shelby (R) from Alabama said, "We are not going to raise taxes on anybody, I hope. But we do need tax reform because there are a lot of people paying nothing in this country and getting by," Shelby told CNBC.  "What I'm about is lowering the rates of people's taxes including anybody that works."
When asked if both sides will reach a deal on taxes and spending in an election year?  Shelby said, "Not likely.  I believe it will be after the election. And might even be into the new year.  But I believe we will have a resolution. A lot of it will be dependent on what happens in the election."
According to reporting by the 'Wall-Street Journal' talk is growing that lawmakers can return in the new year after the elections and quickly deal with the fiscal cliff by adjusting tax and spending measures on a retroactive basis.
Republicans (like Roby and Shelby) obviously are hopeful that Mitt Romney (R) is elected President and that Republicans will have a majority in both houses of the U.S. Congress .  Democrats on the other hand would prefer that President Barack Obama and congressional Democrats will be the ones directing America's future in 2013.  Republicans argue that raising taxes on small businessmen and job creators with economic growth stagnating and the global economy appearing to stall could be disastrous.  Democrats on the other hand appear to be playing to their liberal base, who are more concerned with "income inequality" than they are with the health of the overall economy.  This argument may ultimately be decided by the American people.
Trump Truck and boat parades this weekend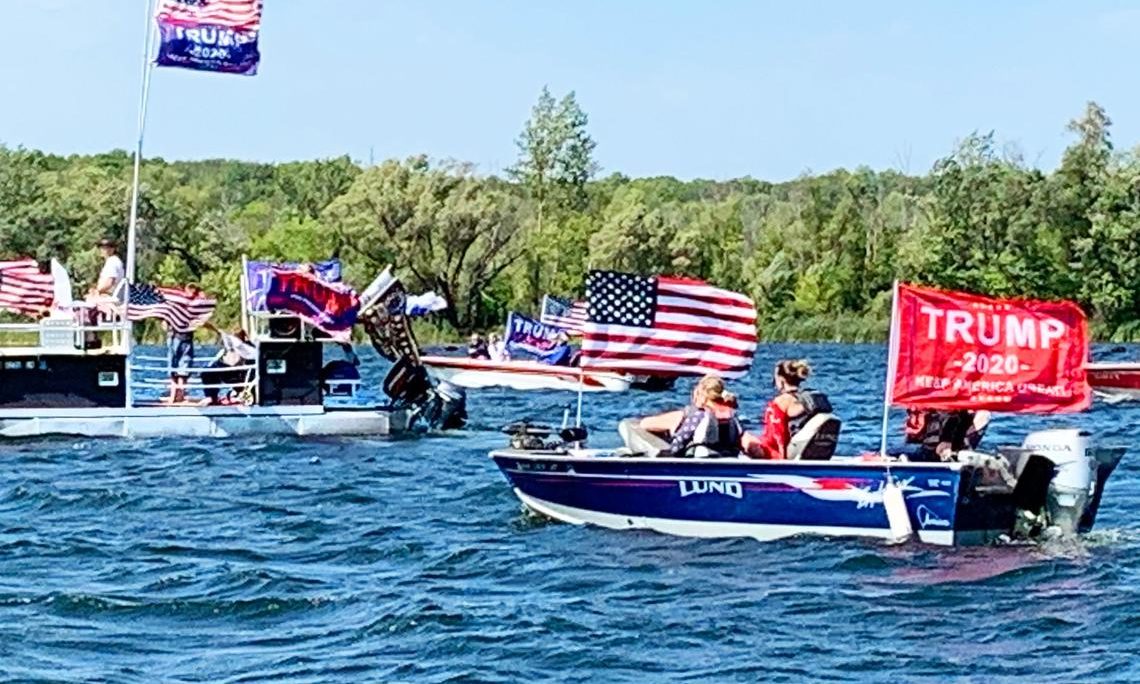 As Election Day draws near, Alabama Republicans are excited about promoting the re-election of Donald J. Trump as President and the election of Tommy Tuberville for U.S. Senate. This weekend two pro-President Trump events are happening in the state. There will be a truck parade from Ashland to Phenix City on Saturday sponsored by the Clay County Republican Party, while there will also be a boat parade on Wilson Lake in the Shoals sponsored by the Colbert County Republican Party on Sunday.
The pickup trucks will assemble at the Ashland Industrial Park in Clay County, 8240 Hwy 9, Ashland. There is a pre-departure rally at 10:00 a.m. central standard time. The trucks will depart at 11:00 a.m. and then proceed on a parade route that will take them into the bitterly contested swing state of Georgia. The Trump Pickup Parade will wind through east Alabama and West Georgia traveling through LaGrange and Columbus before concluding near the Alabama/Georgia line in Phenix City, 332 Woodland Drive, Phenix City at approximately 2:00 p.m. central time. Speakers will begin at 3:00. Trump flags will be on sale at the event.
The Phenix Motorsports Park will be hosting what sponsor hope could possibly the world's largest Pickup Tuck parade in U.S. history that is routing over 50 mile through Georgia in effort to "pickup" President Trump's numbers in GA.
A number dignitaries have been invited to address the Phenix City rally, including Coach Tuberville. Former State Sen. Shadrack McGill, Trump Victory Finance Committee member former State Rep. Perry O. Hooper Jr., and Paul Wellborn, the President and CEO of the largest Family owned Kitchen Cabinet manufacture in the USA are among the featured speakers who have committed to speak at the event.
Entertainment will be provided by: Charity Bowden, an up and coming country music singer who was the runner up on "The Voice". Charity will sing 'I am Proud to be an American' as well as songs from her Voice performances. The McGill Girls will also perform. The three beautiful and talented sisters will be singing patriotic songs in three part harmony. Geoff Carlisle, a professional DJ will be keeping the crowd pumped with music and entertainment.
Following the speakers and the entertainment there will Trump truck-vs- Joe Bidden truck races down the drag strip for the finale.
The Northwest Alabama boat parade will be on Sunday. The boats will gather at 2:00 p.m. near Turtle Point and then the flotilla will parade around the open waters of Wilson Lake til 3_00 p.m.. There will be a contest for best decorated Trump boats.
Trump supporters have held a number of large boat parades across the state to show their support for the re-election of Pres. Trump.
Boat parade sponsors say that this parade will be: pro-American, pro-law enforcement, pro-military.