Tea Party Groups Ask Bentley Not to Implement Obamacare in Alabama
By Brandon Moseley
Alabama Political Reporter
The Alabama Tea Party Movement is actively lobbying Alabama Governor Robert Bentley (R) to join with the other conservative Republican Governors and tell the administration of President Barack H Obama that Alabama will not participate in implementing the Patient Protection and Affordable Care (better known as Obamacare).
On Friday a coalition of Tea Party and conservative groups sent a letter to Governor Robert Bentley asking for him to join with other conservative states in refusing to assist President Obama implement Obamacare.  In a Sunday press release the Tea Party Groups wrote:
"Several courageous Governors have announced that they will not move forward in implementing the Patient Protection and Affordable Care Act."
"We, the undersigned grassroots leaders of Tea Party/Concerned Citizen Groups throughout Alabama, request that Governor Robert Bentley protect the citizens of Alabama against the massive tax increases inherent in the Patient Protection and Affordable Care Act by announcing that he will NOT implement this legislation in Alabama. We further appeal to Governor Bentley that any current and/or future spending not take place until legally required, so that when this law is repealed, the State will not have wasted funds."
"We ask that Governor Bentley join the other Governors in exhibiting courage to stand up to the Federal Government's massive intrusion into the lives of the citizens of the State of Alabama. That he will not be a party to socialized health care and the bankrupting of the State of Alabama, in direct contradiction to our Constitution and the founding principles of limited government."
The letter was signed by the leaders of the Alabama Tea Party as well as various other conservative and libertarian groups from throughout the state:
The signees include: Zan Green, the President of the Rainy Day Patriots; Deanna Frankowski with the Alabama Legislative Watchdog Group; Ann Eubank, Chairman of Paint Florida Red and Chairman of the Rainy Day Patriots; Becky Gerritson the President of the Wetumpka TEA Party; Dawn Ray, the 2012 Election Leader for the Rainy Day Patriots; Eunie Smith the President of Eagle Forum of Alabama;  Keith Carl Smith with the Conservative Messenger; Jodi McDade with the Montgomery TEA Party Patriots; Steven Guede with the Calhoun County Rainy Day Patriots; Steve Henry also with the Calhoun County Rainy Day Patriots; Glenn Robinson with the Wilcox County Tea Party; Ken Freeman with the Alliance for Citizens' Rights; Dr. Ronald R. Hei, Co-Chairman of the Common Sense Tea Party Patriots in Covington County; Carol L. Moreau, Co-Chairman of the Common Sense Tea Party Patriots in Covington County; Alex Balkcum with the Ft. Mitchell Patriots; Vince Hartmann also with the Ft. Mitchell Patriots; Lou Campomenosi with the Common Sense Club; Chuck and Mary Lynn Bailey with the Concerned Citizens for Fair Taxation; and Marcia Chambliss with Smart Girl Politics/Alabama.
The statement was also signed by Marcelo Munoz with the Campaign for Liberty; Joey Acre the Co-Coordinator for the Campaign for Liberty in Elmore County; Tony Llewellyn the Athens/Limestone Tea Party Patriots; Stephen R. Phillips with the Tea Party Patriots of North Alabama; Frank Dillman the Coordinator of Patriots of Liberty; Janet Taverna the President of the Fairhope Chapter of Common Sense Campaign; Brenda Bowem with Concerned Citizen and GTPA; Steve Phillips the President of the Tea Party Patriots of North Alabama; Mike Diggs the Vice President of the Tea Party Patriots of North Alabama; Roger Cain the Fair Tax Coordinator for Decatur and Morgan County; Roger Hill the Chairman of the Walker County Tea Party; Woody Wood representing the Mobile Chapter of The John Birch Society; Michael Power representing the Liberty Tea Party Patriots in Morgan County Alabama; Don Odom with Wiregrass Patriots; Steven Reagan Myers with T.E.A. Party TIME Network and FreedomWorks-Alabama; John Jordan the President and Chairman of the Lamar County Tea Party Patriots; Virginia Phillips the Secretary/Treasurer of the Lamar County Tea Party Patriots; and Jo Brewer the Communication Director of the Lamar County Tea Party Patriots.
President Obama wants the state of Alabama to join in a partnership with him by starting a state of Alabama Healthcare Exchange to implement the President's takeover of the nation's health insurance industry.  The President had also demanded that Alabama expand Alabama Medicaid by an estimated 400,000 new persons or the federal government was going to take away health insurance from Alabama's children, indigent families, poor elderly, and uninsured expectant mothers.   The U.S. Supreme Court however ruled that the President can not force the state to expand our Medicaid program, which is why President Obama is now asking our Governor Bentley to order it.
President Bentley however is also being lobbied heavily by members of the Alabama Hospital Association who's businesses stand to gain $$ tens of billions over the next decade by the $60-90 billion expansion of Alabama Med caid over the first ten years of Obama's Medicaid Expansion.  For the first three years of President Obama's Medicaid expansion, the federal government will pay all of the costs.  Alabama however will likely have to raise taxes (or find some other source of new revenue) to pay the the required state matching funds for President Obama's mammoth expansion of the Alabama Medicaid program.
The grass roots Republican electorate is asking the Governor to join the Governors of Florida, South Carolina, Alaska, Wisconsin, Mississippi, Texas, and Louisiana in rejecting participating in Obamacare.  "I will not be party to socializing health care and bankrupting my state in direct contradiction to our Constitution and our founding principles of limited government," Texas Gov. Rick Perry said.
Gov. Bentley is trapped between no wanting to alienate the conservative base that elected him over GOP rival Bradley Byrne in 2010 and the well funded lobbyists that represent Alabama's multi-$billion healthcare industry that sees Obamacare as their new revenue source.
The state's current bloated Medicaid program has already depleted and exhausted the state's General Fund which is why Governor Bentley is asking voters to pass a controversial constitutional amendment on September the 18th letting the Governor raid the Alabama Trust Fund to prop up the current Alabama Medicaid Program for three years (after the 2014 election).  After that time the state has no current funding mechanism in place to make up for the missing funds (other than hoping that the feds will make internet companies charges sales taxes).  The Alabama Trust Fund, which Alabama uses to provide interest income to support Forever Wild and the General Fund will be depleted by $500 million.  Certainly at this point no one has revealed any plans to fund an additional $500-600 million a year expansion of the Alabama Medicaid Program.
Asking Alabama voters to approve a tax increase to fund schools, roads, or subsidize college scholarships would likely be very difficult.  Asking Alabama voters to approve a tax increase to implement Obamacare will likely be even more difficult.
Governor declares state of emergency ahead of Tropical Storm Zeta
Zeta is currently a tropical storm over the Gulf of Mexico, but it is predicted to make landfall as a category one hurricane.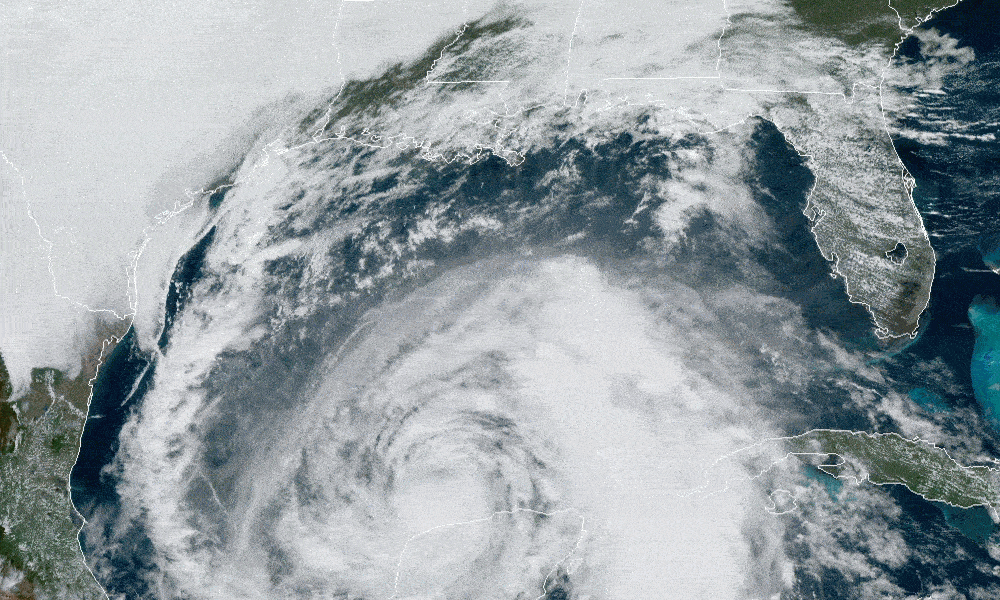 Alabama Gov. Kay Ivey on Tuesday issued a state of emergency as Tropical Storm Zeta approaches the Gulf Coast.
"Ahead of Tropical Storm Zeta's anticipated landfall Wednesday evening as a Category 1 hurricane, I am issuing a state of emergency effective today at 4:00 p.m.," Ivey said. "While this storm is not expected to have an impact as large as storms we've seen move through the Gulf earlier this year, we want to be in the best place possible to respond to anticipated rain, storm surge and mass power outage. I encourage everyone to remain weather aware and tuned in to their trusted news source as this storm could shift direction or change intensity. We continue to track the path of this storm and will stay in touch with the people of Alabama with any updates."
Zeta is currently a tropical storm over the Gulf of Mexico, but it is predicted to make landfall as a category one hurricane. The National Hurricane Center is predicting Zeta to make landfall in Mississippi on Wednesday and then proceed toward Alabama, but these storms can and do move.
A more easterly track could prove devastating to the Alabama Gulf Coast as was the case with Hurricane Sally, which shifted course in September, hitting Alabama, though Zeta is expected to be weaker than Sally at landfall.
The storm surge from the Mississippi-Alabama border to Dauphin Island is forecast to be 5 to 8 feet. Mobile Bay to the Alabama-Florida border is expected to have 3 to 5 feet of storm surge and from the border to Navarre, Florida, could experience 2 to 4 feet of storm surge.
Hurricane force winds are a possibility with this storm. Tropical force winds are expected to be an issue for Southern Mississippi and Alabama well inland. There is expected to be heavy rainfall across the state Wednesday night into Thursday morning.
The Baldwin County Emergency Management Agency announced that sandbags are available inside the county commission office at Robertsdale Central Annex (22251 Palmer Street) until 4:30 p.m. Tuesday and from 8 a.m. until 4:30 p.m. Wednesday or while they last.
Bring any help and shovels you will need. There is a limit of just 25 bags per person. Alabama's coastal counties are currently under a Tropical Storm Warning, a Storm Surge Warning for Mobile County and a High Rip Current and High Surf Warning.
Congressman Bradley Byrne said, "I just finished up briefings from Alabama EMA, FEMA, and the National Hurricane Center regarding #Zeta. We should not take this storm lightly and should start making preparations right away. After sundown Wednesday, I'd encourage everyone in Southwest Alabama to stay home and off the roads until sunrise Thursday. This storm will have impacts as far north as Montgomery, so those in Washington, Clarke, and Monroe counties will see tropical storm force winds and heavy rain. I'd encourage everyone to charge their phones and other necessary electronics. If you have an emergency during the storm, call 911 and do not try to drive."
Coastal Alabama is still in the process of recovering from Hurricane Sally which hit the state on Sept. 15.