Bonner Responds to Obama's "You Didn't Build That" Remarks
By Brandon Moseley
Alabama Political Reporter
On Monday, Rep. Jo Bonner (R) from Mobile responded to controversial remarks that a campaigning President Barack H. Obama made that appeared to slam entrepreneurs and individual achievements in general.
Rep. Bonner said, "Before an audience of supporters, President Obama fired a shot at America's economic engine – the millions of jobs providers who struggle each day to remain profitable in spite of increasing government regulations and the threat of higher taxes.  In so many words, he reminded our country's small business owners that their success was not their own."
President Obama's speech was, "You didn't get there on your own.  I'm always struck by people who think, well, it must be because I was just so smart.  There are a lot of smart people out there.  It must be because I worked harder than everybody else.  Let me tell you something – there are a whole bunch of hardworking people out there.  If you were successful, somebody along the line gave you some help.  There was a great teacher somewhere in your life.  Somebody helped to create this unbelievable American system that we have that allowed you to thrive.  Somebody invested in roads and bridges.  If you've got a business – you didn't build that.  Somebody else made that happen."
The now infamous 'You didn't build that' speech has been roundly criticized by Republicans and businessmen alike.
Congressman Bonner said, "We all can acknowledge that local, state, and federal governments have played a role in protecting our communities and in laying the foundation for clean water, roads and other infrastructure.  From educating children, to providing fire and rescue services, we are undeniably linked to many invaluable government services.  Yet the president's remarks suggest that government itself was the critical catalyst for the spark of ingenuity or the extra motivation of a successful businessperson.  Americans who have been able to build a business share a mindset that millions of immigrants brought with them since this country was founded.  They came here not for our roads and bridges or other government services; they came to America because of the equal playing field of opportunity that exists here.  No matter who you are, or where you come from, you have a chance to succeed."
Rep. Bonner continued, "If the president believes that government plays a vital role in making every business successful it is not surprising that he has embarked on a journey to take back from those same businesses.  He has made clear his plans to raise taxes on Americans earning more than $250,000 a year come January 1, 2013."
Rep. Bonner concluded, "Whether you believe government is the cure all or not, it should be self-evident that raising taxes on businesses during a recession will only hurt working Americans.  A recent study by Ernst & Young concluded that Mr. Obama's tax increase would shrink our economy by 1.3 percent, lower wages by 1.8 percent and lead to 710,000 fewer jobs.  After three and a half years of unemployment above eight percent, the president refuses to concede that big government spending and regulating is not the answer to revive our weak economy."
Republican Presidential candidate Mitt Romney took a similar view to Rep. Bonner.  The former Massachusetts Governor said, "The idea to say that Steve Jobs didn't build Apple, that Henry Ford didn't build Ford Motor, that Papa John didn't build Papa John Pizza, that Ray Kroc didn't build McDonald's, that Bill Gates didn't build Microsoft, you go on the list, that Joe and his colleagues didn't build this enterprise, to say something like that is not just foolishness, it is insulting to every entrepreneur, every innovator in America and it's wrong."
Gov. Romney continued, "And by the way, the President's logic doesn't just extend to the entrepreneurs that start a barber shop or a taxi operation or an oil field service business like this and a gas service business like this, it also extends to everybody in America that wants to lift themself up a little further, that goes back to school to get a degree and see if they can get a little better job, to somebody who wants to get some new skills and get a little higher income, to somebody who have may have dropped out that decides to get back in school and go for it. People who reach to try and lift themself up."
Romney said, "The President would say, well you didn't do that. You couldn't have gotten to school without the roads that government built for you. You couldn't have gone to school without teachers. So you are not responsible for that success. President Obama attacks success and therefore under President Obama we have less success and I will change that. I've got to be honest, I don't think anyone could have said what he said who had actually started a business or been in a business. And my own view is that what the President said was both startling and revealing. I find it extraordinary that a philosophy of that nature would be spoken by a President of the United States."
Congressman Jo Bonner represents Alabama's First Congressional District
Governor declares state of emergency ahead of Tropical Storm Zeta
Zeta is currently a tropical storm over the Gulf of Mexico, but it is predicted to make landfall as a category one hurricane.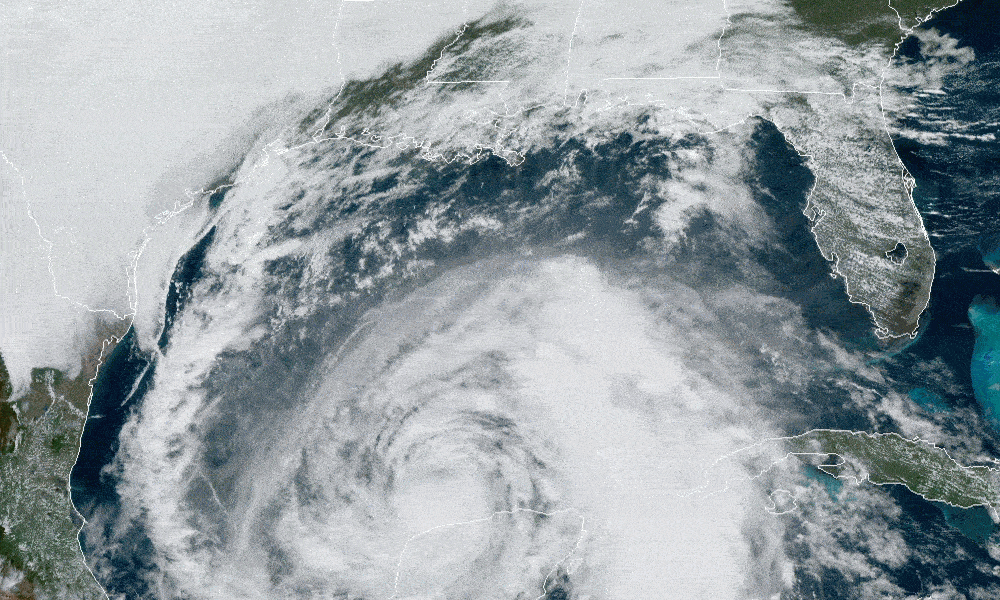 Alabama Gov. Kay Ivey on Tuesday issued a state of emergency as Tropical Storm Zeta approaches the Gulf Coast.
"Ahead of Tropical Storm Zeta's anticipated landfall Wednesday evening as a Category 1 hurricane, I am issuing a state of emergency effective today at 4:00 p.m.," Ivey said. "While this storm is not expected to have an impact as large as storms we've seen move through the Gulf earlier this year, we want to be in the best place possible to respond to anticipated rain, storm surge and mass power outage. I encourage everyone to remain weather aware and tuned in to their trusted news source as this storm could shift direction or change intensity. We continue to track the path of this storm and will stay in touch with the people of Alabama with any updates."
Zeta is currently a tropical storm over the Gulf of Mexico, but it is predicted to make landfall as a category one hurricane. The National Hurricane Center is predicting Zeta to make landfall in Mississippi on Wednesday and then proceed toward Alabama, but these storms can and do move.
A more easterly track could prove devastating to the Alabama Gulf Coast as was the case with Hurricane Sally, which shifted course in September, hitting Alabama, though Zeta is expected to be weaker than Sally at landfall.
The storm surge from the Mississippi-Alabama border to Dauphin Island is forecast to be 5 to 8 feet. Mobile Bay to the Alabama-Florida border is expected to have 3 to 5 feet of storm surge and from the border to Navarre, Florida, could experience 2 to 4 feet of storm surge.
Hurricane force winds are a possibility with this storm. Tropical force winds are expected to be an issue for Southern Mississippi and Alabama well inland. There is expected to be heavy rainfall across the state Wednesday night into Thursday morning.
The Baldwin County Emergency Management Agency announced that sandbags are available inside the county commission office at Robertsdale Central Annex (22251 Palmer Street) until 4:30 p.m. Tuesday and from 8 a.m. until 4:30 p.m. Wednesday or while they last.
Bring any help and shovels you will need. There is a limit of just 25 bags per person. Alabama's coastal counties are currently under a Tropical Storm Warning, a Storm Surge Warning for Mobile County and a High Rip Current and High Surf Warning.
Congressman Bradley Byrne said, "I just finished up briefings from Alabama EMA, FEMA, and the National Hurricane Center regarding #Zeta. We should not take this storm lightly and should start making preparations right away. After sundown Wednesday, I'd encourage everyone in Southwest Alabama to stay home and off the roads until sunrise Thursday. This storm will have impacts as far north as Montgomery, so those in Washington, Clarke, and Monroe counties will see tropical storm force winds and heavy rain. I'd encourage everyone to charge their phones and other necessary electronics. If you have an emergency during the storm, call 911 and do not try to drive."
Coastal Alabama is still in the process of recovering from Hurricane Sally which hit the state on Sept. 15.