Governor Announces New Birmingham Headquarters for Cadence Bank
By Brandon Moseley
Alabama Political Reporter
Alabama Governor Robert Bentley announced today that Cadence Bank is moving its headquarters to Concord Center located at 2100 Third Avenue North in Birmingham.
Governor Robert Bentley said, "I want to thank the leaders of Cadence Bank for their continued commitment to Alabama and to Downtown Birmingham.  Our long-range plan for economic development, Accelerate Alabama, includes both retaining Alabama companies and fostering the continued development of corporate headquarters in the state.  Cadence's plans fit perfectly in the Accelerate Alabama plan.  I want to thank leaders at the local and corporate levels, along with our Alabama Department of Commerce, for working together to make today's announcement possible."
Alabama Department of Commerce Secretary Greg Canfield said, "We are pleased that the Alabama Department of Commerce could assist with this important project for the Birmingham area.  We will continue to work with Cadence to assist the company with growth and new jobs for the people of our state."
The CEO of Cadence Bank, Sam Tortorici said, "The relocation of our bank headquarters within Birmingham is just one step of many that we have planned for Cadence as we continue to execute our growth strategy.  We are excited about our plans to further build our commercial banking and wealth services sectors while remaining strong in the retail space. Our innovative vision has enabled us to employ some of the very best minds in today's banking world."
Tortorici said, "Mayor William Bell, the Mayor's Office of Economic Development and the Birmingham City Council, amid a host of others, have been exceedingly supportive in helping us identify Birmingham as the right place for the bank's future. The package they have presented to us provides an attractive cost of doing business here long term. We are grateful for their efforts to retain our presence in downtown Birmingham."
Cadence has over 100 branches in five states. Cadence is currently headquartered in the historic John Hand building on 20th Street North.  The company looked at relocating to other cities and states but ultimately decided that Birmingham was their best option.  "We entered this process with an open mind as there were many factors to consider," Tortorici said. "We know Birmingham is a great place to live and do business, and we are all pleased with the outcome. It's exactly where we want to be as we continue to grow."
Cadence will work with more than 58 different vendors (most Alabama based) on the project of converting the 54,742-square-foot space into a high tech office with workspaces to accommodate 200 associates and a designated training area.
To learn more about Cadence Bank visit their website:
Breaking down the six amendments on Alabama's November ballot
What do the six proposed amendments on Alabama's November ballot do? We answer your questions here.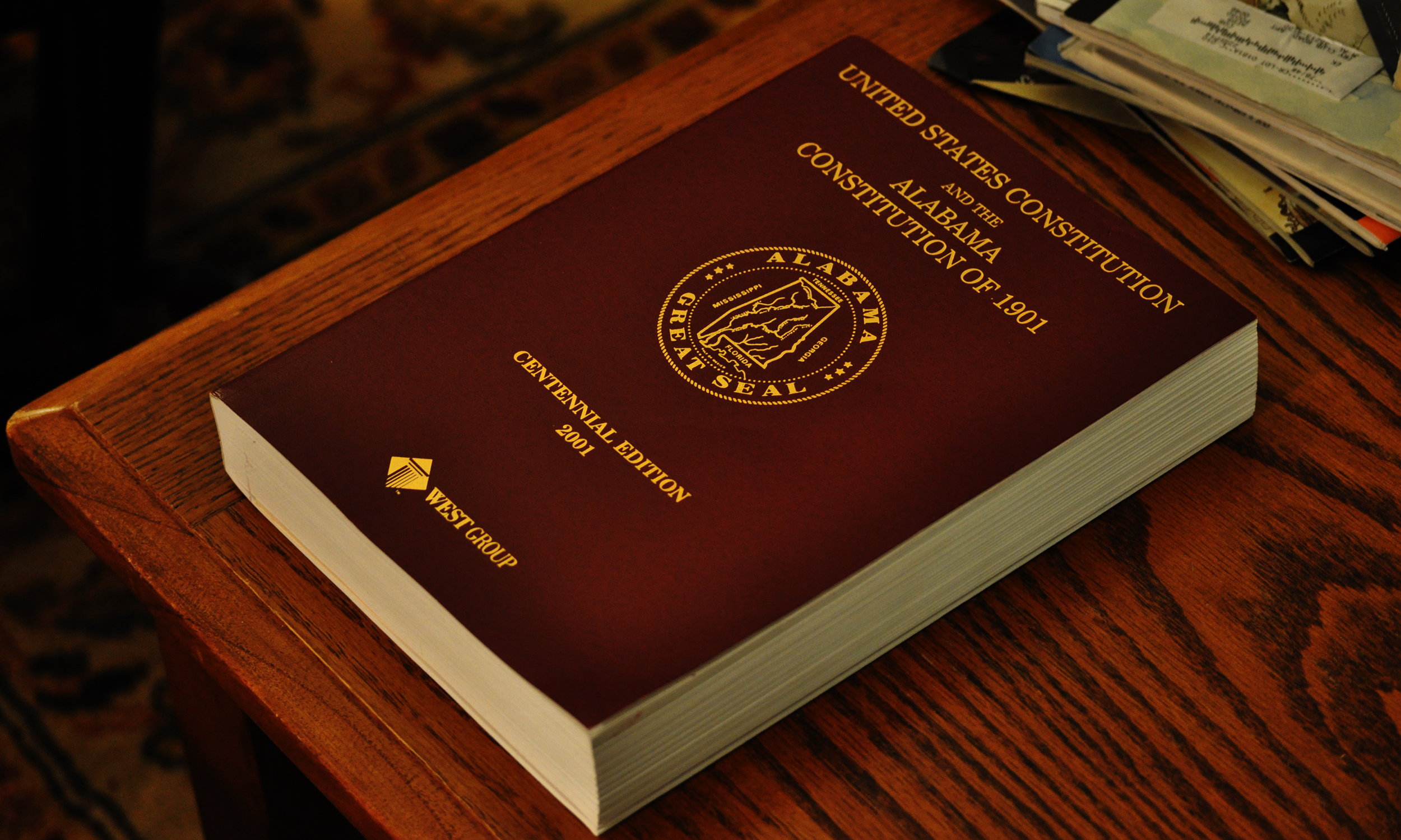 Alabama voters in the Nov. 3 election will have to decide on whether to add six constitutional amendments to what is already believed to be the longest constitution in the world. 
If approved, three of the amendments won't actually make substantive changes to state law, however.
To be added to the constitution, the amendments must receive support from a majority of voters.

Amendment 1
Amendment 1 — sponsored by State Sen. Del Marsh, R-Anniston — would "grant the right to vote to 'only' those U.S. citizens who meet the requirements." 
If approved, the change in the state's constitution would be to replace wording that the constitution grants the right to vote for "every" U.S. citizen who meets the requirements, to it grants the right to vote for "only" those U.S. citizens who meet the requirements. 
The amendment makes no changes to state voting requirements, and it's already a federal requirement to be a U.S. citizen to vote. Marsh told WBRC that the amendment "sends a message to Washington." Opponents to Amendment 1 say it could make it easier for the GOP-controlled Legislature to restrict voting rights.

Amendment 2
Amendment 2 processes numerous changes to the state's judicial system, including a change that would allow Alabama Supreme Court, rather than the Chief Justice, to appoint the Administrative Director of Courts. 
The amendment would also increase the Judicial Inquiry Commission from nine members to 11 and would  allow Governor, rather than the Lieutenant Governor, to appoint a member of the Court of the Judiciary. 
If approved, it would also prevent automatic disqualification from holding public offices for a judge solely because a complaint was filed with the Judiciary Inquiry Commission. Additionally, it would provide that a judge can be removed from office only by the Court of the Judiciary.
Amendment 3
Amendment 3 would extend the time appointed district and circuit court judges serve. State law now mandates appointed judges serve one year, or until the end of the term of the judge whom they were appointed to replace, whichever is longer.  
The amendment would allow the appointed judge to serve two years before running to keep their judgeship in an election. 
Amendment 4
Amendment 4 would allow "a rearranged version of the state constitution" to be drafted to "remove racist language," "remove language that is repeated or no longer applies,"  "combine language related to economic development"  and "combine language that relates to the same county."
 The rearranged version of the state constitution would have to be drafted by the state Legislature in 2022, according to the amendment, and the new draft wouldn't become law until approved by a majority of voters.
Amendments 5 and 6
Amendments 5 and 6 relate to Franklin and Lauderdale counties only, and if approved, would add to the state constitution that "a person is not liable for using deadly physical force in self-defense or in the defense of another person on the premises of a church under certain conditions" in both of those counties. 
Alabama already has a "stand your ground" that applies to the use of deadly force in churches, however. 
Alabama Attorney General Steve Marshall in a Jan. 2 statement, following the West Freeway Church of Christ shooting in White Settlement, Texas, wrote that Alabama law "does not impose a duty to retreat from an attacker in any place in which one is lawfully present."