Seniors Honor Senator Gerald Dial
By Bill Britt
Alabama Political Reporter
A new class was inducted into the Alabama Senior Citizens Hall of Fame, last Sunday.
Among those honored at the ceremony was Senator Gerald Dial (R-Lineville). "I take a lot of pride in working for seniors and I am proud to have received this award. It is one of the most special in my legislative career," said Dial.
Commissioner of the Alabama Department of Senior Services, Neal Morrison, welcomed the gathering of friends and family members of this year's honorees to the First Baptist Church in Montgomery.
Dial was elected in 1974 to the Alabama House of Representatives and was elected to the Senate in 1983. Senator Dial has been a consistent voice for seniors in the Alabama State Senate.
"I found out early on that our seniors don't have the kind of money to hire high-priced lobbyist to walk the halls of the Statehouse on their part," Dial said, "I saw the need and have been fortunate to be able to help support the seniors."
Dial say credit goes to many people who fight on behalf of seniors including Senator Jimmy Holley, (R-Elba).
Dial, a decorated military veteran served the county for 38 years before retiring as an Assistant Adjutant General of the Alabama National Guard.
Many freshmen senators refer to him as general as he has led them into many skirmishes in legislative sessions.
Dial says that one legislators understand the needs of senior citizen, "It is hard to turn them down."
The senator was instrumental in establishing an Rx program for Alabama's seniors.
"We have a group of seniors who make too much money to qualify for Medicaid and make too little to pay for all their prescriptions," Dial said. "So, we worked with companies so that these people could get the medicines they need."
Under this program many seniors can qualify to receive certain prescriptions medications from the manufacturer at no cost. The SenioRx Prescription Drug Program, which has saved Alabama seniors more than $245 million in drug costs.
Dial also helped create the Alabama Senior Services Trust Fund and supported the Alabama Tobacco Settlement, which generates $30 million annually for the Department of Medicaid and $2.5 million in appropriations to the Department of Senior Services.
He spearheaded the effort to include the Alabama Department of Senior Services in the Forever Wild Land Trust, an act that generates $150,000 a year for senior programs.
"I have always helped the seniors because I understand the importance of the programs that serve them," Dial said. "We owe our seniors so much and I am rapidly approaching that place myself," he said with a laugh.Senator Jimmy Holley, (R-Elba).
Trump Truck and boat parades this weekend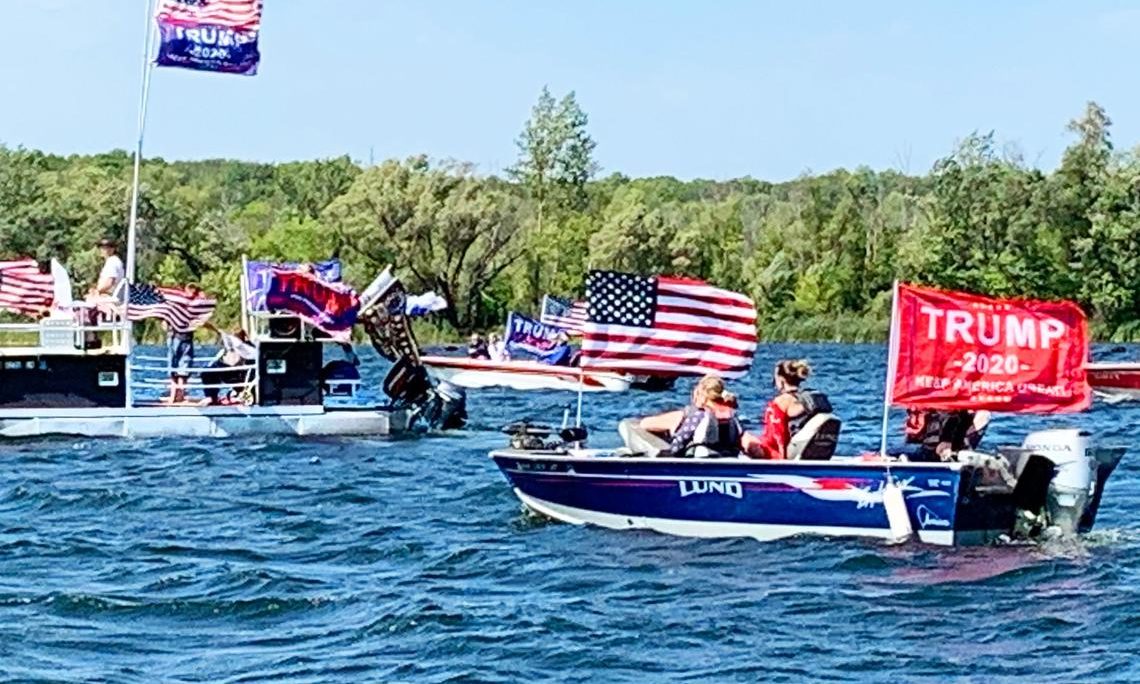 As Election Day draws near, Alabama Republicans are excited about promoting the re-election of Donald J. Trump as President and the election of Tommy Tuberville for U.S. Senate. This weekend two pro-President Trump events are happening in the state. There will be a truck parade from Ashland to Phenix City on Saturday sponsored by the Clay County Republican Party, while there will also be a boat parade on Wilson Lake in the Shoals sponsored by the Colbert County Republican Party on Sunday.
The pickup trucks will assemble at the Ashland Industrial Park in Clay County, 8240 Hwy 9, Ashland. There is a pre-departure rally at 10:00 a.m. central standard time. The trucks will depart at 11:00 a.m. and then proceed on a parade route that will take them into the bitterly contested swing state of Georgia. The Trump Pickup Parade will wind through east Alabama and West Georgia traveling through LaGrange and Columbus before concluding near the Alabama/Georgia line in Phenix City, 332 Woodland Drive, Phenix City at approximately 2:00 p.m. central time. Speakers will begin at 3:00. Trump flags will be on sale at the event.
The Phenix Motorsports Park will be hosting what sponsor hope could possibly the world's largest Pickup Tuck parade in U.S. history that is routing over 50 mile through Georgia in effort to "pickup" President Trump's numbers in GA.
A number dignitaries have been invited to address the Phenix City rally, including Coach Tuberville. Former State Sen. Shadrack McGill, Trump Victory Finance Committee member former State Rep. Perry O. Hooper Jr., and Paul Wellborn, the President and CEO of the largest Family owned Kitchen Cabinet manufacture in the USA are among the featured speakers who have committed to speak at the event.
Entertainment will be provided by: Charity Bowden, an up and coming country music singer who was the runner up on "The Voice". Charity will sing 'I am Proud to be an American' as well as songs from her Voice performances. The McGill Girls will also perform. The three beautiful and talented sisters will be singing patriotic songs in three part harmony. Geoff Carlisle, a professional DJ will be keeping the crowd pumped with music and entertainment.
Following the speakers and the entertainment there will Trump truck-vs- Joe Bidden truck races down the drag strip for the finale.
The Northwest Alabama boat parade will be on Sunday. The boats will gather at 2:00 p.m. near Turtle Point and then the flotilla will parade around the open waters of Wilson Lake til 3_00 p.m.. There will be a contest for best decorated Trump boats.
Trump supporters have held a number of large boat parades across the state to show their support for the re-election of Pres. Trump.
Boat parade sponsors say that this parade will be: pro-American, pro-law enforcement, pro-military.