Lyon Responds to his Removal From Ballot
By Brandon Moseley
Alabama Political Reporter
On Friday Harry Lyon (D) was removed from the November 6th ballot by Alabama Democratic Party Chairman Harry Lyon and a small committee of powerful Democrats. The former Democratic Party nominee for Chief Justice of the Alabama Supreme Court was removed for views and rhetoric which were deemed unacceptable by today's Alabama Democratic Party.
Characteristically Lyon responded in Facebook. (The all capital letters is by the writer: Lyon) Lyon accused the Alabama Democratic Party of embracing, "SAME SEX MARRIAGES AND PROMOTES GAY ACTIVISM AS WELL AS AT LEAST ONE DEMOCRAT SUPPORTER ATTORNEY DAVID GESPASS WHO PUBLICLY ADVOCATES ATHIESM AND I'M SURE THEIR ARE OTHER PERVERTS WHO MAKE UP THE MAJORITY OF DEMOCRATIC VOTERS WHO EMBRACE ALL THE WORDS OF BLACK ADVOCATE "REVEREND" (WHAT A JOKE) AL SHARPTON FROM NEW YORK, A PRO GAY ACTIVIST HIMSELF LIKE ALABAMA DEMOCRATIC CHAIRMAN MARK KENNEDY, WHOM I SHALL SEEK BOTH CIVIL DAMAGES AS WELL AS CRIMINAL CHARGES."
Lyon apologized to other Democratic Party candidates whom he said will lose because of voter reaction to his removal from the ballot and went on another rant about Chairman Kennedy and gays. "SORRY FOR THE AFTERSHOCK THAT'S COMING AGAINST MY DEMOCRAT FRIEND/CANDIDATES WHO DON'T HAVE A CHANCE OF WINNING NOVEBER 6TH DUE TO CHAIRMAN MARK KENNEDY'S SIN OF PRIDE, MORE IMPORTANT TO THE INTERESTS OF MY DEMOCRATIC FRIENDS WHO WILL PAY A HIGH PRICE FOR KENNEDY'S EGO AND PRIDE COME ELECTION DAY. I WISH THAT CHAIRMAN KENNEDY RENOUNCE HIS POSITION OF AGREEING WITH SAME SEX MARRIAGE AND BELIEF THAT HOMOSEXUALITY IS HEALTHY AS, IN MY OPINION, HIS DIRECTOR BRADLEY DAVIDSON, POLITICAL FRIEND DOUG JONES AND OTHER FREAKS OF NATURE EMBRACE. AMEN."
Republican Party Chairman Bill Armistead said, "The second attempt to remove Mr. Lyon shows that Democrats are truly liberal and out of touch with Alabama values. In a 16 page document that was used as 'evidence' to remove Mr. Lyon from the ballot, the Alabama Democratic Party provided copies of 28 separate Facebook postings by Mr. Lyon. In 15 of these postings, Mr. Lyon expresses his disagreement with President Obama's position on same sex marriage and he continually asks Judge Mark Kennedy and Lucy Baxley their position on the issue. "
Armistead said,"The Alabama Republican Party affirms its support of traditional marriage and stands in opposition to President Barack Obama's order to the Department of Justice to ignore the 'Defense of Marriage Act' and the Democratic Party's position in support of gay marriage." "The removal of Harry Lyon as the Democratic nominee because of his opposition to the Democratic position in favor of gay marriage, it should be clear to every Alabamian just how liberal the Democratic Party has become."
The Republican nominee for Chief Justice, Roy Moore said, "We are hardly surprised by these last minute desperate measures by the Alabama Democratic Party. When Judge Roy Moore won over two heavily funded opponents in the Republican Primary for Chief Justice, certain special interest groups were unhappy and began searching for a reason to drop Mr. Lyon from their ticket. We've known all along that this would happen and we are prepared." "Regardless of what the Democrats do, Judge Roy Moore's campaign will continue to move forward. We expect victory in November."
The Alabama Democratic Party leadership is expected to hand pick a replacement candidate as early as this week.
Pelham attorney Harry Lyon was the only Democrat willing to qualify to run on the party's November 6th ticket. Republican nominees for the other Supreme Court seats as well as for state appeals courts face no Democratic Party opposition on the ballot.
Trump Truck and boat parades this weekend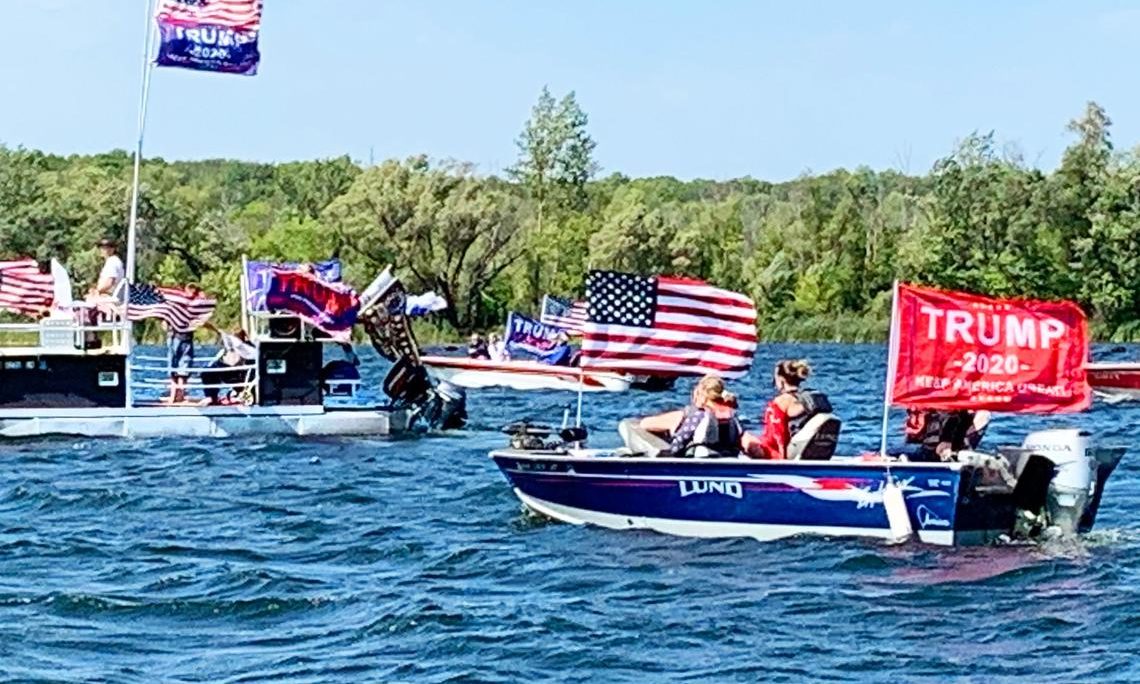 As Election Day draws near, Alabama Republicans are excited about promoting the re-election of Donald J. Trump as President and the election of Tommy Tuberville for U.S. Senate. This weekend two pro-President Trump events are happening in the state. There will be a truck parade from Ashland to Phenix City on Saturday sponsored by the Clay County Republican Party, while there will also be a boat parade on Wilson Lake in the Shoals sponsored by the Colbert County Republican Party on Sunday.
The pickup trucks will assemble at the Ashland Industrial Park in Clay County, 8240 Hwy 9, Ashland. There is a pre-departure rally at 10:00 a.m. central standard time. The trucks will depart at 11:00 a.m. and then proceed on a parade route that will take them into the bitterly contested swing state of Georgia. The Trump Pickup Parade will wind through east Alabama and West Georgia traveling through LaGrange and Columbus before concluding near the Alabama/Georgia line in Phenix City, 332 Woodland Drive, Phenix City at approximately 2:00 p.m. central time. Speakers will begin at 3:00. Trump flags will be on sale at the event.
The Phenix Motorsports Park will be hosting what sponsor hope could possibly the world's largest Pickup Tuck parade in U.S. history that is routing over 50 mile through Georgia in effort to "pickup" President Trump's numbers in GA.
A number dignitaries have been invited to address the Phenix City rally, including Coach Tuberville. Former State Sen. Shadrack McGill, Trump Victory Finance Committee member former State Rep. Perry O. Hooper Jr., and Paul Wellborn, the President and CEO of the largest Family owned Kitchen Cabinet manufacture in the USA are among the featured speakers who have committed to speak at the event.
Entertainment will be provided by: Charity Bowden, an up and coming country music singer who was the runner up on "The Voice". Charity will sing 'I am Proud to be an American' as well as songs from her Voice performances. The McGill Girls will also perform. The three beautiful and talented sisters will be singing patriotic songs in three part harmony. Geoff Carlisle, a professional DJ will be keeping the crowd pumped with music and entertainment.
Following the speakers and the entertainment there will Trump truck-vs- Joe Bidden truck races down the drag strip for the finale.
The Northwest Alabama boat parade will be on Sunday. The boats will gather at 2:00 p.m. near Turtle Point and then the flotilla will parade around the open waters of Wilson Lake til 3_00 p.m.. There will be a contest for best decorated Trump boats.
Trump supporters have held a number of large boat parades across the state to show their support for the re-election of Pres. Trump.
Boat parade sponsors say that this parade will be: pro-American, pro-law enforcement, pro-military.