Rape, abortion and RU-486 controversy comes home to Alabama
By Susan Britt
Alabama Political Reporter
MONTGOMERY—Representative Todd Akin, the Republican Senate nominee from Missouri, ignited a firestorm across the political spectrum last Sunday by saying that in instances of what he called "legitimate rape," women's bodies somehow blocked an unwanted pregnancy.
Akin's controversial remarks has stirred the abortion debate around the country and inside the GOP platform committee in Tampa.
Young Republican Jackie Curtiss who was the female representative for Alabama on the Republican National Platform Committee 2012 said she did not receive satisfactory assurances from members that the drug RU-486's use for rape victims was excluded from the abortion part of the platform.
Curtiss was one of the members that worked on that part of the platform in subcommittee but could not vote for the amendment after she was uncertain if rape victims were given an exception.
"A lady from North Carolina proposed an amendment asking the FDA to ban drugs like RU-486 and other medications that could that could 'kill innocent life' was the wording of her amendment," said Curtiss. "I simply asked her in committee, 'In light of the recent comments by Todd Akin and in an attempt to show the American people the sensitivity of the party towards rape victims, does this include the morning after pill which is an effective way for rape victims to go immediately and prevent pregnancy?'"
Curtiss said the only answer she received from the sponsor of the amendment was "It bans any medication that kills innocent life." She said another member assured her that it did not include RU-486 but she was still left unsure.
"The language is broad enough that I felt like it included the morning after pill and I really think this is a time when the party needs to distance themselves from Todd Akin, have that exception for rape victims especially with the morning after pill, so I couldn't support her amendment," said Curtiss. She said others in the room were also not convinced that it was not included.
According to Curtiss, had it been her amendment she would have been sure of all of the details before proposing it. When Curtiss asked her to "narrow the language" she was rebuffed.
"I didn't really get any response from her about it that I was looking for. I didn't feel confident that she knew if it was or not," she said.
Curtiss added that she realized that some people thought that this use of the morning after pill was also wrong and she respects their opinion.
"There are movements within the party that don't support the morning after pill, they think it is wrong and that is what I wanted to make clear. Most of the Party doesn't think that. I wish that she would have taken a stronger stance and said that it didn't include the morning after pill but she did not," said Curtiss.
Curtiss is finishing her degree at the University of Montavello as a political science major. She is also the finance director for a super PAC based in Birmingham, Conservative Action Fund.
When asked about her reaction to comments made this week by Congressman Todd Akin, "I think he absolutely should step down. As a 22-year-old female who has friends, has family and has a little sister, I think it is ridiculous that Akin made that comment. Obviously, a woman's body can not shut down the process of pregnancy and we don't need to demonize rape victims. We need to support them. His comments were not helpful to the party, not helpful for women and as far as I can tell he needs to go."
She continued, "I think the main part of what went down yesterday in relation to the topic and the greater debate for the party, there was a discussion about it and I do think that the Republican Party is going to look toward modernizing its platform on social issues. It didn't happen this time but we had really good discussions about it and hopefully in 4 years we can make sure we have exceptions for rape victims and for the life of the mother and we can get to that point."
She said of her experience in Tampa, "I thought it was great. People were excited to see a young face there. I was a decade younger than anyone else. I represented Alabama but I also represented theYoung Republicans. We are a growing movement in this country and we are a grass roots. We are out knocking on doors and making phone calls. I was really to represent Alabama and the Young Republicans down in Tampa this week."
Governor declares state of emergency ahead of Tropical Storm Zeta
Zeta is currently a tropical storm over the Gulf of Mexico, but it is predicted to make landfall as a category one hurricane.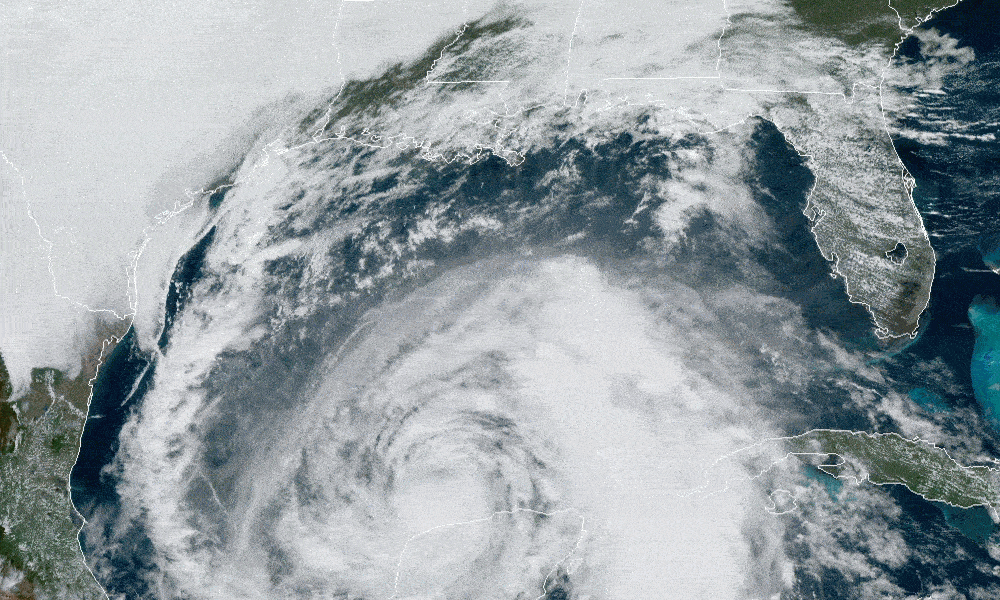 Alabama Gov. Kay Ivey on Tuesday issued a state of emergency as Tropical Storm Zeta approaches the Gulf Coast.
"Ahead of Tropical Storm Zeta's anticipated landfall Wednesday evening as a Category 1 hurricane, I am issuing a state of emergency effective today at 4:00 p.m.," Ivey said. "While this storm is not expected to have an impact as large as storms we've seen move through the Gulf earlier this year, we want to be in the best place possible to respond to anticipated rain, storm surge and mass power outage. I encourage everyone to remain weather aware and tuned in to their trusted news source as this storm could shift direction or change intensity. We continue to track the path of this storm and will stay in touch with the people of Alabama with any updates."
Zeta is currently a tropical storm over the Gulf of Mexico, but it is predicted to make landfall as a category one hurricane. The National Hurricane Center is predicting Zeta to make landfall in Mississippi on Wednesday and then proceed toward Alabama, but these storms can and do move.
A more easterly track could prove devastating to the Alabama Gulf Coast as was the case with Hurricane Sally, which shifted course in September, hitting Alabama, though Zeta is expected to be weaker than Sally at landfall.
The storm surge from the Mississippi-Alabama border to Dauphin Island is forecast to be 5 to 8 feet. Mobile Bay to the Alabama-Florida border is expected to have 3 to 5 feet of storm surge and from the border to Navarre, Florida, could experience 2 to 4 feet of storm surge.
Hurricane force winds are a possibility with this storm. Tropical force winds are expected to be an issue for Southern Mississippi and Alabama well inland. There is expected to be heavy rainfall across the state Wednesday night into Thursday morning.
The Baldwin County Emergency Management Agency announced that sandbags are available inside the county commission office at Robertsdale Central Annex (22251 Palmer Street) until 4:30 p.m. Tuesday and from 8 a.m. until 4:30 p.m. Wednesday or while they last.
Bring any help and shovels you will need. There is a limit of just 25 bags per person. Alabama's coastal counties are currently under a Tropical Storm Warning, a Storm Surge Warning for Mobile County and a High Rip Current and High Surf Warning.
Congressman Bradley Byrne said, "I just finished up briefings from Alabama EMA, FEMA, and the National Hurricane Center regarding #Zeta. We should not take this storm lightly and should start making preparations right away. After sundown Wednesday, I'd encourage everyone in Southwest Alabama to stay home and off the roads until sunrise Thursday. This storm will have impacts as far north as Montgomery, so those in Washington, Clarke, and Monroe counties will see tropical storm force winds and heavy rain. I'd encourage everyone to charge their phones and other necessary electronics. If you have an emergency during the storm, call 911 and do not try to drive."
Coastal Alabama is still in the process of recovering from Hurricane Sally which hit the state on Sept. 15.