Bonner Asks President: Where Are the Jobs?
By Brandon Moseley
Alabama Political Reporter
Congressman Jo Bonner (R) from Mobile writing in a statement Friday questioned President Barack H. Obama's economic policy.
Congressman Bonner said, "The president promised in February of 2009 – a month after taking office – that his stimulus plan would keep unemployment below eight percent. As we enter the longest period with a jobless rate over eight percent since the Great Depression, one has to ask the president where is his plan?"
Representative Bonner continued, "Not only has he failed to lift employment, but his policies of borrowing and spending have had the opposite effect. The U.S. Department of Labor recently reported that the number of people not in the work force has grown by 7.8 million from January 2009 to July 2012. A recent survey released by the National Federation of Independent Business found that small business optimism continues to decline."
Rep. Bonner also defended the Ryan budget passed by the House: "For starters, the House budget plan would reduce government spending from its current level of 24 percent of the economy to 20 percent by 2015, hardly draconian cuts. It also allows for much smaller increases in federal spending in later years but places overall spending targets far below President Obama's bloated and irresponsible spending plans. The House budget would also block the president's $1.9 trillion tax increase and reduce federal budget deficits by over $3 trillion compared to President Obama's plan. Equally important, it makes recommendations to reform the broken tax code to make it more simple and fair, without special interest loopholes.
Rep. Bonner concluded, "Since January 2011, the House has passed over 30 bills aimed at freeing business from burdensome red tape and encouraging job creation. The Senate and President Obama have all but ignored our jobs legislation. Mr. President, where are the jobs?"
The apparent Republican nominee for President Mitt Romney wrote in an essay in the 'Wall Street Journal' that he also blames the President's policies for the unprecedented poor economic recovery following a recession, " President Obama has piled on excessive regulations, proposed massive tax increases, added more than $5 trillion in federal debt, and failed to address the coming fiscal cliff — all of which is miring our nation in sluggish growth and high unemployment," Romney wrote.
The former Bain Capital CEO believes that he has the skills to move the American economy forward. "I know what it takes to turn around difficult situations," Romney said. "And I will put that experience to work, to get our economy back on track, create jobs, strengthen the middle class and lay the groundwork for America's increased competitiveness in the world."
Congressman Jo Bonner represents Alabama's First Congressional District in South Alabama.
Trump Truck and boat parades this weekend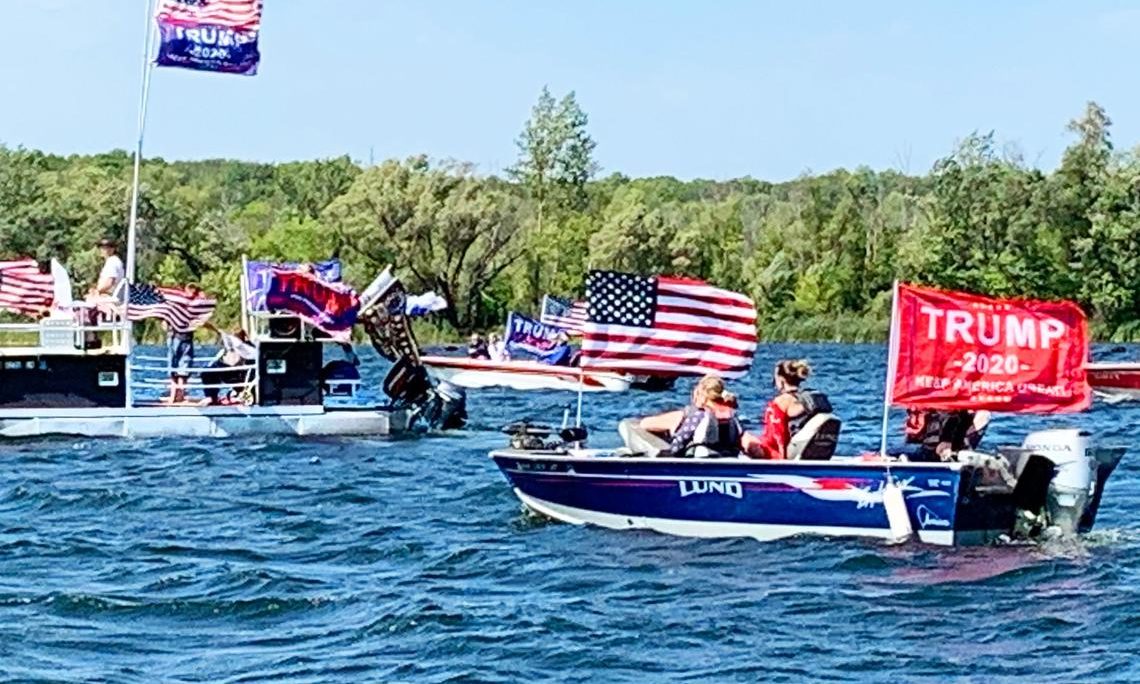 As Election Day draws near, Alabama Republicans are excited about promoting the re-election of Donald J. Trump as President and the election of Tommy Tuberville for U.S. Senate. This weekend two pro-President Trump events are happening in the state. There will be a truck parade from Ashland to Phenix City on Saturday sponsored by the Clay County Republican Party, while there will also be a boat parade on Wilson Lake in the Shoals sponsored by the Colbert County Republican Party on Sunday.
The pickup trucks will assemble at the Ashland Industrial Park in Clay County, 8240 Hwy 9, Ashland. There is a pre-departure rally at 10:00 a.m. central standard time. The trucks will depart at 11:00 a.m. and then proceed on a parade route that will take them into the bitterly contested swing state of Georgia. The Trump Pickup Parade will wind through east Alabama and West Georgia traveling through LaGrange and Columbus before concluding near the Alabama/Georgia line in Phenix City, 332 Woodland Drive, Phenix City at approximately 2:00 p.m. central time. Speakers will begin at 3:00. Trump flags will be on sale at the event.
The Phenix Motorsports Park will be hosting what sponsor hope could possibly the world's largest Pickup Tuck parade in U.S. history that is routing over 50 mile through Georgia in effort to "pickup" President Trump's numbers in GA.
A number dignitaries have been invited to address the Phenix City rally, including Coach Tuberville. Former State Sen. Shadrack McGill, Trump Victory Finance Committee member former State Rep. Perry O. Hooper Jr., and Paul Wellborn, the President and CEO of the largest Family owned Kitchen Cabinet manufacture in the USA are among the featured speakers who have committed to speak at the event.
Entertainment will be provided by: Charity Bowden, an up and coming country music singer who was the runner up on "The Voice". Charity will sing 'I am Proud to be an American' as well as songs from her Voice performances. The McGill Girls will also perform. The three beautiful and talented sisters will be singing patriotic songs in three part harmony. Geoff Carlisle, a professional DJ will be keeping the crowd pumped with music and entertainment.
Following the speakers and the entertainment there will Trump truck-vs- Joe Bidden truck races down the drag strip for the finale.
The Northwest Alabama boat parade will be on Sunday. The boats will gather at 2:00 p.m. near Turtle Point and then the flotilla will parade around the open waters of Wilson Lake til 3_00 p.m.. There will be a contest for best decorated Trump boats.
Trump supporters have held a number of large boat parades across the state to show their support for the re-election of Pres. Trump.
Boat parade sponsors say that this parade will be: pro-American, pro-law enforcement, pro-military.