Armistead to Alabama Democrats: You Can't Have It Both Ways
From the Office of Chairman of the Alabama Republican Party Bill Armistead
BIRMINGHAM, Ala. – "Alabama Democratic candidates and members have tried to distance themselves from President Obama and the National Democratic Party by  claiming that they are different from the national party," said, Bill Armistead, Chairman of the Alabama Republican Party.
Cullman County Democratic Party member Frankie Jones was reported in the Cullman Times1 as saying,  "Historically, the South has been a conservative Democrat part of the country, and we consider ourselves here in Cullman as conservative Democrats. We always have been, and always will be."
Former Democratic State Senator Bobby Denton of Muscle Shoals recently stated in a letter to the editor in the Times Daily2 saying, "The National Democratic Party has sickened good people who have been Democrats all their lives. The national party leadership has endorsed abortion and same-sex marriage. They have driven away most good people who are needed to keep our country from becoming morally incapacitated. Democrats need to start speaking up and stop allowing a few leaders of the party from placing issues in the party platform that God condemns and Christians do not support."
"I know Senator Denton and served with him in the State Senate for eight years. He is a good man and a decade ago I would have agreed that Alabama Democrats and National Democrats were miles apart in philosophy. But today's Alabama Democratic Party is not your granddaddy's Alabama Democratic Party. Denton's attempt to separate the Alabama Democratic Party from the National Democratic Party fails miserably in light of  comments from other Alabama Democrat leaders," continued Armistead. "The Chairman of the Alabama Democratic Party and delegate to this week's National Democratic Committee Convention in Charlotte, North Carolina, Mark Kennedy, has gone on record showing his full support of President Obama and his destructive economic policies, especially Obamacare, calling it 'a great step forward for our country.'3"
In May of 2011, Kennedy told the Press Register4, "Next year, we're going to be proud to stand by Barack Obama as our nominee. He is a good president. He is a good Democrat. And he's worthy of consideration — more importantly, he's worthy of our praise."
"Charlie Holley, the Alabama Democratic Party candidate for Congressional District 5, is also a delegate to the DNC Convention and has voiced his approval of President Obama and his tenure in the White House, actually claiming that what we need is more of the same. I find it amazing that anyone honestly thinks that America needs more of the same policies that are running us into the ground," stated Armistead.
Holly recently told The Huntsville Times5, "Our message will be this: 'We need to continue to do what we're doing – even though things are still bad and even though our recovery is still slow – we still need to stick to what we are doing because we are better off now than we were four years ago.' So far, what this president has done has helped."
"And now, Congresswoman Terri Sewell, a long-time friend and supporter of President Obama, has also come out with claims that the President's policies are working and that they are good for Americans," said Armistead.
Sewell (D-Birmingham) was quoted in U.S. News and World Report6 as saying, "This election is a clear choice. And there is no doubt that [Obama's] policies will continue to lead us forward. Our country couldn't be in better hands. In the face of crisis, we couldn't ask for a better leader. We have a ways to go, but it is clear we are better off." Moreover, the article says, "Sewell says Americans are better off than they were four years ago with the Obamas in the White House."
"My message to Alabama Democrats is that you can't have it both ways. You can't claim that your Party is conservative and different from Barack Obama, Nancy Pelosi and Debbie Wasserman Schultz and the Democratic National Party, when your State Party leaders, your Congress members and your delegates are all fully embracing President Obama and his devastating economic and social policies," Armistead remonstrated. "There is nothing, and I mean nothing, conservative about President Obama and the National Democratic Party and it's time for conservative Alabamians to stop aligning themselves with the most liberal national party this country has ever seen. Senator Denton and other local Democrats should follow the example of Congressman Artur Davis and walk away from this radically left-leaning Democrat Party. It's time to come home to the only conservative political party in the state, the Alabama Republican Party."
###
Trump Truck and boat parades this weekend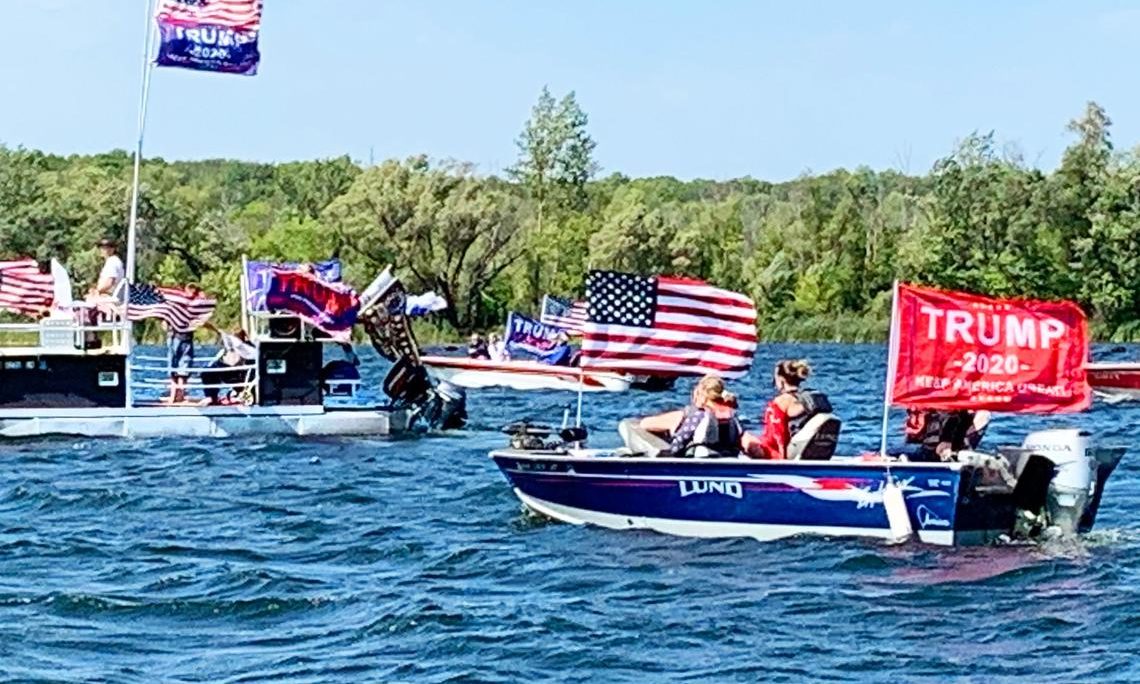 As Election Day draws near, Alabama Republicans are excited about promoting the re-election of Donald J. Trump as President and the election of Tommy Tuberville for U.S. Senate. This weekend two pro-President Trump events are happening in the state. There will be a truck parade from Ashland to Phenix City on Saturday sponsored by the Clay County Republican Party, while there will also be a boat parade on Wilson Lake in the Shoals sponsored by the Colbert County Republican Party on Sunday.
The pickup trucks will assemble at the Ashland Industrial Park in Clay County, 8240 Hwy 9, Ashland. There is a pre-departure rally at 10:00 a.m. central standard time. The trucks will depart at 11:00 a.m. and then proceed on a parade route that will take them into the bitterly contested swing state of Georgia. The Trump Pickup Parade will wind through east Alabama and West Georgia traveling through LaGrange and Columbus before concluding near the Alabama/Georgia line in Phenix City, 332 Woodland Drive, Phenix City at approximately 2:00 p.m. central time. Speakers will begin at 3:00. Trump flags will be on sale at the event.
The Phenix Motorsports Park will be hosting what sponsor hope could possibly the world's largest Pickup Tuck parade in U.S. history that is routing over 50 mile through Georgia in effort to "pickup" President Trump's numbers in GA.
A number dignitaries have been invited to address the Phenix City rally, including Coach Tuberville. Former State Sen. Shadrack McGill, Trump Victory Finance Committee member former State Rep. Perry O. Hooper Jr., and Paul Wellborn, the President and CEO of the largest Family owned Kitchen Cabinet manufacture in the USA are among the featured speakers who have committed to speak at the event.
Entertainment will be provided by: Charity Bowden, an up and coming country music singer who was the runner up on "The Voice". Charity will sing 'I am Proud to be an American' as well as songs from her Voice performances. The McGill Girls will also perform. The three beautiful and talented sisters will be singing patriotic songs in three part harmony. Geoff Carlisle, a professional DJ will be keeping the crowd pumped with music and entertainment.
Following the speakers and the entertainment there will Trump truck-vs- Joe Bidden truck races down the drag strip for the finale.
The Northwest Alabama boat parade will be on Sunday. The boats will gather at 2:00 p.m. near Turtle Point and then the flotilla will parade around the open waters of Wilson Lake til 3_00 p.m.. There will be a contest for best decorated Trump boats.
Trump supporters have held a number of large boat parades across the state to show their support for the re-election of Pres. Trump.
Boat parade sponsors say that this parade will be: pro-American, pro-law enforcement, pro-military.