Democratic Convention in Open Revolt over Whether or Not to Acknowledge God or Support Israel's Claim to Jerusalem in Platform
By Brandon Moseley
Alabama Political Reporter
Shocking many political observers, militant atheists on the Democratic Party's platform committee successfully pushed through a resolution that purged the Democratic Party's platform of any acknowledgment of a higher power. In a similarly shocking development the same platform committee at the urging of the Muslim dominated Michigan delegation rejected a 2008 Democratic Party Platform plank that acknowledged that the Capitol of Israel is Jerusalem. Democratic Party leaders used an unusual floor vote of the entire convention to over ride the two platform changes made by its own Democratic Party National Convention platform committee. God and Jerusalem were both restored to the platform, though the outcome of the voice vote was very close.
Republicans were quick to pounce on the Democrats controversy.
Alabama Republican Party Chairman Bill Armistead said in a written statement, "What I think I found most offensive in the Democratic Party's new platform was what they left out God. They removed every mention of our Creator's name." "Striking God from the Democratic Party platform is not a trifle. I was also disturbed to learn that they removed the language acknowledging Jerusalem as the capital city of our ally, Israel."
Chairman Armistead said, "Mark Kennedy and the Alabama Democratic Party have made it clear that they embrace the radical agenda of the National Democratic Party. One of their delegates, Darrell Turner, who is the Chairman of the Cleburne County Democratic Party, is a member of the DNC Platform Committee and told the Montgomery Advertiser that he is 'an agent to help get the program to the rest of the convention for them to vote on.' Well, I'm glad that someone in leadership with the Alabama Democratic Party has made it clear that Alabama Democrats stand on this radical, liberal National Democratic Party platform. But I have news for them. This new platform is not a reflection of what Alabama voters believe. And it's not a reflection of what most Alabama Democrat voters believe. Chairman Kennedy, stop misleading Alabama voters by claiming to be conservative. And once again, I remind conservative voters in Alabama that the Alabama Democratic Party has left you and your values behind."
Moderate Democrats were aghast at the strange but highly organized revolt by their party's more extreme elements.
Alabama State Representative Joe Hubbard (D) from Montgomery said on Facebook, "As the national parties race to the fringe, I wonder where those of us in the middle are supposed to go?" "Make no mistake, both parties are racing to the fringe for the very reason you mention – that is where their power base is. And, did I mention the Democratic platform is wholly and utterly devoid of any mention of God?"
Democratic Party strategist and former Clinton Administration Paul Begala called the raucous floor vote in which Democratic delegates were literally booing God an "embarrassing" mistake and was an error. Begala said, "It was stupid." "We are a people of faith and the Democratic Party reflects that faith."
Former President Bill Clinton later launched into a lengthy 49 minute speech to attempt to convince moderate swing voters to give President Obama four more years in office.
Governor declares state of emergency ahead of Tropical Storm Zeta
Zeta is currently a tropical storm over the Gulf of Mexico, but it is predicted to make landfall as a category one hurricane.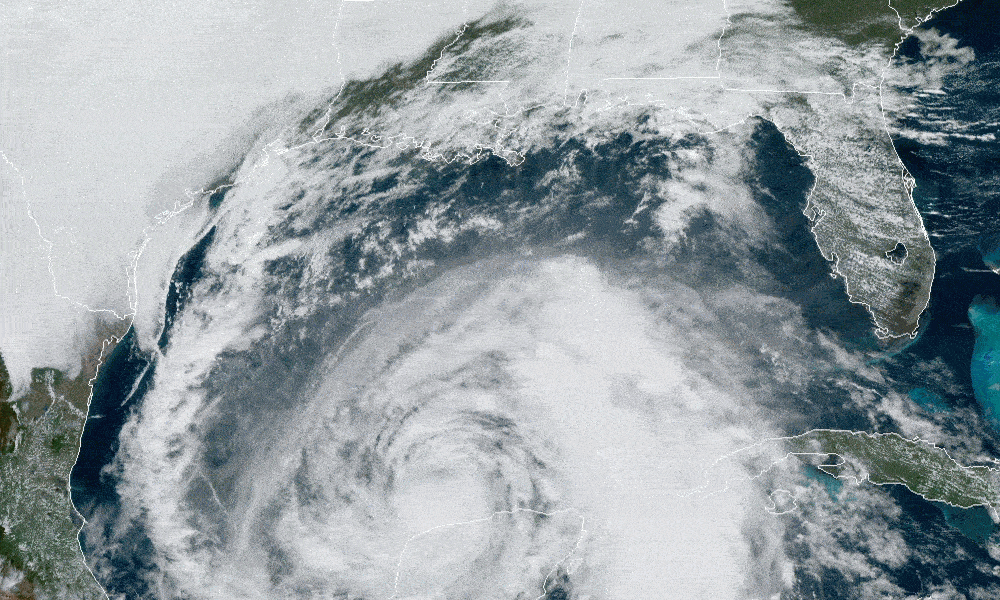 Alabama Gov. Kay Ivey on Tuesday issued a state of emergency as Tropical Storm Zeta approaches the Gulf Coast.
"Ahead of Tropical Storm Zeta's anticipated landfall Wednesday evening as a Category 1 hurricane, I am issuing a state of emergency effective today at 4:00 p.m.," Ivey said. "While this storm is not expected to have an impact as large as storms we've seen move through the Gulf earlier this year, we want to be in the best place possible to respond to anticipated rain, storm surge and mass power outage. I encourage everyone to remain weather aware and tuned in to their trusted news source as this storm could shift direction or change intensity. We continue to track the path of this storm and will stay in touch with the people of Alabama with any updates."
Zeta is currently a tropical storm over the Gulf of Mexico, but it is predicted to make landfall as a category one hurricane. The National Hurricane Center is predicting Zeta to make landfall in Mississippi on Wednesday and then proceed toward Alabama, but these storms can and do move.
A more easterly track could prove devastating to the Alabama Gulf Coast as was the case with Hurricane Sally, which shifted course in September, hitting Alabama, though Zeta is expected to be weaker than Sally at landfall.
The storm surge from the Mississippi-Alabama border to Dauphin Island is forecast to be 5 to 8 feet. Mobile Bay to the Alabama-Florida border is expected to have 3 to 5 feet of storm surge and from the border to Navarre, Florida, could experience 2 to 4 feet of storm surge.
Hurricane force winds are a possibility with this storm. Tropical force winds are expected to be an issue for Southern Mississippi and Alabama well inland. There is expected to be heavy rainfall across the state Wednesday night into Thursday morning.
The Baldwin County Emergency Management Agency announced that sandbags are available inside the county commission office at Robertsdale Central Annex (22251 Palmer Street) until 4:30 p.m. Tuesday and from 8 a.m. until 4:30 p.m. Wednesday or while they last.
Bring any help and shovels you will need. There is a limit of just 25 bags per person. Alabama's coastal counties are currently under a Tropical Storm Warning, a Storm Surge Warning for Mobile County and a High Rip Current and High Surf Warning.
Congressman Bradley Byrne said, "I just finished up briefings from Alabama EMA, FEMA, and the National Hurricane Center regarding #Zeta. We should not take this storm lightly and should start making preparations right away. After sundown Wednesday, I'd encourage everyone in Southwest Alabama to stay home and off the roads until sunrise Thursday. This storm will have impacts as far north as Montgomery, so those in Washington, Clarke, and Monroe counties will see tropical storm force winds and heavy rain. I'd encourage everyone to charge their phones and other necessary electronics. If you have an emergency during the storm, call 911 and do not try to drive."
Coastal Alabama is still in the process of recovering from Hurricane Sally which hit the state on Sept. 15.