Mike Hubbard Asking Public For Input in to Alabama Values and States Rights Commission
By Brandon Moseley
Alabama Political Reporter
Speaker of the Alabama House of Representatives Mike Hubbard (R) from Auburn announced Thursday that the new Commission on Alabama Values and State's Rights has just completed its new website: ALValuesandRights.com.
Speaker Hubbard said on Facebook, "I am pleased to announce the launch of ALValuesandRights.com, the official website of the Speaker's Commission on Alabama Values and State's Rights. Please take a moment to visit the site and submit your thoughts on how we can best protect your values and implement 10th Amendment safeguards here in Alabama."
Alabama State Representative April Weaver (R) from Brierfield said on Facebook, "A few weeks ago, I was honored to be chosen as a member of Speaker Mike Hubbard's Commission on Alabama Values and State's Rights, a study-group of conservatives from across Alabama who have been tasked with listening to your thoughts and ideas on how to best protect your values and your rights here in our state. Now I'm excited to let you know about ALValuesandRights.com- the official website of the Commission on Alabama Values and State's Rights. It will give you an opportunity to submit your thoughts to the Commission on what's most important to you, and how your freedoms can best be protected against an ever-encroaching federal government. We've already made great strides in protecting the integrity of our state through conservative legislation, and we want to hear from you as we plan our upcoming legislative agenda. Please take a moment to visit the site and let us know what's important to you."
On the website itself Speaker Hubbard said, "Individual rights of Alabamians are under attack from an ever-expanding and encroaching federal government, committed liberal activists, and entrenched special interests fighting to preserve the dysfunctional status quo," Speaker Hubbard said. "I have asked this commission to search for ways the Legislature can help preserve the 10th Amendment rights guaranteed to Alabama by the U.S. Constitution while, at the same time, suggesting bills and other measures that will repel the federal assault on our citizens' freedoms and liberties."
The Commission has drawn some criticism. The Political Director of the Alabama College Democrats State Federation, Cody Jones said in response to the announcement on Facebook, " Because the best way to protect us from big government is to have a top government official create a commission, chaired by another government official, with four other government officials comprising of the commission itself whose job is to protect you from government. Am I the only one missing the irony here?"
The members of the Commission include the Rev. John Killian Sr. from Birmingham, Lynn Mitchell Robinson from Addison, Yellow Hammer Politics founder and editor Cliff Simms, Rep. Ed Henry (R) from Hartselle, Rep. April Weaver (R) from Brierfield, Rep. Barry Moore (R) from Enterprise, and Rep. Kurt Wallace (R) from Maplesville
To visit the website: http://alvaluesandrights.com/
Trump Truck and boat parades this weekend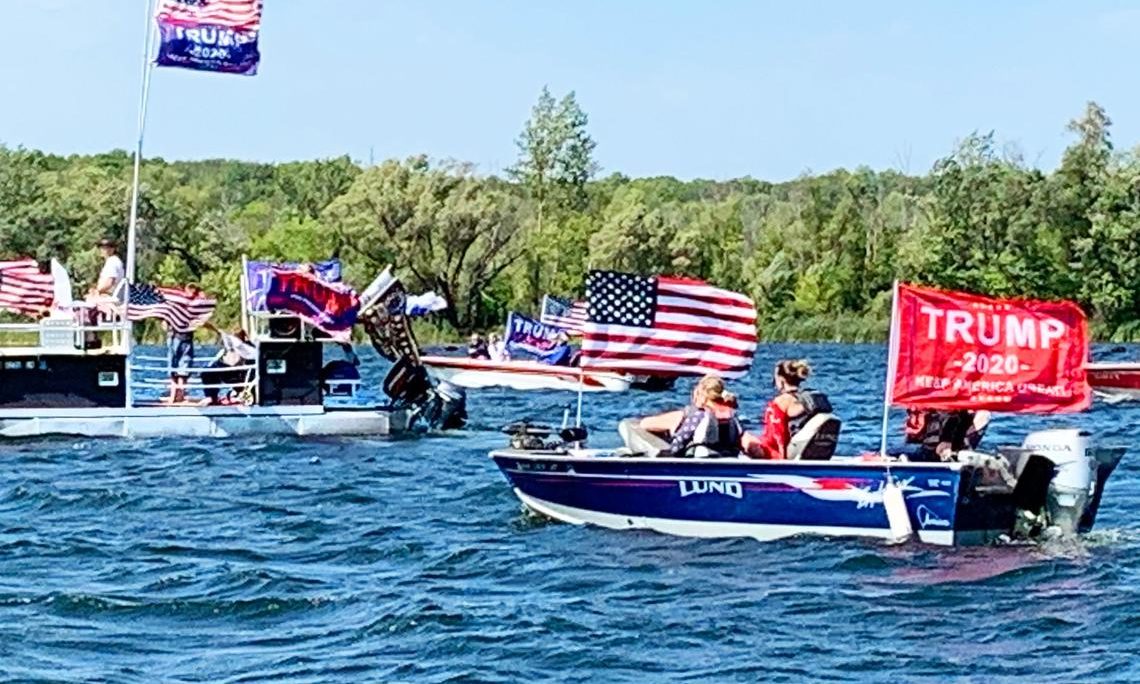 As Election Day draws near, Alabama Republicans are excited about promoting the re-election of Donald J. Trump as President and the election of Tommy Tuberville for U.S. Senate. This weekend two pro-President Trump events are happening in the state. There will be a truck parade from Ashland to Phenix City on Saturday sponsored by the Clay County Republican Party, while there will also be a boat parade on Wilson Lake in the Shoals sponsored by the Colbert County Republican Party on Sunday.
The pickup trucks will assemble at the Ashland Industrial Park in Clay County, 8240 Hwy 9, Ashland. There is a pre-departure rally at 10:00 a.m. central standard time. The trucks will depart at 11:00 a.m. and then proceed on a parade route that will take them into the bitterly contested swing state of Georgia. The Trump Pickup Parade will wind through east Alabama and West Georgia traveling through LaGrange and Columbus before concluding near the Alabama/Georgia line in Phenix City, 332 Woodland Drive, Phenix City at approximately 2:00 p.m. central time. Speakers will begin at 3:00. Trump flags will be on sale at the event.
The Phenix Motorsports Park will be hosting what sponsor hope could possibly the world's largest Pickup Tuck parade in U.S. history that is routing over 50 mile through Georgia in effort to "pickup" President Trump's numbers in GA.
A number dignitaries have been invited to address the Phenix City rally, including Coach Tuberville. Former State Sen. Shadrack McGill, Trump Victory Finance Committee member former State Rep. Perry O. Hooper Jr., and Paul Wellborn, the President and CEO of the largest Family owned Kitchen Cabinet manufacture in the USA are among the featured speakers who have committed to speak at the event.
Entertainment will be provided by: Charity Bowden, an up and coming country music singer who was the runner up on "The Voice". Charity will sing 'I am Proud to be an American' as well as songs from her Voice performances. The McGill Girls will also perform. The three beautiful and talented sisters will be singing patriotic songs in three part harmony. Geoff Carlisle, a professional DJ will be keeping the crowd pumped with music and entertainment.
Following the speakers and the entertainment there will Trump truck-vs- Joe Bidden truck races down the drag strip for the finale.
The Northwest Alabama boat parade will be on Sunday. The boats will gather at 2:00 p.m. near Turtle Point and then the flotilla will parade around the open waters of Wilson Lake til 3_00 p.m.. There will be a contest for best decorated Trump boats.
Trump supporters have held a number of large boat parades across the state to show their support for the re-election of Pres. Trump.
Boat parade sponsors say that this parade will be: pro-American, pro-law enforcement, pro-military.