Alabama Battleground Patriots Going to Swing States
By Brandon Moseley
Alabama Political Reporter
Alabama Republican Party Chairman Bill Armistead announced that the Alabama Republican Party is recruiting volunteers to "make a difference in vital swing states" in the 2012 Presidential election.  Chairman Armistead has named this initiative the Alabama Battleground Patriots.
Chairman Armistead said, "Everywhere I go in Alabama, people are always asking me how they can help make a difference in the presidential election in vital swing states.  We know that Mitt Romney and Paul Ryan will easily carry Alabama, so our in-state efforts are being focused on putting Republicans in office at the county level, especially in counties where Republicans were never before competitive."
The press conference was held in the Alabama Republican Party's new headquarters on Lorna Road in Hoover.  The party just moved in to its new home last week.  Previously the Republican Party had leased space in Homewood.
Chairman Armistead told 'The Alabama Political Reporter' that the party was working with the Mitt Romney campaign.  The Alabama GOP is providing the workers and the Romney campaign is giving those workers their assignments and direction.  The Battleground Patriots will ride buses to the swing states where they will canvass their assigned areas door to door.  Their rooms and meals are planned in advance.  Chairman Armistead said that some of the volunteers were paying their own way and some could not so the Party is raising the money to support their efforts.  Chairman Armistead said that the effort cost $700 per volunteer.  Armistead estimated that each volunteer could knock on 50 doors per day.
Chairman Armistead said, "As important as it is to elect Republicans to office in Alabama courthouses, it is equally important that we put a Republican in the White House this November. The Presidential election will ultimately be won in swing states such as Ohio, North Carolina, Virginia and Florida, and that's why I created the Alabama Battleground Patriots.  Through this program, Alabama Republicans will be able to travel to the states that need our help the most, working hand-in-hand with the RNC and the Romney/Ryan campaign."
The Alabama Republican Party statement said that three trips have been scheduled to take place from Sunday, October 21 through Saturday October 27. Two groups will leave Birmingham, one being deployed to Charlotte, North Carolina and the other to Virginia Beach, Virginia. A third group will depart from Baldwin County and travel to Jacksonville, Florida. Congressman Mo Brooks (R) is leading a fourth trip departing from Huntsville to Dayton, Ohio on Wednesday, October 24th through Sunday, October 28th.  The party is still seeking both volunteers and donors for this effort.
The Chairman of the Republican National Committee, Reince Priebus, said in a written statement, "As Chairman of the Republican National Committee, I am privileged to have the opportunity to meet and thank the devoted volunteers and grassroots activists in Alabama and across the country that do the hard work for our candidates up and down the ballot. As a result of your hard work, there is no doubt that Alabama will deliver its electoral votes to the Romney/Ryan ticket in November, and for that, I thank you. But there is still work to be done in our efforts to defeat President Obama. Today, I humbly request your help to ensure Governor Romney and Congressman Ryan win the swing-states that are so vital to victory in this election. I am grateful that Chairman Bill Armistead has created the Alabama Battleground Patriots in order to help make that happen. I encourage you to get involved to the fullest extent possible, whether it's deploying to a battleground state or making a generous donation to support these efforts. Your efforts could make all the difference. Thank you for your continued hard work and thank you for your unwavering devotion to the principles that make this the greatest country in the world."
Chairman Armistead told 'The Alabama Political Reporter' that the Battleground Patriots were a seperate organization from the Alabama Tea Party's 'Paint Florida Red' campaign; but said that the two groups were communicating and that he appreciated what they were doing.
In other matters, Chairman Armistead told 'The Alabama Political Reporter' that he did not think that Alabama Democratic Party Chairman Mark Kennedy would have announced that Democratic state Senator Jerry Fielding was switching to the Republican Party unless Kennedy had good information that that was true.  Armistead told 'The Alabama Political Reporter' that Sen. Fielding was free to change his party affiliation and caucus with Senate Republicans, but that to run as a Republican in 2014 he would have to explain his decision to the State Republican Executive Committee.
To learn more about the Alabama Battleground Patriots visit their website:
 www.AlabamaBattlegroundPatriots.com
Trump Truck and boat parades this weekend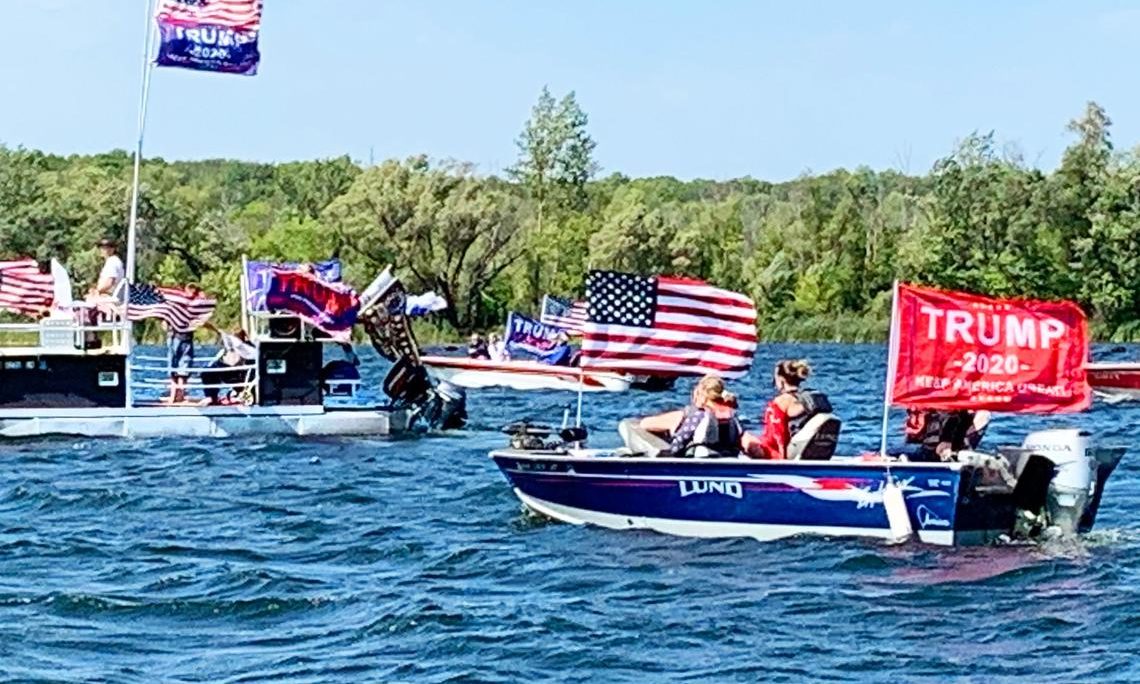 As Election Day draws near, Alabama Republicans are excited about promoting the re-election of Donald J. Trump as President and the election of Tommy Tuberville for U.S. Senate. This weekend two pro-President Trump events are happening in the state. There will be a truck parade from Ashland to Phenix City on Saturday sponsored by the Clay County Republican Party, while there will also be a boat parade on Wilson Lake in the Shoals sponsored by the Colbert County Republican Party on Sunday.
The pickup trucks will assemble at the Ashland Industrial Park in Clay County, 8240 Hwy 9, Ashland. There is a pre-departure rally at 10:00 a.m. central standard time. The trucks will depart at 11:00 a.m. and then proceed on a parade route that will take them into the bitterly contested swing state of Georgia. The Trump Pickup Parade will wind through east Alabama and West Georgia traveling through LaGrange and Columbus before concluding near the Alabama/Georgia line in Phenix City, 332 Woodland Drive, Phenix City at approximately 2:00 p.m. central time. Speakers will begin at 3:00. Trump flags will be on sale at the event.
The Phenix Motorsports Park will be hosting what sponsor hope could possibly the world's largest Pickup Tuck parade in U.S. history that is routing over 50 mile through Georgia in effort to "pickup" President Trump's numbers in GA.
A number dignitaries have been invited to address the Phenix City rally, including Coach Tuberville. Former State Sen. Shadrack McGill, Trump Victory Finance Committee member former State Rep. Perry O. Hooper Jr., and Paul Wellborn, the President and CEO of the largest Family owned Kitchen Cabinet manufacture in the USA are among the featured speakers who have committed to speak at the event.
Entertainment will be provided by: Charity Bowden, an up and coming country music singer who was the runner up on "The Voice". Charity will sing 'I am Proud to be an American' as well as songs from her Voice performances. The McGill Girls will also perform. The three beautiful and talented sisters will be singing patriotic songs in three part harmony. Geoff Carlisle, a professional DJ will be keeping the crowd pumped with music and entertainment.
Following the speakers and the entertainment there will Trump truck-vs- Joe Bidden truck races down the drag strip for the finale.
The Northwest Alabama boat parade will be on Sunday. The boats will gather at 2:00 p.m. near Turtle Point and then the flotilla will parade around the open waters of Wilson Lake til 3_00 p.m.. There will be a contest for best decorated Trump boats.
Trump supporters have held a number of large boat parades across the state to show their support for the re-election of Pres. Trump.
Boat parade sponsors say that this parade will be: pro-American, pro-law enforcement, pro-military.