Tuesday's Municipal Election Runoffs Produce Some Surprises: Many Incumbents were Unseated
By Brandon Moseley
Alabama Political Reporter
Tuesday voters throughout Alabama made their voices heard in municipal runoff elections.
In Leeds challenger David Miller easily defeated incumbent Mayor Eric Patterson 1661 to 847.  In district 4 Craig Wadsworth defeated Kelly Washburn.  In the District 5 council race Davoris Ragland defeated former Mayor Jack Courson.
In Pell City, former mayor Adam Stocks was defeated by Joe Funderburg.  The incumbent Mayor Bill Hereford chose not to run for reelection.
In Daphne, incumbent Mayor Bailey Yelding Jr. defeated challenger City Councilman Derek Boulware.  Yielding was appointed mayor when Mayor Fred Small resigned last year.  Yielding is the first Black man elected Mayor in Daphne
In Alabaster, incumbent Mayor David Frings was defeated by challenger Marty Handlon.
In Irondale incumbent Mayor Tommy Joe Alexander just narrowly held on with 1,071 votes to                   James Stewart, Jr.  1,050.
In Montevallo first-term incumbent Ben McCrory was defeated by challenger, City Council woman Hollie Cost, are in a runoff for that city's top job.
In Colony as of press time Councilman Patrick Ward and Council member Donnis Leeth both had 64 votes.
In Garden City, incumbent mayor Harden Davis was defeated by challenger Tim Eskew.
In Decatur, former Mayor Don Kyle defeated Carl Cole 5,587 votes to 4,432
Dianne Prestridge was defeated by Bob Joslin for the office of Mayor of Arab.
In Brighton former Mayor Eddie Cooper was defeated by city Councilwoman Barbara Watkins in the city's mayor race.
In the Hamilton mayor's race Wade Williams defeated Scottie Sanderson
In Gantt incumbent Mayor Missy Grissett defeated challenger Connie Cauthen.
In Alexander City Charles Shaw defeated Michael Lamborne
In Tallassee Bobby Payne unseated incumbent Mayor George McCain.
In Hartselle Donald E. Hall defeated Johnnie J. Howell for that city's top post.
In the Linden Mayoral race Mitzi Gates was defeated by Charles Moore.
In Red Level Lillie J. Hendrix defeated Deborah Hoffman.
In Opp, incumbent Mayor H.D. Edgar was unseated by challenger John Bartholomew.
In Union Springs Saint Thomas Jr defeated John McGowan for that town's top job.
In the Georgiana Mayor's race Jerome Antone was the winner over Larry Creech
In the McKenzie Mayor race Lester Odom, Jr. defeated Bill Henry.
In Camp Hill Danny Evans defeated Samuel Ellis 189 to 169.
In Lincoln Claude"Bud" Kitchin defeated Kelly Love to be the next Mayor 768 to 679.
In the Tarrant Mayoral race Loxcil Tuck defeated Joe Matthews 382 to 365.
In Fairfield Kenneth Coachman defeated council President Pro Temp Frederick Scott 989 to 954.
In Rainsville Nick Jones beat Bejan Taheri for that city's mayor's job.
In the city of Skyline, Archie Rice defeated Kyle Morris in that city's runoff election to be the next mayor.
In Tuscumbia incumbent Mayor Bill Shoemaker was defeated by fire Chief David Cole.
In Waterloo former Mayor Jerry McIntyre was defeated  by former Mayor Mary Jenelee Higgins.
In Helena challenger Mark R. Hall defeated incumbent Mayor Charles W. "Sonny" Penhale.
In Trafford challenger Cliff Daniels defeated incumbent Mayor Robert Niblett.
In Cedar Bluff Mayor Ethel Sprouse lost to challenger Martha Baker.
In Cordova, challenger Drew Gilbert defeated incumbent Jack Scott 365 to 204.
In the Piedmont Mayoral race Rick Freeman defeated Brent Morrison 690 to 596.
In Hobson City incumbent Mayor Alberta McCrory held off a challenge from Eric Stringer 153 to 105.
In Birmingham voters approved a massive bond issue that was requested by Mayor Bell.  Less than 13,000 people voted in the special bond referendum.
This is only a partial list of the many cities and towns that held runoff elections on Tuesday.
Trump Truck and boat parades this weekend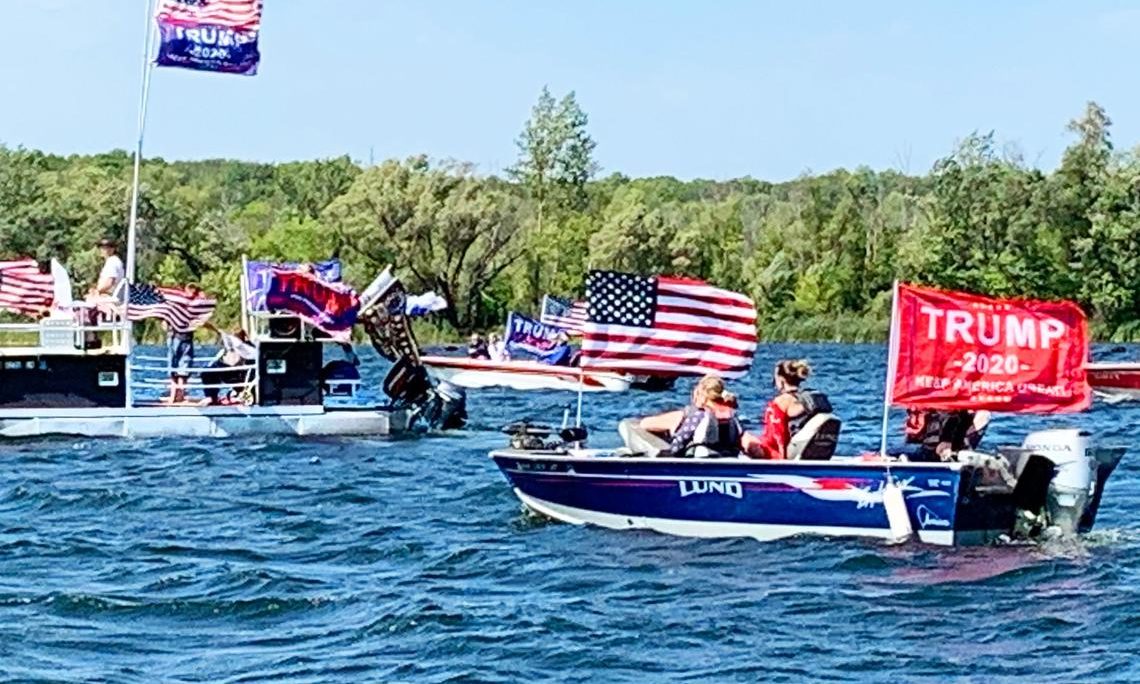 As Election Day draws near, Alabama Republicans are excited about promoting the re-election of Donald J. Trump as President and the election of Tommy Tuberville for U.S. Senate. This weekend two pro-President Trump events are happening in the state. There will be a truck parade from Ashland to Phenix City on Saturday sponsored by the Clay County Republican Party, while there will also be a boat parade on Wilson Lake in the Shoals sponsored by the Colbert County Republican Party on Sunday.
The pickup trucks will assemble at the Ashland Industrial Park in Clay County, 8240 Hwy 9, Ashland. There is a pre-departure rally at 10:00 a.m. central standard time. The trucks will depart at 11:00 a.m. and then proceed on a parade route that will take them into the bitterly contested swing state of Georgia. The Trump Pickup Parade will wind through east Alabama and West Georgia traveling through LaGrange and Columbus before concluding near the Alabama/Georgia line in Phenix City, 332 Woodland Drive, Phenix City at approximately 2:00 p.m. central time. Speakers will begin at 3:00. Trump flags will be on sale at the event.
The Phenix Motorsports Park will be hosting what sponsor hope could possibly the world's largest Pickup Tuck parade in U.S. history that is routing over 50 mile through Georgia in effort to "pickup" President Trump's numbers in GA.
A number dignitaries have been invited to address the Phenix City rally, including Coach Tuberville. Former State Sen. Shadrack McGill, Trump Victory Finance Committee member former State Rep. Perry O. Hooper Jr., and Paul Wellborn, the President and CEO of the largest Family owned Kitchen Cabinet manufacture in the USA are among the featured speakers who have committed to speak at the event.
Entertainment will be provided by: Charity Bowden, an up and coming country music singer who was the runner up on "The Voice". Charity will sing 'I am Proud to be an American' as well as songs from her Voice performances. The McGill Girls will also perform. The three beautiful and talented sisters will be singing patriotic songs in three part harmony. Geoff Carlisle, a professional DJ will be keeping the crowd pumped with music and entertainment.
Following the speakers and the entertainment there will Trump truck-vs- Joe Bidden truck races down the drag strip for the finale.
The Northwest Alabama boat parade will be on Sunday. The boats will gather at 2:00 p.m. near Turtle Point and then the flotilla will parade around the open waters of Wilson Lake til 3_00 p.m.. There will be a contest for best decorated Trump boats.
Trump supporters have held a number of large boat parades across the state to show their support for the re-election of Pres. Trump.
Boat parade sponsors say that this parade will be: pro-American, pro-law enforcement, pro-military.