Artur Davis Returns to Alabama as a Republican Leader
By Brandon Moseley
Alabama Political Reporter
Alabama Republican Party Chairman Bill Armistead announced on Friday that more high profile national Republicans are coming to Alabama national Republicans as he continues to build upon the Republican's growing majority status in Alabama.  This week, former Bush administration U.S. Attorney General Alberto Gonzales and former Alabama Congressman and former Democratic candidate for Alabama Governor Artur Davis will be in the state to promote the conservative philosophy of the Alabama Republican Party.
The Chairman of the Alabama Republican Party Bill Armistead said, "It is my privilege to welcome both of these esteemed gentlemen to Alabama."
On Tuesday AG Gonzales will be speaking at the Cumberland School of Law in Birmingham on October the 16th at 2:30 PM in The Great Room (Old Library).  The former Attorney General will also speak at the University of Alabama Law School in Room 188 beginning at 6:15 PM that same night.  The former Texas State Supreme Court Justice, White House Counsel, and Attorney General played an important role in establishing the legal principles behind the war on terror following the devastating terror attack 9-11 (2001).
Chairman Armistead said, "I appreciate that Mr. Gonzales has chosen to travel to Alabama to speak to the law students at two of Alabama's premier Law Schools.  His vast knowledge and experience in the legal field will no doubt have a lasting impression on these law students.   General Gonzales is a very articulate and impressive individual who is firmly committed to the conservative values that we hold in Alabama and we look forward to hearing from him next week."
Also on Tuesday, former Congressman Davis will be the headline at a fundraiser event at the Baker, Donelson, Bearman, Caldwell & Berkowitz law firm at 5:30 PM.  The event is in the Baker Donelson Auditorium in the Wells Fargo Tower (420 20th Street North # 1400 in Birmingham).
Chairman Armistead said, "We are extremely glad to welcome Congressman Davis back to his home state, especially since he returns as a fellow Republican and supporter of the next President of the United States, Governor Mitt Romney.  His willingness to speak out against the liberal policies of Barack Obama, as well as the voter fraud practices of Alabama Democrats has helped shine a light where it's needed most.  He has many friends in Alabama and we are pleased that he has joined the Republican Party and is working for the election of Gov. Romney."
In 2008, then Democrat Congressman Artur Davis was one of the earliest and most vocal supporters of then Senator Barack H. Obama's campaign for the Presidency.  Rep. Davis was Obama campaign chairman in Alabama and spoke at the 2008 Democratic National Convention urging Americans to support his Harvard Law School classmate.  The moderate Democrat was soon disappointed by the extreme agenda adopted by President Obama.  The two were bitterly divided over Obama's harsh anti-coal policy and Congressman Davis was the only member of the Congressional Black Caucus to vote against President Obama's landmark legislation, the Patient Protection and Affordable Care Act (Obamacare).  In 2010, Davis gave up his safe Seventh District seat to run for Governor of Alabama.  Davis was defeated in the Democratic Primary by then Alabama Commissioner for Agriculture and Industries Ron Sparks.  The former Congressman later left the Alabama Democratic Party and a year of soul searching announced that he was joining the Republican Party.  Later the maverick former Congressman announced his support for Governor Mitt Romney.  Former Congressman Davis has been actively working for the Republican Presidential nominee in important swing state: Virginia.  Davis was a featured speaker in the 2012 Republican National Convention.
Governor declares state of emergency ahead of Tropical Storm Zeta
Zeta is currently a tropical storm over the Gulf of Mexico, but it is predicted to make landfall as a category one hurricane.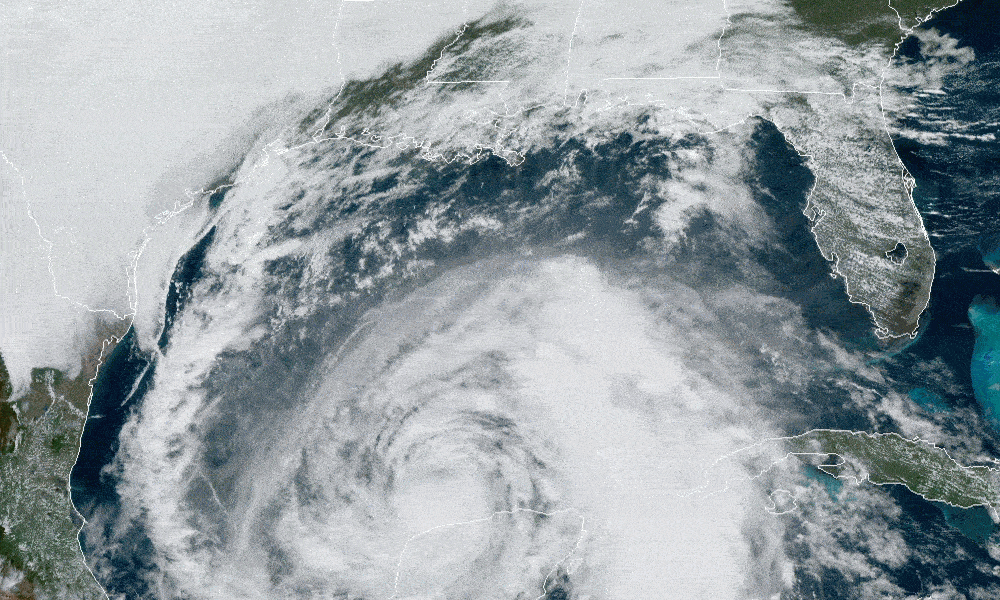 Alabama Gov. Kay Ivey on Tuesday issued a state of emergency as Tropical Storm Zeta approaches the Gulf Coast.
"Ahead of Tropical Storm Zeta's anticipated landfall Wednesday evening as a Category 1 hurricane, I am issuing a state of emergency effective today at 4:00 p.m.," Ivey said. "While this storm is not expected to have an impact as large as storms we've seen move through the Gulf earlier this year, we want to be in the best place possible to respond to anticipated rain, storm surge and mass power outage. I encourage everyone to remain weather aware and tuned in to their trusted news source as this storm could shift direction or change intensity. We continue to track the path of this storm and will stay in touch with the people of Alabama with any updates."
Zeta is currently a tropical storm over the Gulf of Mexico, but it is predicted to make landfall as a category one hurricane. The National Hurricane Center is predicting Zeta to make landfall in Mississippi on Wednesday and then proceed toward Alabama, but these storms can and do move.
A more easterly track could prove devastating to the Alabama Gulf Coast as was the case with Hurricane Sally, which shifted course in September, hitting Alabama, though Zeta is expected to be weaker than Sally at landfall.
The storm surge from the Mississippi-Alabama border to Dauphin Island is forecast to be 5 to 8 feet. Mobile Bay to the Alabama-Florida border is expected to have 3 to 5 feet of storm surge and from the border to Navarre, Florida, could experience 2 to 4 feet of storm surge.
Hurricane force winds are a possibility with this storm. Tropical force winds are expected to be an issue for Southern Mississippi and Alabama well inland. There is expected to be heavy rainfall across the state Wednesday night into Thursday morning.
The Baldwin County Emergency Management Agency announced that sandbags are available inside the county commission office at Robertsdale Central Annex (22251 Palmer Street) until 4:30 p.m. Tuesday and from 8 a.m. until 4:30 p.m. Wednesday or while they last.
Bring any help and shovels you will need. There is a limit of just 25 bags per person. Alabama's coastal counties are currently under a Tropical Storm Warning, a Storm Surge Warning for Mobile County and a High Rip Current and High Surf Warning.
Congressman Bradley Byrne said, "I just finished up briefings from Alabama EMA, FEMA, and the National Hurricane Center regarding #Zeta. We should not take this storm lightly and should start making preparations right away. After sundown Wednesday, I'd encourage everyone in Southwest Alabama to stay home and off the roads until sunrise Thursday. This storm will have impacts as far north as Montgomery, so those in Washington, Clarke, and Monroe counties will see tropical storm force winds and heavy rain. I'd encourage everyone to charge their phones and other necessary electronics. If you have an emergency during the storm, call 911 and do not try to drive."
Coastal Alabama is still in the process of recovering from Hurricane Sally which hit the state on Sept. 15.