From Rosser's Dairy to a Norfolk Southern Railroad Hub: Who shares the Price-Tags for Success?

By Representative Allan Farley
I was prepared for the big crowd and the trains.  (But, I wasn't prepared for the gazes from memories past).  The Norfolk Southern Birmingham Regional Intermodal Facility has been a huge issue in the McCalla community since before I was elected to the Alabama Legislature in 2010.  When I was elected it was basically a done deal. Of course, there are a few people who are convinced I was the key figure in bringing Norfolk Southern to ruin the McCalla pasturelands. (Heck, I was even accused by one politician as being the reason the McCalla community is now part of Congresswoman Terri Sewell's 7th Congressional District).
Reality:  I'm a 61 year old "freshman" State Representative whose statehouse office is at the end of the hall next to the bathrooms and housekeeping.  I have learned that politics is like a fast moving train. (Pun intended).  New politicians simply get to ride on the party train until the seasoned engineers see how you handle all the hills and curves.  But, I've also learned that the seasoned political engineers will quickly call you to wave out of the window for the cameras just before the wreck.  "All ABOARD"!!! (Keep your hand off that whistle boy).
As Muriel and I sat under the big tent at the Norfolk Southern Ribbon Cutting last Wednesday, we listened to Governor Bentley and other dignitaries speak with excitement from the podium.  They all talked about the success that would follow the opening of the Norfolk Southern Railroad Hub in McCalla.  We could have just as easily been sitting at a number of other locations in Alabama where big business has recently moved in.  It's about jobs.  It's about money.  It really is about creating a better future for Alabama families.  And, it is exciting.  The big politicians are excited to be sitting at the front of these economic trains. (I know, it just fit right in). But, when the governor goes back to Montgomery, the Norfolk Southern exec's go back to Virginia, and all the other politicians and business tycoons drive away, who will be left at this station to pay the price for McCalla's success?  (You see, there are always price-tags for success).
The excitement I witnessed under the tent was primarily from people who live miles away from this once quiet country community.  However, there were a few tables where men and women proudly represented the original founding families of today's McCalla. They sat politely as the rest of the tent buzzed with well dressed strangers excited over their anticipation of coming economic, and political, prosperity.  As the podium speakers continued to excite the business and political crowd, the McCalla families sat quietly gazing across millions of dollars of concrete and nearby Norfolk Southern train engines. These massive pieces of machinery were staged just outside the tent to help create the images of the future they would bring down the tracks.
I have been impressed with how Norfolk Southern has followed through with their commitment to be a "Good Neighbor" to the residents of McCalla. They have donated $75,000 to McAdory Elementary School, and another $100,000 is pledged.  Norfolk Southern has also donated a 7.6 acre parcel of land to the Jefferson County Board of Education that adjoins the McAdory Elementary School campus.  Norfolk Southern has pledged $250,000 to the McCalla Youth Athletic Association, and deeded 26 acres of property for a "McCalla Park".  They have pledged $450,000 to the McAdory Area Fire District, and have donated 7.1 acres of land to accommodate a new fire station and sub-station for the Jefferson County Sheriff's Office.
Norfolk Southern has reported spending $97.5 million in constructing a state of the art facility in McCalla.  The facility will employ approximately 200 people in their day to day operations.  But, the anticipation of the spin-off jobs is what makes this railroad hub in western Jefferson County so exciting, and so great. There is a projection of 9000 jobs being created in a 40 mile radius around the hub over the next 10 years. These employers will move around McCalla to be close to the railroad hub that will ship in, and ship out, their products.  The excitement around McCalla is for future families who will get a chance to move to our community and be our neighbors.  However, a price-tag will be paid by those who previously moved to McCalla to get away from excitement.
As we were leaving the ceremony, Muriel stopped to take a picture of our friends Rhonda Rosser Hughes and her daughter Sammie Lee.  As they stood together looking across acres of concrete, I could feel their memories of earlier days when a mother and daughter walked through their pastures divided by the old railroad track.  They were quietly taking one last walk through a memory Sammie Lee's children will never experience.  That excitement hurts.
God Bless America.
Nehemiah 20:20 – I answered them by saying, "The God of heaven will give us success.  We his servants will start rebuilding, but as for you, you have no share in Jerusalem or any claim or historic right to it."
Print this piece
Opinion | "Just Mercy" and Justice don't exist in Alabama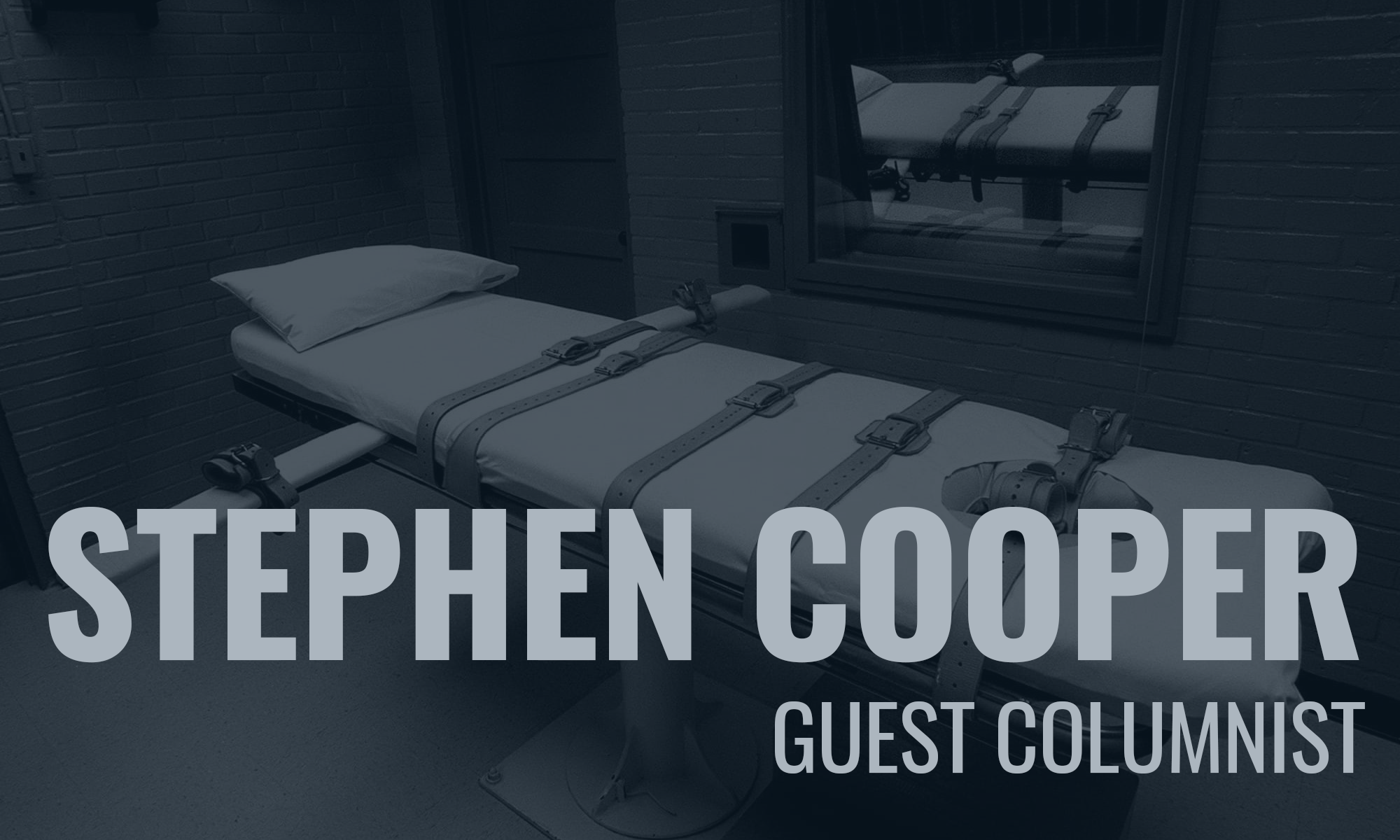 The chance of there being "just mercy" for Nathaniel Woods—facing lethal injection on March 5 for the killing of three Birmingham police officers—is as good as the chance Alabama will ever reform its dismal, no-justice-to-be-found-anywhere legal system; it ain't gonna happen.
A Hollywood movie and best-selling book about a legendary lawyer getting an innocent man off of death row can't change a culture of condemnation on its own. It can't, by itself, defeat deep-seated hatred and crass corruption that feeds off, subjugates, and disenfranchises the poor in Alabama.
And so I hate to tell my progressive, abolitionist friends: But it is unreasonable and naive to think the undeniably decent call for "just mercy" can push the needle from out of the veins of flesh-and-blood human beings—even old, dying ones—condemned to death in Alabama.
The righteous cry for "just mercy" can't cool the hot, facile, and feral appeal of vengeance in a state soaked in the blood of slavery and segregation, where hatred for common humanity thrived, and, where it remains, having long ago seeped into its criminal code, its policies of mass incarceration, its entrenched and inescapable poverty for so many, its abysmal prison conditions, and its terrible, twisted addiction to capital punishment.
"Just mercy" doesn't exist in Alabama, because truth be told, justice doesn't exist in the state either.
Elsewhere I've written how Alabama has been torturing poor people for a long time, how it's been ducking and dodging death penalty accountability, and, how its sick and shrouded plan to exterminate a substantial portion of its death row population with nitrogen gas is an abomination. But this time let me offer a new, concrete, more personal anecdote to illustrate how unfair and unjust Alabama's so-called "justice" system is.
Over five years ago, as a "capital habeas" or "post-conviction" attorney, I was involved in litigating a capital case in Alabama; the end result of our Herculean effort was that a man named Christopher Revis had his death sentenced vacated and a new trial ordered—by Marion County Circuit Court Judge John H. Bentley—because of juror misconduct and ineffective assistance of counsel. 
Over five years have passed since that magical, momentous, Hollywood movie-like day when Bentley ruled. But, guess what? Christopher Revis still has not had his new trial. 
That's right: Even though Revis was ordered to have a new trial on capital murder charges over five years ago, he hasn't had it. Nor has his case otherwise been resolved. Instead, the only thing that has happened to Revis during all this time is he has remained in Holman prison—locked down in a place that is otherwise known as "hell on earth"—where he had already been incarcerated for nearly a decade before I met him.
Last year, after more than four years had passed since Revis was ordered by Judge Bentley to have his new trial, I re-activated my Alabama bar card and traveled to Alabama for a few days to see if I could suss out—as a freelance writer who still cares about my former client, his family, and the rule of law—what the heck is happening. I failed.
But I am not alone. Because does anyone in the legal community, press, or the public know why Christopher Revis has not had his new—constitutionally mandated—trial yet? Has any competent, conscientious journalist anywhere ever looked into Christopher Revis's case and this question before?
Nope and nope.
Have I, as Revis's former lawyer, and after having been contacted and asked to do so at various times by Revis's desperate family—over the years since I left law practice—done everything possible to alert members of the legal community and the press (both local and national) of the unconscionable passage of time in Revis's case? Yup. But you can google for yourself to find out just how little that has accomplished.
And so, although I don't relish being in the role of spoiler and bearer of bad news: In my opinion, based on my own personal experience, before "just mercy" can be anything but a wishful and fleeting slogan on highway billboards in Alabama, the state must first be able to competently and fairly provide justice to its citizens. Citizens like Christopher Revis. So far it hasn't.
Stephen Cooper is a former D.C. public defender who worked as an assistant federal public defender in Alabama between 2012 and 2015. He has contributed to numerous magazines and newspapers in the United States and overseas. He writes full-time and lives in Woodland Hills, California. Follow him on Twitter at @SteveCooperEsq
Print this piece