Alabama Leaders Comment on Observance of Veterans Day
By Brandon Moseley
Alabama Political Reporter
Several of Alabama's elected leaders noted that Veterans Day is being observed on Sunday, November 11th There will be a national holiday as well as many festivities on Monday November 12th in many places.
Congresswoman Terri A. Sewell (D) from Selma said,
"On this Veterans Day, we pause to honor the devotion and sacrifice of all of our veterans who have served here at home and have traveled to distant battle fields around the world to protect our freedoms. We are greatly indebted to these brave service men and women who have answered the call to protect this great nation."
Alabama Governor Robert Bentley (R) said,
"Men and women from across Alabama have long had a tremendous impact on our military efforts overseas. That impact continues today, and I am so proud of their service."
Congresswoman Martha Roby (R) said on Facebook,
"As many of us gather with our families and loved ones on this Veterans Day weekend, let us pay special tribute and salute our men and women who have defended our democracy and protected our precious gift of freedom.  To all our Veterans on YOUR day- thank you. Thank you for your selfless service to our country, service we can never fully repay."
Congressman Jo Bonner (R) from Mobile said,
"There is something very special about the men and women who don the uniform of our country.  They serve not for fortune or recognition, but out of conviction, a conviction that might lead them to lose their very lives in the cause of preserving our freedom.  We simply cannot do enough to honor them.  However, we can begin by telling them "thank you."
Alabama State Senator Tom Whatley (R) who is also a Colonel in the Alabama National Guard said on Facebook,
"Thanks to all my Soldiers in the 167th STB BN. It has been an honor to serve as your BN CDR, and thanks to all Soldiers, Sailors, Airmen, Marines, and Veterans serving now and in the past. The profession of arms is a great and honorable way of life. I have enjoyed it and thanks to all those that have gone before who have made today's military the most professional, best Armed Forces in the world."
Rep. Sewell said,
"We must also take a moment to recognize our more than 2 million troops and reservists who currently serve in our armed forces.  They continue to remain in our thoughts and prayers as they risk their lives for our safety and security here at home.  Now more than ever, we must renew our commitment to keep the promise of providing the support and aid to our 23 million veterans and their families, including 43,540 here in the 7th Congressional District. We must not forget our moral obligation to our veterans to keep the door of opportunity open for them, especially as they return from the Middle East. Our soldiers deserve opportunities for higher education, access to quality affordable healthcare, good paying jobs and assistance as they transition to civilian life. We will keep fighting to ensure our men and women in uniform get the care they deserve and the benefits they have earned."
Representative Roby said,
"I have the honor of serving a congressional district that is home to two of our nation's finest military installations, thousands of active duty and reserve personnel, and nearly 15,000 military retirees. Working on behalf of our nation's military is a top priority of mine and continues to be one of the most rewarding parts of my job. From those who came before to those who proudly serve today, we owe our men and women in uniform a debt of gratitude."
Trump Truck and boat parades this weekend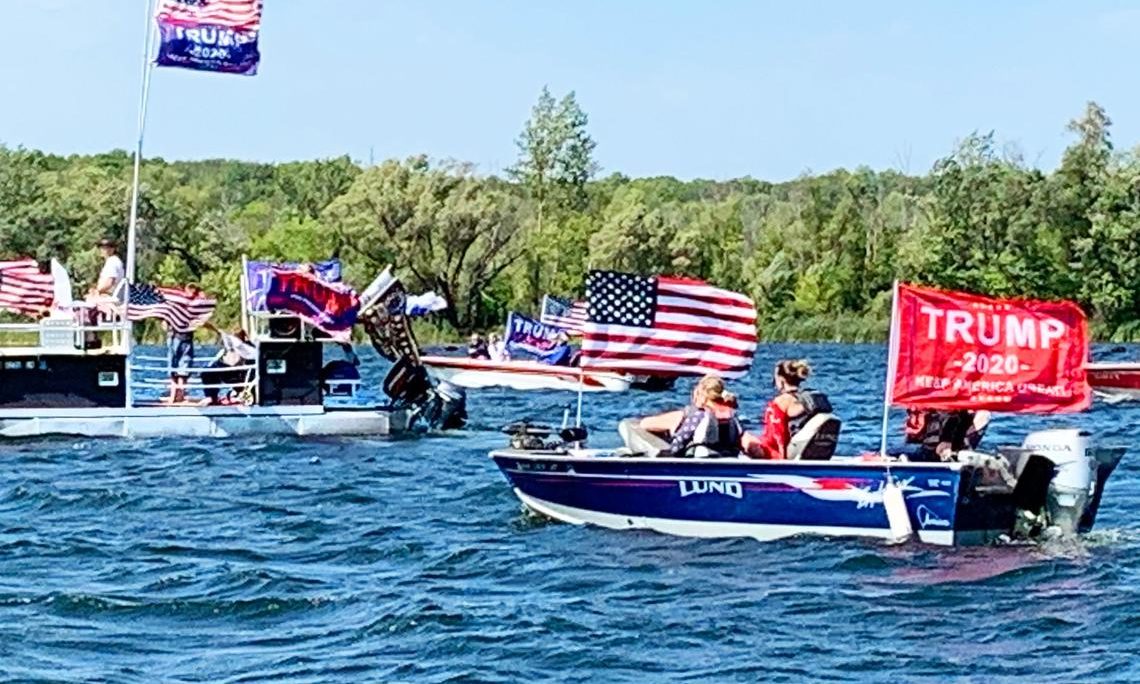 As Election Day draws near, Alabama Republicans are excited about promoting the re-election of Donald J. Trump as President and the election of Tommy Tuberville for U.S. Senate. This weekend two pro-President Trump events are happening in the state. There will be a truck parade from Ashland to Phenix City on Saturday sponsored by the Clay County Republican Party, while there will also be a boat parade on Wilson Lake in the Shoals sponsored by the Colbert County Republican Party on Sunday.
The pickup trucks will assemble at the Ashland Industrial Park in Clay County, 8240 Hwy 9, Ashland. There is a pre-departure rally at 10:00 a.m. central standard time. The trucks will depart at 11:00 a.m. and then proceed on a parade route that will take them into the bitterly contested swing state of Georgia. The Trump Pickup Parade will wind through east Alabama and West Georgia traveling through LaGrange and Columbus before concluding near the Alabama/Georgia line in Phenix City, 332 Woodland Drive, Phenix City at approximately 2:00 p.m. central time. Speakers will begin at 3:00. Trump flags will be on sale at the event.
The Phenix Motorsports Park will be hosting what sponsor hope could possibly the world's largest Pickup Tuck parade in U.S. history that is routing over 50 mile through Georgia in effort to "pickup" President Trump's numbers in GA.
A number dignitaries have been invited to address the Phenix City rally, including Coach Tuberville. Former State Sen. Shadrack McGill, Trump Victory Finance Committee member former State Rep. Perry O. Hooper Jr., and Paul Wellborn, the President and CEO of the largest Family owned Kitchen Cabinet manufacture in the USA are among the featured speakers who have committed to speak at the event.
Entertainment will be provided by: Charity Bowden, an up and coming country music singer who was the runner up on "The Voice". Charity will sing 'I am Proud to be an American' as well as songs from her Voice performances. The McGill Girls will also perform. The three beautiful and talented sisters will be singing patriotic songs in three part harmony. Geoff Carlisle, a professional DJ will be keeping the crowd pumped with music and entertainment.
Following the speakers and the entertainment there will Trump truck-vs- Joe Bidden truck races down the drag strip for the finale.
The Northwest Alabama boat parade will be on Sunday. The boats will gather at 2:00 p.m. near Turtle Point and then the flotilla will parade around the open waters of Wilson Lake til 3_00 p.m.. There will be a contest for best decorated Trump boats.
Trump supporters have held a number of large boat parades across the state to show their support for the re-election of Pres. Trump.
Boat parade sponsors say that this parade will be: pro-American, pro-law enforcement, pro-military.