Alabama Secession Petition Achieves 25,000 Signature Goal
By Brandon Moseley
Alabama Political Reporter
The Alabama secession petition has received 26,022 signatures, easily surpassing the 25,000 siqnatures goal needed for the White House to respond to the citizen's petition, according to the White House website.
The petition initiative was established by the Obama White House so that the federal government could be more responsive to the needs and wishes of the American people.  49% of the American people and over 60% of the people of Alabama voted for a new President in the November 6th reelection and many are apparently taking the loss hard.  Some are taking the bitter defeat so badly that they are using the White House's own petition function to ask President Obama to allow Alabama and at least 20 other states to leave the union and become their own nation.
According to original reporting by the Mobile Press Register's George Talbot, Derrick Belcher of Chunchula started the Alabama petition after a Slidell Louisiana resident started the similar Louisiana secession petition.  Belcher is asking Alabama Governor Robert Bentley to endorse his petition on behalf of the state.
Talbot and Al.com are reporting that Governor Bentley is happy being the Governor of Alabama and is not interested in being the first President of Alabama.  The Governor's spokeswoman Jennifer Ardis  said, "Governor Bentley believes in one nation under God. While there is frustration with the federal government, Governor Bentley believes that states can be great laboratories of change."
Texas has also received enough signatures and Texas Governor Rick Perry is also not going to endorse the secession effort.
In the petition (that mirrors the 20++ other state petitions) Derrick Belcher quotes from the Declaration of Independence: ""When in the Course of human events, it becomes necessary for one people to dissolve the political bands which have connected them with another, and to assume among the powers of the earth, the separate and equal station to which the Laws of Nature and of Nature's God entitle them, a decent respect to the opinions of mankind requires that they should declare the causes which impel them to the separation."  "Governments are instituted among Men, deriving their just powers from the consent of the governed, that whenever any Form of Government becomes destructive."
Ardis wrote, "As our leaders in Washington look for strategies to address America's financial challenges, Alabama is working hard toward saving a billion dollars annually by right-sizing government. We can disagree on philosophy, but we should work together to make this country the best it can be. Our nation's leaders can look at states like Alabama as they work to get our country back on a better and more prosperous track."
Three mental health crisis centers coming to Mobile, Montgomery and Huntsville
"Today marks a culture change in Alabama for treatment of individuals with mental illness and substance use disorders," Mental Health Commissioner Lynn Beshear said.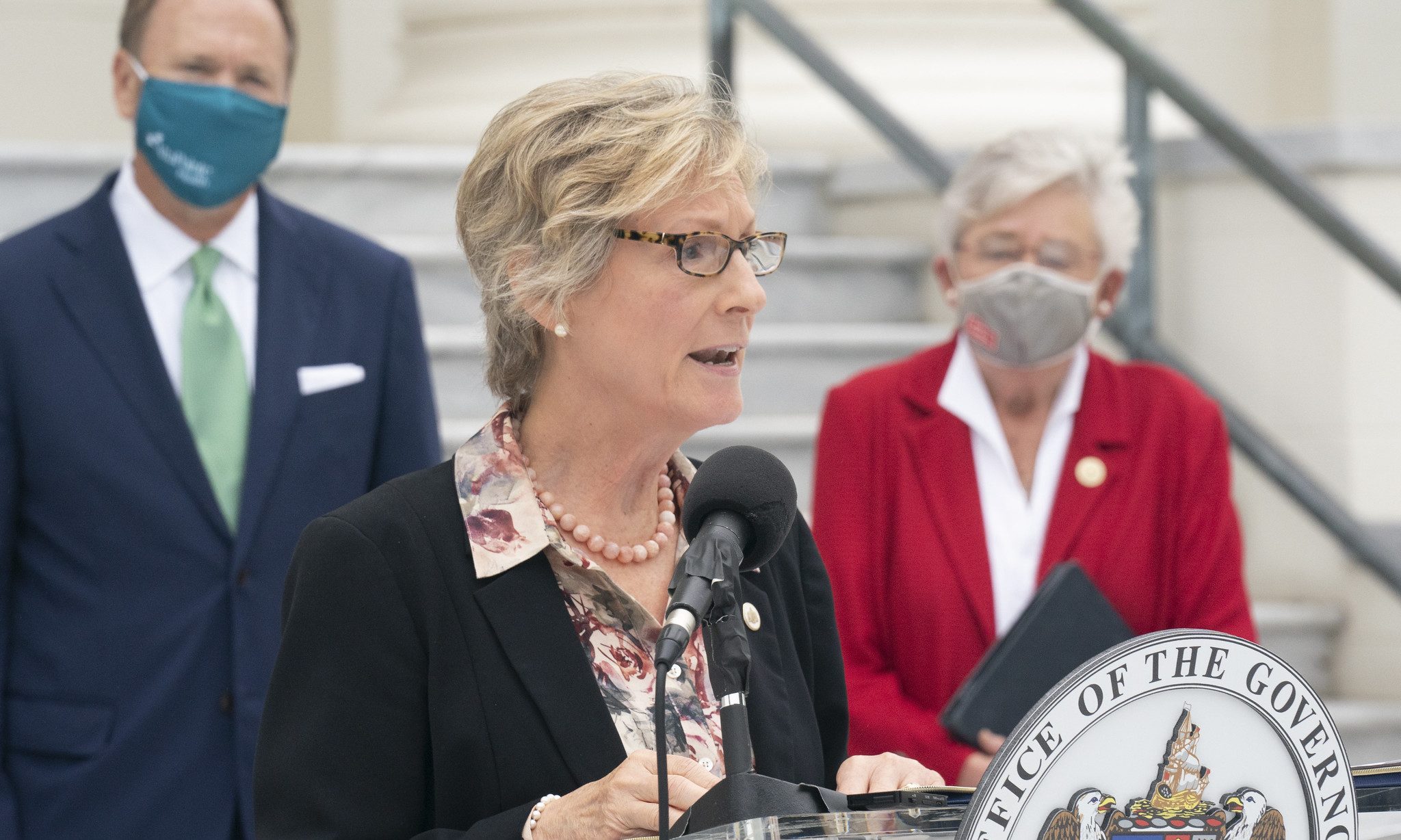 Gov. Kay Ivey on Wednesday announced an $18 million project to create three new mental health crisis centers to be located in Mobile, Montgomery and Huntsville. 
These centers, once in operation, will reduce the number of people suffering from mental health crises who are hospitalized or jailed, Ivey said during a press briefing in front of the Capitol Building in Montgomery. 
"When these facilities are open and fully staffed, these centers will become a safe haven for people facing mental health challenges," Ivey said. 
Lynn Beshear, commissioner of the Alabama Department of Mental Health, said during the briefing that the centers will provide "recovery based" care with "short term stays of a few hours, or up to a few days, to provide treatment, support, and connection to care in the community." 
"Today marks a culture change in Alabama for treatment of individuals with mental illness and substance use disorders," Beshear said. 
Beshear said AltaPointe Health in Mobile will operate one of the three facilities, and once built it is to serve Mobile, Baldwin, Clarke, Conecuh, Escambia, Monroe and Washington counties with 21 new beds, including 15 temporary observation beds. Altapointe will begin with a temporary space while constructing the new facilities, she said. 
Beshear said the Montgomery Area Mental Health Authority is partnering with the East Alabama Mental Health Authority and the Central Alabama Mental Health Authority to serve the 11 counties in Region 3 with 21 new beds, including 10 temporary observation and respite beds. 
"The regional crisis center will be located in Montgomery, and will be open to walk-ins and for drop off by law enforcement, first responders and referrals from emergency rooms," Beshear said. 
Wellstone Behavioral Health in Huntsville was selected to open the third center, and will do so at a temporary site while a new facility is being built, with the help of an additional $2.1 million from local governments, Beshear said. That facility will eventually have 39 beds, including 15 for temporary observation and 24 for extended observation.
"There's not a day that goes by that after-hours care is not an issue in our state," said Jeremy Blair, CEO of Wellstone Behavioral Health, speaking at the press conference. "And so I applaud the Department of Mental Health and the leaders for their efforts in recognizing that and taking it a step further and funding our efforts here." 
Asked by a reporter why a center wasn't located in Jefferson County, one of the most populous counties with a great need for such a center, Ivey said those residents will be served in one of the other regions. 
"Plans are underway to continue this effort. Today's beginning, with these three crisis centers, is just the beginning," Ivey said. 
Ivey added that request for proposals were sent out for these three centers and "it was a strong competition for the location of these three crisis centers." 
Alabama House Majority Leader Nathaniel Ledbetter, R-Rainsville, said during the briefing that more than a year ago, Ivey asked him what the state should be looking at, and that he replied "we're failing miserably in mental health."
Ledbetter said Ivey asked him to take on the challenge of correcting the state's response to mental health, and a team was created to do just that. 
"Working together, today's announcement will not only change Alabamians lives, but will help to save lives," Ledbetter said.