Auburn Fires Chizik Retains Jacobs
By Brandon Moseley
Alabama Political Reporter
In Alabama, some people follow Alabama politics and some are passionate about it; but the vast majority of the Alabama people live and breathe college football as a 365 days out of the year obsession.  Consequentially, college football coaches at the state's premier two Universities are held to a standard that is very difficult to achieve consistently, but they are paid literally millions of dollars for the effort.
Despite having won a national championship (only the second in Auburn's history), Auburn University fired football coach, Gene Chizik Sunday after a spectacularly horrible season that saw the Tigers lose every Southeastern Conference game and ended with a 49 to nothing rout versus its cross state rival, the University of Alabama.
In a letter addressed to "the Auburn Family", Auburn's embattled Athletics Director Jay Jacobs said, "We have talked a lot in recent years about building the foundation it takes to consistently compete at a high level in the nation's toughest conference. Despite substantial investment in personnel and facilities made possible by your support, the football program did not live up to our expectations. The results of the 2012 football season are simply unacceptable at Auburn."
AD Jacobs said, "The competition in our league is fierce and is currently at an all-time high, and we cannot risk falling further behind by waiting another year and hoping for improvement.  That is why after careful consideration and a thorough evaluation of our football program, I have recommended that Coach Gene Chizik not be retained. President Gogue has accepted my recommendation. Earlier this morning, I informed Coach Chizik that he will not return as head coach. My primary consideration in making this recommendation was doing what is in the best interests of our current student-athletes and the future of our football program. That has always been my top priority, and it always will be."
Jacobs announced that he was creating a search committee to choose Chizik's successor. Jacobs also announced that former CVSCaremark CEO Mac Crawford and former Auburn players and Heisman trophy winners, Bo Jackson and Pat Sullivan, were joining Jacobs on the search committee.
Jacobs was hired to replace former Auburn Athletics Director, David Housel, in December 2004.  In December 2008, Jacobs shocked Auburn fans with the unexpected firing of longtime Auburn head coach Tommy Tuberville and the selection of Iowa State Head Coach Gene Chizik.  Chizik had a 5-19 record in his two years at Iowa State (his only experience as a head coach).  In his first season, Chizik started 5 and 0 but lost to SEC opponents: LSU, Kentucky, Georgia, Arkansas, and Alabama as that season progressed.  In the off season, Coach Chizik convinced high profile recruits Nick Fairley and Cam Newton to come to Auburn.  The two Junior College stars merged easily with the senior laden team that Chizik inherited from Tuberville and Auburn shocked the college football world, going undefeated and winning Auburn's first BCS Championship.  Fairley and Newton left Auburn to pursue their NFL dreams and that celebrated senior class graduated.  Chizik had great success in recruiting talented high school students who are highly rated by recruiting services; but that rarely translated into any on-field success.  In the 2011 season, Auburn lost to LSU, Arkansas, Georgia, Clemson, and Alabama.  Offensive Coordinator Gus Malzone left after the 2011 season to become the head coach of Arkansas State and Defensive Coordinator Ted Roof also left.  Chizik changed Auburn's offensive and defensive philosophies as well as coordinators; but it did not translate into on the field improvement and Auburn finished the year with just three victories in 2012.  Auburn has repeatedly been the subject of NCAA probes, inquirys, and investigations during the Chizik years.
Reportedly, Auburn President Jay Gogue told the Auburn Board of Trustees that he is still committed to retaining Jay Jacobs as athletics director and apparently is allowing Jacobs to run this coaching search.
Governor declares state of emergency ahead of Tropical Storm Zeta
Zeta is currently a tropical storm over the Gulf of Mexico, but it is predicted to make landfall as a category one hurricane.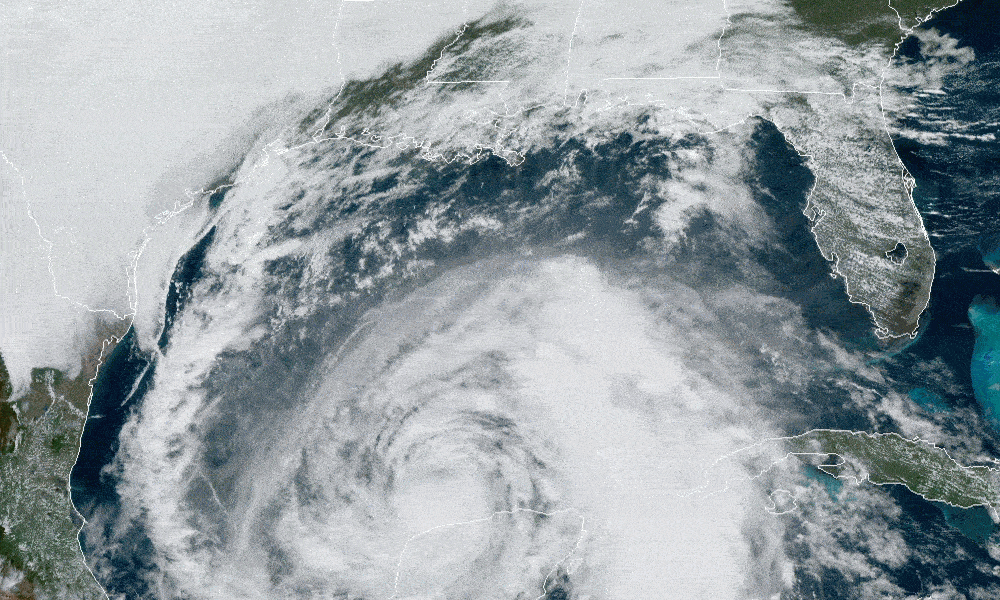 Alabama Gov. Kay Ivey on Tuesday issued a state of emergency as Tropical Storm Zeta approaches the Gulf Coast.
"Ahead of Tropical Storm Zeta's anticipated landfall Wednesday evening as a Category 1 hurricane, I am issuing a state of emergency effective today at 4:00 p.m.," Ivey said. "While this storm is not expected to have an impact as large as storms we've seen move through the Gulf earlier this year, we want to be in the best place possible to respond to anticipated rain, storm surge and mass power outage. I encourage everyone to remain weather aware and tuned in to their trusted news source as this storm could shift direction or change intensity. We continue to track the path of this storm and will stay in touch with the people of Alabama with any updates."
Zeta is currently a tropical storm over the Gulf of Mexico, but it is predicted to make landfall as a category one hurricane. The National Hurricane Center is predicting Zeta to make landfall in Mississippi on Wednesday and then proceed toward Alabama, but these storms can and do move.
A more easterly track could prove devastating to the Alabama Gulf Coast as was the case with Hurricane Sally, which shifted course in September, hitting Alabama, though Zeta is expected to be weaker than Sally at landfall.
The storm surge from the Mississippi-Alabama border to Dauphin Island is forecast to be 5 to 8 feet. Mobile Bay to the Alabama-Florida border is expected to have 3 to 5 feet of storm surge and from the border to Navarre, Florida, could experience 2 to 4 feet of storm surge.
Hurricane force winds are a possibility with this storm. Tropical force winds are expected to be an issue for Southern Mississippi and Alabama well inland. There is expected to be heavy rainfall across the state Wednesday night into Thursday morning.
The Baldwin County Emergency Management Agency announced that sandbags are available inside the county commission office at Robertsdale Central Annex (22251 Palmer Street) until 4:30 p.m. Tuesday and from 8 a.m. until 4:30 p.m. Wednesday or while they last.
Bring any help and shovels you will need. There is a limit of just 25 bags per person. Alabama's coastal counties are currently under a Tropical Storm Warning, a Storm Surge Warning for Mobile County and a High Rip Current and High Surf Warning.
Congressman Bradley Byrne said, "I just finished up briefings from Alabama EMA, FEMA, and the National Hurricane Center regarding #Zeta. We should not take this storm lightly and should start making preparations right away. After sundown Wednesday, I'd encourage everyone in Southwest Alabama to stay home and off the roads until sunrise Thursday. This storm will have impacts as far north as Montgomery, so those in Washington, Clarke, and Monroe counties will see tropical storm force winds and heavy rain. I'd encourage everyone to charge their phones and other necessary electronics. If you have an emergency during the storm, call 911 and do not try to drive."
Coastal Alabama is still in the process of recovering from Hurricane Sally which hit the state on Sept. 15.