Fiscal Cliff Will Affect Most Americans Not Just Wealthy
By Brandon Moseley
Alabama Political Reporter
If the President and the Congress choose to take the nation over the fiscal cliff, tax rates will rise to levels not seen since 2000 AD…..and in some cases will actually be higher for some Americans. In 2013, the six income tax brackets of 2012 will be replaced with five tax brackets and more Americans will pay income taxes. The new tax rates will begin at 15% and rise to as high as 39.6%. This year the tax rates began at only 10% percent and rise to just 35%. Most Americans will see higher taxes.
Even lower income Americans pay the employee payroll tax rate. On Jan. 1, 2013, the current 4.2 percent employee payroll tax rate will revert back to 6.2 percent. The higher tax rate contribution to social security will be borne most heavily by lower and middle class Americans so almost every worker will receive smaller net pay in their January paycheck.
Long term Capital Gains taxes will also increase. Currently if you are in the 10% or 15% income tax brackets you pay no capital gains taxes. Starting in 2013 that will increase from 0 to 10%.  Taxpayers who are in the current 25% and 35% income tax brackets currently pay 15% on the sale of an asset held for more than a year. In 2013 that is scheduled to increase to 20%.
Currently, qualified dividends are treated by the current tax code as long-term capital gains and pay the appropriate capital gains rate.  In 2013 they will be taxed as ordinary income. Lower income taxpayers pay nothing on qualified dividends now. In 2013 that will jump to their current income tax rate. For upper income taxpayers this will result in an increase from 15% to a tax rate as high as 39.6%.
The fiscal cliff will also affect itemized deductions. In 2012, the itemized deduction for uninsured medical expenses paid equals the excess of qualified expenses over 7.5% of adjusted gross income (AGI). In2013, the threshold rises to 10% of AGI. Seniors (taxpayers 65 year old and older) get an exemption and they will not be subject to the 10% threshold until Jan. 1, 2017.
In 2013, high income taxpayers' itemized reductions will be reduced by 3% of the amount that their AGI exceeds an annual threshold amount. In 2012, there was no threshold amount and expenses claimed on Schedule A are not subject to any limitation regardless of income. This will also affect state returns for residents of Maryland, Connecticut, New Jersey and Virginia where a majority of residents utilize itemized deductions instead of a standard deduction.
Families will also be impacted. In 2013, the Child Tax Credit will decreases from $1,000 to $500 for each qualifying dependent child, although the cost of feeding, clothing, and educating children has not decreased. Similarly, the Child and Dependent Care Tax Credit will be reduced in 2013 to a maximum of $2,400 (down from $3,000) for one child and $4,800 (down from $6,000) for two or more dependents. The credit remains at between 20%  and 30% of those amounts, based on taxpayer income. The American Opportunity Tax Credit, which provides families a tax credit of up to $2,500 per year for 4 years of college education, will expire on December 31, 2012. In 2013, the tax credit will be decreased to a maximum of just $1,900 per year for two years.
The marriage penalty will return with a vengeance. In 2012, the standard deduction for a married couple was twice the standard deduction of an unmarried individual filing a single return. In 2013, the standard deduction for a married couple will be decreased to 167 percent of the single filer's deduction.
Also the President's reelection means that the Patient Protection and Affordable Care Act ("Obamacare") will become the law of the land and a tax provision in that legislation will impose an additional 3.8% tax on the unearned income of high income taxpayers. This will apply to interest, dividends, capital gains, royalties and rents. This change will result in a maximum long-term capital gains tax rate of 23.8% percent and a 43.4% tax rate on dividends.
Also prepare for higher estate taxes. The Federal Estate Tax Exemption will drop to just $1 million (down from $5.12 million in 2012) and will be taxed at 55% (up from 35% now). That tax rate will also apply to applicable gift taxes.
Trump Truck and boat parades this weekend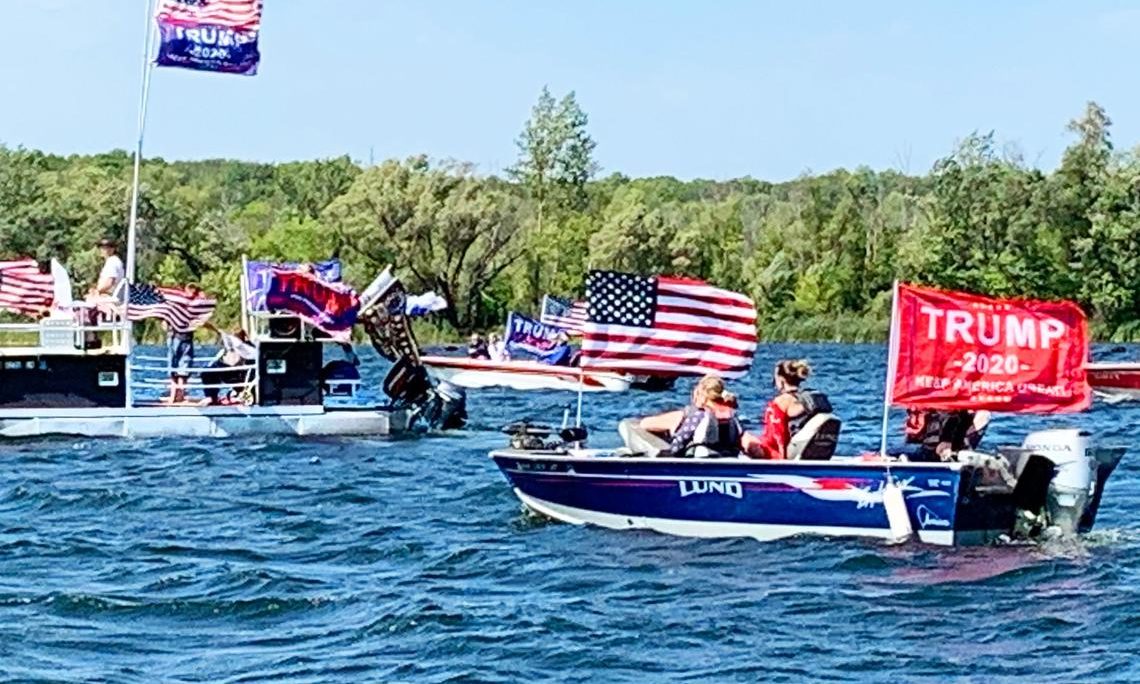 As Election Day draws near, Alabama Republicans are excited about promoting the re-election of Donald J. Trump as President and the election of Tommy Tuberville for U.S. Senate. This weekend two pro-President Trump events are happening in the state. There will be a truck parade from Ashland to Phenix City on Saturday sponsored by the Clay County Republican Party, while there will also be a boat parade on Wilson Lake in the Shoals sponsored by the Colbert County Republican Party on Sunday.
The pickup trucks will assemble at the Ashland Industrial Park in Clay County, 8240 Hwy 9, Ashland. There is a pre-departure rally at 10:00 a.m. central standard time. The trucks will depart at 11:00 a.m. and then proceed on a parade route that will take them into the bitterly contested swing state of Georgia. The Trump Pickup Parade will wind through east Alabama and West Georgia traveling through LaGrange and Columbus before concluding near the Alabama/Georgia line in Phenix City, 332 Woodland Drive, Phenix City at approximately 2:00 p.m. central time. Speakers will begin at 3:00. Trump flags will be on sale at the event.
The Phenix Motorsports Park will be hosting what sponsor hope could possibly the world's largest Pickup Tuck parade in U.S. history that is routing over 50 mile through Georgia in effort to "pickup" President Trump's numbers in GA.
A number dignitaries have been invited to address the Phenix City rally, including Coach Tuberville. Former State Sen. Shadrack McGill, Trump Victory Finance Committee member former State Rep. Perry O. Hooper Jr., and Paul Wellborn, the President and CEO of the largest Family owned Kitchen Cabinet manufacture in the USA are among the featured speakers who have committed to speak at the event.
Entertainment will be provided by: Charity Bowden, an up and coming country music singer who was the runner up on "The Voice". Charity will sing 'I am Proud to be an American' as well as songs from her Voice performances. The McGill Girls will also perform. The three beautiful and talented sisters will be singing patriotic songs in three part harmony. Geoff Carlisle, a professional DJ will be keeping the crowd pumped with music and entertainment.
Following the speakers and the entertainment there will Trump truck-vs- Joe Bidden truck races down the drag strip for the finale.
The Northwest Alabama boat parade will be on Sunday. The boats will gather at 2:00 p.m. near Turtle Point and then the flotilla will parade around the open waters of Wilson Lake til 3_00 p.m.. There will be a contest for best decorated Trump boats.
Trump supporters have held a number of large boat parades across the state to show their support for the re-election of Pres. Trump.
Boat parade sponsors say that this parade will be: pro-American, pro-law enforcement, pro-military.