Legislators Comment on Representative Kennedy's Passing

By Susan Britt
Alabama Political Reporter
Representative Yvonne Kennedy (D-Mobile) died Saturday morning at UAB after a short illness. She was 67.
Kennedy had served in the Alabama Legislature for 34 years, having been elected in a special election held in April 1979. She was the representative of the 97th district in Mobile County. She was currently serving on four House committees: Transportation, Utilities and Infrastructure; ranking minority leader for Economic Development and Tourism; ranking minority member for Children and Senior Advocacy; and also served on the committee for Mobile County Legislation.
In addition to her service to the state legislature she served as national president of Delta Sigma Theta Sorority, Inc., chairman of the Mobile County United Negro College Fund Campaign, youth director for the Board of Christian Education–Southeast Alabama Conference and was a former president of the Alabama Legislative Black Caucus.
She also served as former president of Bishop State Community College (1981-2007).
Many state officials commented upon learning of Kennedy's passing.
Governor Robert Bentley said, "Dianne and I are sorry to hear of the passing of Rep. Yvonne Kennedy today. I served with Rep. Kennedy in the House of Representatives and worked closely with her on the House Education Appropriations Committee. She was a fine lady who represented her district well. She will be greatly missed."
"Needless to say, I was shocked and saddened to hear of Dr. Kennedy's passing today," said Senator Vivian Davis Figures (D-Mobile). "My heartfelt condolences and prayers go to her entire family. I will always remember her as a woman of great intelligence, grace and dignity. She exemplified power, strength and humility all at once. I shall never forget the time I spent with her and others at President Bill Clinton's first inauguration. We had a great time attending many events. I truly cannot imagine the Alabama State Legislature without her. I will most certainly miss her."
Senator Cam Ward (R-Alabaster) who served with Kennedy for 8 years said, "I always found we to be an open minded legislator who stood up for her beliefs. She will be missed."
"When I was a newly elected republican house member she treated me with respect, kindness and as I vividly remember patience. I will miss her," said Representative Jim Barton (R-Mobile).
Dr. Henry Mabry, Executive Secretary for the Alabama Education Association said of Kennedy's work with education, "Dr. Kennedy was a great leader for public education and the Alabama College System. Her depth, dedication, and integrity will be missed."
Representative James Buskey (D-Mobile) who had worked closely with Kennedy during her legislative service said,
"I have been in the legislature for 36 years. Dr. Kennedy has been in the legislature for 34 of those 36 years. Over the years I have grown to know her. She has been a good friend she has been involved in the here in Montgomery and across the state and the nation. Practically everyone who knew her had a great deal of respect for her, she has been a good friend and we are certainly going to miss her.
Buskey went on to say, "When it comes to children and education she was there for those issues for kids and education. And in my judgement, she did well not only on a local level but we will miss her in the state as well."
Senator Bobby Singleton (D-Greensboro), president of the Alabama Legislative Black Caucus, said, "I will miss my colleague Dr. Yvonne Kennedy who has served in the Alabama Legislature for many years. As members of the Alabama Black Caucus we feel that this is a loss of an institution. She was a person who served and had a lot of institutional knowledge and had an impeccable recording the state of Alabama. Our thoughts are with her constituents. She was an educator. Our thoughts and prayers are with her family. Hopefully this can be a time of healing. She can not be replaced. We will definitely continue her service, in her name, in her honor. Our thoughts and prayers are with her family."
Funeral arrangements are yet to be announced.
Trump Truck and boat parades this weekend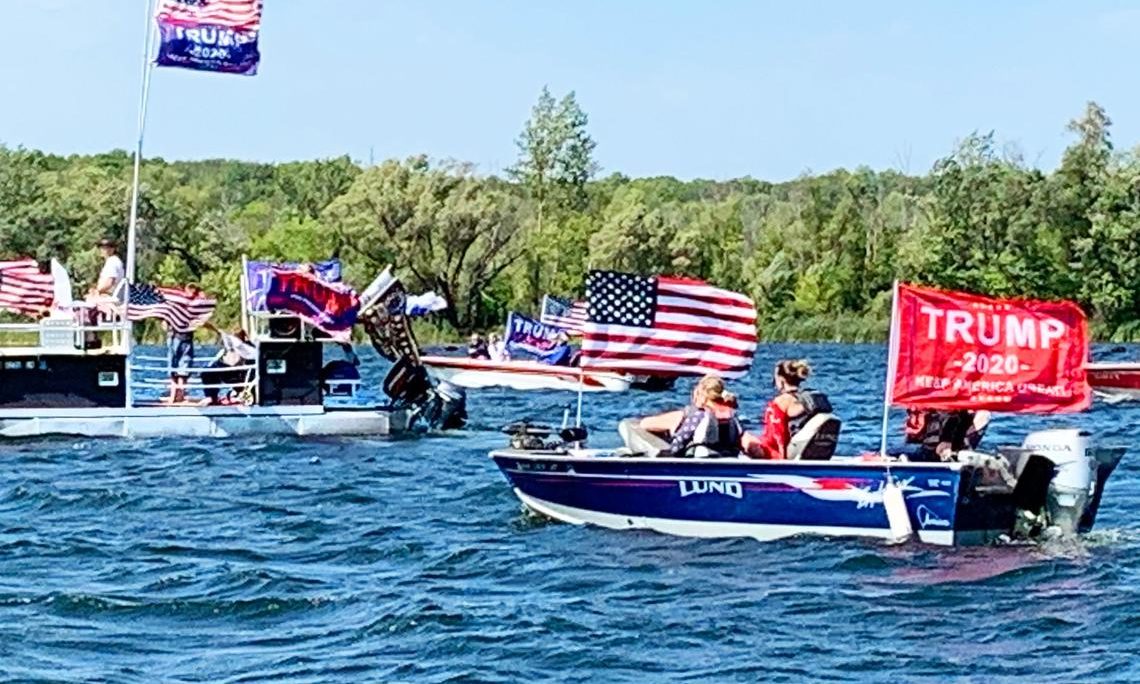 As Election Day draws near, Alabama Republicans are excited about promoting the re-election of Donald J. Trump as President and the election of Tommy Tuberville for U.S. Senate. This weekend two pro-President Trump events are happening in the state. There will be a truck parade from Ashland to Phenix City on Saturday sponsored by the Clay County Republican Party, while there will also be a boat parade on Wilson Lake in the Shoals sponsored by the Colbert County Republican Party on Sunday.
The pickup trucks will assemble at the Ashland Industrial Park in Clay County, 8240 Hwy 9, Ashland. There is a pre-departure rally at 10:00 a.m. central standard time. The trucks will depart at 11:00 a.m. and then proceed on a parade route that will take them into the bitterly contested swing state of Georgia. The Trump Pickup Parade will wind through east Alabama and West Georgia traveling through LaGrange and Columbus before concluding near the Alabama/Georgia line in Phenix City, 332 Woodland Drive, Phenix City at approximately 2:00 p.m. central time. Speakers will begin at 3:00. Trump flags will be on sale at the event.
The Phenix Motorsports Park will be hosting what sponsor hope could possibly the world's largest Pickup Tuck parade in U.S. history that is routing over 50 mile through Georgia in effort to "pickup" President Trump's numbers in GA.
A number dignitaries have been invited to address the Phenix City rally, including Coach Tuberville. Former State Sen. Shadrack McGill, Trump Victory Finance Committee member former State Rep. Perry O. Hooper Jr., and Paul Wellborn, the President and CEO of the largest Family owned Kitchen Cabinet manufacture in the USA are among the featured speakers who have committed to speak at the event.
Entertainment will be provided by: Charity Bowden, an up and coming country music singer who was the runner up on "The Voice". Charity will sing 'I am Proud to be an American' as well as songs from her Voice performances. The McGill Girls will also perform. The three beautiful and talented sisters will be singing patriotic songs in three part harmony. Geoff Carlisle, a professional DJ will be keeping the crowd pumped with music and entertainment.
Following the speakers and the entertainment there will Trump truck-vs- Joe Bidden truck races down the drag strip for the finale.
The Northwest Alabama boat parade will be on Sunday. The boats will gather at 2:00 p.m. near Turtle Point and then the flotilla will parade around the open waters of Wilson Lake til 3_00 p.m.. There will be a contest for best decorated Trump boats.
Trump supporters have held a number of large boat parades across the state to show their support for the re-election of Pres. Trump.
Boat parade sponsors say that this parade will be: pro-American, pro-law enforcement, pro-military.