Editorial: Fiscal Cliff Compromise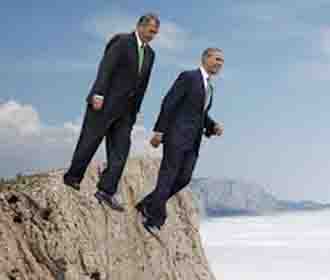 By Brandon Moseley
Alabama Political Reporter
A true compromise is an agreement that neither side can stand.  Compromises are often, ugly nasty agreements that both sides agree to with some measure of revulsion and disgust.  What I am proposing here is a compromise.  It is something I do not like.  If I were to write my own budget plan I could write one that protects America's defense, protects the benefits of current seniors, downsizes government, simplifies the tax code, and would balance the budget in three years, while promoting investment in American and the private sector.   If a Congressman were to introduce THAT plan it would be dead on arrival in the partisan gridlock that the American people shackled our country with on November 6th.  Given the vast ideological divide between the philosophies of liberalism and conservatism nothing that is ideological pure (or even very sensible) is going to pass both the Republican controlled House and the Democrat controlled Senate, much less get signed by the most liberal President in American history.
We are then forced to ask ourselves what each side in this debate really wants at the core level.  The Republicans want to grow the private sector and protect our national defense.  This is not true of ALL Republicans of course.  The Ron Paul faction would throw defense under the bus and some more liberal Republicans are fans of big government; but on the whole is close enough that the majority can agree with those principles.
The Democrats believe in government as the great equalizer.  They believe that everybody is entitled to a nice dwelling, three meals a day, warm clothes, education, transportation, healthcare and if you can't (or won't) do what it takes to get that for yourself they have a couple of dozen federal programs that will bring that to you.  In 2012, the Democrats are the party of BIG Government.  Apparently 52% of the voters agree with them.
In the past moderate Republican would get together will likeminded moderate Democrats and a moderate President and they would craft some sort of a deal that would leave those of us on the far right and those of us on the far left shaking our heads.  Well there really aren't any moderates anymore.  The Republicans have been influenced by the Tea Party and the Democrats by the socialists.  The majority in the Congress is not in the middle and President Barack H. Obama certainly is not.
What I am about to propose is a nasty dirty idea and if implemented would have negative repercussions all the way down the line; but arguably not as dire as if we actually went over the fiscal cliff in the midst of an already lethargic economy.
What I am proposing is giving both sides most of what they want.  Republicans want to keep the Bush Tax rates and make them permanent.  They also want to keep America's defense industrial complex fully functional and our defenses intact.  I will give them that too.
Democrats like sending people government checks.  They have led the way on expanding Social Security to include the flimsiest excuses for a disability check imaginable.  Over 80 million Americans qualify for Food Stamps.  They have extended unemployment benefits for years and years even though the recession supposedly ended back in September 2009.  They have expanded Medicaid beyond its original bounds to the point that today over half of the medical bills in the U.S. are paid by either Medicare or Medicaid.  Since the Democrats won control of the Senate in 2006 deficits have mushroomed out of control and the national debt has almost doubled.  Democrats have heavily subsidized questionable "green" technologies while over regulating proven industries like oil, coal, and natural gas that provide the overwhelming amount of energy this country needs.  Since President Barack H. Obama was first elected he has expanded the federal workforce by a staggering 101 new federal workers a day.
I think the man has been a disaster as a President; but 52% of the American people apparently disagree and support both the man and his destructive policies.  They even strengthened his majority in the Senate.
The sad sad compromise I am proposing is to let him have what he wants which is another $5 to $6 trillion in deficit spending so he can live out his utopian fantasies about building America up one government check after another.  If we can protect the private sector economy as much as humanly possible……maybe just maybe our national nightmare will finally be over and a sane administration can succeed in restoring some fiscal sanity to our country.  This President has proven time and time again that he has no grasp of economics and he really doesn't care any about private sector job growth.  Accept that fact and move on.
The dollar is an imaginary construct anyway.  It is nothing, backed by a promise of nothing.  It is a fantasy at best and a lie at worst.   People who understand this take the dollar in exchange for their labors and then promptly exchange it for equities such as stocks or for commodities such as gold and silver or "real" assets like land, real estate, and businesses.   I don't like what I am suggesting here; but I think it is necessary to move on from this quagmire of endless negotiations with the entire economy held hostage to the capricious whims of our government overseers.
Print this piece
Opinion | Ivey brings the heat
The Alabama Legislature on Monday approved Gov. Kay Ivey's plan to spend $1.8 billion in federal CARES Act relief funds responsibly and transparently, and it is a victory for the people of Alabama.
Passage of Ivey's executive amendment was, however, a blow to the fragile egos and grand money grab orchestrated by Senate President Pro Tem Del Marsh, R-Anniston, and his cronies.
Marsh and his allies had hoped to highjack the money designated to fight and repair the ravages of COVID-19 on the state and use it for pet projects like a robotics park, an additional forensic lab and a new State House to name a few.
Marsh and his cohorts kicked and screamed, some Senate leaders took to favorable talk radio and blogs to disparage Ivey, but it didn't work.
Even at the eleventh hour, Marsh tried to back out of the deal, but cooler heads prevailed.
Ivey won the battle the moment she revealed the contents of Marsh's so-called "wish list," because Marsh wasn't politically sophisticated enough to back down and regroup when he had a chance.
Instead, he and a few diehards doubled down on their intent to use the CARES Act funds for their self-serving projects. They even paid for a poll showing the people back them, not Ivey. But it didn't work because their conniving was as inept as it was shameful.
Ivey is a straight shooter; Marsh is a double-dealer with a history of betraying friend and foe, not a good habit for anyone who wants a long career in politics.
Taking a page from President Ronald Reagan's playbook, Ivey brought righteous indignation to the underhand game being played by some in the Senate.
Reagan said, "When you can't make them see the light, make them feel the heat."
Finally, she made a deal with Speaker Mac McCutcheon and the House budget chair, Rep. Steve Clouse, to bring about a plan to shield the CARES funds and make sure it went to help Alabamians instead of legislative cronies. McCutcheon and Clouse aren't crooks.
Anyone who has been around the State House for a few years knows how Marsh, along with then-Speaker of the House Mike Hubbard (now a convicted felon awaiting prison), used almost $1 billion from the BP settlement to fund Medicaid and pay off state debt.
They also remember how then-Gov. Robert Bentley used $1.8 million in BP settlement money to renovate the governor's dilapidated beach mansion, which became known as the "Lov Govs' Love Shack."
The BP settlement money was meant to help those devastated by the Deep Water Horizon oil spill, but Marsh and Hubbard used it as a personal piggy bank, not for its intended use.
Under Marsh and Hubbard, perhaps billions were squandered, and the BP funds are just one example.
Ivey reminded the public of Hubbard and Marsh's hijinks, and people took notice.
But even after Ivey's amendment passed, Marsh and Senate Majority Leader Greg Reed, R-Jasper, released a statement so utterly dishonest that it's astounding that Reed — generally a decent human — signed on to it.
The statement reads in part, "This is by no means a perfect compromise; however, we are pleased that the Governor has acknowledged that the Legislature has control of funding as per the Constitution."
Ivey always acknowledged the Legislature's constitutional authority. She never questioned it. So for Marsh and Reed to couch their loss as a win in such a disingenuous statement is remarkably arrogant.
"Ultimately, we gave our support to the Governor's Executive Amendment as it is the best deal for the people of Alabama," Marsh and Reed said in their joint statement.
They supported Ivey's amendment because their incompetence beat them.
Supposedly, Marsh is to step down as pro tem before the 2021 session and surrender the post to Reed. No one knows if Marsh will keep the agreement he's made or not. He's not known for keeping his word.
As for Reed, he could be a decent pro tem, but the joint statement calls into question his political wisdom and, indeed, his humility.
Marsh and his folks played a poor game of checkers; heaven forbid they ever have to play chess with anyone with a pulse.
The purpose of Ivey's battle was to ensure that the nearly $1.8 billion given under the CARES Act went to help the state.
Ivey and her team won, not for themselves, but the people. That's good government.
Perhaps now the Senate should sing a few verses from the Hank Williams song, "I Saw the Light."
Or, more appropriately, the Jerry Lee Lewis tune, "Great Balls of Fire," because they felt the heat.
Print this piece