Editorial: Fiscal Cliff Compromise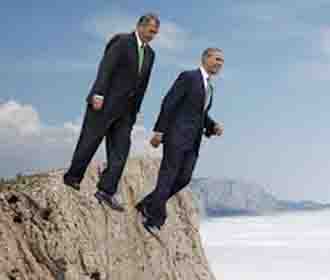 By Brandon Moseley
Alabama Political Reporter
A true compromise is an agreement that neither side can stand.  Compromises are often, ugly nasty agreements that both sides agree to with some measure of revulsion and disgust.  What I am proposing here is a compromise.  It is something I do not like.  If I were to write my own budget plan I could write one that protects America's defense, protects the benefits of current seniors, downsizes government, simplifies the tax code, and would balance the budget in three years, while promoting investment in American and the private sector.   If a Congressman were to introduce THAT plan it would be dead on arrival in the partisan gridlock that the American people shackled our country with on November 6th.  Given the vast ideological divide between the philosophies of liberalism and conservatism nothing that is ideological pure (or even very sensible) is going to pass both the Republican controlled House and the Democrat controlled Senate, much less get signed by the most liberal President in American history.
We are then forced to ask ourselves what each side in this debate really wants at the core level.  The Republicans want to grow the private sector and protect our national defense.  This is not true of ALL Republicans of course.  The Ron Paul faction would throw defense under the bus and some more liberal Republicans are fans of big government; but on the whole is close enough that the majority can agree with those principles.
The Democrats believe in government as the great equalizer.  They believe that everybody is entitled to a nice dwelling, three meals a day, warm clothes, education, transportation, healthcare and if you can't (or won't) do what it takes to get that for yourself they have a couple of dozen federal programs that will bring that to you.  In 2012, the Democrats are the party of BIG Government.  Apparently 52% of the voters agree with them.
In the past moderate Republican would get together will likeminded moderate Democrats and a moderate President and they would craft some sort of a deal that would leave those of us on the far right and those of us on the far left shaking our heads.  Well there really aren't any moderates anymore.  The Republicans have been influenced by the Tea Party and the Democrats by the socialists.  The majority in the Congress is not in the middle and President Barack H. Obama certainly is not.
What I am about to propose is a nasty dirty idea and if implemented would have negative repercussions all the way down the line; but arguably not as dire as if we actually went over the fiscal cliff in the midst of an already lethargic economy.
What I am proposing is giving both sides most of what they want.  Republicans want to keep the Bush Tax rates and make them permanent.  They also want to keep America's defense industrial complex fully functional and our defenses intact.  I will give them that too.
Democrats like sending people government checks.  They have led the way on expanding Social Security to include the flimsiest excuses for a disability check imaginable.  Over 80 million Americans qualify for Food Stamps.  They have extended unemployment benefits for years and years even though the recession supposedly ended back in September 2009.  They have expanded Medicaid beyond its original bounds to the point that today over half of the medical bills in the U.S. are paid by either Medicare or Medicaid.  Since the Democrats won control of the Senate in 2006 deficits have mushroomed out of control and the national debt has almost doubled.  Democrats have heavily subsidized questionable "green" technologies while over regulating proven industries like oil, coal, and natural gas that provide the overwhelming amount of energy this country needs.  Since President Barack H. Obama was first elected he has expanded the federal workforce by a staggering 101 new federal workers a day.
I think the man has been a disaster as a President; but 52% of the American people apparently disagree and support both the man and his destructive policies.  They even strengthened his majority in the Senate.
The sad sad compromise I am proposing is to let him have what he wants which is another $5 to $6 trillion in deficit spending so he can live out his utopian fantasies about building America up one government check after another.  If we can protect the private sector economy as much as humanly possible……maybe just maybe our national nightmare will finally be over and a sane administration can succeed in restoring some fiscal sanity to our country.  This President has proven time and time again that he has no grasp of economics and he really doesn't care any about private sector job growth.  Accept that fact and move on.
The dollar is an imaginary construct anyway.  It is nothing, backed by a promise of nothing.  It is a fantasy at best and a lie at worst.   People who understand this take the dollar in exchange for their labors and then promptly exchange it for equities such as stocks or for commodities such as gold and silver or "real" assets like land, real estate, and businesses.   I don't like what I am suggesting here; but I think it is necessary to move on from this quagmire of endless negotiations with the entire economy held hostage to the capricious whims of our government overseers.
Print this piece
Opinion | Deception, subtlety and the wholesale destruction of current ethics laws mark proposed rewrite
Legislation proposed by Rep. Mike Ball, R-Madison, would radically alter the existing State Ethics Act rendering it useless as an effective tool to regulate the behavior of public officials, much less prosecute a rouge lawmaker.
Testifying at a pre-trial hearing in the criminal case against then-Speaker of the House Mike Hubbard in April 2015, Ball said the ethics laws needed amending to avoid prosecutions like Hubbard's in the future.
If HB179 becomes law, Ball will have fulfilled the words he spoke at the Lee County Court House, where Hubbard was tried and convicted.
As House Ethics Committee Chair, Ball has sought to change the State's Act since Hubbard was indicted.
Ball's bill is subtly written from an enforcement and trial perspective to neuter the law.
Words are added, deleted, and meanings changed in ways that might look harmless but actually open the door for the kind of corruption Republicans vowed to change in 2010, when they passed the toughness in the nation's ethics laws.
Beyond changes that would allow for general corruption to go unpunished, Ball's legislation would strip the Attorney General and district attorneys of their power to prosecute anyone who violates the ethics laws without first securing approval from the State Ethics Commission.
All prosecution of any public official would first have to be approved by the Ethics Commission, a group that has repeatedly shown that it bends its decisions according to the prevailing political winds.
HB179 reads in part, "This bill would prohibit the Attorney General or a district attorney from presenting a suspected ethics violation by an individual subject to the code of ethics, other than a member or employee of the commission, to a grand jury without a referral by the commission."
In other words, Ball would have a politically-appointed commission decide if law-enforcement agencies can seek indictments against wrongdoers.
Neither the Attorney General or a county district attorney can even impanel a grand jury in an ethics probe without the commission first finding probable cause.
Some of Ball's alterations come in the form of removing whole sections of the law under the guise of redefining words, like "a thing of value" or "widely attended event."
An example of how Ball's legislation plays with the law is under the section of code, which defines a family member of a public official. Currently, a family member is "[t]he spouse, a dependent, an adult child and his or her spouse, a parent, a spouse's parents, a sibling and his or her spouse, of the public official." Ball changes it so it only includes a spouse and a dependent. That means that a public official may act to enrich his adult children, a parent, an in-law a brother, or a sister. These small but destructive alterations to the law are at the heart of Ball's legislation.
Some loopholes are so extensive that a sitting legislator could be paid by a city or county governmental economic development entity and still seat in the Legislature voting on bills that might directly affect his consulting client.
Out-of-state junkets make a comeback as do several other goodies lawmakers have been desiring.
It seems Republicans want to cash in on the rewards of office like Democrats did once upon a time.
One thing is clear, Ball didn't write the bill, but whoever did knew precisely what they were doing and were probably paid handsomely for their efforts.
There are so many cunningly deceptive changes to the ethics laws in Ball's bill as to make it impossible to catch them all without days of intense study—and perhaps a team of lawyers.
Ball, one of Hubbard's most an ardent defenders has said Hubbard's indictment and conviction was a political witch hunt. He has said he wants to rewrite the ethics laws to save future Hubbards; it now looks as if he has.
Print this piece