Editorial: Fiscal Cliff Compromise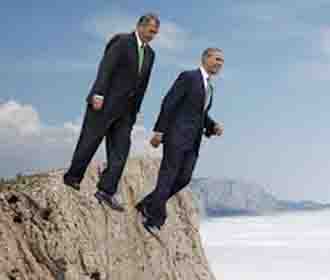 By Brandon Moseley
Alabama Political Reporter
A true compromise is an agreement that neither side can stand.  Compromises are often, ugly nasty agreements that both sides agree to with some measure of revulsion and disgust.  What I am proposing here is a compromise.  It is something I do not like.  If I were to write my own budget plan I could write one that protects America's defense, protects the benefits of current seniors, downsizes government, simplifies the tax code, and would balance the budget in three years, while promoting investment in American and the private sector.   If a Congressman were to introduce THAT plan it would be dead on arrival in the partisan gridlock that the American people shackled our country with on November 6th.  Given the vast ideological divide between the philosophies of liberalism and conservatism nothing that is ideological pure (or even very sensible) is going to pass both the Republican controlled House and the Democrat controlled Senate, much less get signed by the most liberal President in American history.
We are then forced to ask ourselves what each side in this debate really wants at the core level.  The Republicans want to grow the private sector and protect our national defense.  This is not true of ALL Republicans of course.  The Ron Paul faction would throw defense under the bus and some more liberal Republicans are fans of big government; but on the whole is close enough that the majority can agree with those principles.
The Democrats believe in government as the great equalizer.  They believe that everybody is entitled to a nice dwelling, three meals a day, warm clothes, education, transportation, healthcare and if you can't (or won't) do what it takes to get that for yourself they have a couple of dozen federal programs that will bring that to you.  In 2012, the Democrats are the party of BIG Government.  Apparently 52% of the voters agree with them.
In the past moderate Republican would get together will likeminded moderate Democrats and a moderate President and they would craft some sort of a deal that would leave those of us on the far right and those of us on the far left shaking our heads.  Well there really aren't any moderates anymore.  The Republicans have been influenced by the Tea Party and the Democrats by the socialists.  The majority in the Congress is not in the middle and President Barack H. Obama certainly is not.
What I am about to propose is a nasty dirty idea and if implemented would have negative repercussions all the way down the line; but arguably not as dire as if we actually went over the fiscal cliff in the midst of an already lethargic economy.
What I am proposing is giving both sides most of what they want.  Republicans want to keep the Bush Tax rates and make them permanent.  They also want to keep America's defense industrial complex fully functional and our defenses intact.  I will give them that too.
Democrats like sending people government checks.  They have led the way on expanding Social Security to include the flimsiest excuses for a disability check imaginable.  Over 80 million Americans qualify for Food Stamps.  They have extended unemployment benefits for years and years even though the recession supposedly ended back in September 2009.  They have expanded Medicaid beyond its original bounds to the point that today over half of the medical bills in the U.S. are paid by either Medicare or Medicaid.  Since the Democrats won control of the Senate in 2006 deficits have mushroomed out of control and the national debt has almost doubled.  Democrats have heavily subsidized questionable "green" technologies while over regulating proven industries like oil, coal, and natural gas that provide the overwhelming amount of energy this country needs.  Since President Barack H. Obama was first elected he has expanded the federal workforce by a staggering 101 new federal workers a day.
I think the man has been a disaster as a President; but 52% of the American people apparently disagree and support both the man and his destructive policies.  They even strengthened his majority in the Senate.
The sad sad compromise I am proposing is to let him have what he wants which is another $5 to $6 trillion in deficit spending so he can live out his utopian fantasies about building America up one government check after another.  If we can protect the private sector economy as much as humanly possible……maybe just maybe our national nightmare will finally be over and a sane administration can succeed in restoring some fiscal sanity to our country.  This President has proven time and time again that he has no grasp of economics and he really doesn't care any about private sector job growth.  Accept that fact and move on.
The dollar is an imaginary construct anyway.  It is nothing, backed by a promise of nothing.  It is a fantasy at best and a lie at worst.   People who understand this take the dollar in exchange for their labors and then promptly exchange it for equities such as stocks or for commodities such as gold and silver or "real" assets like land, real estate, and businesses.   I don't like what I am suggesting here; but I think it is necessary to move on from this quagmire of endless negotiations with the entire economy held hostage to the capricious whims of our government overseers.
Opinion | Prisons, justice reform and the art of the possible
Politics is bound by the art of what's possible. It is also true that those who never dare the impossible rarely achieve even the possible.
For years, prison reform advocates, media outlets and even a few public officials have called for new correctional facilities to address Alabama's dangerously overcrowded prisons.
Now that it's happening, some aren't happy with how Gov. Kay Ivey is addressing the problem.
Is the Ivey Administration's plan perfect? No. But building new facilities along with criminal justice reform — while all imperfect — is the last best hope to correct generations of cruel treatment, endangered correctional officers and corrupt practices.
German chancellor and statesman Otto von Bismarck said "Politics is the art of the possible, the attainable — the art of the next best," this is the state of a workable solution to Alabama's prison needs and criminal justice reform.
Yet, there is a concerted effort underway to stop the Ivey Administration from acquiring three new men's prisons under a build-lease agreement.
Some lawmakers want another crack at financing additional facilities through a bond issue, and others want more say in the process. Still, the fact is that Ivey's actions are the result of decades of legislative indifference and inaction to adequately address the appalling conditions at Alabama's correctional facilities.
Even some advocates are working against the prison plan and while their intentions may be good it seem to their hand wringing is almost as disingenuous as lawmakers whining.
What's worse are those who spread disinformation to discredit process.
Many good people have worked hard to bring about an end to the state's barbaric prison system and unfair justice, but lately it seems there is an outright movement to derail much needed change— simply because it's not enough. As the saying goes, "Don't let the perfect be the enemy of the good."
There have been so many false claims and sly manipulations of facts about the prison plan as to make even a hardened journalist want to cry "fake news."
But as for Ivey, frankly, my dears, I don't think she gives a damn.
Here's the hard truth. The Ivey Administration is building three new men's prisons, and nothing will stop it. The fact is that three prisons are not enough; the administration should move forward to build a new women's facility as soon as practicable.
Politics is bound by the art of what's possible. It is also true that those who never dare the impossible rarely achieve even the possible.
Failing to recognize when the once impossible is coming to fruition is a sad reality. Still, in politics, as in life, good things happen while most people are navel-gazing or complaining.
Having visited three state prisons, St. Clair, Elmore, and Tutwiler, I can say without a doubt, the conditions in those places are a living hell.
A report from the U.S. Department of Justice released in April 2019, found "reasonable cause to believe that Alabama fails to provide constitutionally adequate conditions and that prisoners experience serious harm, including deadly harm, as a result."
DOJ's investigation revealed that prisoners were susceptible to "an enormous breath" of sexual abuse and assault but other types of violence as well, including gruesome murder and beatings that went without intervention.
When the state incarcerates a criminal, it assumes custodial care for that individual. No matter how heinous the crime or foul the person, the state has an obligation to feed, clothe, house and provide essential human services for their care and welfare. Another element is often overlooked; when a person is committed to prison, they lose their freedom, not their humanity. Therefore, under the law, they cannot be subject to cruel and unusual punishment.
Building three new men's prisons is just the start; it must be accompanied by criminal justice reform.
"We are able to have a serious discussion about prison reform in Alabama because we have a governor who is serious about putting solutions into place," Ivey's press secretary Gina Maiola recently told APR. "Prison infrastructure is a key part of the equation, but criminal justice reform is also needed," Maiola said.
By executive order on July 18, 2019, Ivey established the Study Group on Criminal Justice Policy. The Study Group released its findings on Jan 31, 2020.
The Study Group entered its mission with one pressing question; "What policies and programs can the State of Alabama implement to ensure the long-term sustainability of our prison system without jeopardizing public safety?" according to Supernumerary Associate Supreme Court Justice Champ Lyons, Jr., who led the effort.
In a letter to Ivey on the Study Groups finding, Lyons wrote [T]he challenges facing our prison system are exceedingly complex—ranging from the elimination of contraband weapons and drugs to the recruitment, retention, and training of correctional staff to the size of the inmate population and to the physical condition of an aging and far-flung prison infrastructure." He further wrote, "But having thought through many of these issues with my Study Group colleagues, especially our legislative members, I can report to you that some meaningful answers to this question are not just possible; they are within our grasp."
Prisons without justice reform is a hollow victory, and the Ivey Administration is committed to bringing about reasonable reforms.
"Prison infrastructure is a key part of the equation," said Maiola, "but criminal justice reform is also needed."
The issues facing Alabama's prisons and criminal justice system are complex, and generations in the making; therefore, arriving at a universally acceptable solution is not imaginable for the moment if ever. But what once seemed impossible is soon to be realized.
No one gets everything they want, but it's a great step toward getting what is needed simply because it's possible.