Peterson's Controversial Views May Have Cost Him Position at Ag. Department
By Brandon Moseley
Alabama Political Reporter
Dale Peterson (R) will not be a confidential assistant to Alabama Commissioner of Agriculture and Industries John McMillan (R).  According to the Alabama Political Reporter's sources inside the Alabama Department of Agriculture, Commissioner McMillan rescinded the offer after receiving a fire storm of negative reaction.  Some persons objected to Peterson because they felt his gun-toting persona had embarrassed the state in his 2010 campaign.  Others criticized the controversial llama rancher, businessman, and former Marine for comments which they felt showed he was unqualified for such a position because he lacks the scientific knowledge base to understand much less regulate modern agriculture.
Peterson is an outspoken critic of modern farming methods and particularly crops whose DNA have been altered by modern scientific methods….called Genetic modified organisms (GMOs) in the scientific community.
Peterson wrote on his blog, "It's virtually impossible to get the nutrition needed to have a healthy life by eating today's fruits and vegetables."
The Alabama Political Reporter asked Auburn Agronomist Dr. David Weaver about Peterson's allegations.  We asked Dr. Weaver if vegetables contain less nutrients than crops grown in the past.  Dr. Weaver said, "No that is utter nonsense." Weaver said that a lot of people are putting that out but if anything the nutrition found in modern varieties of fruits and vegetables has improved.
Peterson said, "If the goal of a consumer is to eat organically grown foods, then it is important to know what inputs were used to grow the foods. What was the composition of the fertilizer that was used?  Was it from animal waste and/or other sources?  If animal waste was used, what did the animals eat? Almost all corn and soybeans in this country are grown from GMO seed, and corn is the main ingredient in farm animals' diets. Most all fish foods contain genetically modified corn. So, does that mean that farm grown meat, poultry and fish contain GMOs? If you believe the adage that you are what you eat, then GMOs would be passed on in the meat of animals and fish that ate GMO food."
Dr. Weaver said that Peterson is not alone in his criticism.  Weaver said that people like Peterson criticize modern seeds and often the critics sound good, but, "They don't have a scientific background.  It is utter nonsense."
Dr. Weaver said that a GMO is an organism that has DNA from another species incorporated into its genome.  All GMOs are created using non-traditional methods.  Dr. Weaver said that we discovered during the 1980s how to cut into a genome using enzymes for cutting.  Scientists also discovered organisms (bacteria) that do this in nature.  Scientists then domesticated those ubiquitous bacteria to change what genetic material is inserted into the genomes of specific plant species.
Dr. Weaver said that the classic example of this is Roundup Ready Soybeans.  In the case of the Roundup Ready Soybeans a gene has been inserted into the genome of the soybean making the beans highly resistant to the pesticide, Roundup.  This allows farmers to plant their soybeans with less tillage and less herbicides prior to planting.  Famers simply drill the seed into the stubble of their previous crop, let the crops and the weeds emerge, then spray Roundup to eliminate the weeds without all the soil eroding tillage methods many of us who grew up on farms remember from our childhood.  BT corn and BT cotton are other example of GMOs that have reduced the amount of pesticides and the amount of tillage needed to grow both crops. The BT gene provides insect resistance to the plant that previous corn and cotton varieties did not have.  Dr. Weaver said that resistance to plant diseases will be the next major area where GMOs will improve modern farming.
Dale Peterson asked, "Why do GMO companies demand, and the government grants, exclusive patent rights to their GMO seeds as being 'unique' and different from ordinary seeds? These GMO patent holders have been given cart blanche to proliferate their products."
Dr. Weaver said that the patent protection gives the seed companies incentives to develop new crops employing hundreds of people in the agri-sciences.  The patent protection is only temporary.  Dr. -Weaver said that the original Round-up Ready Soybeans will soon lose the patent protection and everybody growing soybeans will be able to market that seed.  According to Dr. Weaver, patent protection had a similar affect to hybrid corn in the 1930s.  Prior to the development of hybrid corn, farmers kept back so many bushels of seed from each corn crop to replant.  The development of corn hybrids meant that the crop was sterile so the farmers had to come back to the seed companies for seed each year.  The revenue generated by that funded research into new and improved hybrids and yields have increased exponentially in the last 80+ years as a result and almost all corn grown in the U.S. is hybrid corn today.  Dr. Weaver said that seeds are not a monopoly.  Monsanto, Dow, Bayer, and other companies are all in a vigorous competition to develop the next seed which will improve yield or decrease inputs.
Peterson said, "If the source of the problem is not or cannot be eliminated, then would the body react negatively, perhaps with allergies or even more serious health problems? Without science-based, long-term studies, we will never have an answer as to whether or not GMO food is safe for human consumption. Seems the only studies done here in the U. S. to date have been performed by the GMO manufacturers or their surrogates."
Dr. Weaver said, "I don't know what planet he (Peterson) is living on." Dr. Weaver said that people have tried repeatedly to discover a link between GMO crops and poor health outcomes in humans and animals and all of them have failed.  Weaver said that we all have been consuming GMOs now for over 15 years and there have been no ill health affects documented by anyone.
Peterson told an Alabama Prepper Conference, "They are controlling you and they are controlling the food." "Part of the government is killing farming in America."   "They are killing us. They are literally killing us.  By the year 2050, the world is projected to have over 9 billion people to feed. How – or will GMO's have kicked in by then?"
Dr. Weaver said, "That is ludicrous."  "That is what having poor science education in this country leads to."  Weaver said that the same people who will get on a jet and fly to Los Angeles or have a heart surgeon work on them and think nothing about it.  All that is science; but apply science to agriculture or growing food and the same people get all upset.
Dr. Weaver has a Ph.D. IN Agronomy from Purdue, a Masters in Agronomy from U. of Ga., and B. Science in Agronomy from U. of Ga.  Dr. Weaver has been a professor of Agronomy in plant genetics at Auburn U. since 1981.
Opinion | Electing Tuberville could cost Alabama billions
If your conscience or decency isn't enough, vote your wallets.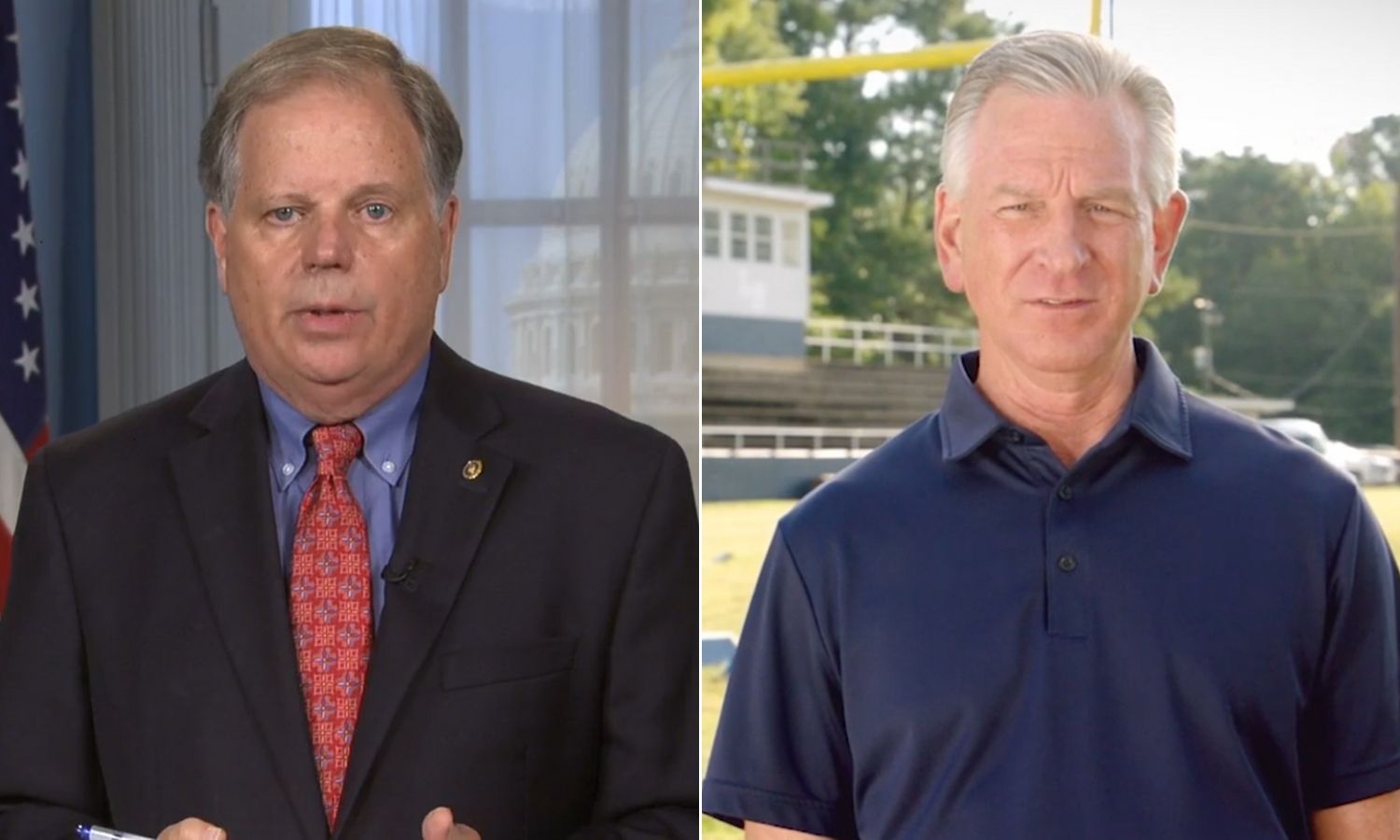 Money matters in Alabama. Oh, I know that we're not supposed to say that out loud. That we're supposed to promote our image of southern grace and hospitality, of churchiness and care, of rich people never getting into heaven. 
But the truth is greed is our biggest character flaw in this state. 
Every problem we have can be traced back to our unending thirst for dollars. Our ancestors didn't keep slaves because they hated black people. They did it because they loved money and the difference in skin color gave them an excuse — a really, really stupid excuse — to mistreat other humans to take advantage of the free labor. 
Our rivers and lakes and dirt aren't filled with poisons from factories because we're too dumb to understand how this works. They're that way because our politicians are paid off to turn a blind eye to the dumping of toxic waste. 
Our schools aren't terrible because we have dumb kids or bad teachers. It's because we're too cheap to pay for them. 
You see what I mean? It's our lust for the almighty dollar. Every time. 
We love money. 
Which makes me seriously wonder why so many people in this state are going to vote for a man who will cost us all — and especially our biggest businesses — so much of it. 
Tommy Tuberville will be like a money vacuum for Alabama. Billions of dollars will vanish for this welfare state that relies so much on federal contracts, federal programs and federal dollars. 
If you doubt this, don't simply take my word for it. Just Google up the press releases from Sen. Richard Shelby's office from the last, say, six years — the most recent span in which Republicans have controlled the Senate. 
Almost every single release is about Shelby securing millions or billions of dollars in federal funding for this project or that project, getting the state's share of dollars from a variety of different programs and initiatives implemented by Congress. 
Shelby and I obviously have different political viewpoints, but it's hard to argue that the man has been successful in securing money for Alabama. Lots and lots of money. 
Money for airports and roads. Money for defense contractors in Huntsville. Money for the port in Mobile. Money for car manufacturers. Money for farmers. 
Money. Money. Money. 
Shelby can do that because of three things: He's on the right committees, he's a member of the party in power and he's liked by the right people.
Tuberville will be none of those things. 
Most pundits are predicting that Democrats will take over the Senate, tipping the balance of power and giving the party control of both houses and the White House. 
That automatically means that a first-time senator in the opposition party will have little to no say in any decisions. 
But what's worse for Tuberville, and for Alabama, is that other Republicans don't like him either. 
Establishment Republicans essentially openly campaigned against Tuberville in the primary, tossing tens of millions of dollars behind his opponent, Jeff Sessions. They even favored third-place finisher Bradley Byrne over Tuberville. 
It's not hard to understand why — he's clueless. 
I know that's a Doug Jones talking point, but this one happens to be true. Let me give you an example: On Thursday, Tuberville tweeted out what was meant to be a shot at Jones, claiming that Alabama's current senator wouldn't meet with Trump's Supreme Court nominee because Jones knows "he won't have much time in the Senate to work with her."
If you're unaware, the Senate doesn't "work with" the Supreme Court. They're separate entities. 
Combine that with his other nonsensical answers on COVID relief, school reopenings, the Voting Rights Act, senate committee assignments, education, foreign affairs — really, the list is almost endless — and it shows how little work he's put in over the last two years to understand this job he's applying for. 
Now, that might be just fine with Alabama voters who care more about the party affiliation and owning the libs, but it's not OK with grownups who take the job of running the country seriously. 
And those people — both Rs and Ds — don't like Tuberville or his here-for-an-easy-check-like-always approach to one of the most serious jobs in the world. 
He will be frozen out of the most sought after committee assignments. His voice will carry zero weight. His presence will be all but forgotten. 
And in the process, so will Alabama. Especially in two years, when Shelby retires and his senior status is lost. 
In the meantime, Jones is highly respected by senators on both sides of the aisle. He already has a presence on top committees, and is so well liked within the Democratic Party that he's on the short list to be Joe Biden's AG, should he not be re-elected. 
The choice seems pretty simple. On the one hand is a competent, prepared and serious statesman who knows how to maneuver his colleagues to get the most for the state. On the other hand is an unprepared, uncaring, lazy carpetbagger who doesn't understand any process. 
If your conscience or decency isn't enough, vote your wallets.