JobKeeper Alliance Says that Formal PSC Hearings Could Cost Alabama Jobs
By Brandon Moseley
Alabama Political Reporter
Recently the three Republican Commissioners on the Alabama Public Service Commission (PSC) have been bitterly divided over whether or not the PSC should hold formal hearings to determine if utility rates in the state of Alabama need to be adjusted.
Many business and industry leaders in the state believe that holding formal PSC hearings on the utility rates would be a poor decision.  Chief among those critics is the Alabama JobKeeper Alliance.  'The Alabama Political Reporter' recently talked with Alabama JobKeeper Alliance Executive Director Patrick Cagle about their view of the situation.
Director Cagle said that JobKeeper believes that the court like format of formal hearings would allow radical environmentalists to use their attorneys to attack the Alabama coal industry during the hearings.  Cagle said that attorneys with the Southern Environmental Law Center (SELC) likely would attempt to highjack the process.  Cagle said that the radical environmentalists would use the discovery process to be able to demand proprietary information from Alabama Power that they do not have access to right now.  Cagle said that the radical environmentalists especially wanted access to the Alabama power integrated resource plan.  Once the SELC attorneys had access to Alabama Power's proprietary information they would use that knowledge in environmental litigation against the utility.
Patrick Cagle said that 5000 Alabamians are employed mining Alabama coal and another 600 are employed at coal fired power plants in the state and the environmentalists are targeting those coal fired electricity plants.
Cagle said that If the environmental attorneys are able to force Alabama Power to shutter more Alabama coal plants the power rates will certainly go up and it would also negatively affect the state's efforts at industrial recruitment.
Cagle said that holding formal hearings in the long run would lead to higher power rates on Alabama consumers, businesses, and industry.  Cagle said that potential environmental litigation would lead to uncertainty about future rates and even that uncertainty would hurt the state's ability to recruit new industries like Airbus
'The Alabama Political Reporter' asked, does PSC Commissioner Terry Dunn understand your concerns or does he just have his own agenda?  Cagle said, "I have met with him and he insisted that formal hearings are the right way."
We asked: it has been alleged that Dunn is employing a Mr. Roundtree who is affiliated with individuals on the environmental extremist left?  Do you know anything about that?  Cagle said,"I was told that there is a connection.  He told us that he has a friendship with someone on the Alabama Environmental Council."  Cagle said that he was looking into that and had requested copies of all of Roundtree's communications.
PSC Commissioner Terry Dunn is still asking for formal hearings on utility rates in the state, while PSC Commission President Twinkle Andress Cavanaugh and new Commissioner Jeremy Oden oppose the formal hearing process because of threats from groups like the SELC.
The Southern Environmental Law Center is a nonprofit group with a history of opposing economic development projects throughout the Southeast.  The SELC opened the doors to their new Birmingham office in 2010.
Stewart Burkhalter, the Board Chairman of JobKeeper Alliance and Former President of Alabama AFL-CIO and the President of Manufacture Alabama George Clarke wrote "There are times when a threat arises that is so serious to the businesses and workers of Alabama that all concerned must come together in a common fight. Such a threat exists today in our state, which is why the president of a manufacturing association and a former leader in the labor community have come together for the important purpose of sounding the alarm about environmental groups who threaten to stall Alabama's job growth."
Governor declares state of emergency ahead of Tropical Storm Zeta
Zeta is currently a tropical storm over the Gulf of Mexico, but it is predicted to make landfall as a category one hurricane.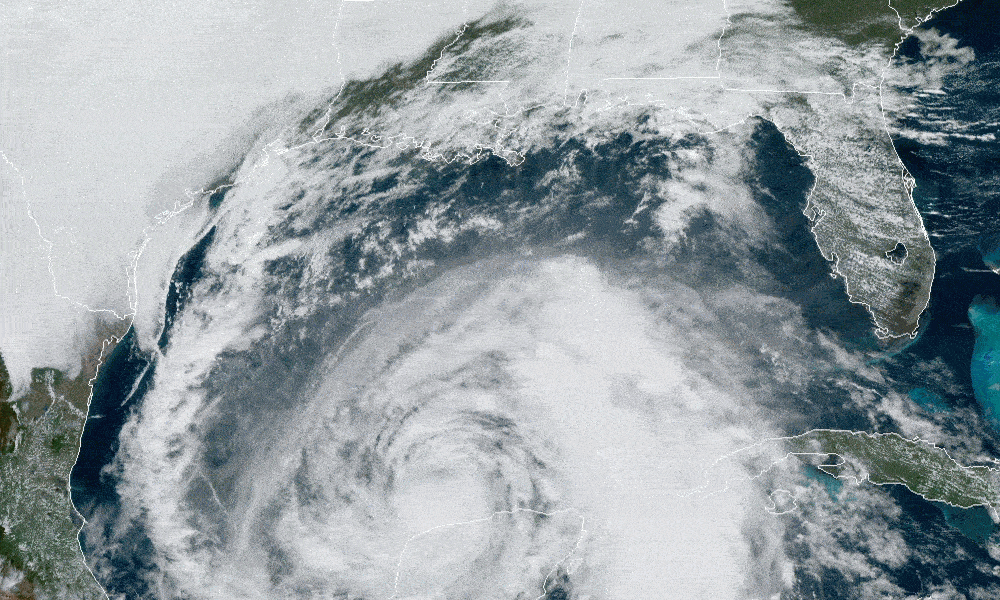 Alabama Gov. Kay Ivey on Tuesday issued a state of emergency as Tropical Storm Zeta approaches the Gulf Coast.
"Ahead of Tropical Storm Zeta's anticipated landfall Wednesday evening as a Category 1 hurricane, I am issuing a state of emergency effective today at 4:00 p.m.," Ivey said. "While this storm is not expected to have an impact as large as storms we've seen move through the Gulf earlier this year, we want to be in the best place possible to respond to anticipated rain, storm surge and mass power outage. I encourage everyone to remain weather aware and tuned in to their trusted news source as this storm could shift direction or change intensity. We continue to track the path of this storm and will stay in touch with the people of Alabama with any updates."
Zeta is currently a tropical storm over the Gulf of Mexico, but it is predicted to make landfall as a category one hurricane. The National Hurricane Center is predicting Zeta to make landfall in Mississippi on Wednesday and then proceed toward Alabama, but these storms can and do move.
A more easterly track could prove devastating to the Alabama Gulf Coast as was the case with Hurricane Sally, which shifted course in September, hitting Alabama, though Zeta is expected to be weaker than Sally at landfall.
The storm surge from the Mississippi-Alabama border to Dauphin Island is forecast to be 5 to 8 feet. Mobile Bay to the Alabama-Florida border is expected to have 3 to 5 feet of storm surge and from the border to Navarre, Florida, could experience 2 to 4 feet of storm surge.
Hurricane force winds are a possibility with this storm. Tropical force winds are expected to be an issue for Southern Mississippi and Alabama well inland. There is expected to be heavy rainfall across the state Wednesday night into Thursday morning.
The Baldwin County Emergency Management Agency announced that sandbags are available inside the county commission office at Robertsdale Central Annex (22251 Palmer Street) until 4:30 p.m. Tuesday and from 8 a.m. until 4:30 p.m. Wednesday or while they last.
Bring any help and shovels you will need. There is a limit of just 25 bags per person. Alabama's coastal counties are currently under a Tropical Storm Warning, a Storm Surge Warning for Mobile County and a High Rip Current and High Surf Warning.
Congressman Bradley Byrne said, "I just finished up briefings from Alabama EMA, FEMA, and the National Hurricane Center regarding #Zeta. We should not take this storm lightly and should start making preparations right away. After sundown Wednesday, I'd encourage everyone in Southwest Alabama to stay home and off the roads until sunrise Thursday. This storm will have impacts as far north as Montgomery, so those in Washington, Clarke, and Monroe counties will see tropical storm force winds and heavy rain. I'd encourage everyone to charge their phones and other necessary electronics. If you have an emergency during the storm, call 911 and do not try to drive."
Coastal Alabama is still in the process of recovering from Hurricane Sally which hit the state on Sept. 15.