Aderholt Statement on the President's State of the Union Address
From the office of Congressman Robert Aderholt
Washington, D.C. — Congressman Robert Aderholt (AL-04) today released the follow statement regarding his hopes for President Barack Obama's State of the Union address this evening:
"The President's speech tonight focused too much on his desire for gun control, increased government spending and decreased illegal immigration enforcement," said Aderholt. "While I look forward to seeing the specifics behind his ideas, I think most Alabamians would have like to have heard more from the President on the topics that really matter to families and small businesses and to have finally heard an offer to work across the aisle to get our economy back on sound footing by helping businesses create real jobs, instead of temporary jobs that rely on government subsides."
"The President spent his first term touting his ideas to boost the middle class, grow our economy and help businesses create jobs. However, our nation's economy remains sluggish, small businesses are still facing great uncertainty, hindered by smothering federal government interference, and middle class paychecks continue to decline."
"The stagnant economy of the last four years has made it clear that higher taxes, trillion dollar deficits, spend-now pay-later 'budgeting' and more government spending are not the way to grow our nation's economy. Nevertheless, the President seems committed to offering rehashed versions of the old idea that higher taxes will solve everything. His refusal to engage in honest compromise with the House is leading us to the painful cuts to our nation's military known as sequestration. We can no longer afford grand speeches; we must see real cooperation that leads to real solutions."
"The Republican-led House remains committed to growing our economy, responsibly budgeting taxpayer dollars, creating an environment that allows businesses to create jobs and strengthening the middle class. With the 113th Congress we have an opportunity to come together—the House, the Senate and the White House—to solve our nation's greatest economic challenges. "It is my sincerest hope that the President view his State of the Union address as more than just an opportunity to rehash his past big ideas. Congress and the American people are looking to the President to provide sound leadership and clear solutions."
Trump Truck and boat parades this weekend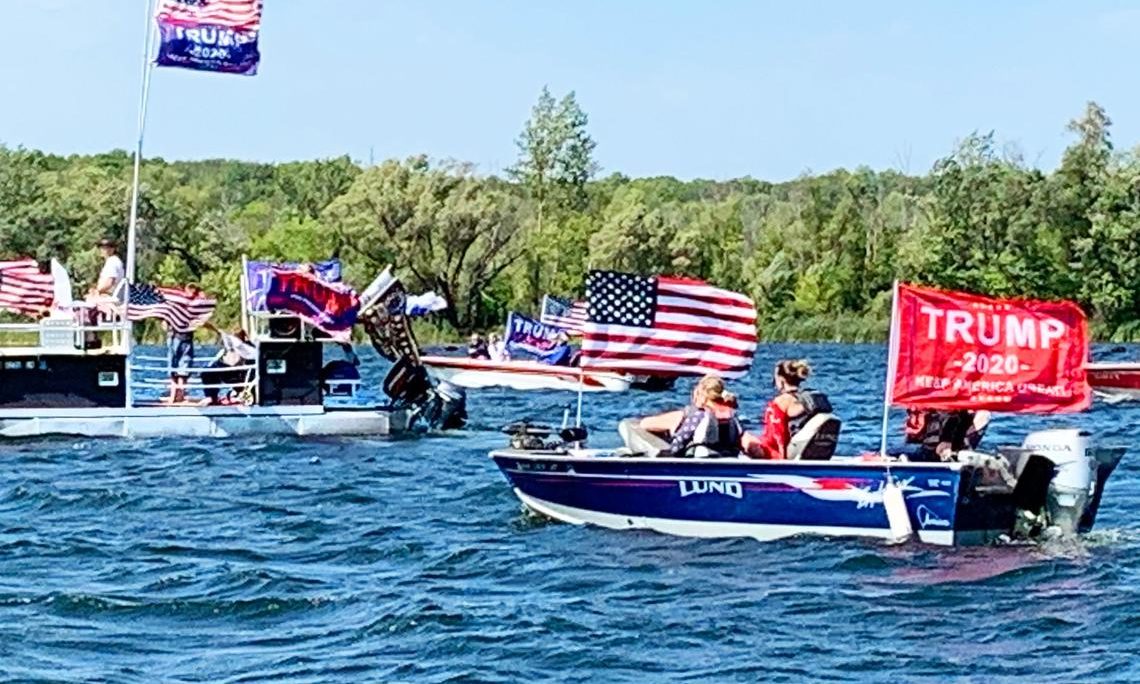 As Election Day draws near, Alabama Republicans are excited about promoting the re-election of Donald J. Trump as President and the election of Tommy Tuberville for U.S. Senate. This weekend two pro-President Trump events are happening in the state. There will be a truck parade from Ashland to Phenix City on Saturday sponsored by the Clay County Republican Party, while there will also be a boat parade on Wilson Lake in the Shoals sponsored by the Colbert County Republican Party on Sunday.
The pickup trucks will assemble at the Ashland Industrial Park in Clay County, 8240 Hwy 9, Ashland. There is a pre-departure rally at 10:00 a.m. central standard time. The trucks will depart at 11:00 a.m. and then proceed on a parade route that will take them into the bitterly contested swing state of Georgia. The Trump Pickup Parade will wind through east Alabama and West Georgia traveling through LaGrange and Columbus before concluding near the Alabama/Georgia line in Phenix City, 332 Woodland Drive, Phenix City at approximately 2:00 p.m. central time. Speakers will begin at 3:00. Trump flags will be on sale at the event.
The Phenix Motorsports Park will be hosting what sponsor hope could possibly the world's largest Pickup Tuck parade in U.S. history that is routing over 50 mile through Georgia in effort to "pickup" President Trump's numbers in GA.
A number dignitaries have been invited to address the Phenix City rally, including Coach Tuberville. Former State Sen. Shadrack McGill, Trump Victory Finance Committee member former State Rep. Perry O. Hooper Jr., and Paul Wellborn, the President and CEO of the largest Family owned Kitchen Cabinet manufacture in the USA are among the featured speakers who have committed to speak at the event.
Entertainment will be provided by: Charity Bowden, an up and coming country music singer who was the runner up on "The Voice". Charity will sing 'I am Proud to be an American' as well as songs from her Voice performances. The McGill Girls will also perform. The three beautiful and talented sisters will be singing patriotic songs in three part harmony. Geoff Carlisle, a professional DJ will be keeping the crowd pumped with music and entertainment.
Following the speakers and the entertainment there will Trump truck-vs- Joe Bidden truck races down the drag strip for the finale.
The Northwest Alabama boat parade will be on Sunday. The boats will gather at 2:00 p.m. near Turtle Point and then the flotilla will parade around the open waters of Wilson Lake til 3_00 p.m.. There will be a contest for best decorated Trump boats.
Trump supporters have held a number of large boat parades across the state to show their support for the re-election of Pres. Trump.
Boat parade sponsors say that this parade will be: pro-American, pro-law enforcement, pro-military.